We want to ensure you're not left in the dark when finding the Best Redbubble alternatives. The world of online shopping is vast and risky. No matter how much you like one site, there will always be better ones with what you need.
If you've been searching for a new site like Redbubble and haven't yet found your perfect match, then keep reading because we've compiled a list of our top 6 recommendations to save you the time and effort of looking through the alternatives.
Whether you are having issues with the platform or it no longer serves your needs, this article will assist you in finding the best Redbubble alternative.
But, before moving further, let me share a few reasons why one should look for Redbubble Alternatives.
Redbubble Alternatives: Reasons To Look For
We have listed below the reasons to look for Redbubble Alternatives.
Instead of your logo, Redbubble's branding will appear on every product, its packaging, and the email receipt it sends. That means your client will develop brand loyalty for Redbubble, not for you.
You have no idea what is associated with your name because Redbubble itself controls the product quality.
Some buyers have complained about quality control issues, such as damaged or misprinted items.
To receive your money, you must wait a month.
Integrations with eCommerce platforms are not available at the moment.
alternatives to redbubble: in a nutshell
Here's a quick overview on Best Redbubble Alternative
| | | |
| --- | --- | --- |
| Sr. No. | Redbubble Alternatives | Ratings |
| 1. | Sellfy | 4/5 |
| 2. | Teespring | 3.5/5 |
| 3. | Printify | 4.4/5 |
| 4. | Zazzle | 4.5/5 |
| 5. | Printful | 4.1/5 |
| 6. | Cafe Press | 3.8/5 |
| 7. | Society6 | 4/5 |
| 8. | Spreadshirt | 4/5 |
Best Redbubble Alternative
Let's have a look at Redbubble Alternatives in details
1. Sellfy
It is our first choice in the list of best Redbubble alternatives. Sellfy is a professional marketplace for selling digital products such as illustrations, images, music, videos, and books.

Moreover, this platform makes it easy to sell your digital products on the web, so you can focus on your business instead of selling your products online.
Furthermore, Sellfy has a wide range of features to help you start selling online, including a free listing tool that lets you upload images and write descriptions for your product and an eCommerce platform that lets you create and manage different listings for different types of products.
You can also use Sellfy to promote your product through email marketing campaigns. It allows you to send personalized emails to your targeted audience, including coupon codes, offers, updates, and product announcements.
Features of Sellfy:
Lets have a quick look at the features of Sellfy
Sellfy provides 2 payment options (PayPal and Stripe) for collecting payments online.
It features marketing tools that will assist you in promoting your products and planning marketing efforts.
You can embed Sellfy into your existing business website so customers can buy your items from there.
You can drive traffic to your online store from your YouTube videos using its end screens and cards.
Pros Of Sellfy:
Sellfy pros are as follows:
Sellfy provides a free trial for 14-day without asking for any credit card information.
Sellfy integrates with Facebook Pixel, Google Analytics, Live Chat on Facebook, Twitter Ads Conversion Tracking, and Zapier.
SSL encryption and PCI DSS compliance ensure that payment information is protected.
Cons Of Sellfy:
Sellfy Cons are as follows:
Sellfy only supports two payment methods.
Sellfy does not offer tools for creating and running affiliate programs.
2. Teespring
It is one of the most well-known and largest print-on-demand service providers. Teespring follows a similar technique as Redbubble. In addition, you can use the platform to create and sell customized products such as t-shirts and mugs.

Teespring handles the rest once you've created your designs and published them on their website.
It is also the perfect platform for making money by selling personalized items. Simply make your design and print it on Teespring's selected items to start earning money from this platform.
Features of Teespring:
Lets have a quick look at the features of Teespring
Teespring offers a wide variety of products, including V-neck shirts, tank tops, hoodies, stickers, flags, canvas bags, towels, wall tapestries, and much more.
Teespring will display ads to potential customers who view your design but don't purchase it to remind them of your fantastic product.
With its merch shelf feature, you can link your YouTube account to Teespring and use it to sell items directly in your videos.
Pros of Teespring:
Teespring pros are as follows:
Anyone can sell over 150 items.
It is compatible with social media platforms.
Teespring provides a variety of customization options for buyers who wish to create their products.
Cons of Teespring:
Teespring Cons are as follows:
Its customer support is not always prompt.
Teespring's website is hard to navigate.
3. Printify
Printify is another Redbubble alternative on our list that can meet all your printing needs. It assists customers in designing and selling personalised items using their ideas.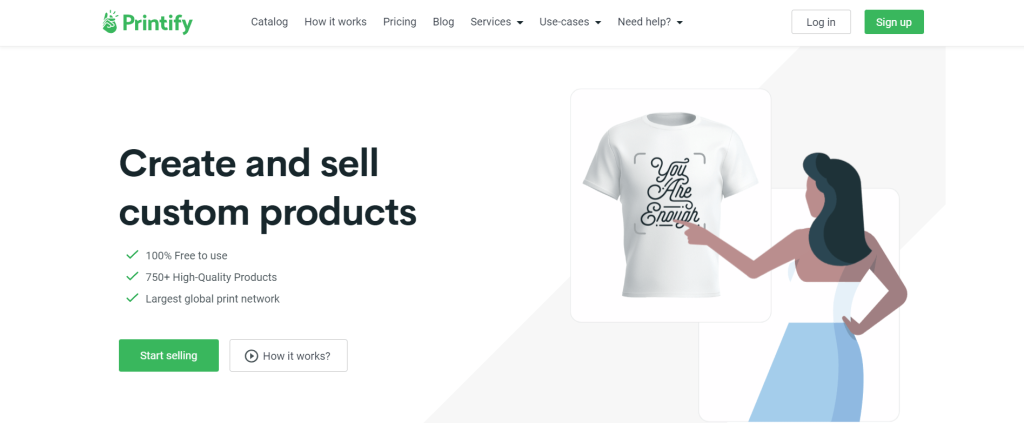 The best part of Printify is that they will effortlessly print and ship that order directly to your consumers.
Moreover, Printify can help you run a profitable print-on-demand business by simplifying a complicated and challenging process for your e-commerce firm.
Features of Printify:
Lets have a quick look at the features of Printify
Selling on Printify is simple since the platform automates the sourcing, creation, printing, and delivery of items for merchants.
It is compatible with all the well-known e-commerce platforms, including Wix, WooCommerce, Shopify, and Etsy.
Printify provides a WordPress integration with a WooCommerce plugin to enable the print-on-demand business model and simplify dropshipping for retailers.
Pros of Printify:
Printify Pros are as follows:
Provides Integration with multiple platforms
Pritnify features a Mockup generator
Offers Shipping calculator
Cons of Printify:
Printify Cons are as follows:
Print quality is inconsistent.
Customer support is inefficient and unresponsive.
4. Zazzle
Next is Zazzle, which has already gained recognition by collaborating with well-known brands such as Pixar, Disney, and Hallmark.
Artists, designers, and buyers collaborate to produce the most creative products possible at Zazzle. With this platform, the possibilities are endless; they can make whatever you can dream of.

Zazzle's brilliant team of art lovers will have something unique ready for you in no time, whether it be something ordinary like mugs or something special like handbags and pillows.
The platform is actively looking for ways to improve and provide its users with the most incredible experience possible; therefore, it is constantly updating its features and setting new trends.
Features of Zazzle:
Lets have a quick look at the features of Zazzle
Zazzle offers a vast collection of products in several categories. Almost everything is available in their catalog, from phone covers to apparel and other customizable things.
The platform also allows you to create custom product tags so customers can easily find them online.
You'll be able to upload your own artwork or choose from one of Zazzle's curated collections of high-quality images, fonts, and designs.
Pros of Zazzle:
Zazzle Pros are as follows:
Since Zazzle is a free platform, you do not need to pay to keep your account activity each month.
In order to avoid a data breach, this Redbubble alternative provides outstanding security features.
You may quickly set up an account, upload and personalize items, and sell them.
Cons of Zazzle:
Zazzle Cons are as follows:
At the end of each month, all of your profits for that month are held for 30 days before being processed.
There is no cross-platform compatibility.
You are not allowed to build your website or domain.
5. Printful
Another Redbubble alternative we would like to recommend is Printful, an on-demand printing, and shipping solution for companies. It provides a variety of printing options, including cut-and-sew, direct-to-garment, embroidery, and sublimation, and offers more than 220 unique items.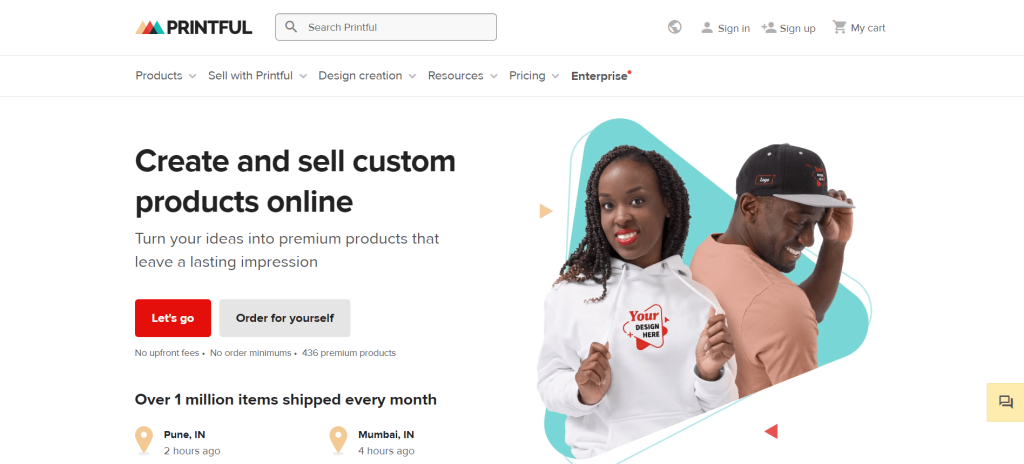 When a customer places an order, Printful will print and dispatch the item to them. This is an excellent option for businesses that want to offer tangible things but don't want to bother with inventories or shipping.
Furthermore, there is no minimum order amount with Printful, so merchants can start offering immediately.
Features Of Printful:
Lets have a quick look at the features of Printful
You can easily manage your printing and fulfillment requirements in one location by integrating your Printful account with your online storefronts, like Squarespace, WooCommerce, Shopify, or Square.
Printful sends everything with personalized labels, packaging, and more under your brand name.
Before printing, Printful's AI tool and automated algorithms inspect the images' graphic quality.
Pros of Printful:
Printful Pros are as follows:
There is no setup or monthly fee; you just need to pay its base pricing for its products only when a consumer places an order.
In terms of response time, Printful's customer service is exceptional.
Printful offers an app for both Android and iOS users.
Cons of Printful:
Printful Cons are as follows:
Printful does not provide any built-in analytics.
You cannot provide refunds to buyers who do not order the correct size or colors.
6. Cafe Press
Unlike other POD platforms, CafePress requires you to start by building your own store. However, you won't need to worry about joining another e-commerce platform because CafePress will host your online store for you.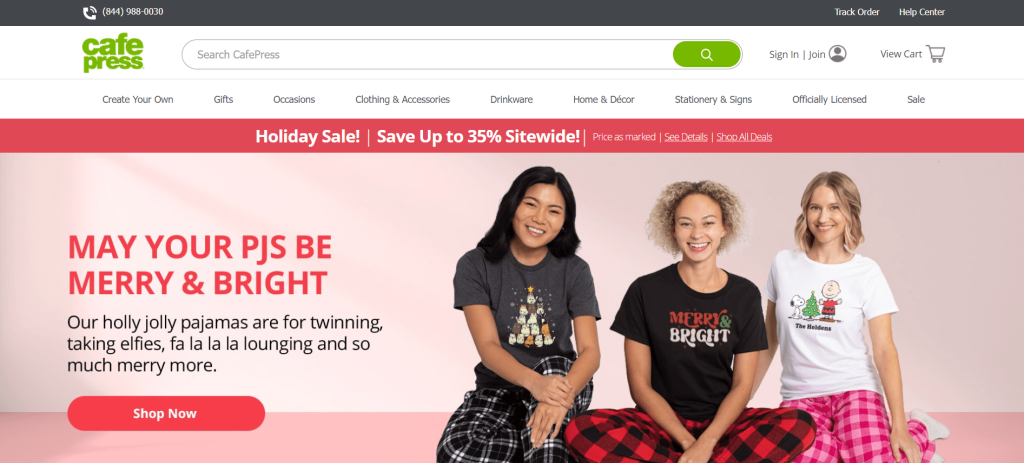 Further, you can design your own products with a wide range of fonts and colors and choose from various images and designs. You can also upload your own artwork or photos to create custom designs.
Features of CafePress:
Lets have a quick look at the features of CafePress
You can upload custom graphics, logos, and more to your CafePress shop.
You can upload artwork in different sizes so customers can see what they get before buying.
It allows you to add text to your items, like the logo or the text on the product itself.
Offers customizable templates that can be used for multiple products.
Pros of CafePress:
CafePress Pros are as follows:
Supports Paypal and cheques.
User-friendly and easy to use.
Finding items and placing orders is really simple.
Cons of CafePress:
CafePress Cons are as follows:
CafePress does not provide 24/7 support or live chat options.
7. Society6
Society6 is another one of the best alternatives to Redbubble but with remarkably different aesthetics. Unlike Redbubble, Society6 heavily focuses on wall art and modern home decor. It is the best choice for designers who want to sell these types of products.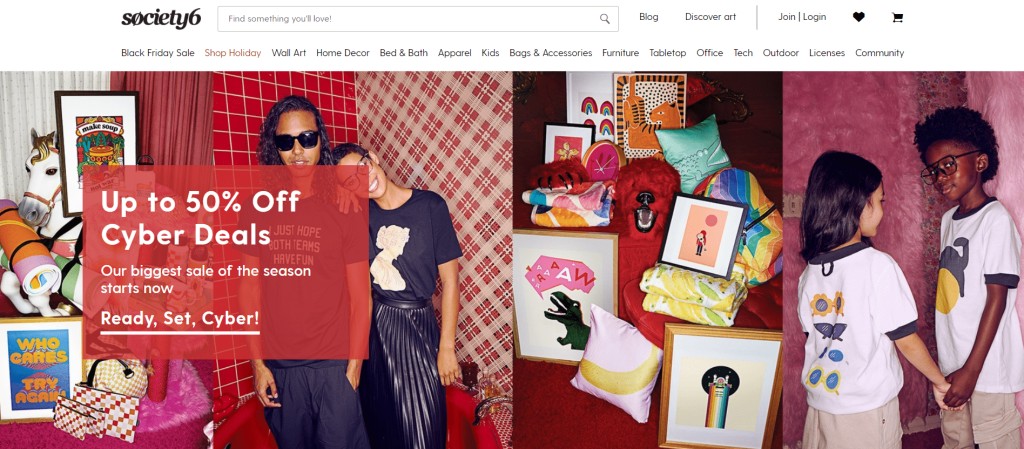 Society6 is a huge social media presence and is popular among the target demographic. Many of the best-selling products on this platform feature pastels, watercolors, and floral patterns. If your artwork places the Society6 style, then you are best on this platform. Your products might level end up getting promoted and featured, which can drive a number of sales.
Features of Society6:
Lets have a quick look at the features of Society6
Business Analytics
Pay Schedule
Artist Commission
Sign up Fees
Pros Of Society6:
Society6 Pros are as follows:
User-friendly platform
Background color can be chosen for your design
Your social networking network and website can add to it.
Cons of Society6
Society6 Cons are as follows:
PayPal is the only source of Payment.
Doesn't sell anything Original
Only few products bring in the profit
8. SpreadShirt
Last in our list of Redbubble Alternatives is SpreadShirt. It is an E-Commerce site which provides Print-On-Demand service. SpreadShirt was found back in 2002 in Leipzig, Germany and today it is considered as one of the biggest E-Commerce website with $100m Turnover.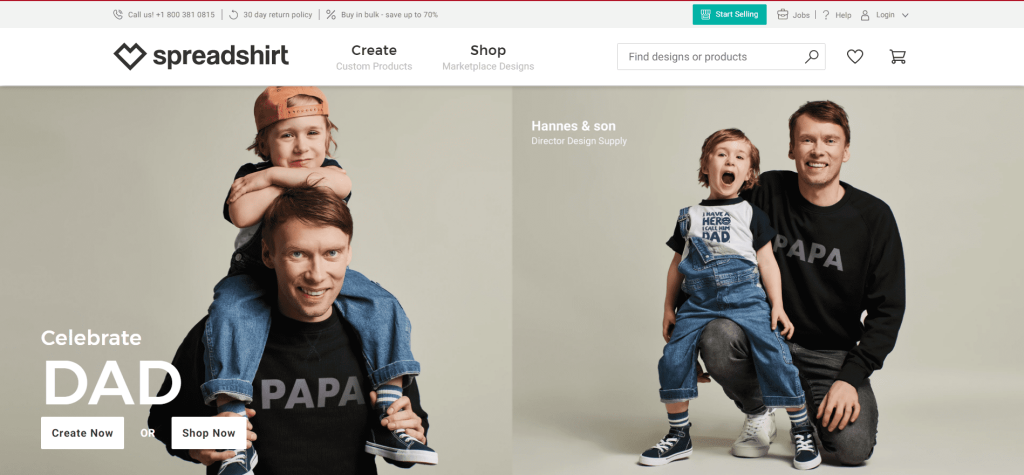 Here you are able to create and sell custom products, accessories and much more. SpreadShirt offers an amazing range of printing tools and design tools. It offers over 200 items which consists of t-shirts, bags, sweaters and much more which you can customise and print according to your will. No merchants are part of this because SpreadShirt deals with it entirely.
Features of SpreadShirt
Here are the features of SpreadShirt:
SpreadShirt offers various payment methods and just not stuck to one.
Offers a wide range of Printing Tools & Design Tools.
Sign ups and creating an account is for free.
Pros of SpreadShirt
Pros of SpreadShirt are given below:
The UI is very simple to understand and easy to use.
More than 250 products to choose from
Creating an account wont charge you a penny.
Cons of SpreadShirt
Cons of SpreadShirt are given below:
20% will be deducted from your selling amount if you are selling on SpreadShirt
Customer service is only available for limited time and not 24*7, they usually will revert back in 24 hours.
Bounce rate is pretty high which is more than 50%.
Related Read:
Final Thoughts on Best Redbubble Alternatives
In this post, we've highlighted and reviewed the top Redbubble alternatives available on the market.
Each option has its own advantages, from design templates to ease the burden of creation to robust integration features for your business.
We hope this article has given you a clear understanding of the Redbubble alternatives described above.
However, if you are still unsure which Redbubble competitor to choose, we would advise you to kindly consider your design and business requirements and select the one that suits your needs.
Good Luck!