Is SpyFu meeting your expectations, or can you not derive powerful business strategies from SpyFu? If yes, then you've hit the perfect spot. In this article, we will unveil the top 12 best SpyFu alternatives with a comparison.
Search engines, if befriended, can move your content within the top SERP. Perfect SEO planning can make search engines your best friend and do enormous favors for your content. This excellent planning needs a user-friendly but technically advanced SEO and PPC tool with a vast database. Such an ideal tool can help to create content that isn't only loved by the audience but is well-appreciated by search engine spiders for rich SERP.
SpyFu is one of the SEO toolkits in the market. It provides a good keyword research platform and the competitor's domain analysis. However, if you're looking for other options, we can help you with that.
Let's check out the 12 best SpyFu alternatives to help you with your digital marketing journey.
Top 12 SpyFu Alternatives: In A Nutshell (2023)
If you're in a hurry, here is a quick overview of the top features of the 12 best SpyFu alternatives.
| | | |
| --- | --- | --- |
| Sl. No. | SEO Tool | Top Features |
| 1. | Semrush | Local SEO, Site audit, Keyword research |
| 2. | Mangools | Five SEO tools including KWFinder & SiteProfiler |
| 3. | SE Ranking | Page Changes, Marketing Plan, Mobile app available |
| 4. | Ahrefs | Largest backlink database in the industry, Site Explorer |
| 5. | Serpstat | Award-winning tools, side-by-side backlink comparison |
| 6. | SEO Power Suite | Desktop app, Link Assistant, SEO Spyglass |
| 7. | Morningscore | SEO Gamification, monetary values in various currencies |
| 8. | Web CEO | White Label, Project Management tools |
| 9. | Moz Pro | On-page optimization, huge backlinking database |
| 10. | iSpionage | Two inbuilt metrics AEI & KEI |
| 11. | BrightEdge | Content Performance and Organic Search |
| 12. | PowerAdSpy | Choose important Characteristics of an ad |
12 Best Alternatives To SpyFu In 2023
Here we have listed below the 12 Best Alternatives to SpyFu. Let's Begin.
1. Semrush:
Our Top recommendation for SpyFu Alternatives is Semrush. It is a complete SEO solution and PPC tool. It provides a complete package to individual users as well as to enterprises. Let's investigate why?
For your SEO and PPC campaigns, Semrush provides all the tools to analyze your competitor's marketing strategies. With these tools, you get detailed insights to plan, execute and outrank your competitor.

In addition to SEO and PPC tools, SEMrush also helps you with your social media content. SEMrush gives a very accurate picture to strategize your social media marketing campaigns. It presents itself as a professional consultant for the idea generator of social media content based on its analysis. You can also dive into your competitor's social media strategies and performance.
With 142 databases spread globally, SEMrush holds the title regarding local SEO. It provides a local SEO-specific tool to boost your SERP for the local business.
SEMrush also has a site audit tool that analyses and highlights more than 30 SEO mistakes dragging your SERP down.
Semrush Pricing:
A trial plan is available along with three paid plans, viz.
Pro- 119.95 USD per month
Guru- 229.95 USD per month
Business- 449.95 USD per month
There's also an annual subscription where you can save 17%.
2. Mangools:
If Semrush seems too expensive, Mangools can be your best bet. With some of its unique features, this SEO tool can fit within your pocket.

Mangools' five different SEO tools, viz SERP Checker, LinkMiner, SERPWatcher, KWFinder, and SiteProfiler, have made it the favorite among beginners.
Among these, KWFinder and SiteProfiler are the most popular ones. Let's see what they're used for:
KWFinder: Gateway to hundreds of high-ranking keywords.
SiteProfiler: Gives a clear picture of competitors' performance, like traffic, Alexa ranking, their site's authority, and how their social media content is performing.
SERPChecker: Used for SERP analysis.
SERPWatcher: Provides details about rank tracking.
LinkMiner: Studies the backlinks and derives strategies for link building.
Mangools is quite user-friendly, which is one of the reasons why some of the top brands, like Airbnb, Adidas, and Alexa, utilize it.
Mangools Pricing:
Free trial available. The paid plans are:
Mangools basic- 49 USD per month
Mangools Premium- 69 USD per month
Mangools Agency- 129 USD per month
You can save 35% with annual subscriptions.
3. SE Ranking: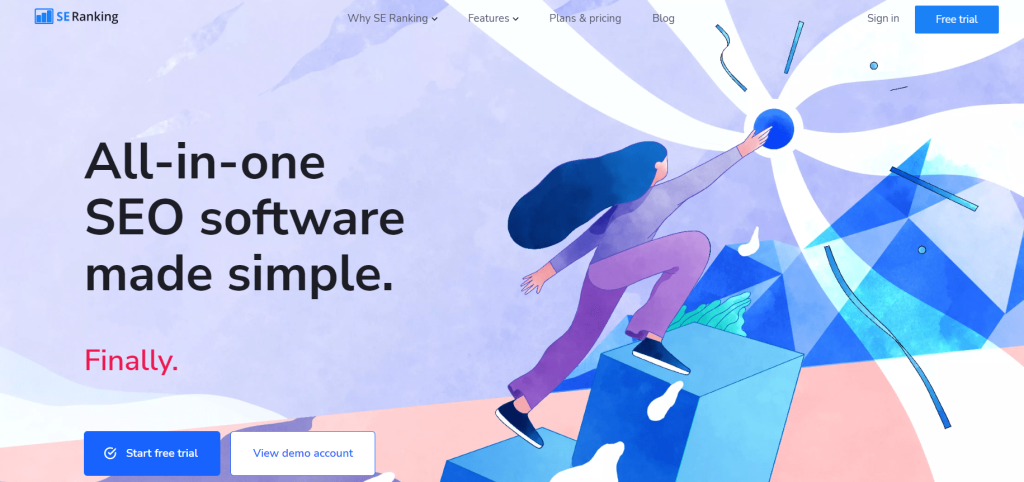 It is an affordable feature-rich SEO tool that gives access to two new features called page changes and a marketing plan, along with some other incredible features.
Page Changes: Alerts you whenever a change is made within your or your competitor's site. With this feature, you can take appropriate measures to verify your site's new content or derive strategies to keep ahead of your competitor.
Marketing Plan: A to-do list that keeps you and your online business organized. You can add tasks and tick them off with completion. Let's visit the SEO tools of SE Ranking.
Audit tool: Gives a clear picture to optimize your site for SEO mistakes to achieve a better SERP.
Keyword research tool: Helps to find the keywords with less competition but more traffic.
Rank tracking tool: Tracks the SERP of your pages for the identified keywords. The tracking is updated daily.
Backlink tool: Shares the sources of the backlinks for your and your competitor's websites.
SE Ranking Pricing:
Free Trial available. SE Ranking's pricing varies with ranking check frequency coupled with 1 month, 3 months, 6 months, 9 months, and yearly plans. Here are the monthly plans with daily ranking checks:
Essential- 39 USD per month
Pro- 89 USD per month
Business- 189 USD per month
With annual subscriptions, you can save 20%.
4. Ahrefs:
Ahrefs is a professional's favorite due to its vast and technically advanced tools.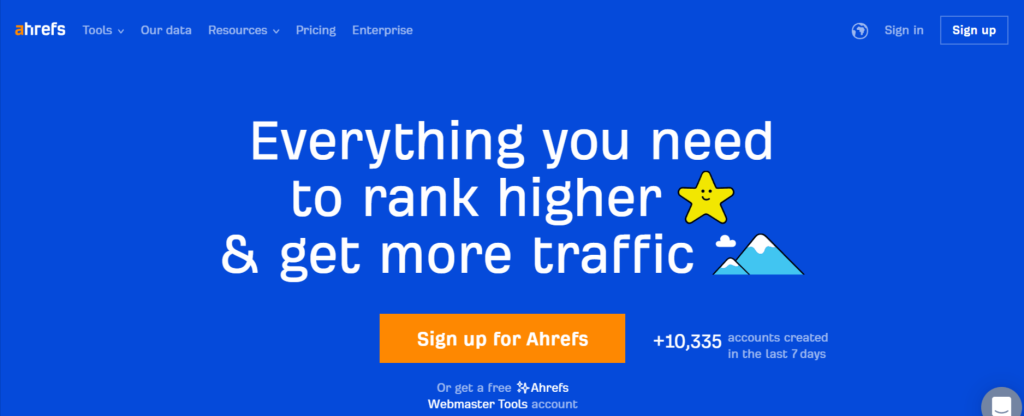 Its site explorer tool can provide you with even the minutest detail of your competitor, worth knowing. With the given information, you can build a well-planned strategy to outrank your competitors. It consists of the largest backlink database in the industry, offering many more opportunities to get a new one for your business.
With keyword explorer, you can find the best keywords for the content. The site audit provides a robust analysis of your website, presenting SEO issues and solutions.
Ahrefs Pricing:
No trial is available. There're four paid plans, viz.
Lite- 99 USD per month
Standard- 199 USD per month
Advanced- 399 USD per month
Enterprise- 999 USD per month
5. Serpstat:
Serpstat has award-winning SEO tools that can help you outrank your competitors and improve SERP.
With its competitor research tool, you can find your most extensive SEO and ads competitors. With this tool, you can see their ranking keywords and monitor their performance.

The inbuilt keyword research tool provides the best keywords for better traffic with lesser competition. With the backlink tool, you can always keep track of the websites that drop links to your content. To dig deeper, you can open a side-by-side comparison of your main competitor and the authority in the niche then you can make a strategy to get backlinks for your business.
The site audit tool analyses and categorizes the SEO issues with a priority-based system. It provides an SDO score to your website to let you see where you stand. With the rank tracker, you can always keep a tab on the performance of keywords for your content.
Serpstat Pricing:
Four paid plans viz.
Lite- 69 USD per month
Standard- 149 USD per month
Advanced- 299 USD per month
Enterprise- 499 USD per month
Save 30% with annual subscriptions.
6. SEO Power Suite:
SEO Power Suite, despite being feature-rich, isn't only affordable and comes with a generous trial plan. This SEO tool has achieved affordability by utilizing the power of the user's desktop instead of opting for the cloud.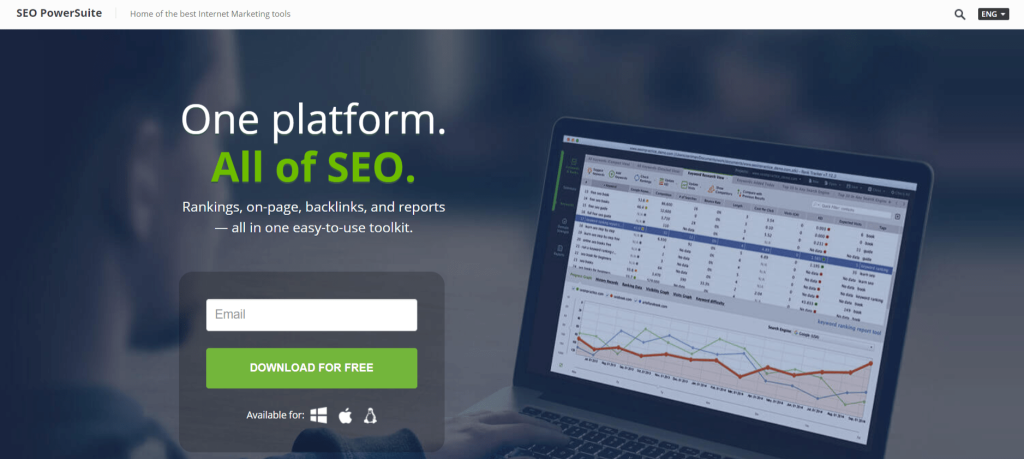 It's a desktop application available for Windows, Mac, and Linux. You can download the tool as per your OS and start getting ahead in your online business immediately.
It comes with four main tools, viz. Link Assistant, SEO Spyglass, Rank Tracker, and Website Auditor.
Link Assistant: Keeps track of the bank links and can find opportunities to get a new one.
SEO Spyglass: Spies on the competitor's site and informs about their performance and ranking strategies.
Rank Tracker: Gives the performance report of the keywords piped in the tool.
Website Auditor: It details all the SEO issues after analyzing your website and helps resolve them.
SEO Power Suite Pricing:
Free plan available. Two annual paid plans are:
Professional- 596 USD per year
Enterprise- 1396 USD per year
7. Morningscore:
Morningscore comes with all the basic SEO tool needs but how it keeps the user motivated and organized is commendable.
With Morningscore, you can estimate the accurate monetization of SEO for various currencies.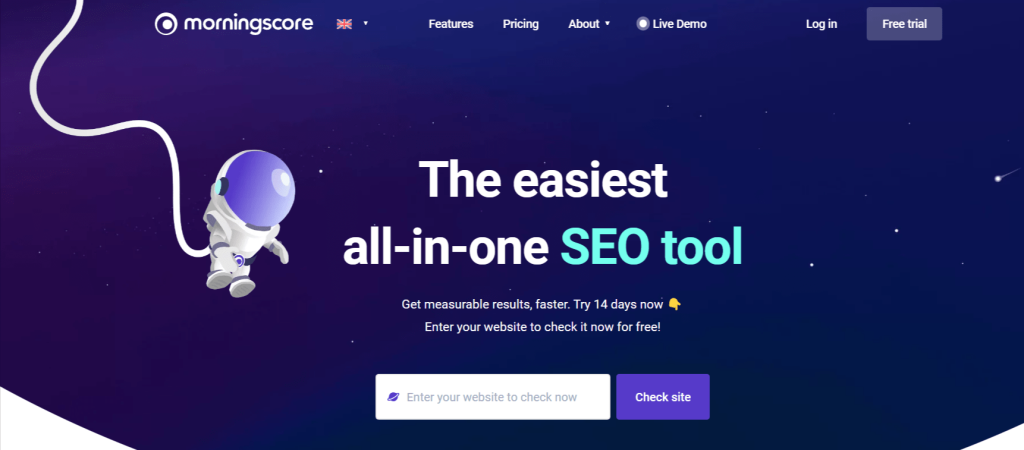 Morningscore makes SEO fun by using game mechanics. This tool allows you to set up SEO missions and prioritize the most profitable task. Which ultimately keeps the project organized and moving forward, and achieving targets within deadlines.
The Morningscore also helps research the keywords, audit the website, and track keyword performance and backlinks stats.
Morningscore Pricing:
There are four paid plans available, viz
Growth Suite- 65 USD per month
Professional Suite- 125 USD per month
Master Suite- 237 USD per month
Enterprise- 685 USD per month
You can get two months free with the annual plan.
8. Web CEO:
Web CEO is used mainly by enterprises. Apart from the conventional SEO tools, Web CEO comes with two tools- White Labelling and Project Management, which focus primarily on enterprises or SEO solutions for clients.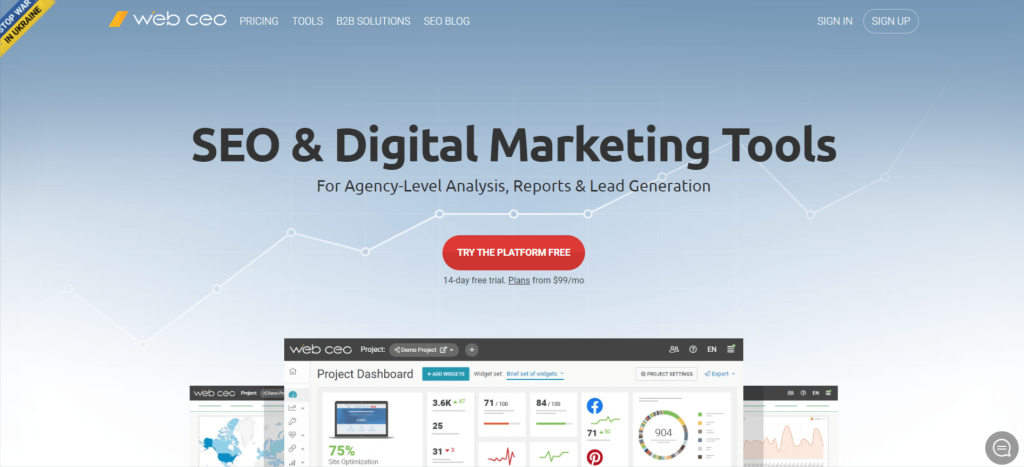 With the White Label feature, you can host Web CEO on your domain to provide SEO solutions to your clients. Hosting is done under your branding, so your clients never know that you use a third-party tool. You can use the Web CEO features to generate reports and provide solutions automatically with your brand name.
With Project Management Tools, you can assign various SEO tasks to the teams and keep a well-organized track of them. You can also create multiple projects and assign user roles. Keyword research, link building, site audit, and backlink tools are some of Web CEO's top built-in features.
Web CEO Pricing:
A trial plan is available. The available paid plans are:
Startup- 99 USD per month
Agency Unlimited- 99 USD per month + scanning fees
Corporate- 299 USD per month
9. Moz Pro:
Moz is the company that developed the Domain Authority (DA) and Page Authority (PA) metrics. The DA and PA are the most widely used metrics in the SEO analysis of a website.

The on-page optimization tool of Moz presents quick SEO issues with solutions for the current page. It comes in handy to quickly outrank your competitors.
Its huge backlinking database in the industry is a power-pack tool for its users to get opportunities for new backlinks.
Moz Pro Pricing:
Free trial available. Moz Pro's four paid plans are:
Standard- 99 USD per month
Medium- 179 USD per month
Large- 299 USD per month
Premium- 599 USD per month
You can save 20% with annual subscriptions.
10. iSpionage:
Featured in Forbes and Search Engine Journal (SEJ), iSpionage provides two inbuilt metrics to keep track of your keywords and ad campaigns.

The Ad Effectiveness Index (AEI) and Keyword Effectiveness Index (KEI) provide insights into the keywords and ad campaigns. This helps in better content creation, SEO implementation, and monetization strategies.
You can use ISpionage to get insights about your competitor and outrank them with the available SEO tools.
iSpionage Pricing:
Four paid plans available, viz
Starter- 59 USD per month
Professional- 299 USD per month
Advanced- 299 USD per month
You can save 15% with an annual subscription.
11. BrightEdge
It helps your content transform into business results, Helps you better understanding of rankings. From this you can generate traffic, revenue, conversions and much more. It is know to be the only company who is capable of real time management of content and its engagement across all the digital platforms. BrightEdge is been used by all the top companies and agencies. It helps the marketers achieve better results and understand the customer behavior/ experience in detail.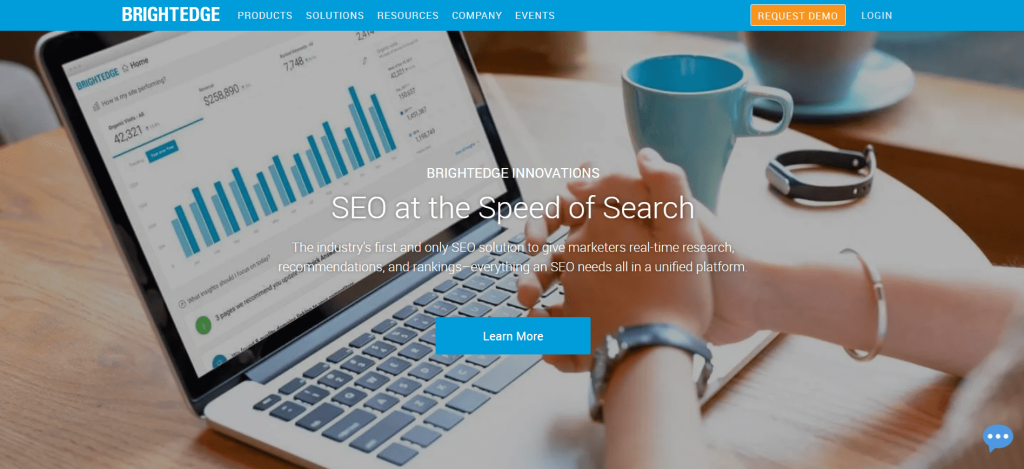 BrightEdge Pricing :
BrightEdge has not disclosed its pricing. For its Pricing, you will have to connect with the sales team.
12. PowerAdSpy
Last in our list of Best SpyFu Alternatives is PowerAdSpy. It is an Indian company that camp up in charts in recent times. PowerAdSpy can be considered as one of a great spying tool. It has 50 millions ads from 100+ countries. Affiliate Marketing, E-commerce website owners, agencies, all of these can spy on their competitor through the help of PowerAdSpy by letting them know about the media buying activities.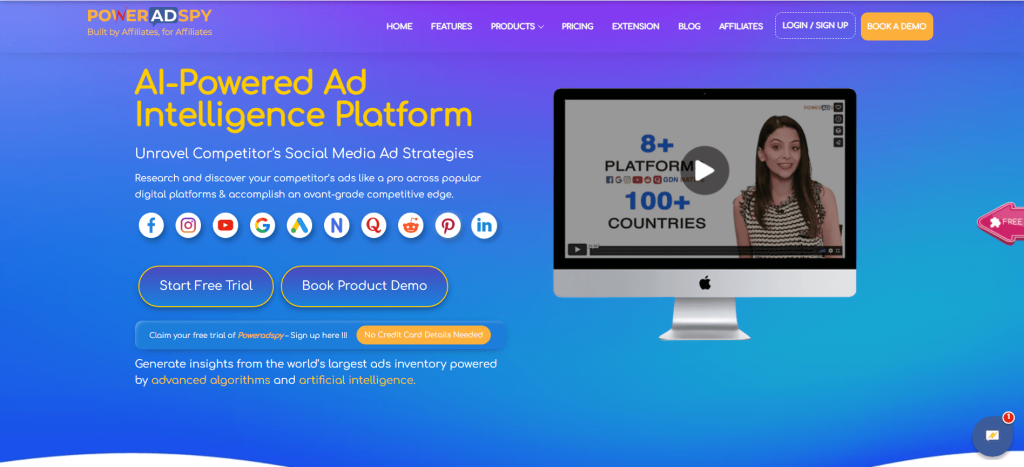 PowerAdSpy Pricing
Pricing Plans for PowerAdSpy is given below
Free Plan with Limited Searches
Basic Plan $49 per month
Standard Plan $99 per month
Premium Plan $149 per month
Platinum Plan $249 per month
Titanium Plan $299 per month
Palladium Plan $349 per month
Related Read:
Final Thoughts: SpyFu Alternatives
There is no one solution that can help you choose the best SpyFu alternative when it's about selecting any tool for your personal or professional usage.
A user-friendly, technologically advanced, data-intensive SEO tool can place your content in the top SERP. You should not compromise with this tool if you're serious about your online business. SEMrush grabs first place with the best keyword research tool and competition analysis. It also aids as a professional consultant as to how you can improvise your SERP rankings or how to get ahead of your competitor.
Making the best choice requires patience, careful consideration of the available tools, and not rushing.