When you have a growing WordPress site, old and potentially irrelevant posts and pages may accumulate on the site. You could go through each post and manually delete them, but it would take a lot of your time. Bulk deleting posts saves you from this hustle.
You can Bulk Delete posts based on their authors, URLs, tags, category, and more. The admin area of WordPress makes it extremely simple to manage posts. Today, I will show you two methods by which you can Bulk Delete posts. The first method requires no plugin, while the second one is by using a plugin.
This will save a lot of your time. You can use this time to improve your efforts on more crucial tasks such as creating more quality content and SEO.
Method #1 — How To Bulk Delete Content On WordPress (Without Plugin)
This WordPress bulk deleting method requires no plugin, and I recommend it to all users. This method uses WordPress' built-in bulk deleting feature. Let me show you how you can use it.
NOTE: Before you follow these three steps. Look for section 1.2. And 1.3. To save some time!
Step #1 – Go on Posts
Hover your mouse cursor on the "Posts" option on the WordPress dashboard. Select the "All posts" option from the menu that appears.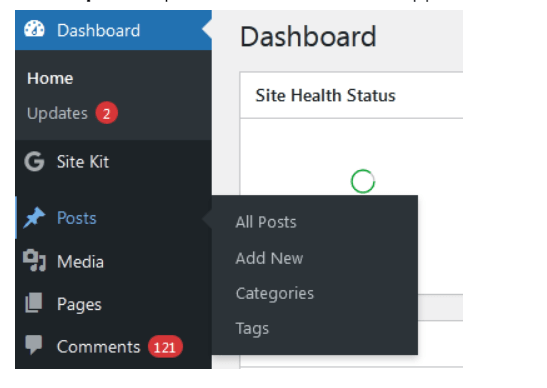 Step #2 – Check the Title
Suppose you wish to delete all posts, irrespective of their categories and authors. Check the "Title" option. You can see that all the posts are ticked automatically.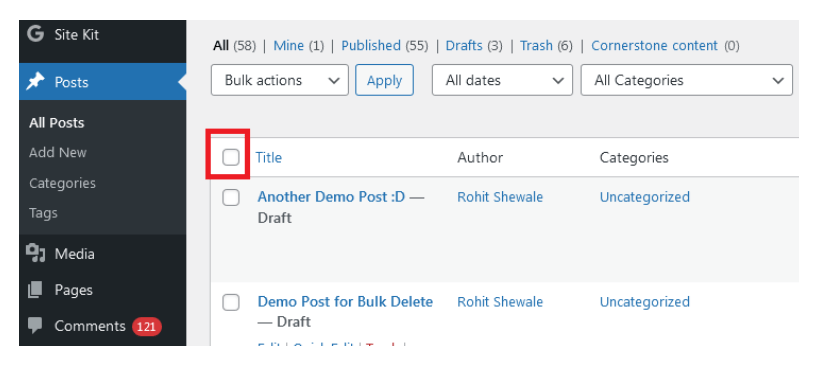 Suppose you wish to keep some of the posts. Now is the time to look for them and uncheck the box beside them.
Step #3 – Select "Move to Trash"
Look for the "Bulk Action" box.
Click on it and select "Move to Trash" from the drop-down menu.
Next, go on and click on the "Apply" button. This will move all the posts to trash that were tick marked by you earlier.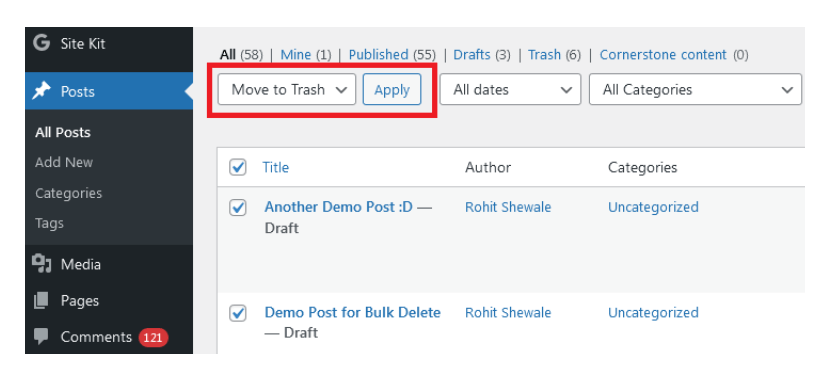 1.2.)  How Do I Delete More Than 20 WordPress Posts Simultaneously?
This Above Mentioned process will let you delete 20 posts at a time. If you wish to delete more than 20 posts, follow these additional steps.
Look for the "Screen Options ▼" button on the top right corner of the WordPress dashboard. This should bring a drop-down menu.

Look for "Number of items per page" and enter the amount according to your need. Suppose you wish to delete 50 posts at a time. Enter 50 in the box and click on "Apply."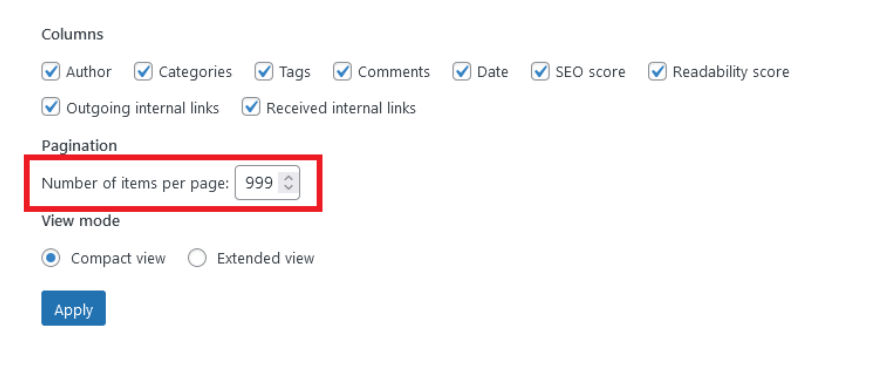 You will now see the number of posts you entered on a single page. You can now go ahead and follow the steps mentioned above to delete the posts.
NOTE: The deleted posts will be moved to WordPress' Trash section for 30 days from the day of deletion. You can recover the posts before the 30-day mark. You will lose them permanently afterward.
1.3.) How do I delete WordPress posts based on their Author or Category?
Suppose you wish to delete WordPress posts based on a specific author or category. Follow these steps.
It's Simple!
Click on the Author's Name or Category. This will display the posts associated with them. You can now go ahead and follow the three steps listed above to delete the posts.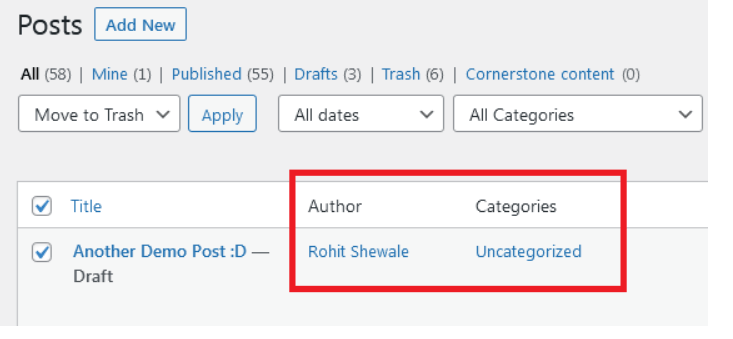 You can also select the filtering option from the Top bar. "All dates" will give you the month of the posts. "All categories" will show you the categories. Select the date or category and click on "Filter" to see posts associated with that Date and Category.

Method #2 — How To Bulk Delete Content On WordPress (Using a Plugin)
The default WordPress bulk deleting feature works for most users. But there are limiting options to filter out posts in it. Let's say, If you wish to delete a post created within a certain number of days or a post beyond a specific date; then you need a plugin.
Thankfully, there are plugins to do so. I recommend going for "Bulk Delete" by Sudar for this task. It is trusted by over 50,000 people and is well updated.
Install and Activate the plugin and follow these steps:
Step #1 – Select Bulk Delete Posts
Click on "Bulk Delete Posts" under the Plugin's name.
Step #2 – Select What you Want to Delete
You can now filter posts by their duration, publication date, and more. You can also choose to delete them instantly without sending them to the trash and even schedule to delete them later.
If you want additional options, scroll down to see them. You can delete posts by their tags, taxonomy, category, and much more.
Whatever filter you choose. Make sure you recheck every option you have ticked before hitting the "Bulk Delete" option.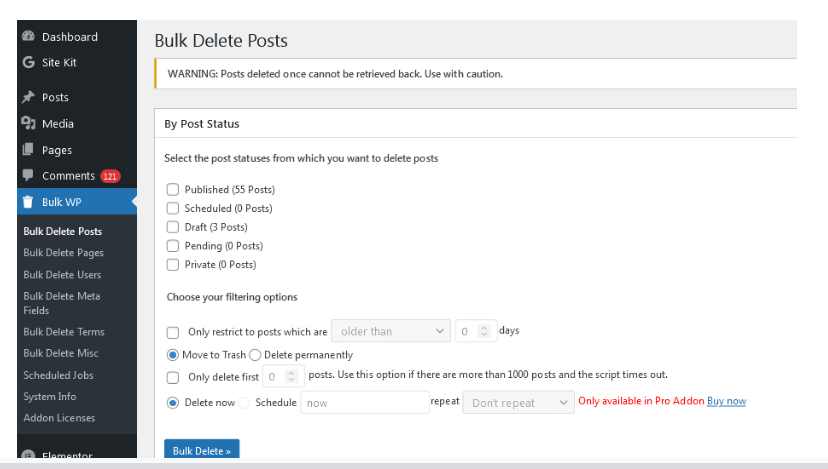 The plugin can also be used to bulk delete pages, comments, users, and more.
Related Read:
Conclusion – How To Bulk Delete Content On WordPress
I hope I was able to give you a clear solution to your query through this post. Comment below if you have questions regarding the post, and I will be more than happy to guide you. I keep creating content around WordPress and eCommerce. Check my other blogs, and you might find an amazing discount or trick on your favorite WordPress plugin and Ecomerce tool.