We understand the value of free stuff. Moreover, being in the SEO industry, we completely get how you would feel if you get a free subscription to the best SEO tool in the market. Yes, we are talking about SEMrush.
Tech tips with tea visitors get a 30-day free trial on Semrush. We also have a quick and easy guide to help you claim the offer in 3 easy steps. Check the complete guide to unlock all the great SEO possibilities with 30 days of Free Semrush! If you like it, Keep it!
So without any further talks, let us take you straight to what you came for.
Semrush 30 Days Extended Free Trial
Use our exclusive link below, and claim Semrush's 30 Days free trial!
Don't miss out on this amazing opportunity! 🔥
Semrush Free Trial
The regular Semrush free trial is available for a week (7 days)
With our guide, you can unlock the Semrush free trial for a whole month (30 days)
To unlock the Semrush 30 days free trial, Click on this Exclusive Link.
If you wish to know the step-by-step process of claiming the Semrush Free Trial, then read on
Claiming the Semrush Free trial (Step-by-Step)
In this section, I will take you through a step-by-step process of claiming the Semrush free trial in 2023. Get 30 days of the best SEO tool in the market with us. Follow Along!
Step #1: Visit The Official Semrush Website
Click HERE to get redirected to the Semrush 30-day free trial page instantly. This will also activate the offer for you.
Once on the page, click on the "Activate Now For Free" Button to initiate the claiming process.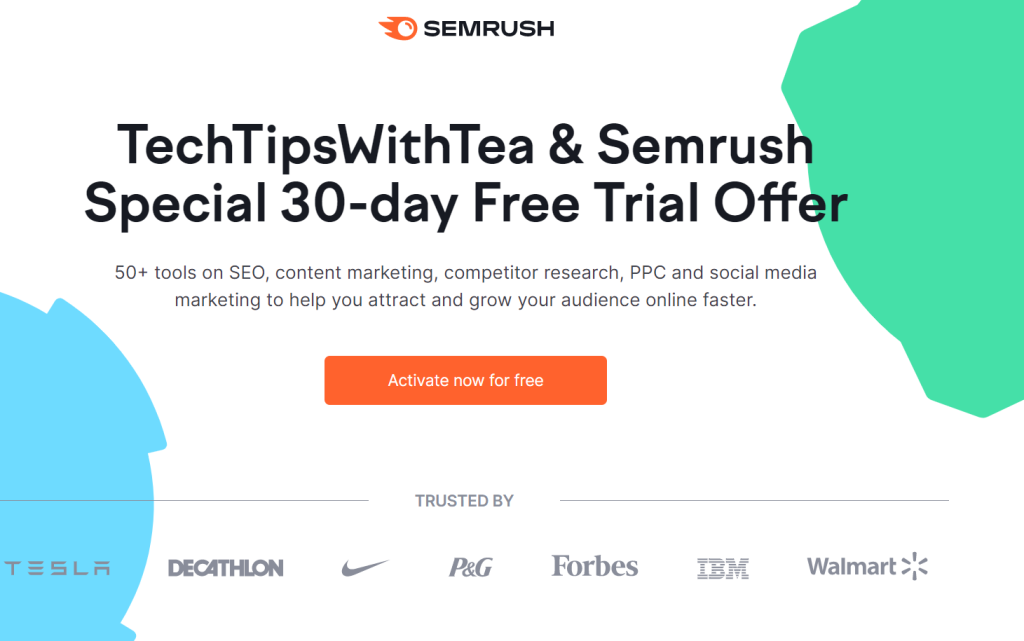 Step #2: Create a Semrush Account
It's important to note that this free trial only applies to new users. So in order to claim the offer, it is necessary that you create a new account.
You get a couple of options to sign up. Either through a google account or using a different mail service.
Choose whichever option suits you best and fill in the required information to continue.
After successfully creating your account, you will receive an email with an activation code. Verify your account using that code and move forward.
Step #3: Checkout With Your Free Trial Offer!
The final step is to checkout.
You can view the pricing on this page, which will be $0.00 because you used our exclusive link to unlock the Free trial.
Semrush will need your credit card details, not to charge you immediately but to renew your subscription after the free trial ends.
The purchase summary on the right-hand side of the page will have details like starting and ending date of your free trial.
Lastly, fill in the required information about your billing address and click on "Place The Order."
That's it, you have unlocked the 30-day free trial.
How To Cancel Semrush Free Trial
This guide will teach you how to cancel your Semrush free trial before its ending date to avoid getting charged post-expiry. There are a couple of ways to do it. Let us look at both of them quickly.
Method 1
Visit the Semrush website and login into your account. Fill out the cancellation form and submit it.
Once done, expect a mail from Semrush support within a few hours. When you receive the mail, ask them to cancel your free trial.
Method 2
Visit Semrush's official website > Log in to your account > subscriptions > activate > disable recurring payments.
Contact Semrush customer support and ask them to cancel your free trial.
Semrush Overview
Semrush offers over 50 features for all kinds of marketing needs. Let us look at Semrush's key features at a glance.
Features
Keyword Research: Find the best keywords to take your digital marketing campaign to another level. Sort keywords based on search volume, Cost Per Click, keyword difficulty, number of results, SERP Features, intent, competition level, and much more.
On-page SEO: With Semrush's On-page SEO tools like site audit, log file analyzer, and on-page SEO checker to check your website's health and its crawlability.
Competitor Analysis: Using tools like social media tracker, traffic analytics, advertising research, and organic research you can discover what your competitors are up to.
Link Building: Get access to 43+ trillion backlinks with Semrush. Make use of backlink analytics and generate a powerful backlink profile.
Domain Overview: Analyze domains with this feature. Metrics like authority score, organic search traffic, backlinks, and much more are represented in graphical form.
Content Marketing: Create a successful marketing campaign with tools like topic research, SEO writing assistant, SEO content templates, post tracking, the post-audit marketing calendar, and much more.
Local SEO: Carve a local SEO strategy that gets the masses to know about your offerings, boosts your site's traffic, and attracts more customers. Tools like position tracking and listing management are two of the many tools available for this job.
Semrush also helps in
Website Monetization
Content optimization
Competitor PR Monitoring
Social Media Management and much more.
Semrush Pricing Explained
Semrush offers three plans to choose from. Let me take you through all three of them so that you get a better understanding of each one.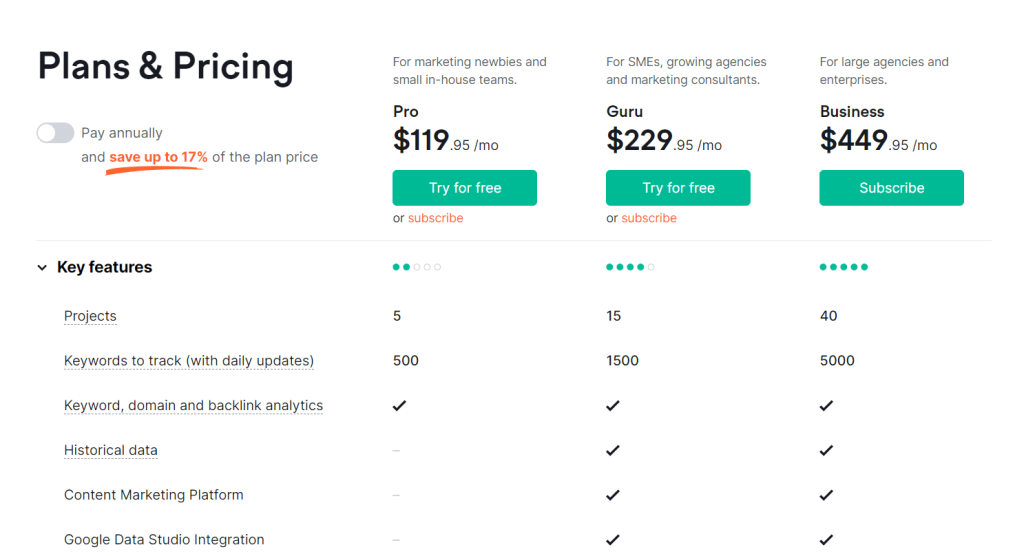 Pro Plan:
Ideal for – Marketing newbies.
Costs – $119.95/month and $1199.4/year
Features – track up to 5 projects, track up to 500 keywords, and much more.
Guru Plan:
Ideal for – Small and Medium-sized businesses, growing agencies, and marketing consultants.
Costs – $229.95/month and $2299.44/year
Features – track up to 15 projects, track up to 1500 keywords, access to google data studio integration, historical data, content marketing platform, and much more.
Business Plan:
Ideal for – Large scale agencies and Enterprises.
Costs – $449.95/month and $4499.4/year
Features – track up to 40 projects, track up to 5000 keywords, access to a content marketing platform, access to google data studio integration, historical data, access to API, and much more.
Is it possible to get the Semrush Pro plan for free?
There is no way to get the Semrush pro plan for free forever. However, you can unlock a 30-day free trial with our exclusive link given above. If you cancel the free trial before it ends you will not be charged for the renewal.
Semrush Pro vs Guru Plan
Semrush offers free trials on both of these plans, so which one should you pick?
To make your task easier, we have compared both plans below. Take a look at all the features both these plans have to offer to make an informed decision.
| | | |
| --- | --- | --- |
| Features | Pro Plan | Guru Plan |
| Pricing | $119.95/month | $229.95/month |
| Additional User | + $45/month per user | + $80/month per user |
| Ideal For | Beginners | SMEs |
| Keyword Research | ✅ | ✅ |
| Historical Data | ❌ | ✅ |
| Content Marketing | ❌ | ✅ |
| Mobile Rankings | ✅ | ✅ |
| Multi-Targeting | ✅ | ✅ |
| Report Sharing | ✅ | ✅ |
| Keyword Tracking | ✅ | ✅ |
| Branded Reports | ❌ | ✅ |
| API Access | ❌ | ✅ |
Related Read:
Conclusion: Semrush Free Trial (2023)
Unlock Semrush free trial with our links and get access to billions of keywords, trillions of backlinks and endless opportunities to take your digital marketing campaign to the next level. If you are happy with the free trial, you can go ahead and subscribe to them; if not, you can easily cancel the subscription.
I hope I solved your quest for a Semrush free trial. I have more amazing topics on my blog, I'd be very happy if you check them. It motivates me to create more content for you guys.
Frequently Asked Questions:
What type of payment does Semrush accept?
Semrush accepts three types of payment methods: 
1. All types of credit cards – Visa, MasterCard, Union Pay, Discover. 
2. Money Order or Check – (For U.S or upon request) 
3. Wire Transfer – (On request) 

Does Semrush offer any discount?
Yes, you can get a flat 17% discount on subscribing to any Semrush annual plan.
Can I cancel my free trial?
Absolutely, you can cancel your free trial anytime before the free trial period ends.
Does Semrush offer any refund policy?
Yes, you get 7 days of a refund policy on Semrush, so you have 7 days to try this tool and get familiar with its features.