Is Blogging Worth It In 2023? Considering, there are many platforms for message dissemination? The answer is Yes!
The global internet population has surpassed 4 billion, making it more critical than ever. Businesses, therefore, need to employ blogging as part of their marketing strategy.
Blogging helps you win potential customers' trust while promoting your products and services. Using blogging as a content marketing strategy may help a company increase its online presence.
90% of companies cited blogs as a content marketing format they used in the previous year to promote their brands. Online events, infographics, videos, and eBooks are some examples.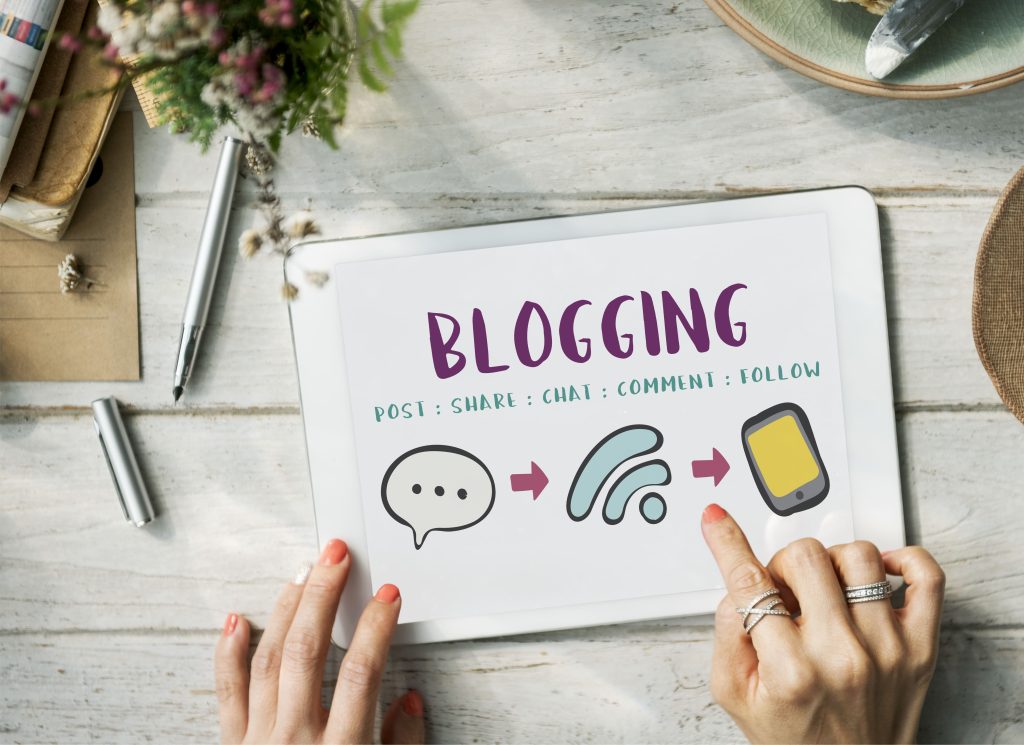 Starting a Blog In 2023
Here are few steps you need to follow to start a blog in 2023
| Sr. No. | Steps You Need To Follow Before Starting A Blog In 2023 |
| --- | --- |
| 1. | Pick a Niche |
| 2. | Choose a Platform for Your Blogging |
| 3. | Pick a Domain Name |
| 4. | Keep Your Content Original |
| 5. | Plan Your Content Calendar Accordingly |
| 6. | Promote it on Social Media |
Why is Blogging Worth it?
Connecting with your audience through blogging, demonstrating your expertise, and building trust with your readers makes blogging worthwhile.
In contrast, another challenge is creating an influential blog that meets your company's objectives. Get the lowdown on why blogging is crucial to becoming effective in today's world of online marketing.
1. Increased Visibility through Blogging
Making sure that amazing content is search engine optimized is the next step in creating great content. Blogs that address the issues customers in your sector are inquiring about are beneficial for SEO.
Another technique to improve visibility is through internal linking. Your website's other web pages, blogs, and sales pages may all be linked to increasing brand authority, exposure, and visibility.
To ensure you're covering the issue thoroughly and staying within the allotted word count, it's also crucial to consider the length of blogs like the one you're discussing.
2. Engage visitors
To improve website traffic, blogs produce pertinent material. A HubSpot Marketing research found that companies with blogs receive 55% more website traffic than those without one.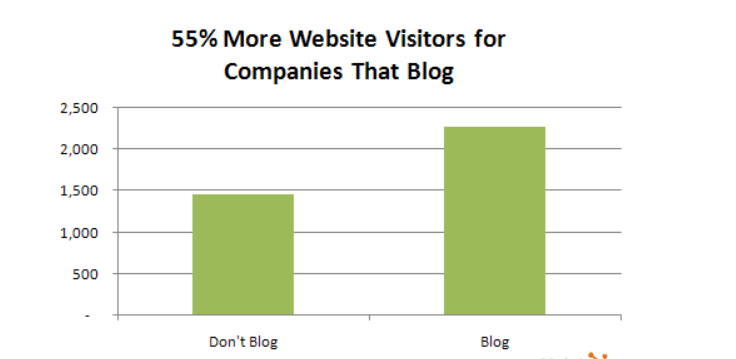 A blog is a fantastic tool for updating a website with new information. Readers are interested in finding solutions; blogs may also tie together advice and a commercial service or good.
Additionally, blog postings can serve as the basis for customer-reaching social media posts. Businesses may publish links to their blogs on social media platforms like Facebook, LinkedIn, and Twitter to encourage readers to visit their websites.
3. Build audience esteem
Businesses may contribute value and knowledge through blog material. Blogs demonstrate to present and future clients the value a company offers.
Blogs are a fantastic method to gradually grow your following and demonstrate your subject-matter knowledge in your field and product line.
Keeping these digital marketing techniques in mind when developing trust is essential. They include the following and hold for blog posts:
Adapt material to readers' preferences
To reach a variety of generations, use a variety of channels
Posts should reflect empathy
Utilize marketing automation technologies, such as post scheduling
4. Lead generation
You have the chance to turn web traffic into prospects now that some visitors are arriving at your site via your blog.
Each blog post you create is an opportunity to get new leads. Blogs help establish a relationship with readers before requesting their contact information, even if this is a beautiful approach for leads.
How to Start Blogging?– Is Blogging Worth It
Although it's pretty easy to set up a blog, there are specific logistics to work out before you start blogging.
| Sr. No. | 9 Reasons Why Blogging Is Worth It In 2023 |
| --- | --- |
| 1. | Pick The Apt CMS |
| 2. | Create A Content Calendar |
| 3. | Bring Fresh Ideas |
| 4. | Get The Ideal Domain Name |
| 5. | Blogging Today & Beyond |
| 6. | Include More Videos |
| 7. | Emphasize More Visuals |
| 8. | Focus On Quality More Than Quantity |
| 9. | Target The Right Audience |
1. Pick the apt CMS
Develop your material more efficiently using a CMS or content management system. It's the initial phase of logging.
There are many different content management systems from which to choose for your blog. Choose the CMS that is best for your company's needs.
2. Create a content calendar
Put a content calendar to use for your blog. The calendar should include deadlines for each article, pitches, ideas for blog posts, and the brainstorming, writing, and editing stages of each post's completion. By doing this, you'll be able to see your blog in an orderly manner and make sure your postings are always current.
3. Bring fresh ideas
You could have a few ideas that come to mind immediately for the blog, but you must determine how to produce new posts consistently.
The future of the remainder of the website depends on the topic (or niche) you choose for your blog. You'll be blogging about this and, ideally, generating revenue.
Although maintaining a blog might feel like juggling several things at once, you'll ultimately get into a decent routine of article creation. The most crucial step is to get started and remember that you can always change your blogging strategy.
4. Get the ideal domain name
Here are some helpful guidelines to consider while picking a suitable name:
Select a.com,.org, or.net domain. People find it easy to recall these.
Don't use more than 14 characters; keep it brief.
Simple to say and spell.
Use your company's name.
Don't use hyphens or digits. When you add hyphens, it looks awkward in the URL and is challenging to type out.
5. Blogging today and beyond
The future of blogging will get brighter but only for those willing to take advantage of the opportunities. Blogging has undergone a drastic transformation in optimizing its strategies and best practices to engage with readers over the years.
Google Trends shows that content marketing and blogging merge at some point, although the focus is shifting to content as a whole.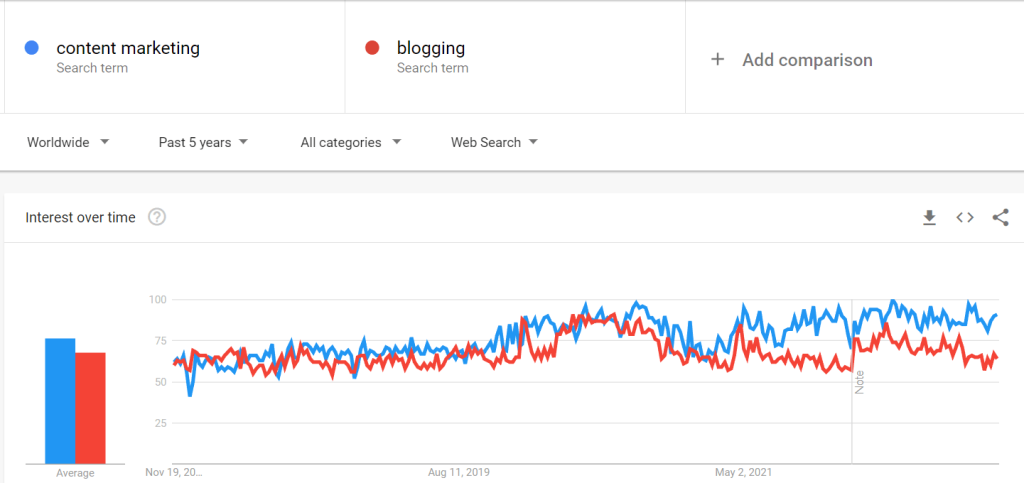 More than simply inputting keywords and what you think Google wants to hear is required. All content needs to be expertly crafted and well thought out. So now, let's dive into how you can reinvigorate your blog content to ensure it's hitting the mark.
Being flexible in the face of change
Focusing on quality above quantity should be the rule for blogs. Developing a long-term strategy is essential to ensuring that your target market is reached and understood rather than merely satisfying broad business objectives.
6. Include more videos
Consumers boosted their online streaming consumption by 96%, and 90% of viewers stated they wanted to play more videos from companies and brands, according to HubSpot. On YouTube, videos are watched every day for over one billion hours.
Therefore, start making videos immediately if you desire to thrive in the blogging market. You might begin using them in your blog entries and uploading them to increase blog traffic.
7. Emphasize more visuals
Whether you realize it or not, Google considers UX cues when deciding how to rank a website. Your themes can be divided into images, infographics, short films, and other visual information.
Additionally, it helps you emphasize key points, elaborate on challenging ideas, and engage readers.
8. Focus on quality more than quantity
Writing ONE in-depth educational blog article instead of 10 subpar ones is always preferable. Ensure you plan your blog postings and choose how frequently you want to write.
It doesn't matter if you submit a new blog entry once a week or a month as long as it's excellent, engaging, and valuable.
9. Target the right audience
Stop bringing unwanted visitors to your website. Thousands of unrelated site visitors who are not interested in your products, services, or content are useless.
Choose long-tail keywords that are related to your niche. The best technique to bring "targeted traffic" to your website is through SEO.
Related Links
Final Thoughts on Is Blogging Worth It
Even while it can feel like blogging is growing harder, if you approach it correctly, you won't survive but also thrive. You must be prepared to adjust to any changes, though. You must continue to learn about the best blogging techniques to do this.
To ensure that your content and website have the knowledge, reputation, and credibility that search engines need, you must constantly review your SEO approach.
You may build a strong blogging foundation by comprehending basic blogging strategies and how to connect with your audience.
FAQs: Is Blogging Worth It
Is blogging still alive?
Blogging is still alive. Both the number of blogs published daily and their popularity are expanding swiftly. However, old-fashioned blogging strategies, such as daily posting, using free blogging platforms, producing flimsy material, etc., are no longer effective.
What topic should I choose?
You're free to write about anything linked to your business or sector. Try to think of themes that your audience will find interesting.
How can my blog be promoted?
You can promote your blog in multiple ways, such as sharing it on social media, creating guest pieces for other blogs, leaving comments on other blogs, joining online forums, etc. Make use of an eye-catching and distinctive design, and create a personal brand centered on your blog.
Where can I acquire inspiration for blog posts?
You may obtain ideas for blog entries in various locations, such as news websites, blogs, and online forums.