Ahrefs vs SpyFu? Which one should you go for? Let's find out. Over the past decade, SEO has transformed how we operate, and in 2023, things will likely stay the same. Online marketers and owners use SEO software to develop their marketing plans and expand their websites. Your SEO approach can become more effective if you have access to precise, dependable, and simple-to-use SEO tools. With them, you can gain extensive knowledge about the operation of your own website along with the SEO strategies used by the competitors.
Whatever business you operate, you need to be focusing on your SEO if you want people to find your website online.
So, let's compare Ahrefs and SpyFu, two potent SEO tools that may help you increase your online visibility, drive traffic to the website, and improve sales.
Ahrefs vs SpyFu: Quick Comparison (2023)
Let's quickly review Ahrefs vs SpyFu feature.
| | | |
| --- | --- | --- |
| Feature | Ahrefs | SpyFu |
| Pricing | Ahrefs is more expensive, whose plan starts from 99 USD per month. | SpyFu is cheaper whose plan starts just at 39 USD per month |
| Keyword research | Ahrefs offers thousands of great keyword ideas and is superior to Spyfu based on its massive database. | SpyFu provides you data to find profitable keywords. |
| Content explorer | Ahrefs has a Content explorer tool that analyzes the best-performing content in the respective fields. | SpyFu doesn't have any Content explorer tool. |
| Backlink analysis | Ahrefs offers backlink analysis that tracks the backlink profile | SpyFu finds backlinks pointing to the website. However, for each backlink, additional details are required. |
| Users | Ahrefs users are mostly web admins, marketers, SEO specialists, internal marketing teams, and marketing firms. | SpyFu users include online marketers at significant companies, marketing agencies, and SMEs. |
Key differences between Ahrefs and SpyFu
There are several similarities between Ahrefs and SpyFu. Both are intended to aid website owners and internet marketers in increasing website traffic.
In spite of that, Ahrefs and SpyFu have some key differences, which are:
Ahrefs offers an SEO toolbar option, while SpyFu does not.
In contrast to SpyFu, Ahrefs provides a broken link analyzer that you can employ as part of the link-building plan.
With options starting at just 33 USD per month, SpyFu is far less expensive than Ahrefs, whose subscriptions start from 99 USD per month.
Ahrefs has a 7-day trial that costs just 7 USD, while SpyFu doesn't, however it offers a 30-day refund guarantee.
Ahrefs At a glance
Ahrefs is a full-featured set of SEO tools for boosting website performance and search traffic. It is a collection of SEO tools that includes applications for link-building, keyword research, rival analysis, rank tracking, and site audits. As Ahrefs has one of the largest databases of live links, it is well renowned for its backlink checker.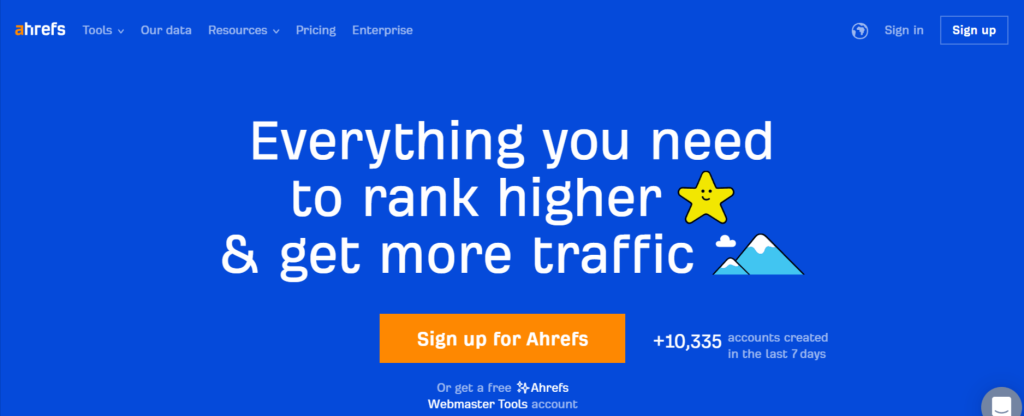 Ahrefs Advantages
The keyword database it possesses is the biggest one available.
Both novices and SEO specialists may efficiently utilize the platform because of how simple it is to use.
Ahrefs provides you with everything you need in one location to build a successful SEO plan and outrank your rivals.
They provide top-notch customer service and offer access to a closed Facebook group if you want peer assistance.
Since it is often updated, you can be confident that you are constantly using the most recent information.
Ahrefs Disadvantages
There isn't a free trial for Ahrefs, but it offers paid trials if you want to check it out before subscribing to a plan. The cost for Ahrefs is significantly more than that of several other SEO toolkits.
Since the Lite plan contains multiple limitations and restrictions, you should immediately switch to any of the higher levels if you're concerned about SEO.
SpyFu at a glance
SpyFu is a competitive intelligence and keyword research tool used to enhance digital performance in an online searches. The most profitable search phrases in your rivals' paid and organic search efforts are particularly found using SpyFu.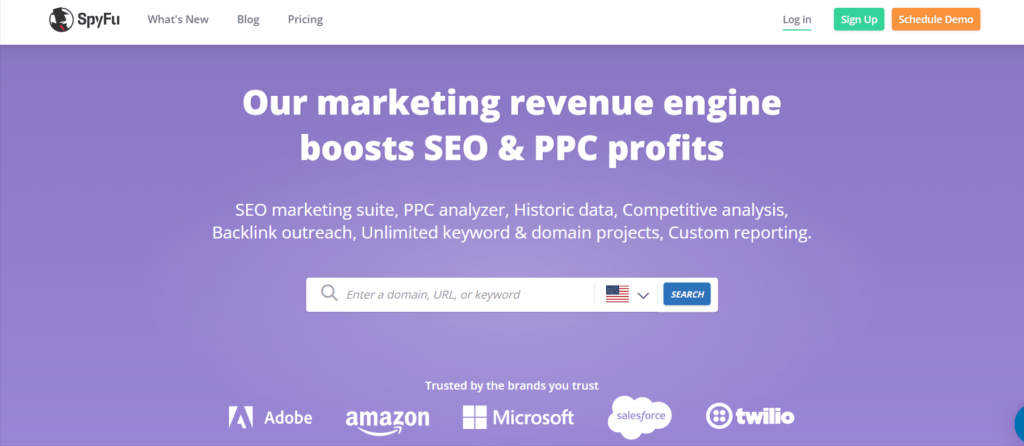 SpyFu Advantages
Unlike other SEO tools, the program has no initial learning curve and is straightforward to use.
SpyFu is a low-cost keyword research tool that allows you to check which organic and PPC phrases your competitors rank for. It enables you to outwit your competitors and surpass them in the Search Engine Results Pages (SERPs).
You can add your branding, and annotations may be added to your reports.
It's especially beneficial for anyone concentrating on PPC advertisements because it may assist you in developing a successful PPC campaign based on data on what is effective for the competitors.
SpyFu Disadvantages
It doesn't offer broken link statistics as part of the link-building plan, nor does it provide results for search engines like YouTube.
Ahrefs vs SpyFu: Detailed comparison
Ahrefs vs SpyFu: Detailed comparison
Here we have compared Ahrefs and SpyFu in detail.
Ahrefs Pricing
It offers the following plans: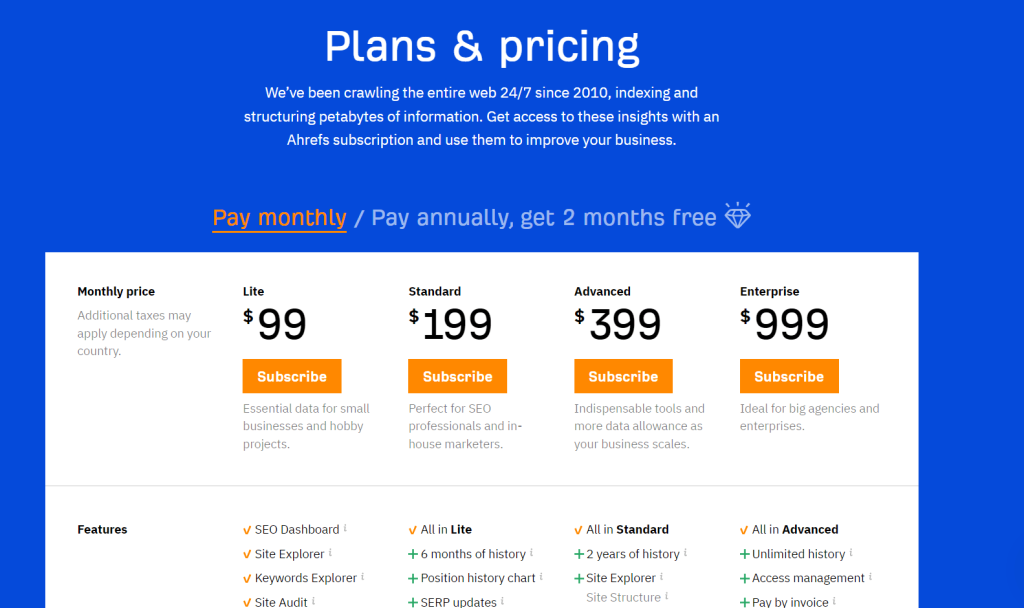 Ahrefs Lite Plan:
This plan comes at 99 USD per month. It offers one user login, 5 projects, 10,000 site audit credits, 500 monitored keywords, 25 keyword reports, and 50 content reports. This plan is more suitable for hobby projects and small businesses.
Ahrefs Standard Plan:
This plan comes at 179 USD per month. It offers all the features of the Lite plan, along with 10 projects, 500,000 site audit credits, 1500 monitored keywords, broken pages, and a history index. This plan is more suitable for SEO experts and internal marketers.
Ahrefs Advanced Plan:
This plan comes at 399 USD per month. It offers 3 users, 25 projects, 1.25 million site audit credits, 5000 monitored keywords, and regular alerts. You may need this plan as your business grows and you need more data space and crucial tools.
Ahrefs Agency Plan:
This plan comes at 999 USD per month. It offers 5 user logins, 100 projects, 2 million site audit credits, 10,000 monitored keywords, and higher limits. This plan is ideal for large enterprises and agencies.
SpyFu Pricing
SpyFu is much less expensive as compared to Ahrefs. You can pick between three Spyfu plans, which are cheaper than Ahrefs.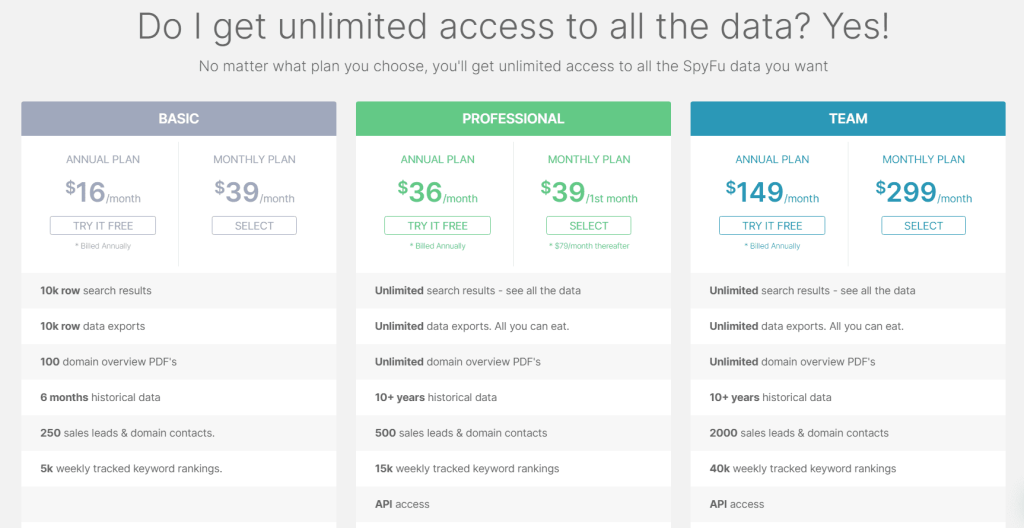 SpyFu Basic Plan:
The basic plan comes at 39 USD per month and if paid annually you will have to pay $16`. It offers unlimited exports, PDFs of domain overviews, and search data. The plan includes 5000 weekly monitored keywords, 250 sales leads, and 10,000 top searches.
SpyFu Professional Plan:
The professional plan will cost you 39 USD per month and $36 USD if paid annually. It includes all the features of the Basic plan plus 15,000 monitored keywords, 500 sales leads, 50,000 top searches, 10,000 API rows, and reports with unique branding.
Spyfu Team Plan:
The most premium plan comes at 299 USD per month and if paid annually it will cost you $149 USD a month. It offers all the Professional plan's features along with 40,000 weekly monitored keywords, 2000 additional sales leads, 75,000 top searches, and 5 user logins.
2. Keyword research
Here we have explained the keyword research tool of both Ahrefs and SpyFu.
Ahrefs Keyword Research

Ahref's keyword explorer enables you to add a keyword list. By evaluating your website with those of the competitors, Ahrefs may help you find target keywords. Once you've determined those keywords, then you can start using fresh content or sponsored search advertising to target them.
SpyFu Keyword Research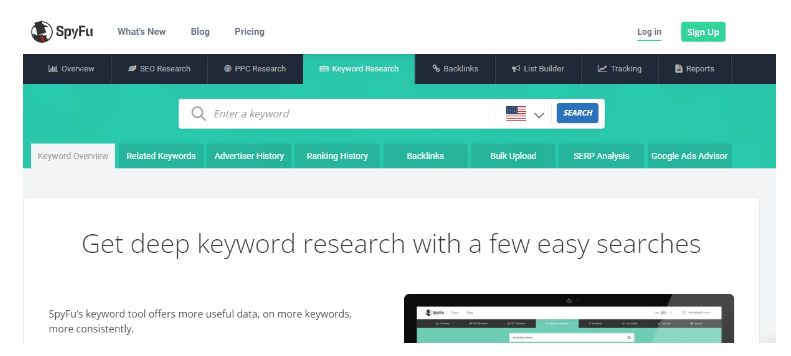 SpyFu's Keyword research tools give you all the data you need to find profitable keywords for your website. SpyFu is excellent in the keyword research field as well. You can utilize a tool included within it that is comparable to the keyword explorer of Ahrefs to find search data for any term. However, Ahrefs is much better than SpyFu when it comes to advanced metrics, SERP history, and big databases.
You can view the top 50 organic results for the keyword, along with the monthly organic clicks each domain and page gets monthly, the domain strength, ranked keywords, and outbound links.
3. Content Explorer
Here we have compared the content explorer tool of Ahrefs and SpyFu.
Ahrefs Content Explorer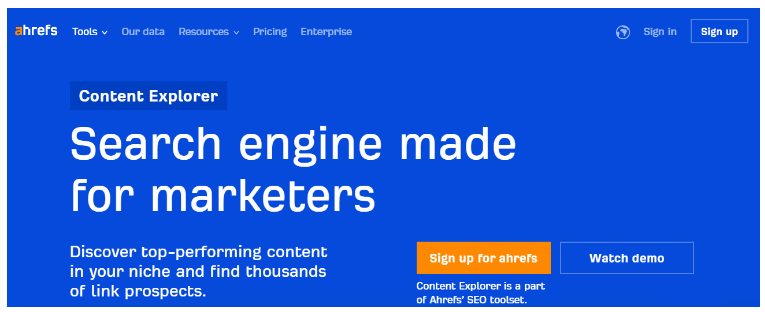 Ahrefs is a fantastic tool to help you with your content marketing initiatives. The platform allows you to look up the top-performing material for any subject and determine your rivals' top-performing content.
The content explorer aids marketers in brainstorming by analyzing the best-performing content in their area.
Over a billion online pages and SEO and social analytics are included in its database. Utilize operators, footprints, and keywords to filter results and identify fascinating content ideas.
The most vital pages of your rivals' websites regarding visitors and backlinks may be found using the Ahrefs database. Finding subjects you ought to write about but have yet to be easy with this method.
This tool can increase the overall traffic by focusing on content that will improve the backlink domain authority and profile.
SpyFu Content Explorer
Spyfu lacks a Content Explorer and other dedicated tools for content improvement, like Ahrefs. However, you can use it as a guide to developing content ideas.
4. Backlink analysis
Here we have explained the backlink analysis tool of Ahrefs and SpyFu.
Ahrefs Backlink Analysis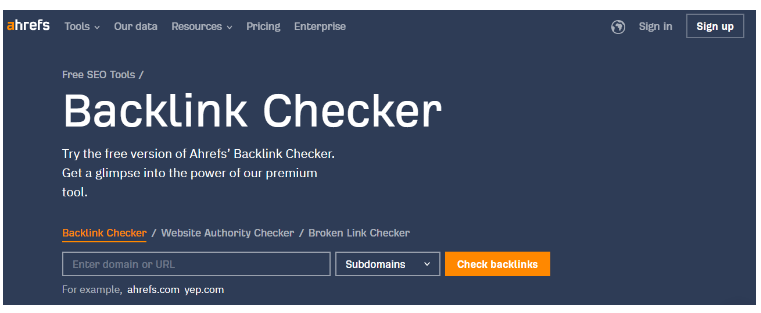 Ahrefs has several capabilities that are used to track your backlink profile and analyze the backlink profiles of the competitors. There is a lot of information regarding your backlink profile on Ahrefs' primary dashboard. This also contains an Ahrefs Rank, which rates your backlink profile overall.
SpyFu Backlink Analysis

SpyFu allows you to find backlinks pointing to your website. However, for each backlink, extra details are required.
Furthermore, SpyFu does not provide in-depth data, such as the broken backlinks analysis. You may locate connections already boosting the rankings of other websites in search engines and focus on the most frequent links from your rivals.
SpyFu assesses the websites you are targeting, allowing you to prioritize your time by starting with the sites with the highest ratings.
5. Users
Let's look at the users of both Ahrefs & Spyfu.
Ahrefs Users
The top Ahrefs users include web admins, marketers, SEO specialists, internal marketing teams, and marketing firms.
SpyFu Users
Online marketers at significant companies, marketing agencies, and SMEs are the primary consumers of SpyFu. For newly launched websites, SpyFu is a fantastic keyword research tool
Related read;
Final Verdict: Ahrefs vs SpyFu (2023)
Ahrefs and SpyFu definitely have significant uses in content marketing, competition analysis, keyword rank tracking, and keyword research. Every tool has a specific set of advantages. For content marketing, website SEO audits, and backlink research, Ahrefs is more effective. Researching keywords and examining competitors is better done with SpyFu. SpyFu costs around 50% less than similar products. The study of competitors, keyword research, and everyday activities will all be streamlined by an SEO tool. Spyfu is cheaper, provides hands-on training, and has more substantial restrictions on recorded keywords. Smaller agencies and independent search marketers should use it.
In contrast, Ahrefs has a considerably more extensive database of keywords, backlinks, and content. It is tailored to fit both small-business owners and regular marketers. Hordes of marketers utilize Ahrefs and SpyFu, two well-liked, excellent software products. Both effectively improve your internet marketing operations and increase website traffic. The two systems' feature strengths and pricing ranges are where they most significantly diverge.
If you are aware of effective SEO strategies, buying the ideal SEO tools won't be difficult. The benefits that any SEO software offers you should be fully considered at the time you invest in it. Regardless of your chosen tool, it would be best to determine the company's needs continuously.