SEOs can save a lot on digital products during the Black Friday sales. Wouldn't it be amazing if you could save on Ahrefs too?
Well, everyone who works in the SEO sector knows the importance of the tool in keyword research and backlink audits, among many other things.
Many people wonder about Ahrefs' Black Friday offerings and if there are any at all.
If you are among them, this guide will help you understand the matter and act accordingly.
Let's get into it, shall we?
Ahrefs Black Friday Deal 2023 (Will There Be An Offer?)
Ahrefs makes it very clear in their official post that they do not run discounts or seasonal specials on their site (this includes Thanksgiving, Black Friday, and Cyber Monday)
The best they have is an offer of almost 20% off all annual billing.
Instead of Ahrefs Black Friday deal, You can check the Semrush black Friday offers below; Semrush is the best alternative to Ahref.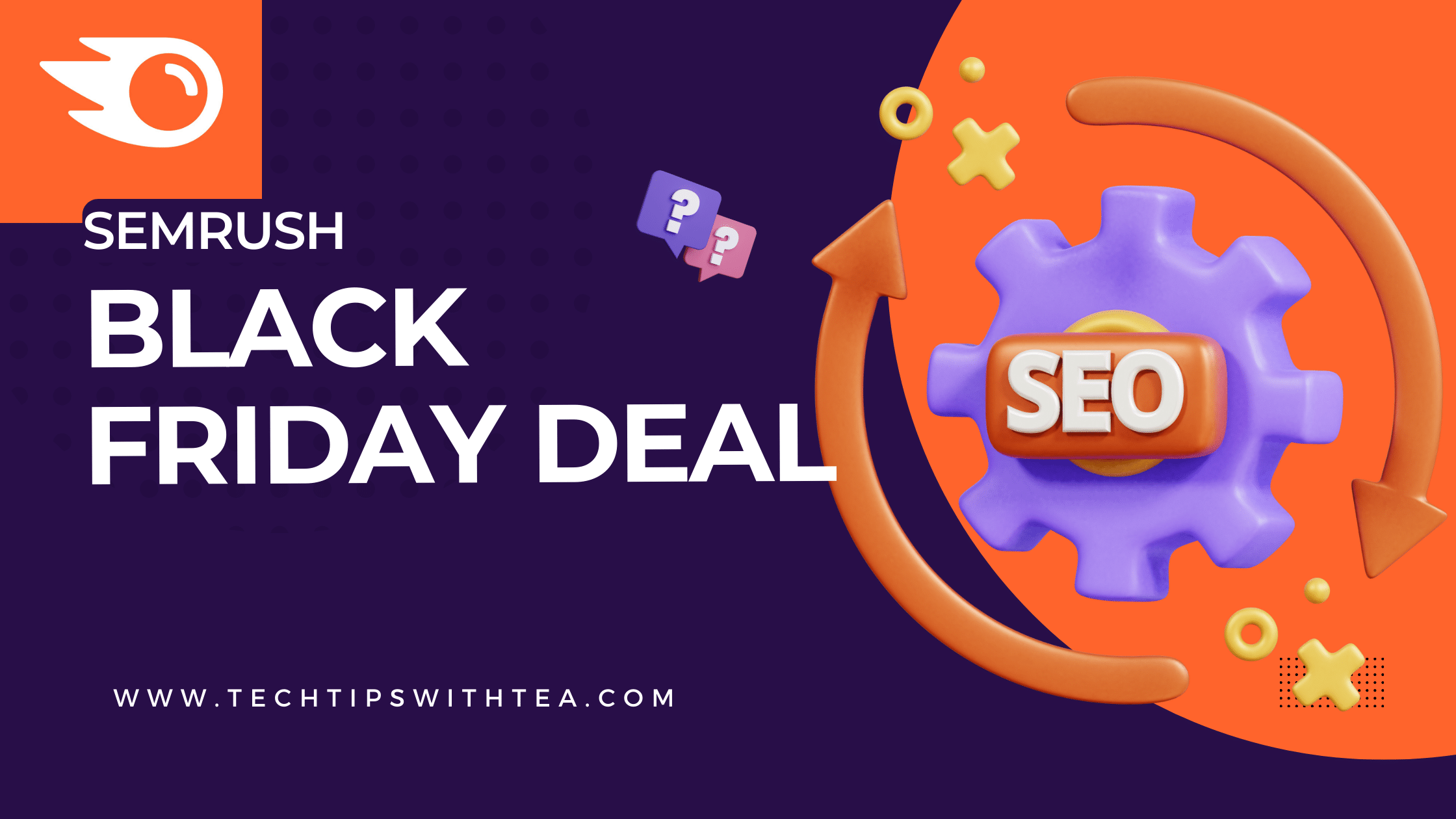 Semrush Black Friday Deal!
🔥Unlock incredible savings with Semrush live Black Friday deal! Enjoy up to 30% off on all plans.🔥
You can claim Semrush Black Friday directly by using the above link, or if you want more insights on it, you can check the semrush black Friday complete guide.
What Can Users Do?
So here is what you can do if you want to avail a discount on Ahrefs
So, Ahrefs gives a 20% off on all its plans if billed annually.
Here is how it works:

Ahref's base plan costs $99/month. If you choose to pay for that plan on a yearly basis, you pay $990, which is the price for 10 months ($99 * 10), but you get 12 months of access to the tool, making it your 2 months free bonus and ~20% discount if compared to monthly billing.
Here is an image showing the discounted pricing of Ahrefs if you opt for yearly billing:

Not satisfied with what Ahrefs has to offer? Check out our list of Ahrefs alternatives that might just impress you. A lot pf them have both free trials and black Friday deals incoming!
Ahrefs Pricing – At A Glance
Let's find out what Ahrefs offers across its subscription plans with a number of key features that users can get with them.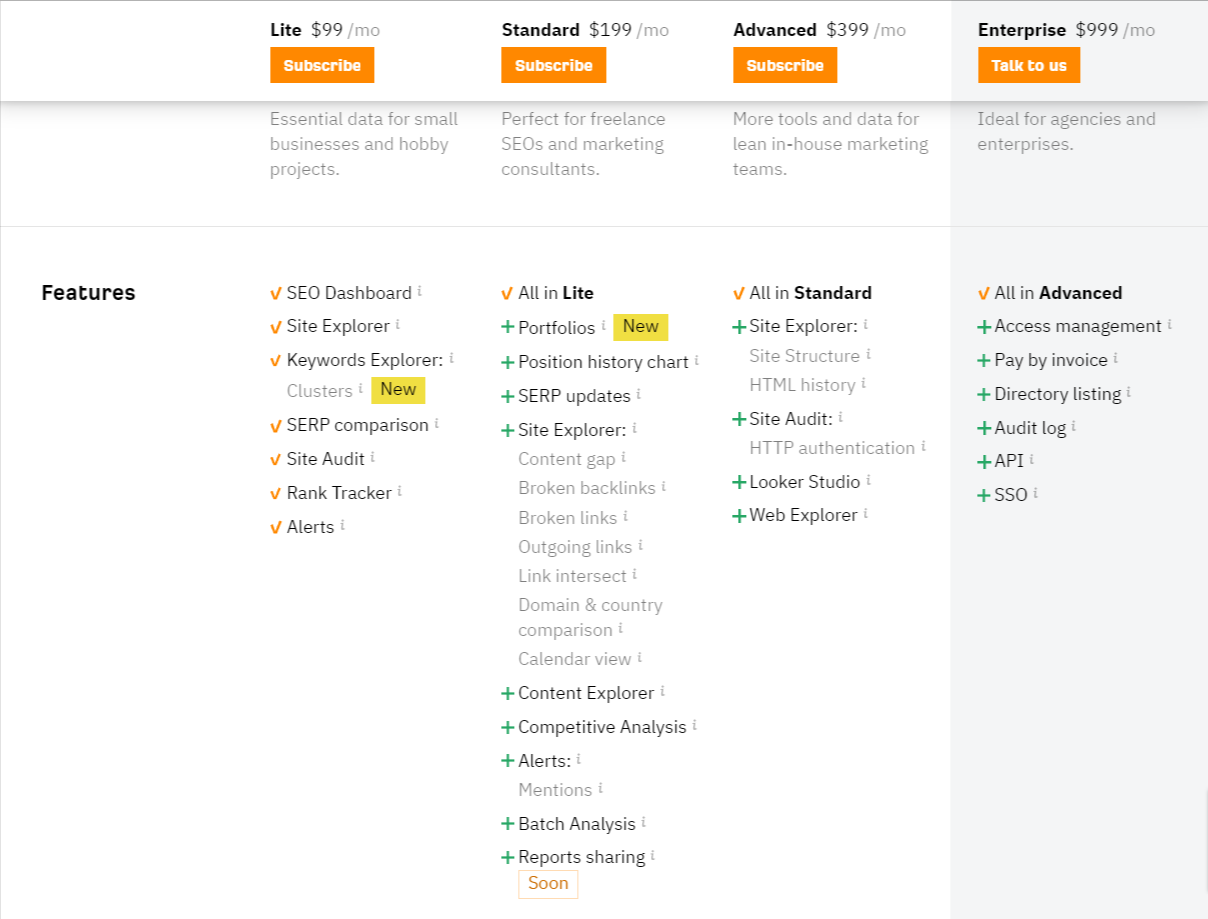 | | Lite | Standard | Advanced | Enterprise |
| --- | --- | --- | --- | --- |
| Pricing | $99/month | $199/month | $399/month | $999/month |
| SEO Dashboard | Yes | Yes | Yes | Yes |
| Keyword Explorer | Yes | Yes | Yes | Yes |
| Site Explorer | Yes | Yes | Yes | Yes |
| Site Audit | Yes | Yes | Yes | Yes |
| Rank Tracker | Yes | Yes | Yes | Yes |
| SERP Updates | No | Yes | Yes | Yes |
| Unlimited history | No | No | No | Yes |
| API | No | No | No | Yes |
Learn if Ahrefs offers a free trial here.
Ahrefs Cyber Monday 2023 Updates
As we said earlier, there is no Black Friday as well as Cyber Monday deal on Ahrefs.
Related Reads:
FAQs On Ahrefs Black Friday
When will the Ahrefs Black Friday Sale go live?
Ahrefs's Black Friday sale will not go live as Ahrefs does not offer special occasion discounts on its services. 
How much can I save during Ahrefs Black Friday and Cyber Monday sales?
You cannot save any amount with a Black Friday deal for Ahrefs, as there is no deal live. But users can get a 20% discount on plans if paid annually.
How much percent off are things on Black Friday?
On average, the Black Friday deals offer a discount of 25% for a limited period for their plans and services.