As more firms shift to remote work and online collaboration, scheduling has become a key concern. Finding the best time for team meetings, client engagements, and personal activities may be difficult, especially when dealing with many time zones and competing schedules. Calendly, an intelligent scheduling software that streamlines the process of arranging appointments and meetings, can help.
Calendly is a cloud-based scheduling software that eliminates back-and-forth email contact between individuals to expedite the appointment booking process. It allows users to communicate their availability with clients, coworkers, or anyone they desire to meet.
Let's discover why Calendly has proven to be a valuable tool for scheduling and organizing appointments by looking more closely at some of its significant features and advantages.
What does Calendly offer?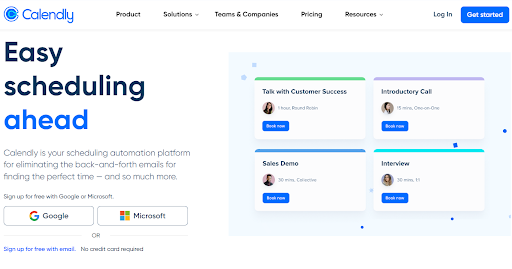 Calendly offers tons of options that help with appointment scheduling. It facilitates time savings, productivity gains, and streamlining scheduling processes for enterprises and people. The most significant characteristics include:
Customizable event types: With Calendly, you can create and customize various event types based on the goal of the meeting.
Automated scheduling: Calendly saves time and effort by automatically setting up appointments depending on availability.
Integrations: It is simple to arrange appointments across time zones because of Calendly's integration with well-known calendaring services like Google, Outlook, and Apple.
Team scheduling: With Calendly's team scheduling tool, you can let clients, coworkers, or anyone else you want to meet with know when your team is available.
Reminder emails: Calendly decreases no-shows and conserves time by automatically sending reminder emails to participants.
User-friendly: It's simple to establish and personalize your schedule choices with Calendly's user-friendly UI.
Cost-Effective: Unrestricted appointment scheduling and calendar integration are among the main features of Calendly's free plan.
Detection of time zones: To make sure that appointments are set up at times convenient for both parties, Calendly automatically determines the participant's time zone.
How to Sign Up for the Calendly Free Trial?
Step #1: Go to Calendly, and then select the Get Started option on the upper right side.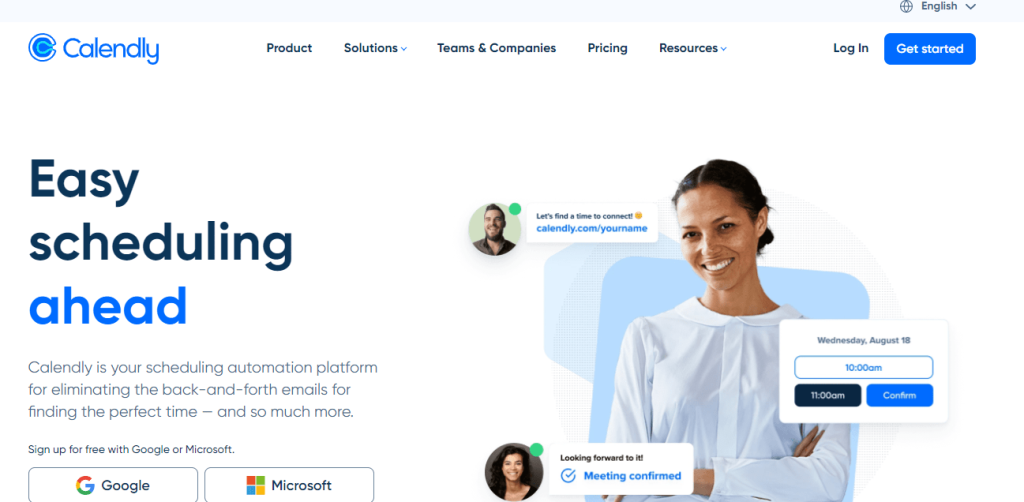 Step #2: Enter your email address and password or register your Google or Microsoft account.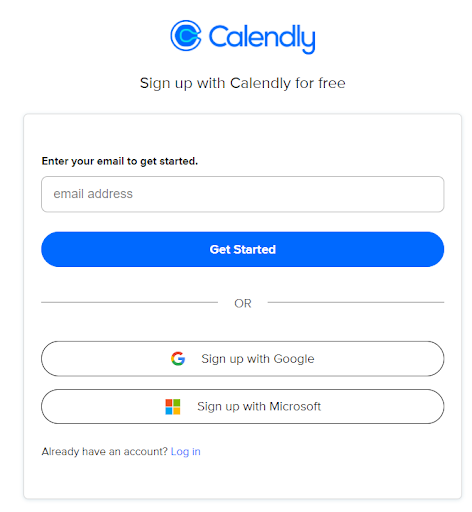 Step #3: CalPick the kind of event you wish to organize, then choose your time zone.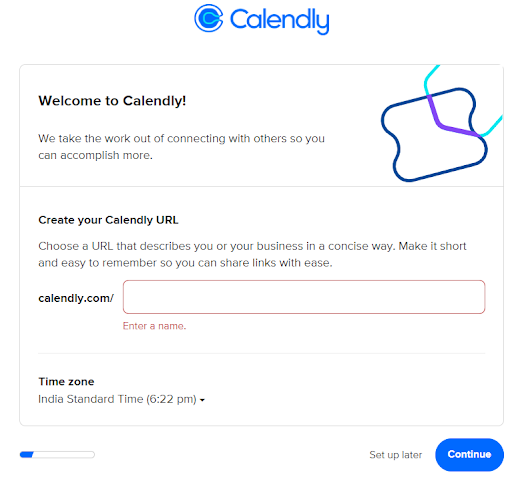 Step #4: Change your event settings' availability, timeframe, venue, and event type.
Step #5: Include a link to Calendly in your email signature or send it to clients, coworkers, or anybody else you want to meet up with.
Step #6: Enjoy Calendly's automated scheduling features while making appointments.
Calendly Pricing and Plans
Calendly has a few price tiers, including a free, premium, and pro tier.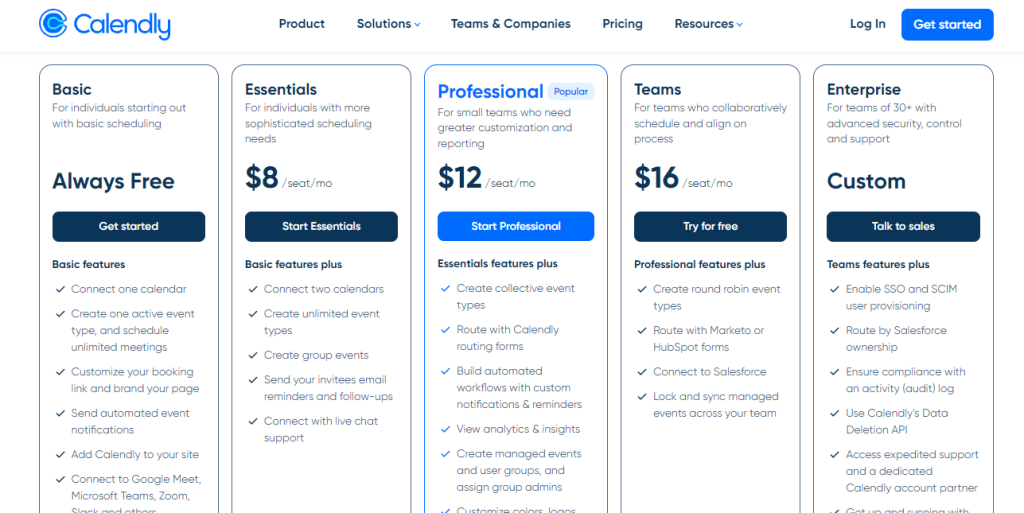 Basic Plan: Free

Unlimited event scheduling
Integrations with Google, Outlook, and iCloud calendars
Automatic time zone detection
Customizable email notifications
1 event type
Calendly branding

Essentials Plan: 8 USD/user per month

All basic plan features
Unlimited event types
Multiple team members and individual calendars
Customizable branding
Group scheduling
Priority email support
Zapier integration
Analytics and Reporting

Pro Plan: 12 USD/user per month

All premium plan features
Salesforce integration
Custom API access
Custom integrations
SMS notifications
Multiple user roles and permissions
Integration with GoToMeeting, Zoom, and other conferencing tools

Teams Plan: 16 USD/user per month

Establish round-robin event types.
Use HubSpot or Marketo forms as a route
Salesforce connection
Sync and lock controlled events for your team.
For larger businesses that want more customization and assistance, an Enterprise package is now available in addition to the above. Interested parties can contact Calendly directly for pricing and plan information. 
Related Read:
Why Investing in Calendly is a Smart Decision?
Investing in Calendly can save you time and effort when it comes to arranging appointments. While Calendly's free plan provides basic scheduling features, upgrading to a paid plan can offer numerous advantages to businesses and individuals.
Advanced features: Calendly's paid subscriptions provide additional capabilities such as limitless event kinds, numerous team members and individual calendars, group scheduling, Zapier integration, priority email support, custom branding, analytics, and reporting.
Enhanced user experience: Businesses with a premium subscription may give their customers and coworkers a more personalized and expert scheduling experience.
Improved productivity: Businesses may improve their scheduling procedures and automate some duties with paid services, such as sending email notifications and reminders.
Better communications: Paid plans can facilitate better client and team communication and collaboration since they can be integrated with well-known video conferencing solutions. Additionally, it offers SMS notification options, which lowers the possibility of missed appointments.
Affordable: A subscription plan does have a price, but in the long term, the advantages and time savings may outweigh the expense.
FAQs
Does Calendly work with every calendaring software? 
Calendly makes it simple to arrange appointments across several platforms by integrating with well-known calendaring services like Google, Outlook, and Apple.
How many features are included in Calendly's free plan? 
Basic features like unlimited appointment scheduling and calendar integration are included in Calendly's free subscription. However, its pro and premium plans come with advanced features like Salesforce integration, custom branding, and group events.
Is Calendly compatible with other programs and tools?
Yes, Calendly integrates with many other programs and tools, including well-known CRM, video conferencing, and email marketing programs.
Is Calendly reliable and secure?
Calendly is a reliable scheduling tool that prioritizes privacy and security. It includes robust security features, including SSL encryption, two-factor authentication, and access restrictions, and is SOC 2 Type II certified.
Can I tweak Calendly's appearance and feel?