Do you need help turning website traffic into consumers who will pay you? You are not alone. Research reveals that e-commerce websites need to convert at an average rate of 2.63%. That implies that only two or three of every 100 visitors to your website are likely to make a purchase.
But what if there was a method to boost conversion rates without shelling out a ton of cash on advertising or website redesigns?
ClickFunnels is a popular software enabling company owners and entrepreneurs to build effective sales funnels. Online marketers that want to automate their marketing and sales activities frequently turn to ClickFunnels because of its simple drag-and-drop user interface and wealth of valuable capabilities.
What features do ClickFunnels offer?
ClickFunnels is one of the best sales funnel builders that provides plenty of features that are designed to help businesses increase their online sales. Here are some of the critical features ClickFunnels provides:
Drag-and-drop editor: ClickFunnels includes a simple drag-and-drop editor that lets users effortlessly construct and tweak their sales funnels without coding knowledge.
In-built templates: It provides a selection of pre-built templates that may be altered to fit your business. In addition to order and sales pages, these templates feature landing pages.
Integrated email marketing: To assist you in developing and expanding your email list, ClickFunnels interacts with several email marketing providers, including Aweber, ConvertKit, and Mailchimp.
A/B testing: ClickFunnels enables you to compare two versions of your pages to see which works better. This aids in conversion rate optimization for your pages.
Payment gateway integration: You can accept payments through your funnels thanks to ClickFunnels' integration with a few payment providers, such as Stripe and PayPal.
How can I register for the ClickFunnels free trial?
You can try ClickFunnels for free for 14 days. What you must do is as follows:
Step #1: Start your free trial by clicking the Start Your Free Trial Today button on the ClickFunnels website.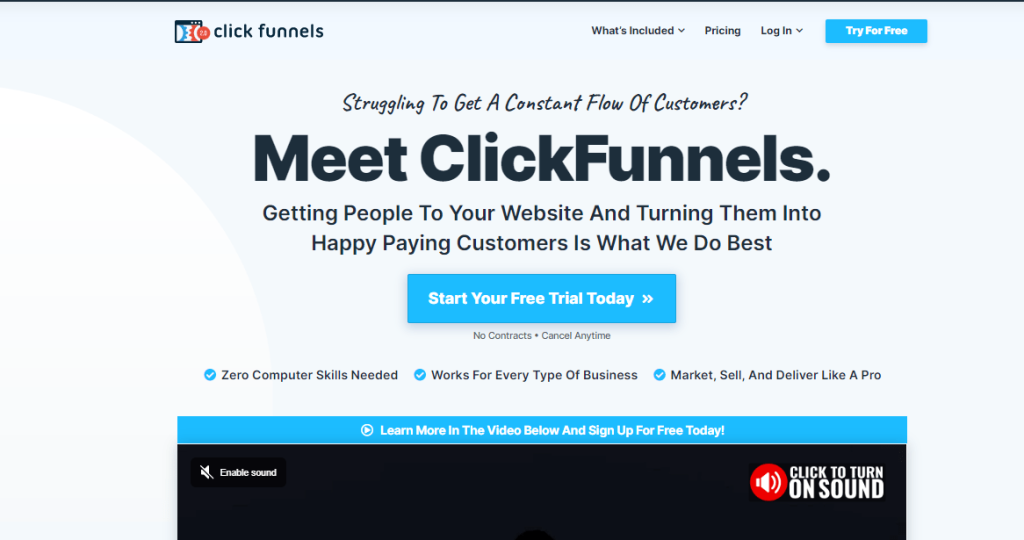 Step #2: Enter your details including your full name and email address. Select Continue.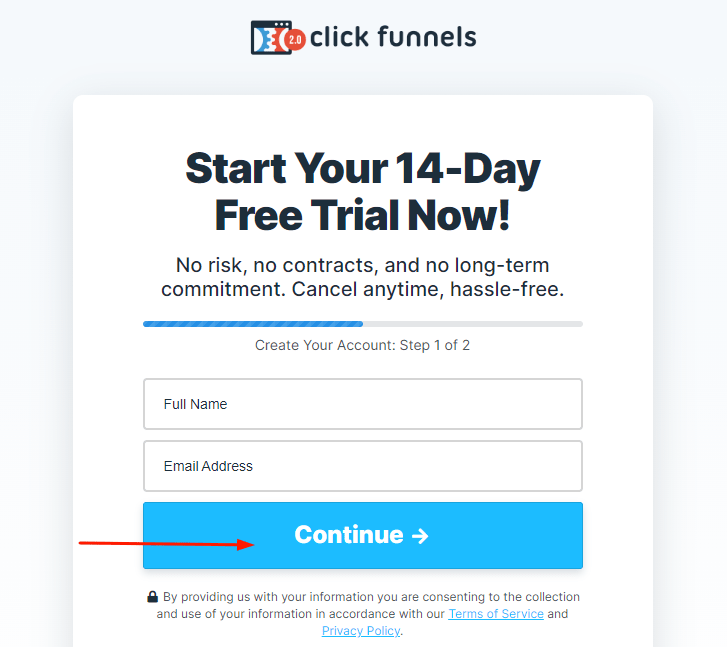 Step #3: Select the plan you wish to subscribe to and provide your payment details.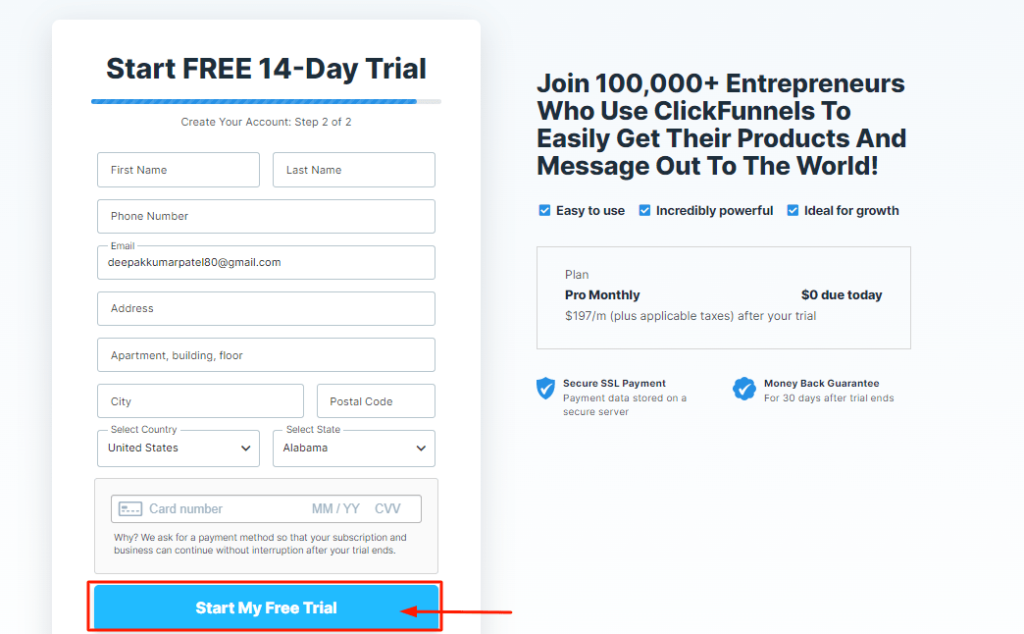 Step #4: Follow the onscreen instructions.
Your free trial has been successfully registered now. After registering for the free trial, you'll have unrestricted access to all of ClickFunnels' features for 14 days. To keep using ClickFunnels after the trial term has ended, you must upgrade to a premium subscription.
ClickFunnels Pricing and Plans
There are three levels of pricing available for ClickFunnels- Basic, Pro, and Funnel Hacker. The prices for each plan are broken out as follows: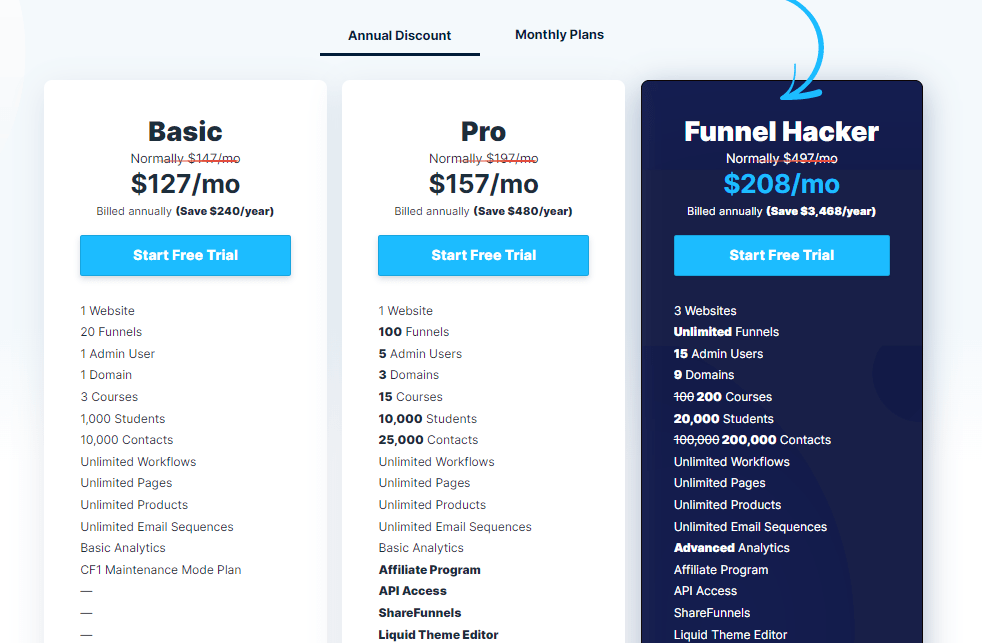 | | | |
| --- | --- | --- |
| Basic Plan | Pro Plan | Funnel Hacker Plan |
| 147 USD per month | 197 USD per month | 297 USD per month |
| 1 Website1 Domain1 Admin User3 Courses20 Funnels10,000 Contacts1,000 StudentsBasic AnalyticsUnlimited WorkflowsUnlimited ProductsUnlimited PagesUnlimited Email SequencesCF1 Maintenance Mode | 1 Website3 Domains5 Admin Users15 Courses100 Funnels25,000 Contacts10,000 StudentsBasic AnalyticsUnlimited WorkflowsUnlimited ProductsUnlimited PagesUnlimited Email SequencesAffiliate ProgramLiquid Theme EditorShareFunnelsAPI AccessCF1 Maintenance Mode | 3 Websites9 Domains15 Admin Users100 200 CoursesUnlimited Funnels100,000 200,000 Contacts20,000 StudentsAdvanced AnalyticsUnlimited WorkflowsUnlimited ProductsUnlimited PagesUnlimited Email SequencesAffiliate ProgramLiquid Theme EditorShareFunnelsAPI AccessCF1 Maintenance Mode |
ClickFunnels Refund Policy
ClickFunnels has kept their refund policy simple and uncomplicated for users. All you have to do is send them a mail regrading the refund & you will be refunded with $29.95. You are also allowed to keep the hard copy of the materials & books even after the refund.
There's absolute zero risk with ClickFunnels and without a doubt you can go for the free trail and check the amazing features.
What makes a ClickFunnels investment worthwhile?
For any company wishing to boost its online sales, purchasing ClickFunnels is a wise decision.
Additional Features and Integrations: Even more features and integrations are available with a premium plan than with the free trial.
Support For Priorities: Users of the paid plans receive priority assistance from the ClickFunnels team, ensuring that any problems or inquiries will be resolved more promptly and effectively.
Unlimited Pages & Funnels: You can expand your business and construct as many sales funnels as you need with a premium plan's unlimited pages and funnels.
Boost Conversion Rates: Improve your sales funnels with features like A/B testing for optimum conversions.
Save Money & Time: The pre-built templates and simple editor of ClickFunnels can help you save time and money, freeing up your time to work on other aspects of your business.
By purchasing a ClickFunnels premium package, your business can access even more powerful features, unlimited funnels and pages, priority support, time and money savings, and higher conversions.
Related Read:
Summing Up: ClickFunnels Free Trial (2023)
For businesses aiming to boost their online sales, ClickFunnels has emerged as the go-to option because of its robust features and simple-to-use design.
If you still need to decide whether ClickFunnels is the perfect choice for your company, the free trial is a terrific chance to try the software and see if it's a good match.
Sign up for a free trial of ClickFunnels now to see how it may help you boost online sales and expand your business.
FAQ: ClickFunnels Trial
Can I terminate my ClickFunnels account at any time?
Yes, by visiting your account settings and selecting the "Cancel Account" button, you can cancel your ClickFunnels account anytime.
Does ClickFunnels have a refund policy?
Although ClickFunnels doesn't offer a money-back guarantee, you can always close your account if you're unhappy with the software.
Can I switch my ClickFunnels plan at any moment?
Yes. Go to your account settings and select the "Upgrade" or "Downgrade" option to change your ClickFunnels plan anytime.
Can I sell actual goods with ClickFunnels?
Yes, physical, and digital goods and services can be sold using ClickFunnels.