In the current digital era, companies of all sizes use cloud hosting to fuel their online presence. One company that provides a free trial to its clients is Cloudways. Businesses of all sizes may use managed cloud hosting services from Cloudways, a cloud hosting company. Thanks to their easy-to-use platform, users may easily create and maintain their websites on various cloud servers, including Amazon Web Services, Google Cloud Platform, and more.
Let's go over Cloudways, its benefits, free trial offerings, and how to sign up for it step-by-step.
Why should you choose Cloudways?
We have listed below the reasons why you should choose Cloudways:
Remarkable webpage performance: Spikes in website traffic may be more easily managed thanks to Cloudways' high-speed hosting infrastructure.
Intuitive user interface: For those new to cloud hosting, the platform's simplicity and intuitiveness make it simple to get started.
Diverse Cloud Infrastructure: AWS, Google Cloud, DigitalOcean, Linode, and Vultr are just a few of the cloud infrastructures that Cloudways enables you to host your website or application on. You can select the infrastructure that best suits your requirements and financial constraints.
Automated updates and backups: The computerized backups and updates provided by Cloudways ensure your website is constantly current.
Security: An SSL certificate, dedicated firewall, and two-factor authentication are all part of the secure platform that Cloudways provides.
Cost-effective: Cloudways provides a more affordable hosting option compared to conventional hosting companies.
What offers does Cloudways offer: Cloudways Free Trail
Customers of Cloudways may take advantage of a free trial and a $30 credit, among other promotions. Let's examine these deals in more detail:
Free trial: Cloudways provides a three-day free trial without requiring a credit card. You may test out their managed cloud hosting services during the trial to determine whether it's the best match for your company.
30 USD credit: All new customers who join and provide a payment method in their account will receive a 30 USD credit from Cloudways. This credit may be applied to their managed cloud hosting services to reduce the price. Makes it even more cost-effective for companies to begin using Cloudways.
Along with these deals, Cloudways often extends discounts and special offers to its clients.
Features with Cloudways Free Trial
Let's take a look at the list of the features of Cloudways Free Trail
Easy to Navigate
Uploading, Building and Launching apps
Unlimited hosting of websites on one server
You can manage WordPress hosting
Step-by-Step Guide to Signing Up for 3 Days Free Trial
Step #1:
Visit the Cloudways website and select Start Free in the upper right corner of the screen.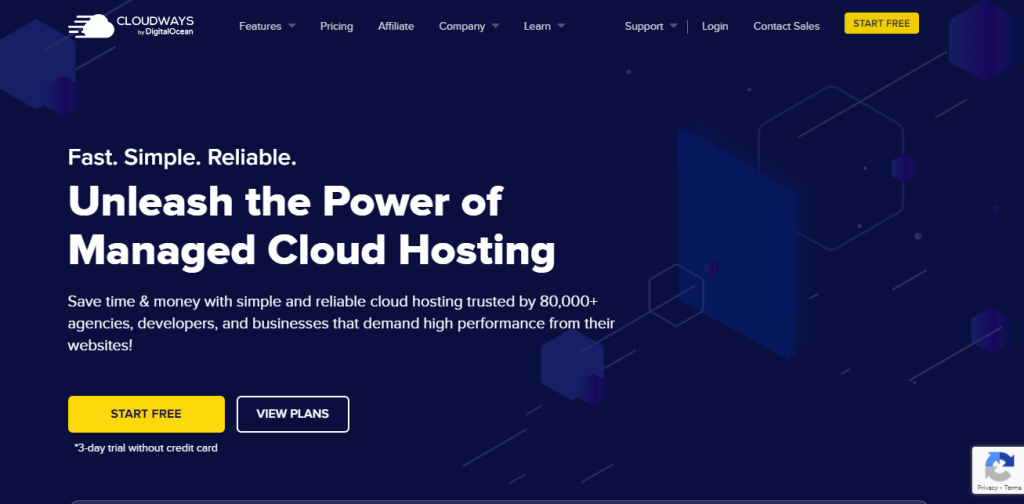 Step #2:
Complete the necessary fields on the sign-up page, then select Start Free.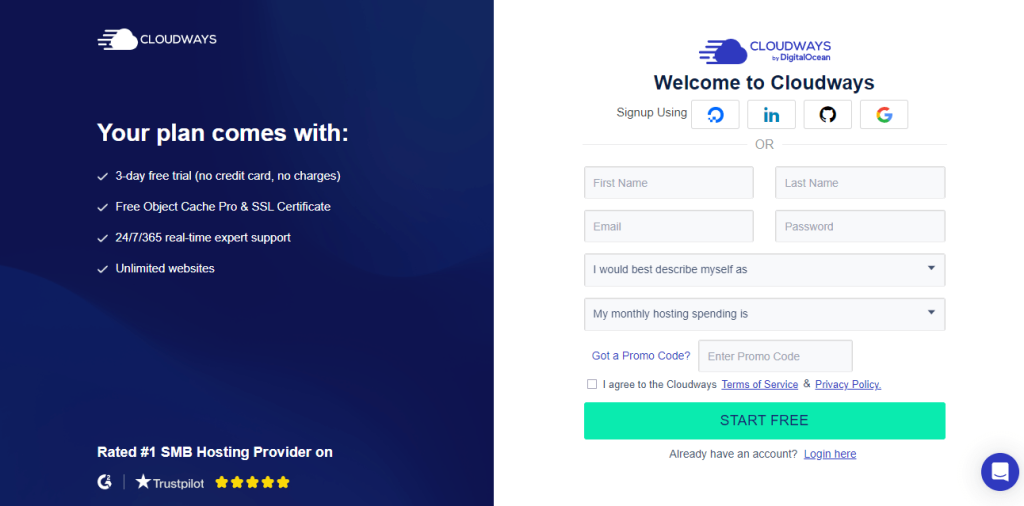 Step #3:
You'll be sent to a screen where you may select the cloud server you want to utilize. The cloud service you choose should work best for your website.
Step #4:
The next step is to customize your server settings, where you may select the server's specifications for size, location, and other factors.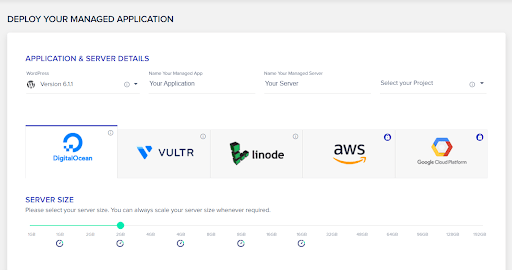 Step #5:
The Importanat software, such as PHP, MySQL, and Apache, will be installed automatically by Cloudways.
Step #6:
You may begin creating your website once your server is operational.
You can start using Cloudway's managed cloud hosting services.
pricing Plans : cloudways
Cloudways provides pay-as-you-go pricing, so you only pay for the resources you utilize. They provide options starting at $10 per month and several cloud servers. Each plan includes a set number of resources like RAM, CPU cores, storage, and bandwidth.
Depending on the requirements of your website, it's simple to scale up or down your plan. Following is a list of the plans:
1. DigitalOcean:
Plans range in price from 14 USD to 99 USD per month. Your server may be deployed in less than a minute after selecting from more than 25 data centers.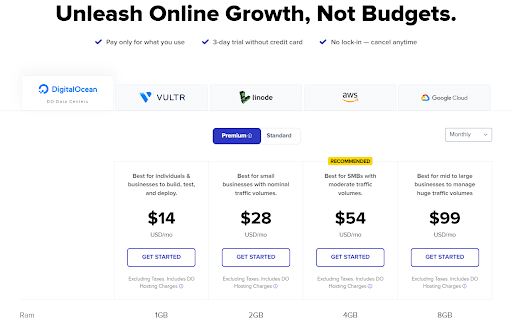 2. Amazon Web Service:
Plans range in price from 38.56 USD to 285.21 USD per month. AWS infrastructure is available for usage with 13 different worldwide regions for your website.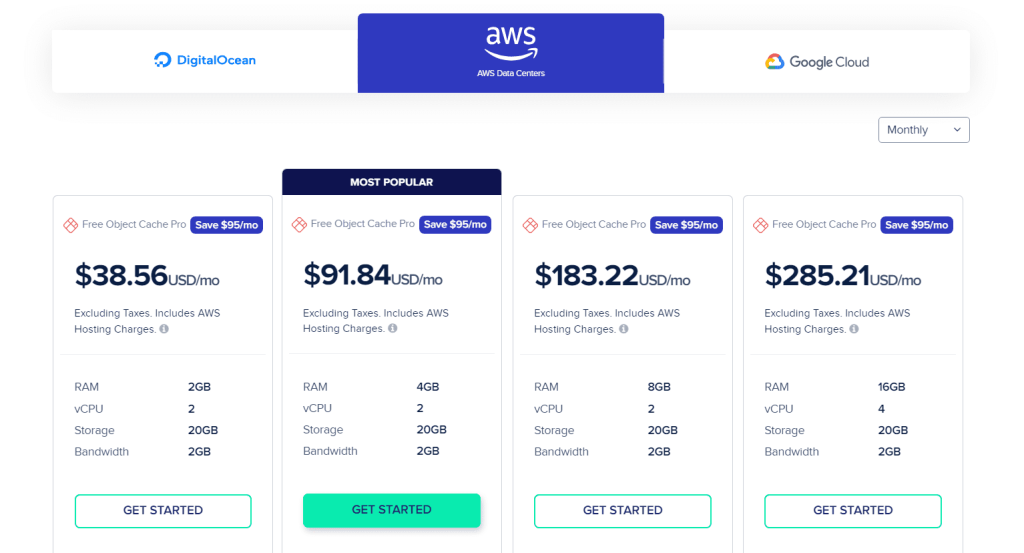 3. Google Cloud Platform:
Plans range in price from 37.45 USD to 241.62 USD per month. Use Google's robust infrastructure and pick from more than 25 different international locations for your website.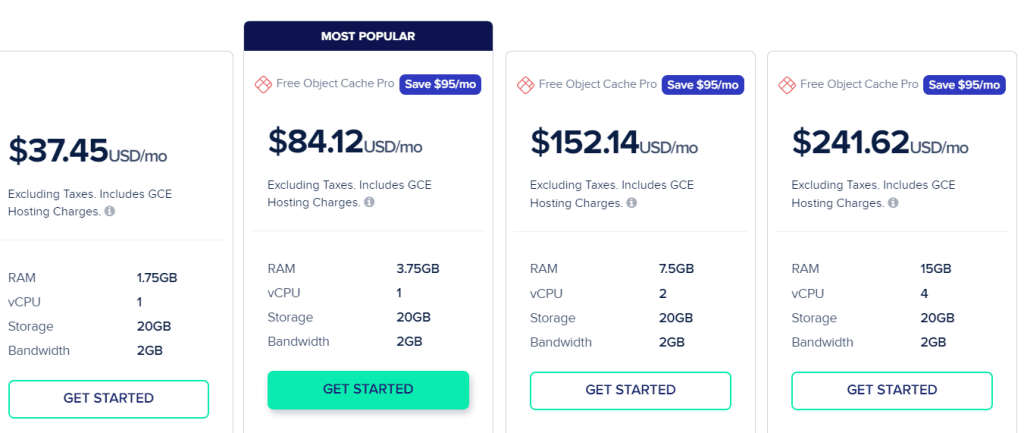 Every plan has automatic backups, powerful server-level caching, and round-the-clock expert support.
Does Cloudways give Customer Support In Free Trial?
Yes. All the users will have the access to live chat with the Cloudways Support Team 24/7. You will get a standard customer support which comes with the free version and the paid version. You will also get an additional means of customer service if you opt for higher-level subscriptions.
3 Ways to Save on Cloudways
Have a look at the table and know how you can save on Cloudways
| Sr. No. | Ways To Save On Cloudways |
| --- | --- |
| 1. | Cloudways Promo Codes |
| 2. | Black Friday & Cyber Monday Specials |
| 3. | Cloudways Black Friday & Cyber Monday Specials |
Cloudways Alternatives
In this table, I have shared the Cloudways alternatives below.
| Sr. No. | Cloudways Alternative | Ratings |
| --- | --- | --- |
| 1. | Hostinger | 4.5/5 |
| 2. | Kinsta | 4.8/5 |
| 3. | WP Engine | 4.5/5 |
| 4. | DreamHost | 3.8/5 |
| 5. | Liquid Web | 4.3/5 |
Related Read:
Why is it worthwhile to invest in Cloudways?
A user-friendly interface, professional assistance, various cloud server options, automated backups, excellent speed and security, and simple scalability are just a few reasons Cloudways is worthwhile. You don't need to think about server management or upkeep while using Cloudways; you can concentrate on expanding your business.
Cloudways presents an intuitive interface, knowledgeable assistance, a variety of cloud server alternatives, automated backups, great speed, security, and easy expansion. Businesses may quickly evaluate their services before committing to a premium plan thanks to their free trial and 30 USD credit offer.
How To Cancel Cloudways Free Trial
Before you decide to cancel Cloudways Free trail, make sure you have the full backup of the application.
Next, open all the servers tab & manually delete all the active servers.
You will have to indicate the reasons for deleting each server and then continue with the prompts.
Now, Open the Grid from the menu bar, select the Add-ons & select edit to deactivate all the add on subscription by clicking on Remove Subscription. You will have to this for each one.
On your profile tab, select Account and go the last option.
Go through all the information before cancelling the Free Trial. Click Agree & Select Cancel My Account at the end of the page.
Due to security regulations, Cloudways wont have any access nor restore accounts after cancellation.
FAQs: Cloudways Free Trial
Does Cloudways support any cloud servers?
The several cloud servers supported by Cloudways include those Amazon Web Services, Google Cloud Platform, DigitalOcean, Vultr, and Linode.
Does Cloudways offer managed hosting services?
Cloudways offers managed cloud hosting services and handles server management and maintenance.
Managed to Host services provided by Cloudways?
Cloudways provides managed cloud hosting services, meaning they take care of server administration and upkeep for you.
Can a Cloudways plan be upgraded or downgraded?
You can seamlessly upgrade or downgrade a plan with Cloudways based on the requirements of your website.
Is there any Restriction on Cloudways Free Trail?
No, There are no restrictions on free trail of Cloudways.