Are you looking for a design tool that is strong and adaptable? Figma is the solution! Figma is a cloud-based design tool that provides a simple and open platform for creating prototypes, user interfaces, and more. Figma has proven itself as a top option for independent designers, teams of designers, and businesses because of its extensive capabilities and simplicity of use.
Furthermore, it shows a commitment to being at the forefront of the sector by providing frequent changes based on user input and changing design requirements. If you want to know more, Figma offers a free trial to use all its features while learning the app without paying a monthly fee.
Let's examine the specifics to learn more about what the Figma free trial offers.
Exploring the offers of Figma free trial
You can taste the entire design experience with Figma's free trial without paying anything upfront. You'll get full access to all Figma's features throughout the trial period, including real-time design file creation, editing, and collaboration.
To improve productivity and optimize your workflow, try some of the numerous design plugins, integrations, and design components available in Figma. Designers like Figma because of its wide range of features and advantages. Some of them are:
Cloud-based design: Using Figma, you can create, modify, and share creations in real-time from any location without the need for any downloads or installs. You can access your work from any computer or device with an internet connection since it's automatically stored in the cloud.
Collaborative design: Real-time collaboration capabilities in Figma make it easy for team members to collaborate, enabling numerous designers to collaborate on the same project simultaneously, offer input, and make changes in real-time.
Exceptional design ability: Figma is a complete design platform for UI/UX, online, and mobile design because it provides various design tools, such as vector editing, design components, prototyping, design handoffs, and libraries.
Design history and versioning: It's simple to keep track of changes and communicate effectively with Figma since it automatically preserves the previous versions of your ideas and lets you go back to prior iterations if necessary.
A Step-By-Step Guide to Claiming Your Figma Free Trial
Figma's free trial is simple and quick to use. To redeem your free trial, follow these easy instructions.
Step #1: Go to the Get Started option on the Figma website.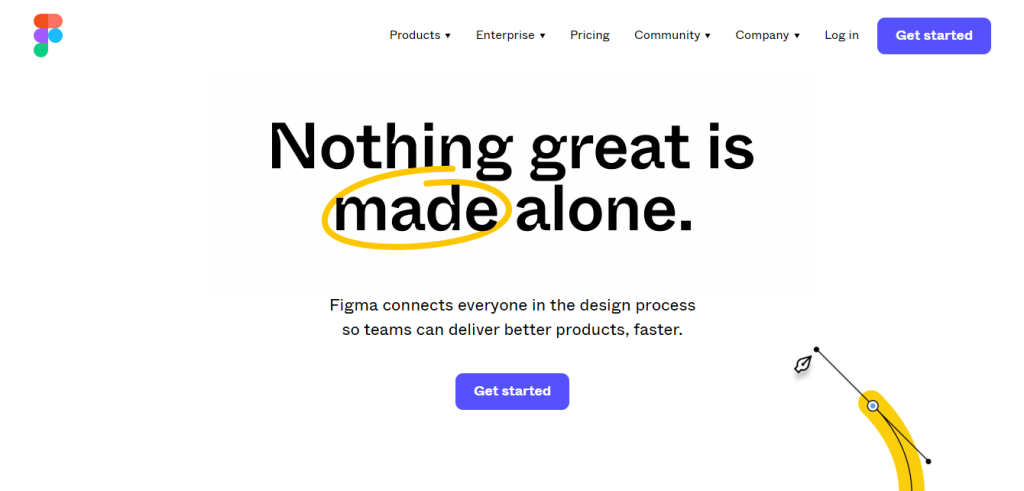 Step #2: Use your email address or Google account to register for a new account.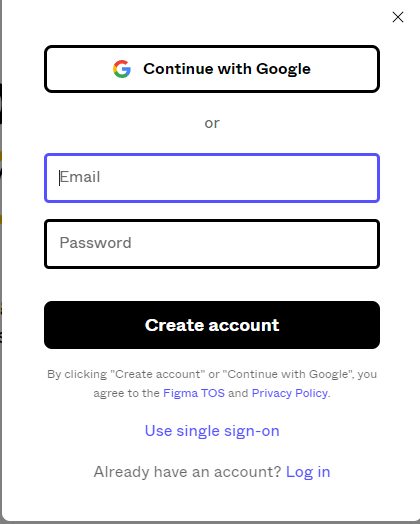 Step #3: Click Continue after selecting the Starter plan, which is the free trial plan.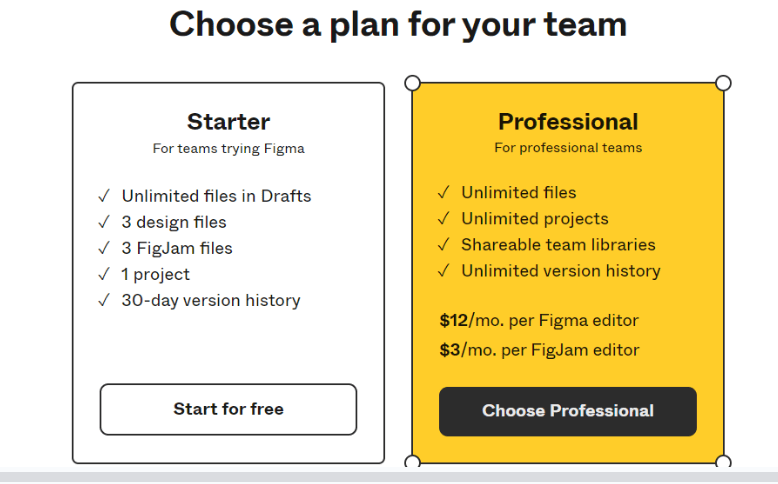 Step #4: Finish the setup by entering basic details about yourself and your preferred design style.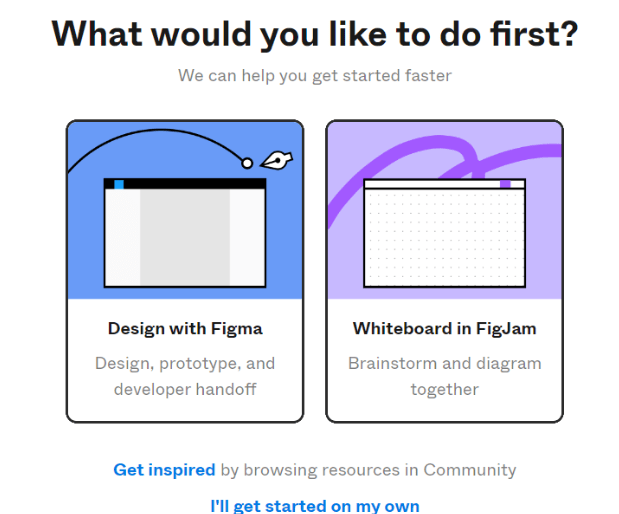 Step #5: Voila! You can now begin exploring Figma's features thanks to your access to its free trial.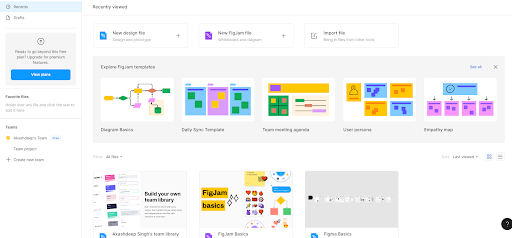 Figma Pricing Plans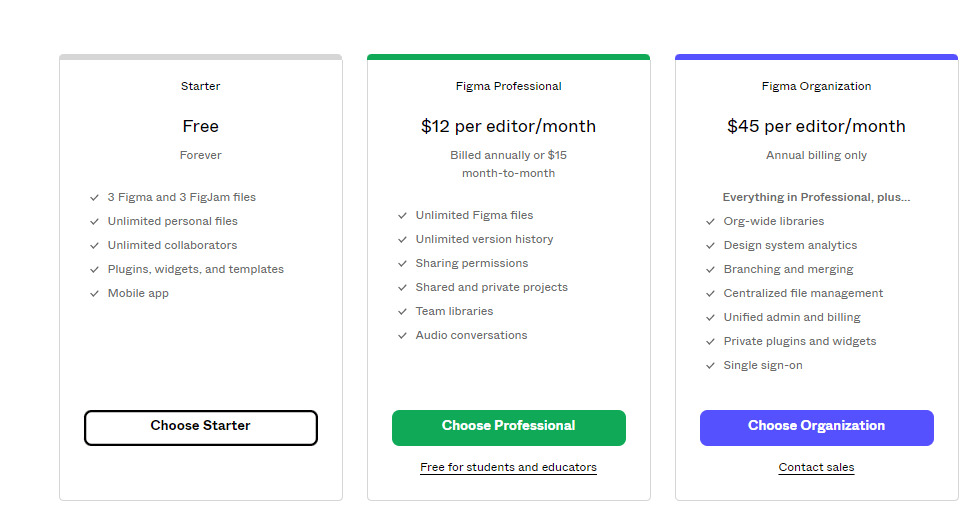 Figma offers multiple price and plan options to meet different demands. Here is a description of Figma's plans and pricing.
Starter (Free): This subscription comes with a 30-day free trial and offers unlimited design files, real-time collaboration, design elements, and more. However, certain sophisticated capabilities, such as team libraries and organization-level permissions, are only accessible through subscription plans.
Professional (15 USD per user per month): This plan contains all the elements of the Starter plan and extra features, including team libraries, version history, design elements, and developer handoff. It's appropriate for small to medium-sized teams since it enables you to work on infinite projects and teams.
Organization (Custom price): With sophisticated features like organization-level rights, design systems, and improved security, this plan is intended for bigger teams and businesses.
Related read;
Conclusion: Figma Free Trial (2023)
Designers can try out Figma's free trial and view this well-liked design tool's strength and adaptability without paying anything upfront. There are a few important actions you can follow to maximize your Figma free trial experience after you've signed up for it:
Investigate the tools of Figma to build and work together on your creative projects.
Gain knowledge through the documentation, community resources, and tutorials available for Figma.
Invite people to participate in your Figma projects to have access to the benefits of real-time feedback, collaboration, and version control.
Provide your opinions, ideas, and feedback to help Figma develop.
Figma is positioned for a bright future as a cutting-edge tool for collaborative creation that will promote innovation in digital design. You can utilize Figma's free trial by using its features, comprehending its prices and plans, and using its resources. Figma stands out as a powerful tool in the constantly changing design environment thanks to its creative approach to building prototyping interactions, user interfaces, and involving stakeholders.
FAQs
Are the features and functionality of the Figma free trial limited?
No, all features and functionalities offered in the premium plans are accessible during the Figma free trial.
How long is the free Figma trial period?
During the free trial, you get 30 days from the sign-up date to explore and experiment with Figma's features.
Can I work with other people while using the Figma free trial?
During the free trial, you get 30 days from the sign-up date to explore and experiment with Figma's features.
What happens when my free trial of Figma expires?
You'll need to select a subscription plan once your free trial has ended if you want to keep enjoying the features and functionality of Figma. You may still access your projects and designs, but you need to subscribe to a premium subscription to modify or add new designs.