Looking for the Best Ads Spy Tools to keep an eye on your competitors? You are at the right place. Keeping up with market trends is essential to ensure you're acting ethically, regardless of whether you believe you're an expert in marketing or are just getting started. You may occasionally test different ad copy and landing page combinations to achieve the best outcome. Monitoring the competitors' approach might be a better action plan than experimenting.
In this blog post, we'll also discuss why every marketer should have ad spy tools in their toolkit. These tools aren't just nice to have – they're essential for gaining insights into your competitors' strategies, optimizing your own campaigns, and, ultimately, boosting your marketing ROI. Let's get straight to the point and explore why Ad Spy Tools are a game-changer for marketers.
Let's discuss the 12 Best Ads Spy Tools that will help you in your digital marketing strategy.
Best Ads Spy Tools Of 2023
These are the top Ad spy tools that marketers should know about in 2023:
| Sr. No.  | Tools | Why Go For It |
| --- | --- | --- |
| 1. | SEMRush AdClarity | The most complete ad spy tool in the market currently |
| 2. | AdPlexity | Largest database of ad campaigns |
| 3. | Dropispy | Great set of data for Amazon advertising |
| 4. | AdSpyder | Ideal for ethical and responsible gambling advertising |
| 5. | PowerAdSpy | Covers over 20 ad platforms |
| 6. | AdSpy | Covers ads from 222 regions of the globe |
| 7. | SpyFu | Ideal for Google ad spying |
| 8. | BigSpy | Comes with a free trial – a good option for beginners |
| 9. | Anstrex | Ideal for native and push notification ads. |
| 10. | SpyOver | Ideal for push notification ads |
| 11. | Pathmatics | Detailed insights on Paid Ad Campaign |
| 12. | AdEspresso | Compare ads with your competitor to discover ad Strategies. |
1. Semrush:
Semrush is a popular SEO tool for online marketers, but it's also a valuable tool for keeping tabs on your rivals' PPC ads. This tool may be used to find new competitors and examine their expenditure on keywords and advertisements. Its primary focus is on search engine traffic, both free and paid.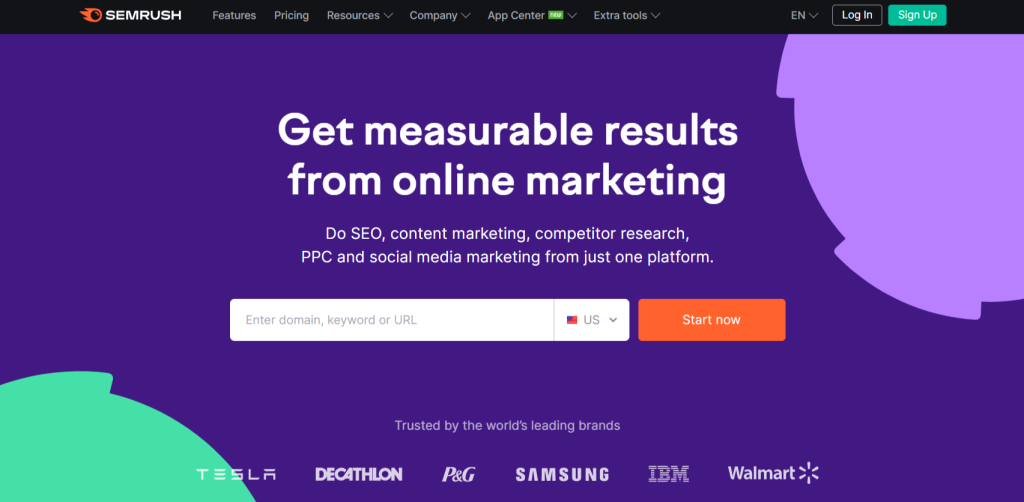 Semrush Key Features
Let's take a Quick look at Semrush Key Features
One of SEMRush's top features is its capacity to detect real-time competitor ad content and export the findings for later use.
You can view the ad content they are using, the locations they are focusing on, and the keywords they're bidding on.
You can also monitor their organic search traffic for keywords driving traffic to their site.
SEMRush also provides a backlink analyzer that allows you to examine all the websites connecting to your rivals.
Semrush Pricing
SEMRush costs 119.95 USD per month, but if you get an annual membership, you'll save 17%. However, sometimes it also offers a 30-day free trial.
2. AdPlexity:
It only takes a few clicks to compile a complete list of all the advertisements used by your rivals, thanks to AdPlexity.
This application enables you to observe active campaigns in more than 80 nations, download each landing page, discover covert efforts that utilize mobile carrier traffic, and locate advertisements for affiliate marketing programs from 100+ affiliate networks.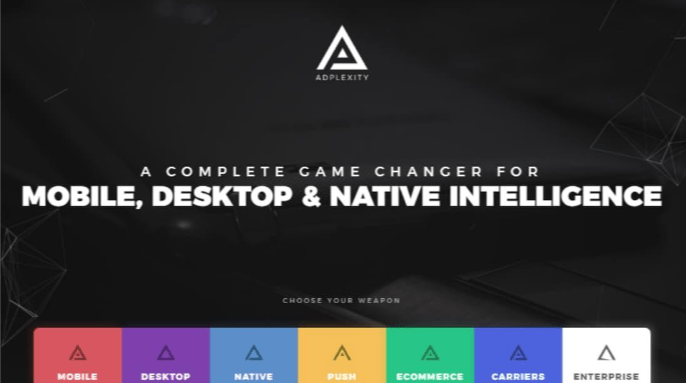 AdPlexity Key Features
Let's take a Quick look at Adplexity Key Features:
In addition, finding effective advertising will be quick and straightforward.
Additionally, it enables you to locate all of the affiliate networks and campaigns and view incoming URLs.
With features like advertising trends, services that are being targeted, traffic sources that are being used, and publishers, Adplexity provides you the chance to examine every component of a campaign.
Additionally, AdPlexity offers a variety of tools, including AdPlexity Mobile, AdPlexity Desktop, and AdPlexity Push, among others, which you can use to follow and analyze competitors quickly across numerous platforms.
Adplexity Pricing:
AdPlexity comes with multiple plans, which include:
Push and Carriers- 129 USD per month
Mobile and Desktop- 149 USD per month
AdPlexity Native- 169 USD per month
You can save on your next adplexity purchase.
3. Dropispy:
Dropispy is a potent surveillance tool designed to find social media adverts. It's always advantageous to have an eye over your competitors, whether you're just getting started in dropshipping or selling digital products. For accomplishing precisely that, Dropispy is a fantastic tool.
There are three primary functionalities of this competitive intelligence tool.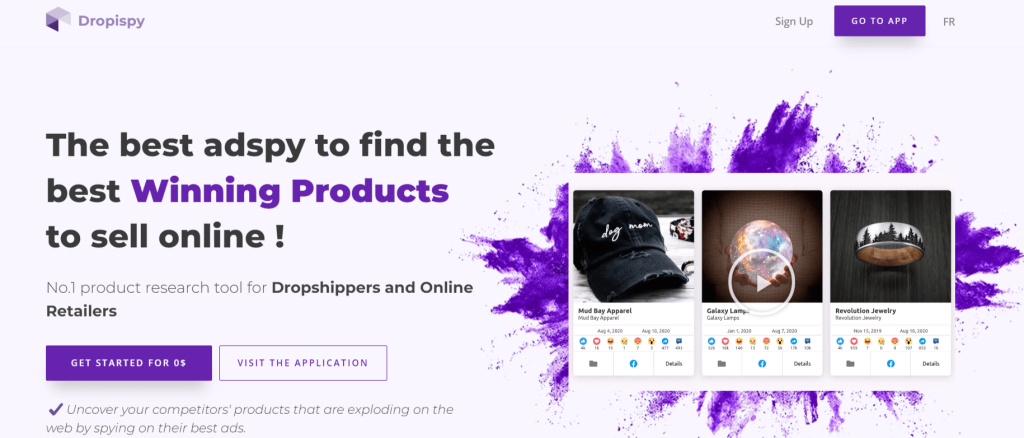 Dropispy Key Features
The most noticeable aspect of Dropispy is its ad search engine, which enables you to look for advertisements based on creativity, target market, redirect links, and amount of replies.
Users may get a more thorough picture of an advertiser's performance with Dropispy's Ad Information feature. Users may find out more about how an advertisement is doing and whether it is still live by seeing extra information about that advertisement.
Finding well-known drop shipping stores and seeing the items they're advertising may be done quickly with Dropispy's Shop Search function.
Dropispy Pricing:
For your convenience, Dropispy has three distinct price tiers.
Free- It provides an infinite number of searches, but most of the functions are limited.
Premium- Dropispy offers a premium subscription with 50,000 search credits for 31 USD per month.
Business- For 265 USD per month, Dropispy provides you with 1.8 million search credits.
4. AdSpyder:
One of the most well-liked ad-spying platforms for monitoring your competitors' advertisements is called AdSpyder. In addition, it enables you to examine the SEO tactics of your rivals to raise your income and conversion rates.
It operates on various platforms, including Google Search and Facebook, and Displays advertisements from Yahoo, Instagram, YouTube, and others. It can also assist in the analytical insights of the competitors' ads. You may come up with suggestions to make your advertisements better in this way.

AdSpyder Key Features :
Let's take a Quick look at AdSpyder Key Features:
You may examine the Facebook advertising initiatives of your rivals and learn more details about them.
You may sign up for a free trial where they provide access to over 10 million advertisement copies via their dashboard.
Using your terms, search and explore the advertisements. Use your unique filters to further hone the outcomes.
The Ad analytics component of our website also allows you to check past statistics.
AdSpyder Pricing
Let's take a quick look at the Pricing Plans of AdSpyder
Basic Plan: The monthly cost for the basic plan is 49 USD per month.
Premium Plan: For just 99 USD per month, the Premium plan gives you a few extra benefits.
Pro Plan: For 249 USD per month, you may choose the Pro plan to access AdSyder's advanced capabilities.
5. PowerAdSpy:
Internet marketers who want to explore advertising on social networks and native ad platforms may use PowerAdSpy as a competitive research tool. PowerAdSpy provides thorough campaign analytics, much as the other spying platforms. Its database contains millions of adverts from more than 15 different nations.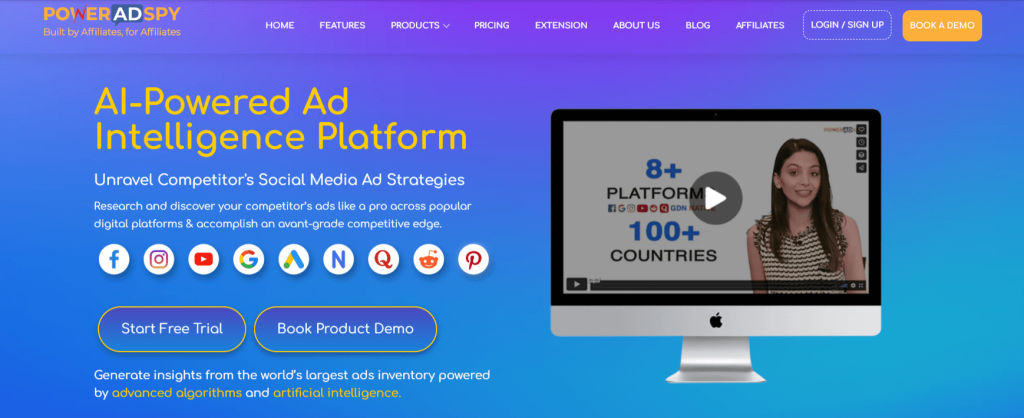 PowerAdSpy Key Features:
Let's take a quick look at PowerAdSpy Key Features.
You may divide ad results into groups based on the placements of social media ads by using the filter by Position or Ad Placement option.
You'll even have the choice to watch the live ad while using Live Ad View and view advertisements that are kept in the database.
The domain name's keywords, ad text, picture text, and other factors can all be used to narrow down your search.
PowerAdSpy Pricing:
Let's take a quick look at the pricing plans of PowerAdSpy
Free trial- You may use the free plan for ten days, but it only allows 1000 searches or 100 advertising.
Basic plan- This plan costs 49 USD per month and solely includes Facebook Ads.
Palladium plan- All ad types and functionalities are included in Palladium, which has a monthly cost of $349 per month.
6. AdSpy:
AdSpy can become your ideal ad intelligence service if you specialize in running Instagram advertising. It finds concealed adverts on Instagram and Facebook, offering a more thorough investigation of less well-liked ads.
You get access to everything you need to build a thorough ad campaign through the simple and effective interface, which includes a library of over 95 million advertising in 88 different languages.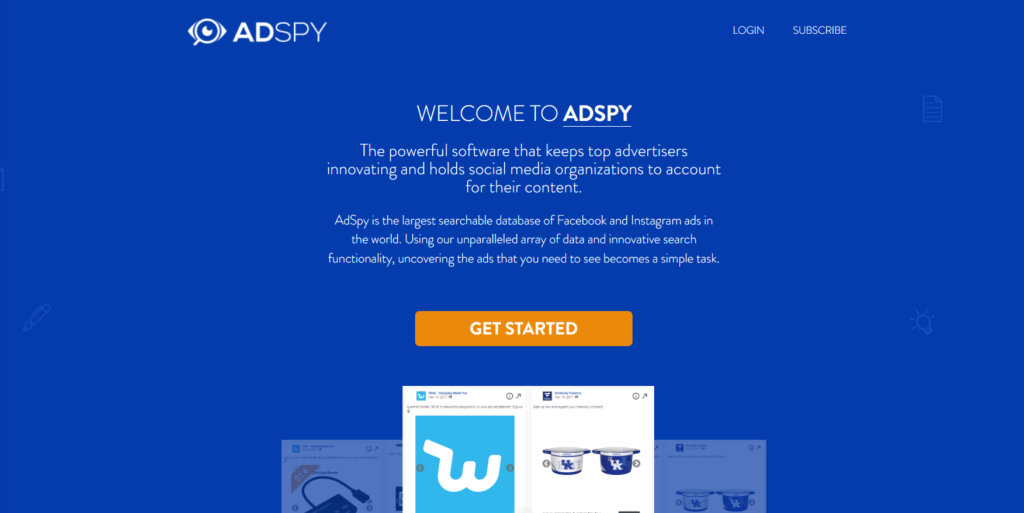 AdSpy Key Features:
Let's take a quick look at the Key features of AdSpy
Find attractive new campaigns.
Look at the top marketplaces throughout the world.
Keep an eye on the brands of the opposition.
View advertising based on what matters most.
AdSpy Pricing:
The monthly cost of AdSpy's plan is 149 USD.
7. SpyFu:
SpyFu is a robust and all-inclusive ad espionage and monitoring tool that keeps track of each keyword, organic ranking, and ad version the user wishes to see.
SpyFu evaluates sites based on keywords, native SERP engagement, and ad variants like its popular alternative SEMRush. Because the platform uses only custom domains to collect data, this is its biggest drawback. Therefore, if you want to obtain information from the social media accounts of your rivals, you'll require a third-party tool.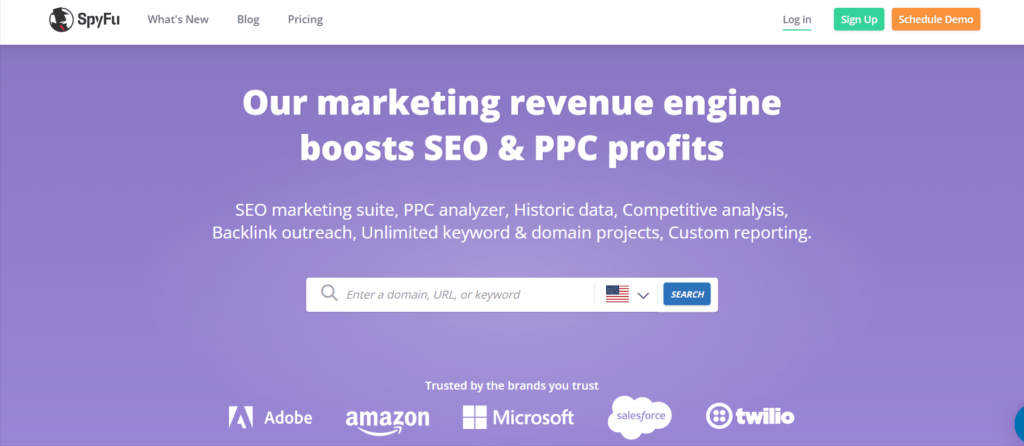 SpyFu Key Features
Let's take a quick look at the key features of SpyFu
As a technique for keyword snooping in ad campaigns, PPC competitor analysis is used.
Google Ads campaigns can use its suggestions drive to include popular ad concepts.
Your search ranks on various web browsers may be found using real-time rank monitoring.
SpyFu Pricing Plans
There are three plans offered by SpyFu- The basic plan, the Professional plan, and the Team plan. These plans have monthly payments of 39 USD, 79 USD, and 299 USD, respectively.
8. BigSpy:
BigSpy is an AdSpy tool that can quickly and easily extract advertisements from Instagram, Facebook, Pinterest, Twitter, and other websites and applications. It boasts a sizable ad base of more than a billion adverts and robust search and filtering features. BigSpy provides you with real-time ad ideas monitored by user queries and highlighted advertising chosen by intelligent technologies.

Key aspects
You can choose to follow the performance curve or the ad schedule.
Discover new topics or markets every day that are being watched by thousands of individuals.
Over one billion adverts are in BigSpy's extensive and successful database.
Pricing
Basic Plan- The entry-level plan includes a monthly payment of 9 USD.
Pro Plan- For 99 USD per month, the pro plan adds additional features.
Elite Plan– BigSpy Elite Plan costs 399 USD monthly and is the company's most expensive option.
9. Anstrex:
Anstrex offers all the competitive intelligence data you need to boost your marketing initiatives.
This tool lets you quickly preview landing pages, find out information about the ad network, and filter advertisements based on their effectiveness and length of the run. It gives essential details like how many platforms an ad was active on and for how long.

Anstrex Key Features
Lets take a quick look at the features of Anstrex
By quickly evaluating hundreds of advertisements from many categories and languages, our native ad spy application saves time.
With the help of Anstrex, you may filter adverts in various ways to locate precisely what you're searching for.
It has various spyable ad types to choose from, always attempting to diversify further.
Anstrex Pricing
Anstrex Native plan is 69.99 USD per month, while Anstrex Push is 79.99 USD per month.
10. SpyOver:
SpyOver is a tool for native monitoring and research that enables you to track and examine your rivals' advertisements. From 14 of the best native ad platforms, it has gathered about 10 million adverts.
Additionally, you may save time and money by downloading advertising and landing pages and discovering new trends.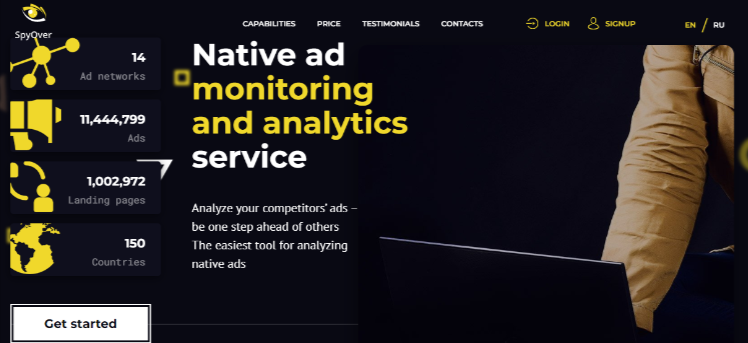 SpyOver Key Features
Let's take a quick look at the SpyOver Key Features
Can alter search results according to the country, kind of device, network, tracking application, and browser.
Graphs or infographics depict actual advertising patterns.
Large-scale downloads of landing pages and advertising materials.
English translation of any language's advertisement text.
SpyOver Pricing Plans
There are two price tiers for SpyOver. Professional and Corporate rates are 1499 USD per month and 299 USD per month, respectively.
11. Pathmatics :
Pathmatics is an ad intelligence dynamic platform, which helps you get valuable insights about your competitors ad campaigns. It can be done across all the social media platforms. Pathmatics comes up with various tools which will help apprise your performance and then compare it with your competitors performance for better results in the future. In simple words, Pathmatics is the tool which will help you take your ad campaigns to a whole new level with insights of your competitors which will give better results for your future campaigns.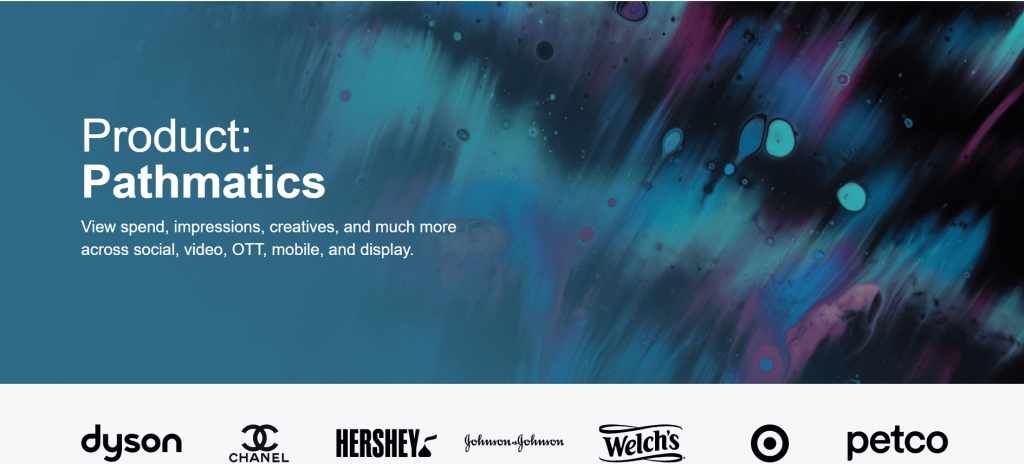 Pathmatics Key Features:
Let's take a quick look at the Pathmatics Key Features.
Can give you insights of your competitors campaign on various social media platforms.
Various ways to understand competitor's ad insights and your own business needs.
Pathmatics Pricing Plans:
Pathmatics has not disclosed the pricing, you will have to contact the sales team in order to het details.
12. AdEspresso
If you have been into paid advertisements on social media, am very sure you would have come across AdEspresso at some point. This tool is a goldmine for marketers. Here you can find out about competitor's strategies and their weak spots. You can compare your ad with them to get better results for yourself. Spy on your competitors over Facebook, Twitter, LinkedIn & Instagram.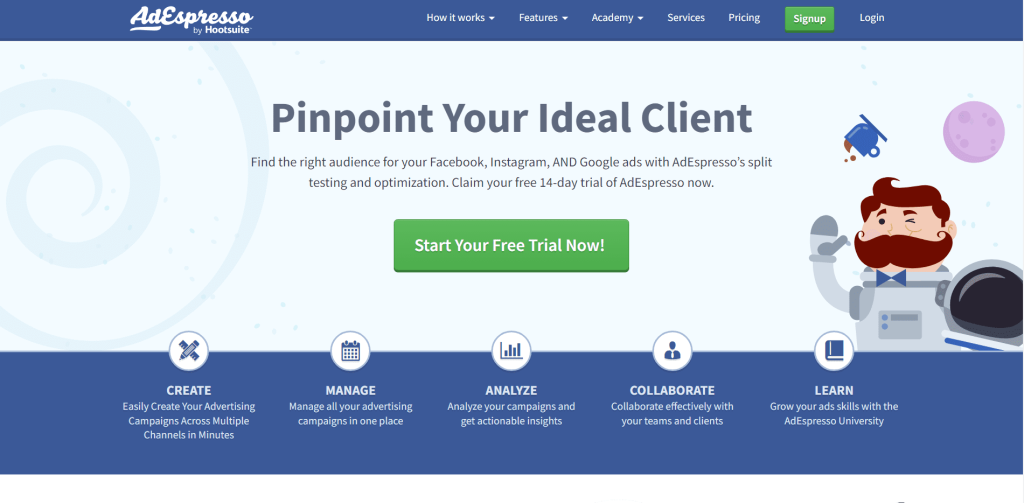 This tool is probably one of the best tool out there which comes with the perfect package. You can spy on your competitor's performance, their weak point and strategies which made it better. Which will eventually help you shape your campaign better. AdEspresso also can get you ad copies by spying on your competitor's campaign.
AdEspresso Features:
Let's take a quick look at the Key features of AdEspresso
You can compare your ads with the competitor and get to know insights about their strategy and weak spots.
AdEspresso will help you create perfect ad copy to grab audience's attention eventually will help you with better conversion.
CRM Integration available which will help you manage all the leads.
AdEspresso Pricing Plans :
Let's take a quick look at the Pricing plans of AdEspresso
Starter Plan $49/mo with spending limit of $1,000/mo
Plus Plan will cost you $99/mo with no spending limit.
Enterprise Plan will cost you $259 with unlimited spending.
Related Read:
Summary: Best Ads Spy Tools (2023)
As we conclude our exploration of the best Ad Spy Tools, it's evident that these tools aren't a luxury but a necessity. They empower marketers to make informed decisions, save valuable time, and maximize the ROI.
Make every attempt to match the best brands in the market regarding quality, and then work to get even better.