Looking for Best Platforms To Sell Digital Products? You are at the right place. The global e-commerce industry is projected to reach $350 billion by 2030. This indicates a massive potential for anyone who wants to launch their e-commerce business and sell digital products online.
Selling digital products has become a popular way to earn money online. However, many platforms offer this service, and it can be challenging to determine which platform is best for your business.
In this article, we'll review 6 of the most widely used online platforms for selling digital products.
We will also highlight their features and pricing options so you can choose which is ideal for your business.
So let's get started.
7 Best Platforms To Sell Digital Products (In-Depth)
Here are some of the best platforms to sell digital products In 2023:
| | | |
| --- | --- | --- |
| Sr. No. | Product | Pricing |
| 1. | Shopify | $29-$299/mo |
| 2. | BigCommerce | $29.95 – $299.95/mo |
| 3. | Podia | $0 – $166/mo |
| 4. | Sellfy | $0- $159/mo |
| 5. | Sendowl | $0-$19.mo (You can contact their sales team if you are looking for a higher plan) |
| 6. | Thinkific | $0- $499/mo |
| 7. | LearnDash | $199- $229/mo |
Digital Selling Platforms: In A Nutshell
Lets look at all the platforms in detail.
1. Shopify
Shopify is one of the most recommended platforms for starting an e-commerce business. This is why we have put it in the 1st position on our list of the best platforms to sell digital products. It's designed to let customers create their own robust online store, with dozens of built-in features and a wealth of tools.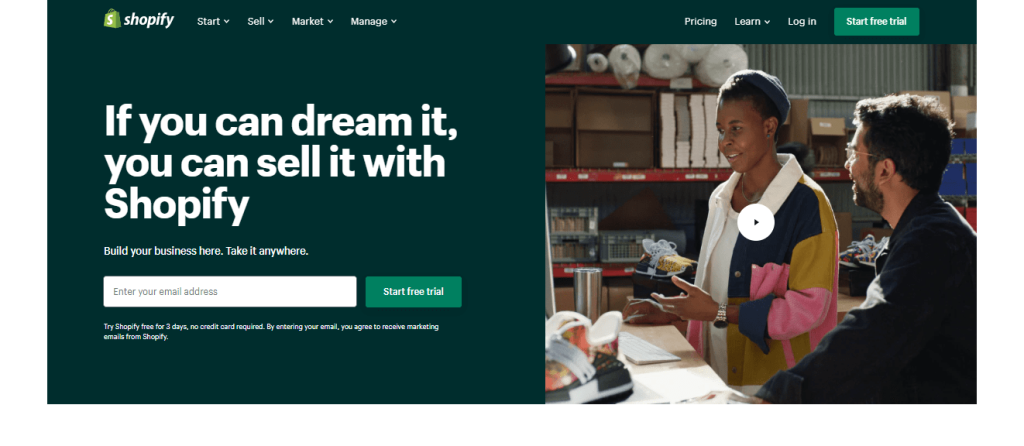 In addition, you can sell your digital products directly on different marketplaces, your website, and social media platforms.
Shopify makes it easy for you to build your own store, add products, customize colors, and more. You can also use Shopify's marketing tools, like email marketing and social media management, to grow your business as quickly as possible.
Shopify Features
Some of the most popular features of Shopify include:
Easy-to-use interface:
Shopify has a user-friendly interface that is easy to use and navigate. As a result, even a beginner can use Shopify with ease.
Point of Sale (POS):
Shopify's extensive Point of Sale feature deserves special attention since it sets it apart from its competitors and makes it stand out from the crowd. Shopify's POS system enables you to sell not just online but also offline or in physical locations.
Website Builder:
Shopify offers a powerful ecommerce website builder that allows you to create beautiful websites with just a few clicks.
Secure Payment Mode:
This platform features a secure payment system that lets you accept payments via credit card, PayPal, Apple Pay, or Android Pay.
Abandoned Cart Reminders:
You can send email reminders to your shoppers about their abandoned cart products using Shopify. Shopify's automated procedure saves you time and increases sales and profit.
Pricing Model of Shopify
Shopify offers different pricing plans to fit your requirements and budget. Its plans start from $29 per month.
Shopify also offers a 14-day free trial in which you are not required to submit any credit card details.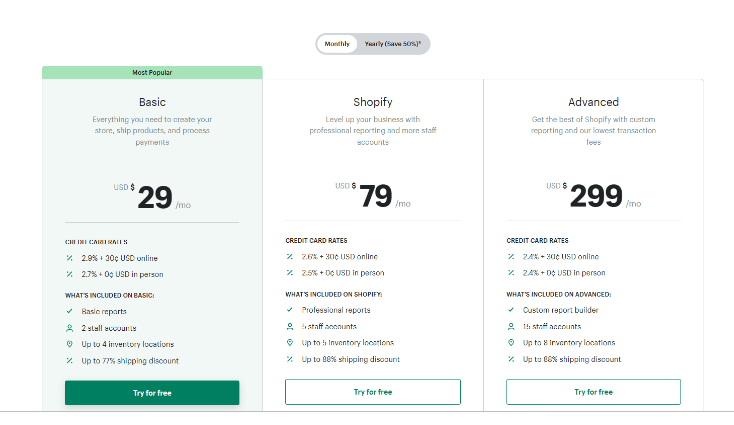 2. BigCommerce
BigCommerce is another SaaS-based eCommerce platform that allows users to manage their own stores and create unique websites optimized for search engines. It also provides email marketing, order management, and customer analytics tools.
Furthermore, it provides a multi-channel e-commerce platform that allows you to sell your products through multiple channels, including the web, mobile apps, social media, and more.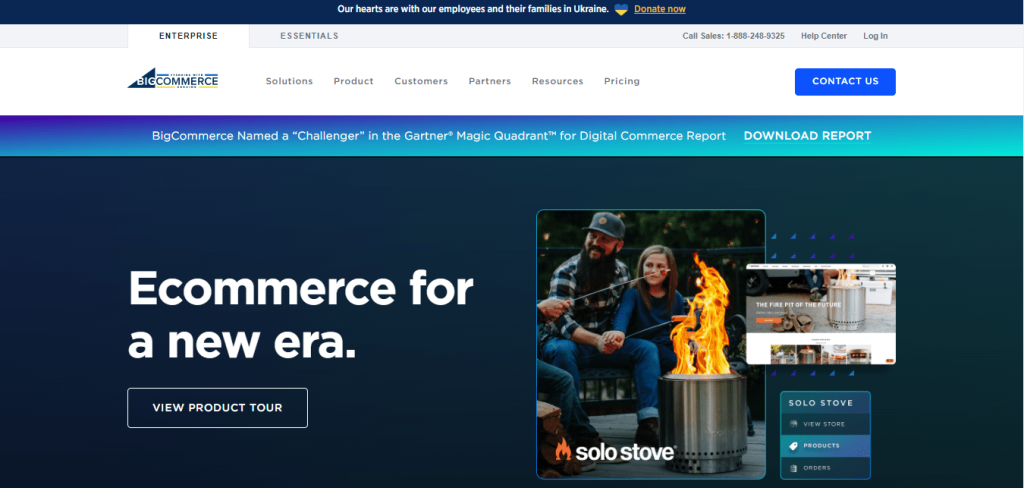 The platform offers everything from a suite of tools for managing ecommerce sites to supply chain management and analytics services.
BigCommerce Features
Some of the most Popular Features of BigCommerce include:
Product Management
BigCommerce enables you to import items, set up inventory tracking, adjust stock levels, and analyze order patterns over time.
In addition, its seamless native management features make inventory tracking between online and offline channels easier.
Multi-channel Selling
BigCommerce allows you to manage your Facebook, Amazon, Pinterest, and eBay stores from one platform. In addition, your inventory will be synced across all channels to ensure you do not oversell.
Single-Page Checkout
BigCommerce designed a simple, one-page checkout that eliminates obstacles and boosts clients' chances of finishing the transaction.
Pricing of BigCommerce
There are three different pricing options for BigCommerce, with monthly prices ranging from $29 to $299.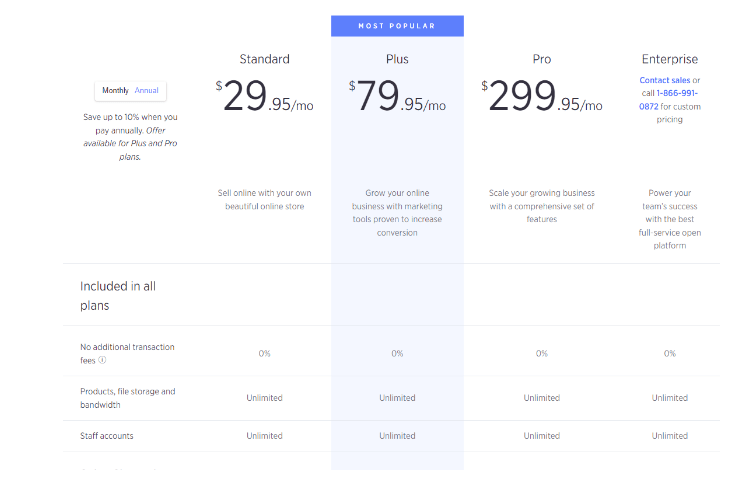 3. Podia
The third platform on our list is Podia which provides all the necessary features to start your digital products-selling business, including online courses, webinars, and downloads.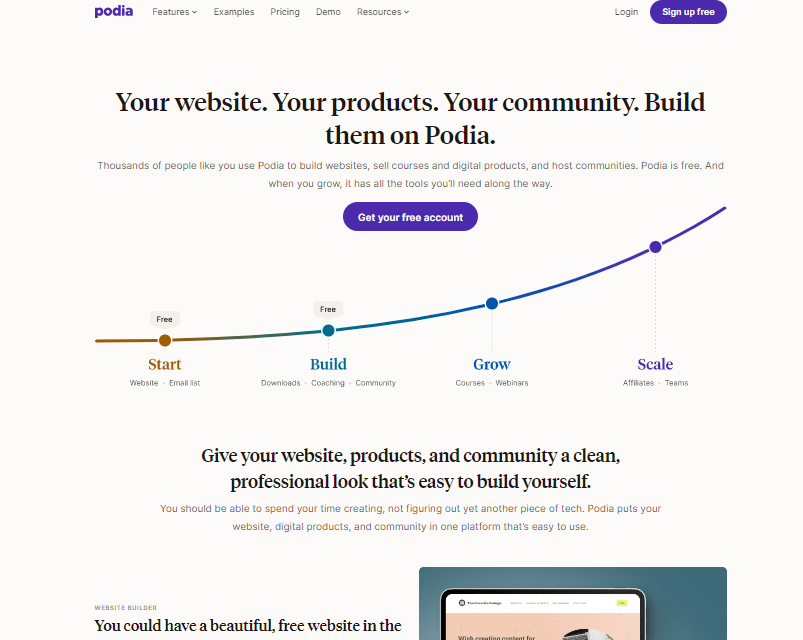 It can also serve as a membership site where students can subscribe and pay a monthly fee to access your digital products.
Moreover, it is a platform that puts the needs of creators first and helps small business owners, entrepreneurs, and creative professionals make massive revenue.
Podia Features
Some of the most Popular Features of Podia include:
Live Chat Widget
This enables you to provide real-time customer assistance directly on your product pages, allowing you to filter more prospects via your sales funnel and turn them into customers.
Membership Site
With Podia, you can build a membership website that grants your members access to premium materials and resources.
Course Builder
You can upload and manage your course content, including videos, audio files, and text documents, using its Course Builder.
Integrations
Podia works effortlessly with various popular email marketing systems, including Mailchimp, ConvertKit, AWeber, MailerLite, Drip, and ActiveCampaign.
In addition, if you wish to run your affiliate program, you can integrate Podia with ThriveCart to manage the affiliate marketing process.
Pricing of Podia
Podia has four different pricing options, one of which is free. And the pricing ranges from $33/month to $166/month.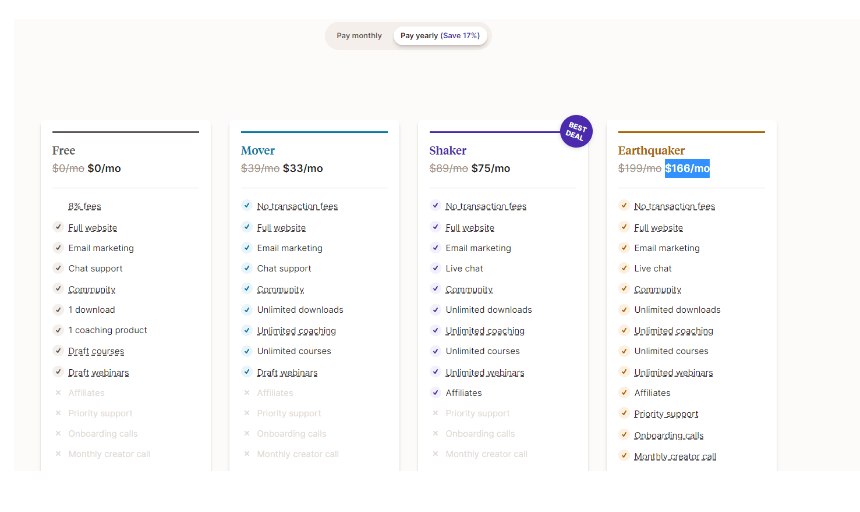 4. Sellfy
Next is Sellfy, which provides creators with an online platform for selling digital items to customers. In addition, Sellfy provides a slew of built-in options to help you design and improve your online store.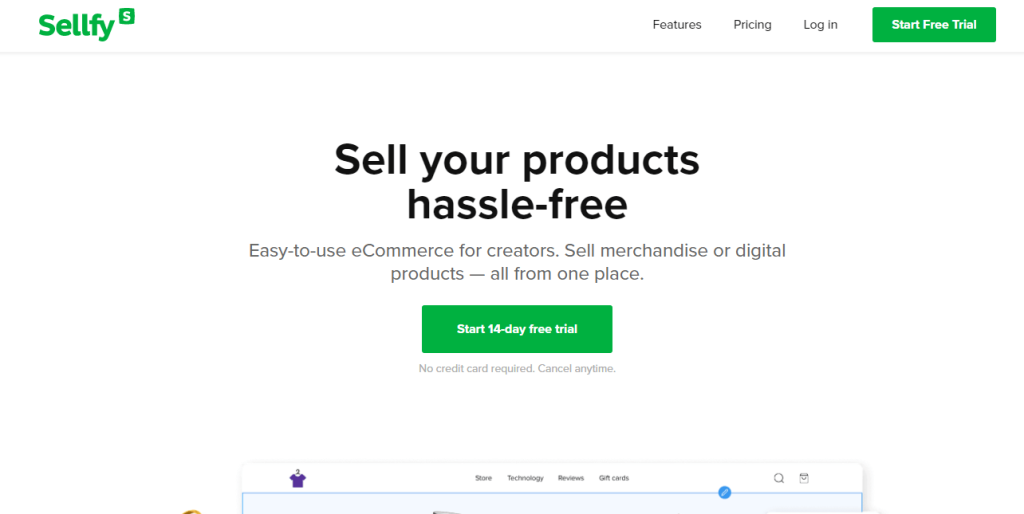 You can create an online store with a few clicks and sell your products within minutes. In addition, Sellfy allows you to customize your store by adding your logo, changing the colors and navigation, and editing the layout.
Other notable features include built-in print-on-demand and website embedding.
Sellfy Features
Some of the most Popular Features of Sellfy include:
Set Language:
You can set your language or show visitors a translated version of your store based on their geographic location.
Marketing and analytics tools:
It provides marketing and analytics solutions. For example, you can email product updates and gather newsletter subscribers. You can also track your best-selling products, revenue, top locations, traffic channels, and overall business performance with its analytics dashboard.
Embed Option
Sellfy offers a fantastic store embed function that can convert any website into an online store.
In-built Print On Demand
The platform enables you to establish a print-on-demand store for your products quickly. You can design, produce, and sell your items from a single storefront.
Pricing of Sellfy
Sellfy offers three price options with three different subscription models: monthly, annually, and bi-yearly. The starting plans cost you $29 per month.
It also provides a free trial option for 14-day.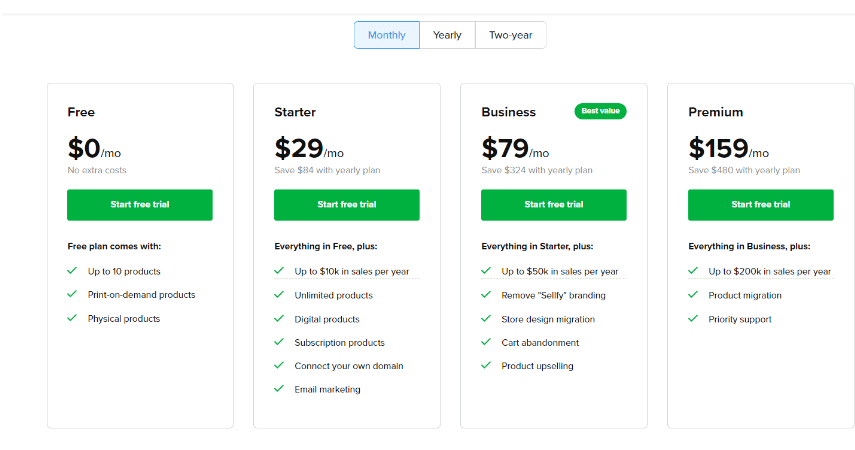 5. SendOwl
SendOwl is another e-commerce platform on our list that gives you a place to market your digital products more effectively while also managing your conversion rates.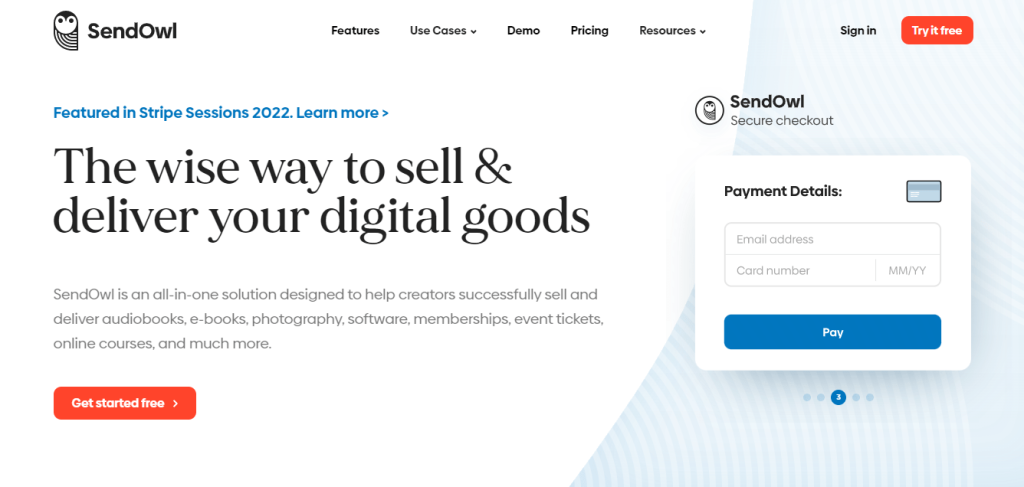 All you need to do is create and upload your products; the rest will be handled by SendOwl, including integrating with payment processors, creating optimized checkout pages for conversion, and ensuring automatic digital delivery.
SendOwl Features
Some of the Most Popular Features of SendOwl include:
Templates
SendOwl provides a variety of templates that you can use based on the products you sell, your branding, and more.
Discounts & Offers
You can easily provide discounts and manage promotions to all or specific buyers over a certain period or depending on the quantity of their prior purchase.
Cart abandonments
Using this feature, you can boost sales by sending insightful emails to clients who abandoned their shopping carts.
Analytics
Find out what your best-selling items are and how much revenue you generate so you can optimize your offering and prices.
Pricing of SendOwl
SendOwl gives free access to explore the functionalities for 14 days. After this, you can upgrade to its premium plan, which starts at $19 per month.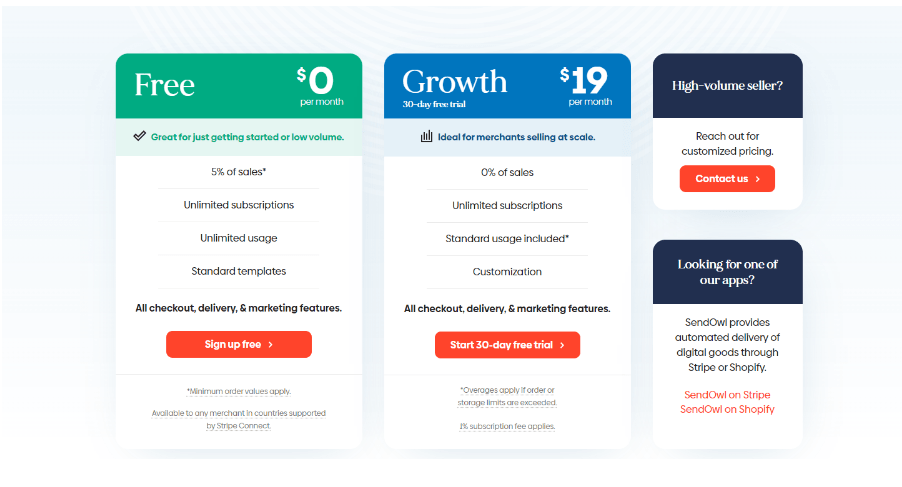 6. Thinkific
If you are someone who wants to sell their courses online, then Thinkific is ideal for you.
It is a platform for creating online courses in various formats, including text, videos, PDFs, discussions, quizzes, and many more.
It provides a drag-and-drop website builder through which you can build the perfect website for your online coaching business without mastering HTML or coding.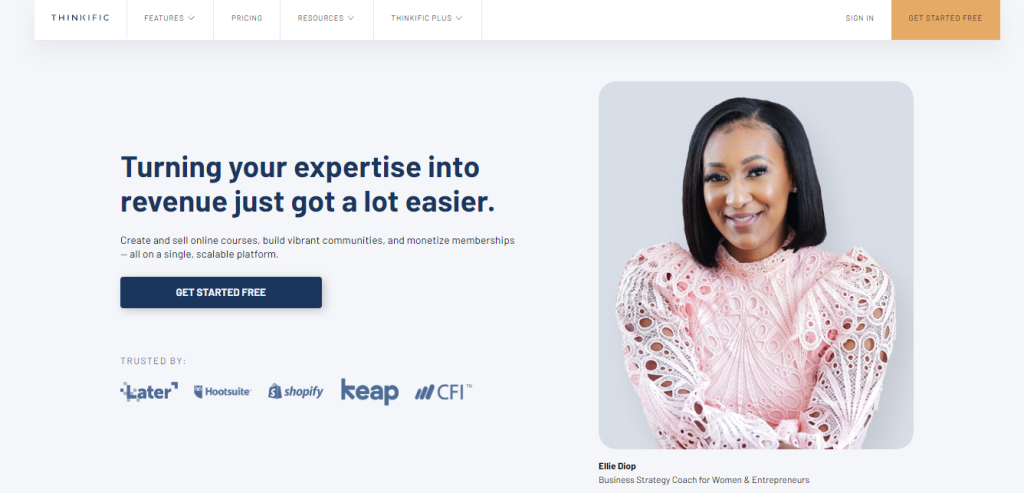 Thinkific Features
Some of the Most Popular Features of Thinkific Include:
Assessment options
Thinkfic offers many assessment options, including simplistic multiple-choice surveys, open-ended surveys and assignments, and even formal tests. You can also automatically generate custom certificates for students after finishing a course.
Membership site
You may build a membership site with a subscription model where students can access your material and community by paying a monthly fee.
Drip Content
Thinkific provides a Drip content feature that allows you to deploy material based on user milestones such as student registration dates, course start dates, and custom calendar days.
Pre-designed library
You do not need to create your website from scratch; instead, you can use templates from its pre-designed library.
Pricing of Thinkific
Thinkific provides four plans with various pricing options, from free to premium, starting at $99 monthly.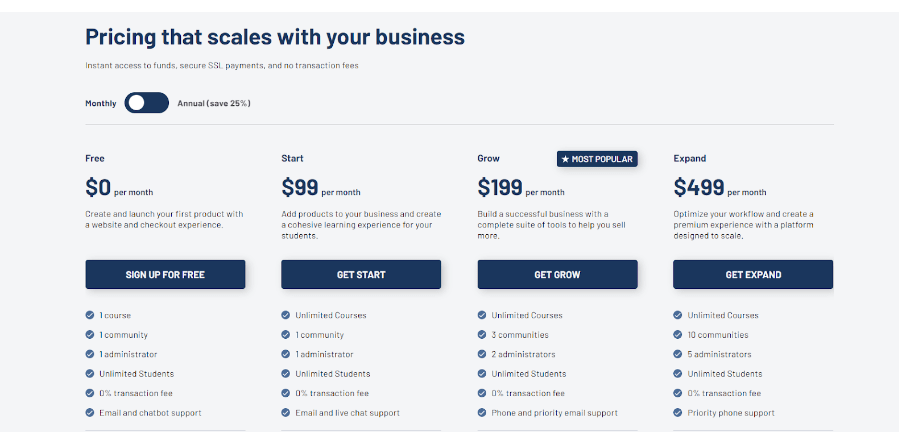 7. LearnDash
It is considered as one of the best WordPress LMS plugins. It's features makes it an unique option if you are looking to create custom courses. It's so vast that users might not be able to figure out all its functionality. It comes up with Drag & Drop course builder option, which makes it easier for the users to organize courses. Video progression support is a great feature for video course. Third party integration is a little complicated for payment functionality, which you will have to complete.
LearnDash Features
Some of the Most Popular Features of LearnDash Include:
Drag & Drop
It helps you organizing courses in easier way which makes it less complicated for users to view.
Built In Video Progression
The Built in Video Progression is an amazing feature which helps video in your course.
LearnDash Pricing
The Pricing of LearnDash comes with 3 plans. 1) Basic, 2) Plus 3) Pro.

LearnDash Basic Plan:
Costs you $199 for 1 site.
LearnDash Plus Plan:
Costs you $399 for 10 sites.
LearnDash Pro Plan:
Costs you $799 for unlimited sites.
Related Read:
Conclusion: Best Platforms To Sell Digital Products
It's time to decide. Which platform is the best place for you to sell your digital products?
In this article, we've shared our top picks along with their key features and pricing details. After all, knowing what you're getting into when choosing a platform is essential.
The platforms mentioned above are excellent, not just for selling digital products. They also provide extensive customization and helpful insights.
So which platform have you selected from the above-mentioned list for selling your digital products? Let us know in the comments section below.