Are you looking for the best blogging tools for your blog? Look no further, we have got the best for you.
In a survey of online content creators, 35% of them think blogging is one of the most effective ways to drive results and make money online. But blogging requires a set of tools for content creation, management, tracking, marketing, and many more.
As a blogger, you set up a blog by creating a professional-looking post and hoping for the audience to find your blog. But that's not how things work. You need to do a lot of keyword research, find content ideas, and promote content on various social media platforms. You can do it all manually, but it takes time and effort. Luckily, there are thousands of blogging tools available on the internet that will save you from doing heavy manual work.
In this post, we have listed a list of 33+ best blogging tools for different purposes such as planning, SEO optimization, promotion, etc.
So let's dive right into the post.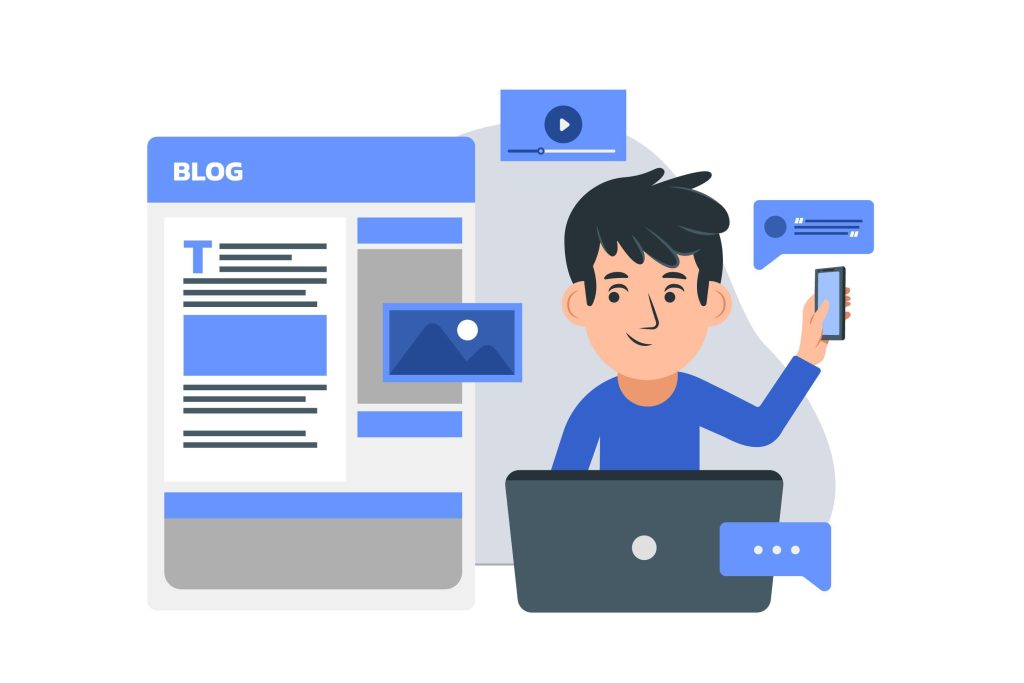 Best Blogging Tools to Brainstorm Content Ideas
One of the most common hurdles bloggers face is coming up with trending and relevant topics. That's not much of a big deal, as there is no shortage of content resources. You can find some great tools on the internet to brainstorm relevant content ideas.
1. Google Trends
Google Trends is a free online search tool from Google that allows you to search trending topics based on keywords, phrases, and subjects. You can also find out how often a specific topic has been searched over time across various countries, regions, and languages.
With Google Trends, you will get a true reflection of consumers' interest since Google collects data based on their search. This way, you can find out their majority of intent and create a better content strategy for your blog.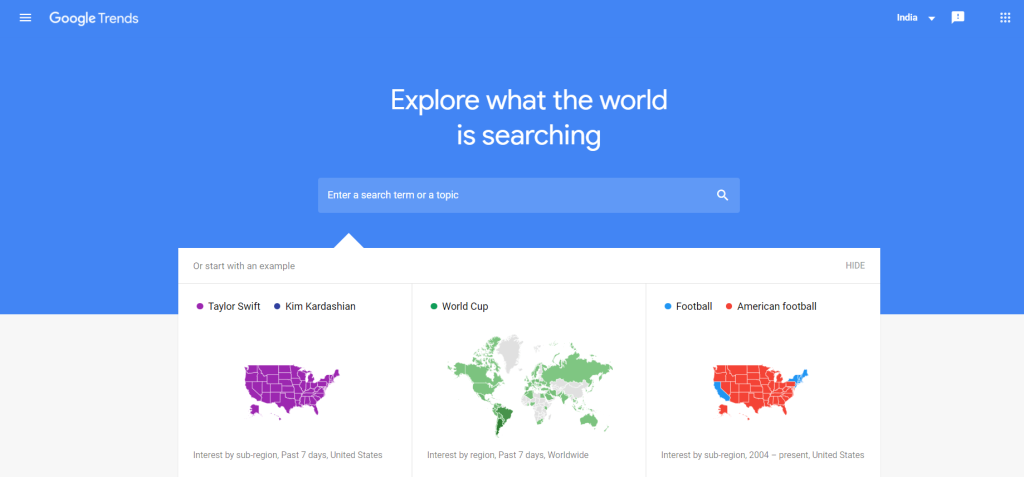 Google Trends Key Features
Let's take a quick look at the key features of Google Trends
Identify niches for products
Unfiltered sample of categorized search
Location-based trend variations
Google Trends Pricing:
Google Trends is entirely free to use.
2. Quora
Quora is a popular social Q&A platform that gives users the freedom to ask questions about anything, whereas other users reply with the best answer. But that's not the only thing Quora does – it is also an excellent platform to find content ideas for your blog.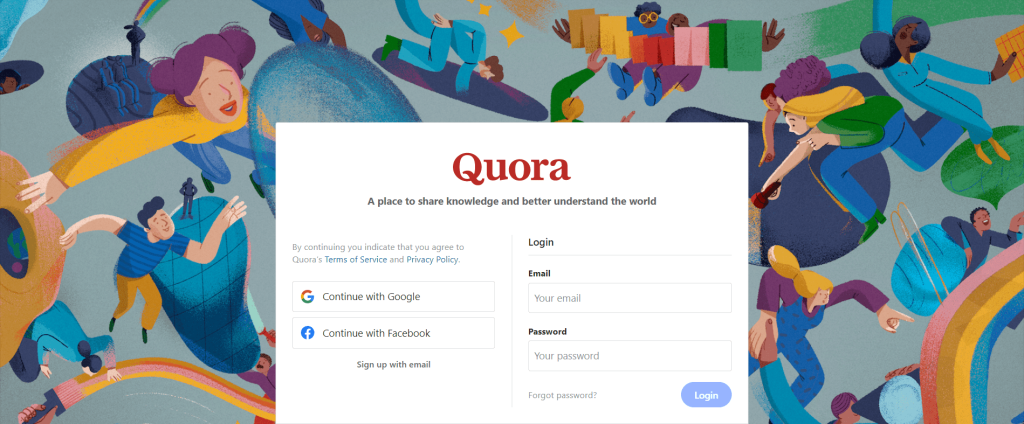 More than 300 million users use Quora to ask and answer queries, making it a great tool for bloggers. Here any marketer and blogger can engage with this vast community and find trending content ideas without needing to purchase expensive tools.
Quora Key Features
Let's take a quick look at Quora key features
Blog promotion and marketing
Find the target audience for your business
Find influencers and experts to capture their insights
Quora Pricing:
You can create an account on Quora for free and become a full-time member.
3. BuzzSumo
Apparently, Buzzsumo is a complete content marketing tool. But mostly, it is known for providing tools to generate ideas and monitor performance. With its content insight tool, you can discover hot topics to create high-performing content.
Apart from brainstorming content ideas, you can also analyze millions of data points to enhance your marketing strategy. You can also identify and team up with social media influencers to power up your marketing campaign.

BuzzSumo Key Features
Let's take a quick look at the key features of BuzzSumo
Content research
Find influencers
Monitor and track your sales, traffic, and competitors
BuzzSumo Pricing:
BuzzSumo offers a free plan that lets you generate ten content ideas per month, while the Pro plan costs you $99/month for unlimited research and content ideas.
4. HubSpot Blog Ideas Generator
HubSpot is an all-in-one marketing software and CRM platform that offers tools for blogging, SEO, landing pages, email, social media, web analytics, and marketing automation. HubSpot's Blog Ideas Generator is a free online tool that helps you generate blog ideas based on keywords.
The Blog Ideas Generator is basically a decent blogging tool that saves your time while creating content. Just put your main keyword and click on "give me blog ideas," and you will get hundreds of relevant topic ideas.
HubSpot Blog Ideas Generator Key Features
Let's take a quick look at HubSpot Blog Ideas Generator
Customizable search system
Up to 250 results for topic ideas
User-friendly design
HubSpot Blog Ideas Generator Pricing:
HubSpot's Blog Ideas Generator is a Free tool with no ads or pop-ups.
Best Blogging Tools for Keyword Research
Keyword research is the most basic yet vital part of blogging. Searching for the relevant keyword for a blog helps you identify the user intent, which gives you an idea of how to solve users' queries through your blog. Less than one-third of the bloggers do keyword research before writing a blog, and most of them get 100 percent results every time.
Fortunately, there are tons of keyword research tools out there that you can use to save your time from manual research.
5. Ahrefs
Ahrefs is undoubtedly the most powerful keyword research tool for blogging. It offers you keyword research tools with advanced filters that let you find the best keywords for the highest traffic with the lowest rank difficulty.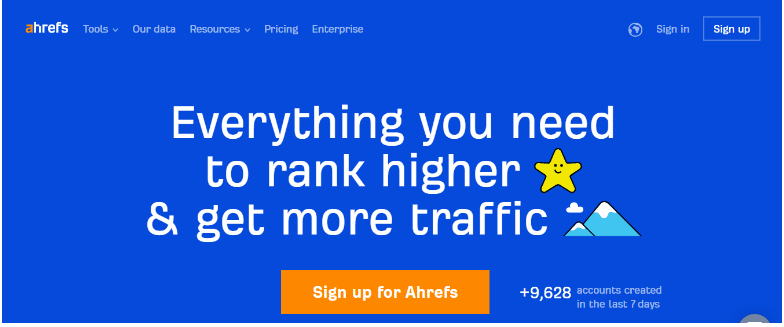 Apart from keyword research, Ahrefs also provides you with an in-depth backlink and competitor analysis which is crucial to improving your blog's performance. One of the easiest ways to find low-difficulty and high-volume keywords is by linking your competitors' sites to Site Explorer.
Ahrefs Key Features
Let's take a quick look at features of Ahrefs
Detailed overview of bulk research
Overall SEO score
Tutorials for onboarding
Pricing: Ahrefs pricing starts from $99/month. Unfortunately, it doesn't offer any free trial or subscription.
6. Semrush
Semrush is an industry-level SEO and PPC software that offers the best solution for keywords, analytics, backlink, and SEO audit. That's why 30 percent of the top fortune companies use Semrush for SEO solutions. With Semrush, you get access to 50+ advanced tools for different purposes.
Talking about keyword research, Semrush offers six keyword research tools for marketing, organic research, traffic, and management. Get access to a keyword toolbox of unique 22 billion keywords with accurate search volume and ranking difficulty.
Semrush Key Features:
Let's take a quick look at the key features of Semrush
Track daily SERPs
Technical SEO audits
Sellzone tool for Amazon merchants
Semrush Pricing:
You can try Semrush's free plan to use its features for limited access. And for advanced features, you need to pay $119.95/month.
7. Ubersuggest
It is one of the fastest-growing all-in-one SEO tool suites for digital marketers and bloggers. Ubersuggest is owned by famous digital marketer and entrepreneur Neil Patel. The keyword research tool of Ubersuggest is one of the finest tools in the SEO industry. And top of that, it is beginner-friendly.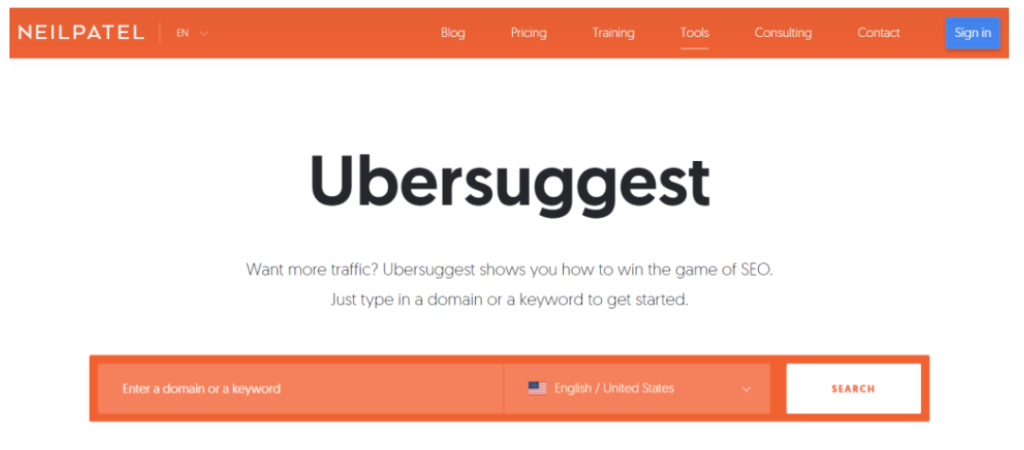 It offers free access to its free training and courses so that you can get started quickly with the tool. It also provides top SEO page reports so you can discover organic keywords and phrases to improve your ranking in the SERPs.
Ubersuggest Key Features
Let's take a quick look at Ubersuggest Key features
Best content ideas
Backlink data
Domain Overview
Ubersuggest Pricing:
The pricing of Ubersuggest starts from $12/month. You can also get a 7-day free trial on any plan.
8. Google Keyword Planner
Google's Keyword Planner is a free keyword research tool that lets you find high-volume keywords for your blog. You can enter a series of keywords in the search box, and in return, you will get thousands of popular and trending keywords for your related search query.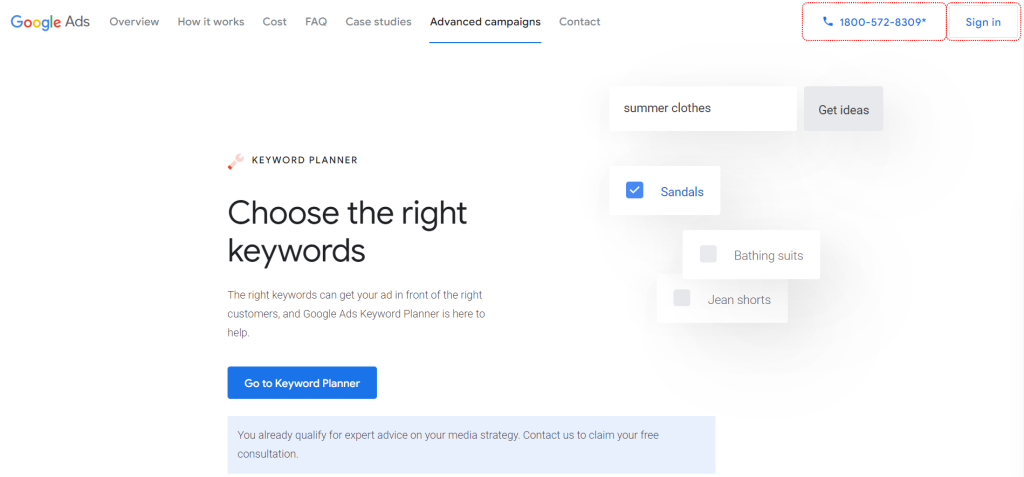 The Keyword Planner is specifically designed for Google ads and PPC campaigns. The tool is best suited for beginners and marketers who have just been into marketing and SEO. However, the tool is not recommended for advanced users as it lacks a few advanced features.
Google Keyword Planner Key Features
Let's take a quick look at Google Keyword Planner
Discover new high-volume keywords
Create new campaigns
Organize keywords
Google Keyword Planner Pricing:
Google Keyword Planner is 100 percent free to use.
Best Blogging Tools for Fast Content Creation
Content creation is the main ingredient of blogging. By creating relevant content consistently, you are fabricating a library of resources to define your brand. The content should be in natural form and readable. There are a few tools out there that will help create content comfortably and fast.
9. Google Docs
Google Docs is easily one of the best choices for content creators. Content writers and copywriters prefer Google Docs over other writing editor tools. That's why it has over 2.3 billion active monthly users.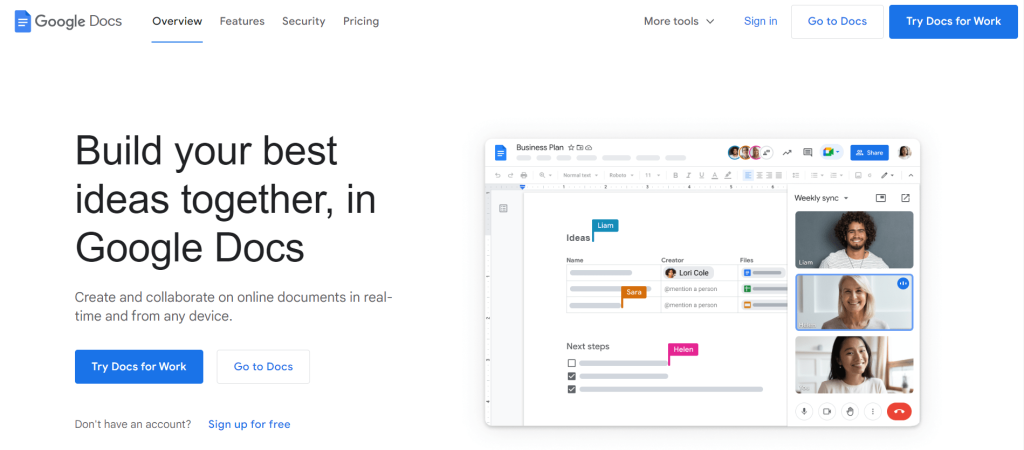 Google Docs allows you to collaborate with multiple users in real-time simultaneously. And you can also add writing extensions (such as Grammarly and PowerThesaurus) to improve your writing skills. There is no need to pay any extra penny to use these additional tools.
Google Docs Key Features
Let's take a look at Key features of Google Docs
Add fonts and templates
Insert tables and images
Add extensions
Google Docs Pricing:
Google Docs is 100% free to use.
10. Hemingway Editor
Hemingway Editor is a free online writing and editing tool. The tool is best for bloggers who want to write distraction-free. It does not just let you create content but also helps you fix errors while writing.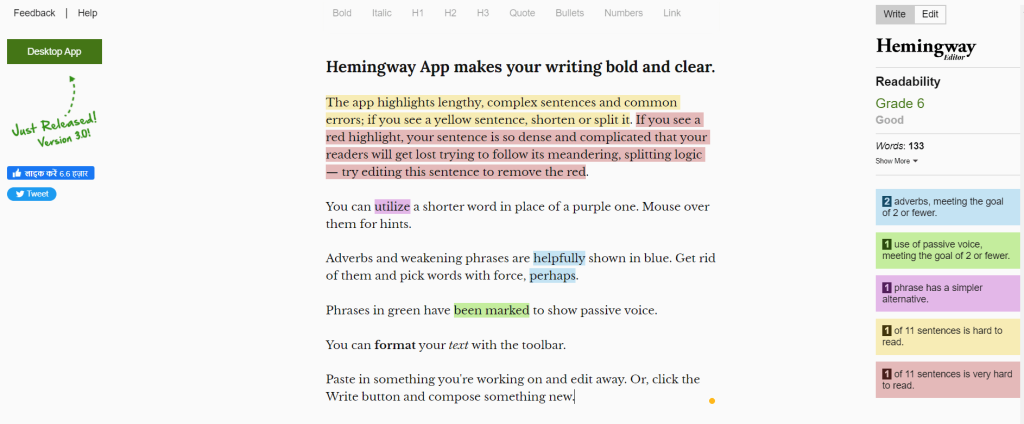 Hemingway Editor highlights complex and lengthy sentences so you can fix them for better readability. If it highlights yellow, you need to split or shorten the sentence. If it shows red, you need to rewrite the sentence as it might be very complicated or hard to read.
Hemingway Editor Key Features
Let's take a quick look at the key features of Hemingway Editor
Shows color-coded writing problems
Cut dead weight sentences from the content
Fix common grammar errors
Hemingway Editor Pricing:
Hemingway's desktop and online versions are completely free to use. However, you need to pay a one-time fee of $19.99 for the Hemingway app.
11. Fellow
Fellow is a productive team management and meeting app that offers a few great tools for OKRs (Objective and Key Results). Fellow's Streams feature offers a digital notepad that facilitates team collaboration on multiple objectives and projects.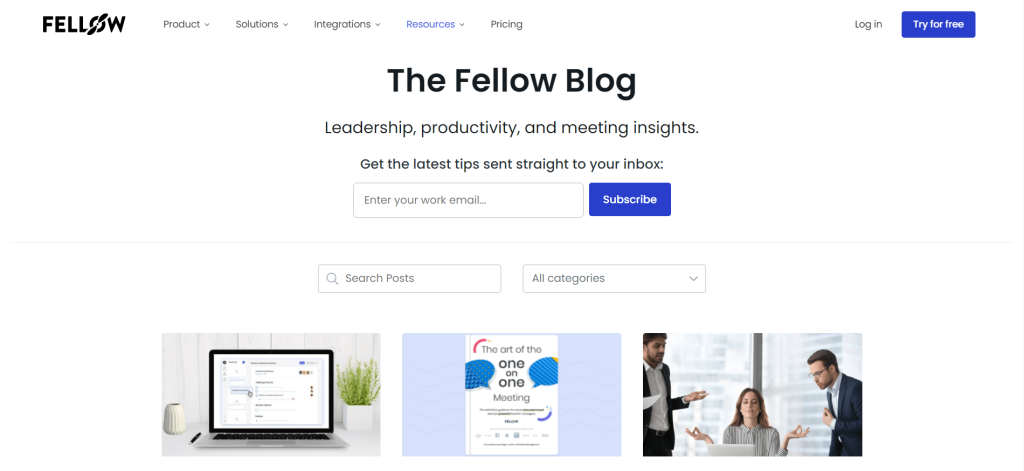 The notepad also features multiple templates that can be helpful in creating text in various ways. However, it is also widely used individually for solo projects and distraction-free writing.
Fellow Key Features
Let's take a quick look at the key Features of Fellow
One-on-one and group meetings
Digital notepad for writing and project organization
Zapier integration
Fellow Pricing:
Fellow is free to use for a team of up to 10 people. Adding additional members costs you $6 per user per month.
12. WordPress's Distraction Free Writing
Distraction Free Writing is a free writing tool added to WordPress. You can enable the Distraction Free Writing mode by clicking on the full-screen toggle or using the shortcut alt+shift+G.

What makes it really distraction-free is that when you turn it on and leave the mouse for a few seconds, the other toolbars and borders fade away, leaving only words on the writing pad.
WordPress's Distraction Free Writing Key Features
Let's take a quick look at the key features of WordPress's Distraction Free Writing
Full-screen mode
Visual and text buttons
Auto-save
WordPress's Distraction Free Writing Pricing:
The Distraction Free Writing mode is completely free to use.
Best Blogging Tools for Proofreading
Proofreading is the last step before submission. It is the most crucial step and can be done by the author or another person. Proofreading ensures proper grammar and checking spelling mistakes, but reviewing the author's idea that they want to share with the audience is highly recommended. Here are the best proofreading tools you can use for proofreading.
13. Grammarly
Grammarly is by far the best editing and proofreading tool you can find on the market. It offers a fully responsive browser extension, online app, mobile app, and MS Office add-on. Grammarly fixes grammar, spelling, and punctuation mistakes and suggests best-shortened sentences for complex sentences and phrases.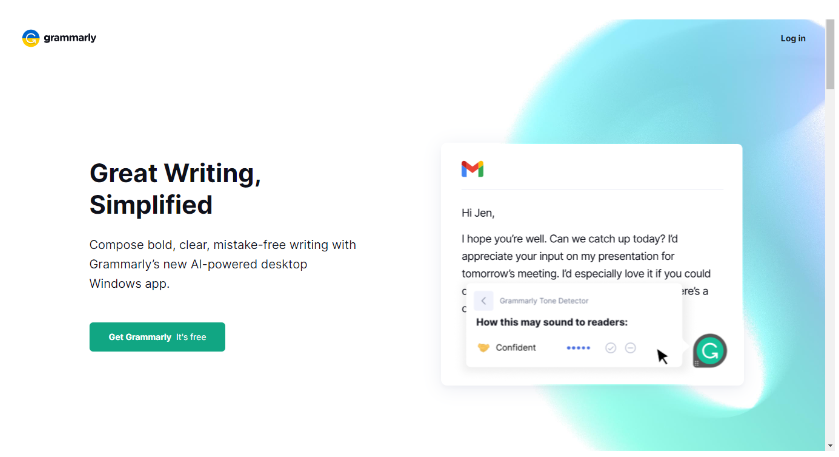 Apart from grammar features, you can also use its plagiarism checker tool to check if any sentence is copied from anywhere or is 100% original. It also integrates with many writing tools, such as Google Docs.
Grammarly Key Features
Let's take a quick look at the key features of Grammarly
One-click suggestions
Filter suggestions category
Overall writing score
Grammarly Pricing:
Grammarly offers a basic version with fewer features for free, while the premium version starts from $12/month.
14. ProWritingAid
ProWritingAid is a robust AI-powered writing assistant that offers top-notch grammar and spell-checking features. The tool runs on fast and dedicated servers, that's why it needs a decent internet connection in order to work on a computer and phone.

Like Grammarly, ProWritingAid also offers a Chrome extension and plagiarism checker, which is entirely free to use. The tool highlights various writing issues, such as overused words, repeated phrases, sentence structure, readability, and punctuation, and suggests the best replacements.
ProWritingAid Key Features
Lets take a quick look at the features of ProWritingAid
One-click fixes
Clean and intuitive interface
Writing reports
ProWritingAid Pricing:
ProWritingAid is completely free to use.
15. Ginger
Ginger is a Chrome extension that offers a reliable AI-powered writing assistant. It is free online software that is available for MS Office and Windows. The tool suggests context-based corrections that speed up your writing.
Ginger offers an AI rephrasing tool that suggests the best-shortened sentences for complex sentences.

Ginger Key Features
Let's take a quick look at the key features of Ginger
Punctuation checker
Online proofreading
Works across almost all websites
Ginger Pricing:
The Ginger software is 100% free to use.
16. WhiteSmoke
WhiteSmoke is an advanced AI-based integrated writing editor and proofreading tool. The premium tool unlocks the highest quality proofreading abilities, which enable you to correct grammar, style mistakes, and poor word choices.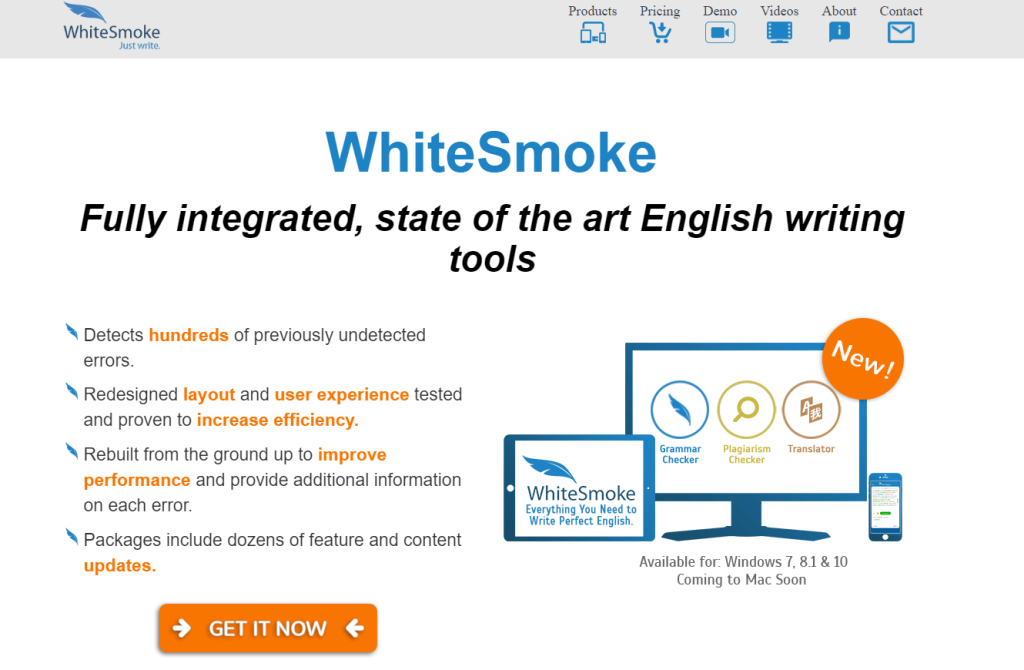 The products of WhiteSmoke are based on NLP (Natural Language Process) technology, so you will be able to provide the best content to your customers.
WhiteSmoke Key Features
Let's take a quick look at the key features of WhiteSmoke
Works on all browsers
Plagiarism checker
Inbuilt translator
WhiteSmoke Pricing:
WhiteSmoke pricing starts from $5/month.
Best Blogging Tools for Content Organization
High-quality content does increase the site's visitors and conversions, whether you are selling products, providing information, or running your website for entertainment purposes. But this is not the only important factor; a website and its content also need to be organized in a manner that makes it convenient and accessible to visitors. Here are some fantastic tools you can use to organize your content.
17. Trello
Trello is an intuitive visual collaboration tool that lets you manage tasks, projects, and teams. It is a feature-rich tool that helps you boost your and your team's productivity. And all that you can do in a manageable Trello Board.

On Trello Board, you can create separate to-do lists and assign/complete tasks. With Trello, you can manage hundreds of members and assign tasks & projects with one click. It offers a range of plans covering all types of businesses.
Trello Key Features
Let's take a quick look at the key features of Trello
Pre-made templates for beginner and professional users
Manage multiple Trello boards
Unlimited storage and workspace
Trello Pricing:
Trello offers a free forever plan that includes basic content management features. If you want access to advanced features, it will cost you $5 per user per month.
18. HubSpot
HubSpot is one of the biggest sales and marketing platforms that also offers inbound blogging tools and management features. Most bloggers and marketers use this tool to generate leads and organize content.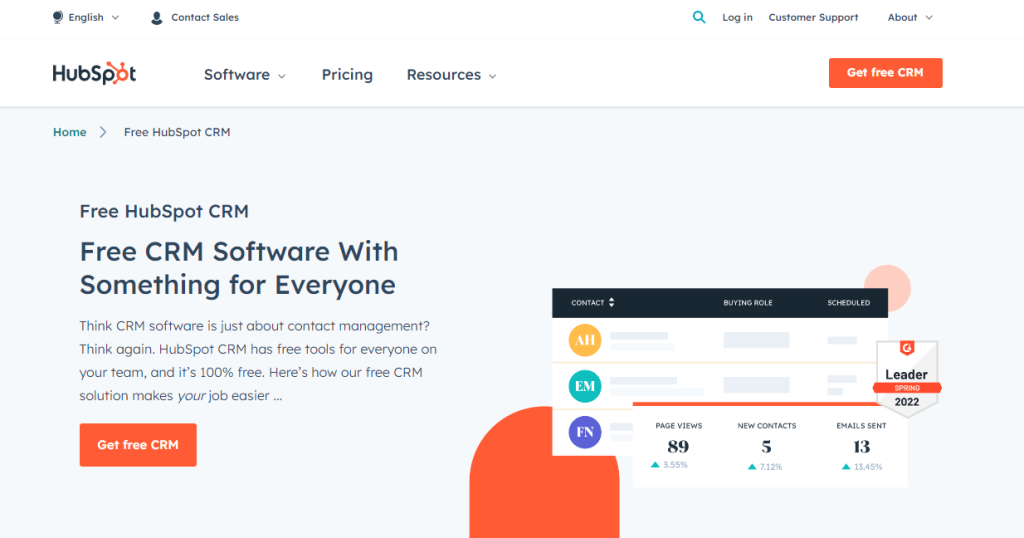 HubSpot's blogging tools increase website performance by offering deep analysis. It also includes core SEO benefits so you can get higher rankings on the SERPs.
HubSpot Key Features
Let's take a quick look at the key features of HubSpot
Blog management and analysis
Host and manage writing and video content
Collaborate with team in real-time
Hubspot Pricing:
HubSpot's pricing plan starts from $45/month.
19. Google Sheets
Google Sheets is one of the Google Workspace products that is used by many professional content managers. It is an online spreadsheet app that helps you create and edit content spreadsheets.
With Google Sheets, you can easily add/remove topics and add essential links to documents and websites. You can use filters to add charts, merge cells, and summarize data.
Google Sheets Key Features
Let's take a quick look at the Key features of Google Sheets
View content status
Add multiple sheets and evaluate the data
Accessible on almost all electronic devices
Google Sheets Pricing:
Google Sheets doesn't charge any fee to use its services.
20. Todoist
As the name says, Todoist is a task management app that offers a whole new level of content organization tools. With Todoist, you can track and organize tasks within seconds, so your team members stay uptime.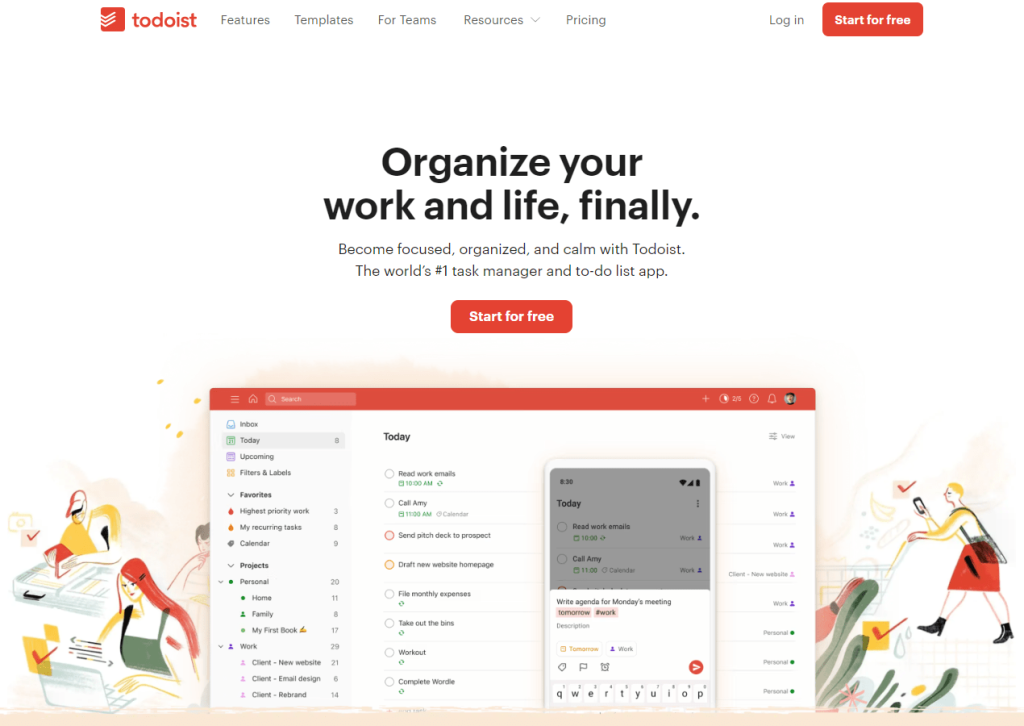 You can highlight tasks in multiple colors to prioritize important projects with its tools. You can also collaborate or share your workload with other people by filtering who can have access to edit, view, or comment.
Todoist Key Features
Let's take a quick look at Todosit
Clear overview of every task
Personalize task views
Connect your email, files, and calendar to simplify your workflow
Todoist Pricing:
Todoist's starter package is free, while the pro version costs $4/month.
Best Blogging Tools for Image Creation and Visuals
In the last 4-5 years, a survey shows that bloggers with visual content get better results than those who don't use images or graphics in their content. Inserting relevant images into the content makes it more eye-catching. Luckily, plenty of tools are available for creating professional-looking photos, videos, graphics, and stunning visuals.
21. Canva
Canva is one of the best tools for professional graphic design. That's why more than 85% of top 500 fortune companies use Canva to add visuals and graphics to their website. It is not just used by graphic designers. Many professional bloggers also use it since it offers a range of advanced features.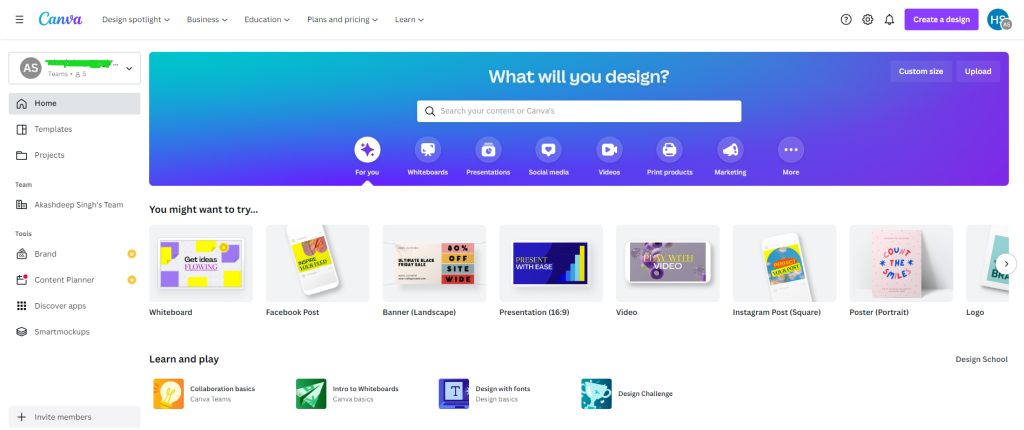 Canva lets you upload photos, resize them, and add layouts and texts to your design so you can get your desired image for your content. It also gives you access to a massive library of templates and stock photography for designing.
Canva Key Features
Let's take a quick look at Canva
Beginner-friendly platform
Collaboration features
Available for teams of all sizes
Canva Pricing:
Canva's basic plan is free to use, while Canva Pro costs $119.99/year for a single access.
22. Pixlr
Pixlr is a free cloud-based photo editor offering various utilities and image editing services. With Pixlr, you can create images, graphics, videos, and animations for your blog. You can also share your creation with your friends and teams with just one click.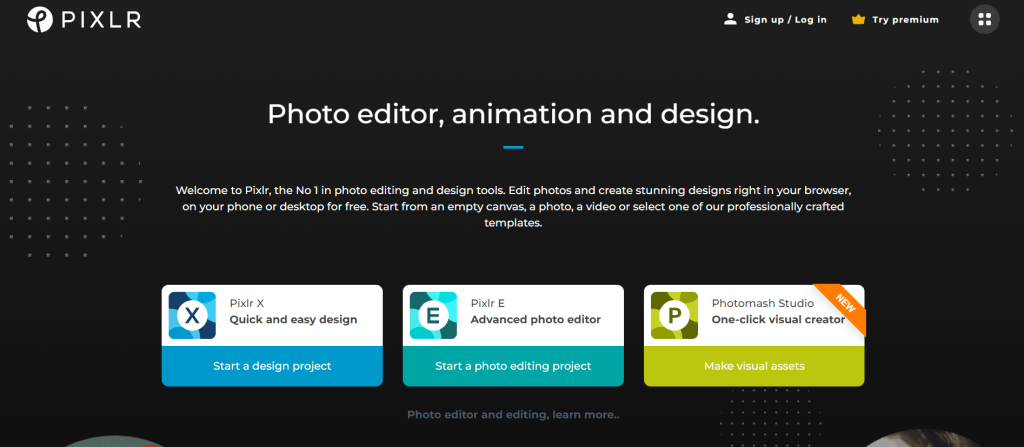 Pixlr's Photomash Studio helps you create high-quality visuals without much effort. You can remove/add a background from images to create profile pictures, thumbnails, and product images.
Pixlr Key Features
Let's take a quick look at the Pixlr
Stunning design templates for YouTube, Instagram, brochures, stories, etc.
Picture collage maker
Tons of filters and visual effects
Pixlr Pricing:
Pixlr's basic plan is free to use, and the premium plan starts from $4.90/month.
23. Meme Generator
Meme Generator by imgflip.com is a free online photo creation tool that is made for creative individuals and bloggers. With this tool, you can add images, resizable texts, and templates to your design.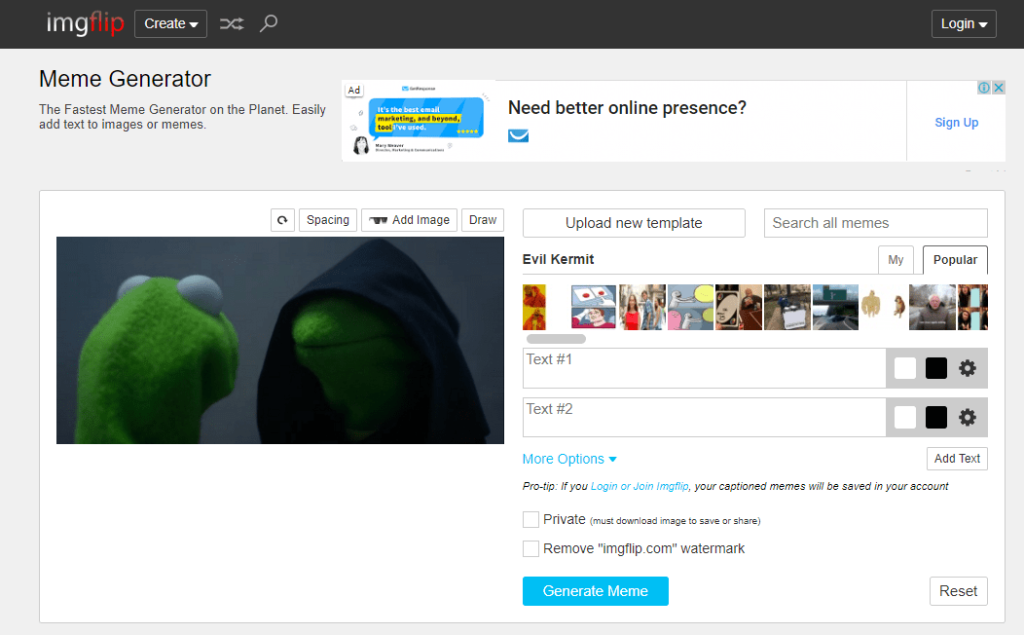 Meme Generator is commonly used to create funny memes, but you can use it for professional image creation as it gives access to 1 million pre-made templates that you can customize for your content.
Meme Generator Key Features
Let's take a quick look at the Meme Generator
Create memes, GIFs, Chart, and custom graphics
Add colors, fonts, text, and images
Share your creation on various social media platforms
Meme Generator Pricing:
Meme Generator is free to use. You can also opt for the Pro plan, which costs $3.49/month.
24. Evernote
Evernote is a powerful note-taking and digital task management application for creative individuals and entrepreneurs. The digital workspace allows you to capture anything, whether it is text, photos, or audio notes.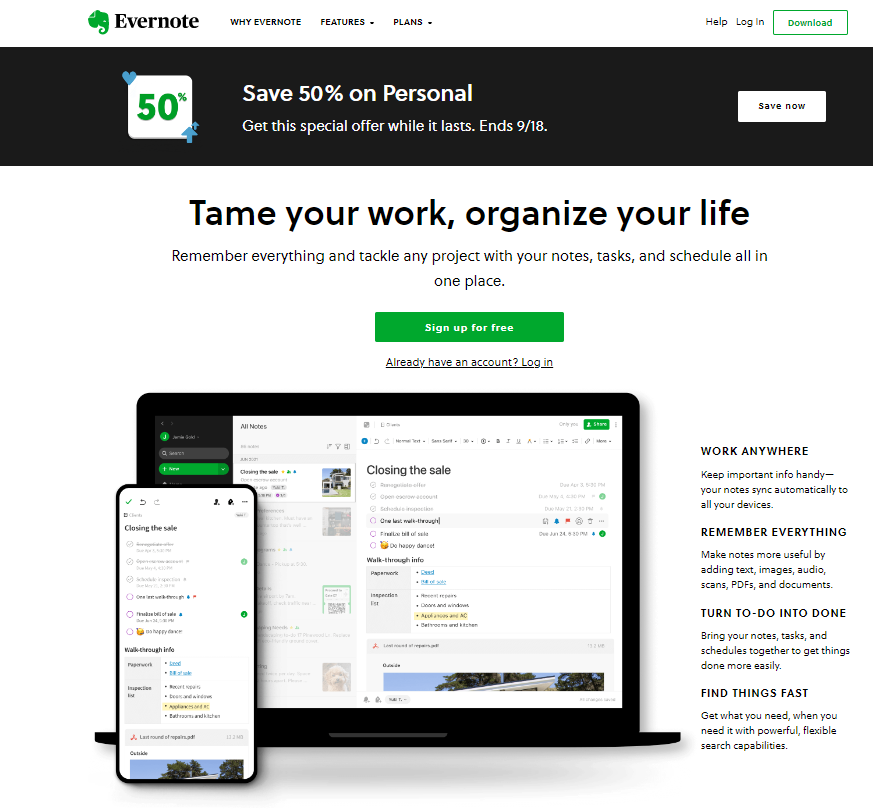 With this tool, you can save drafts of your content within the app and publish them whenever you want. Evernote also includes features like clipping images and screenshots for your posts and blogs.
Evernote Key Features
Let's take a quick look at the key features of Evernote
Document scanner
Create better notes with pre-made templates
Schedule your publishing with an inbuilt calendar
Evernote Pricing:
Evernote's basic plan is free to use, while the premium version starts from $7.99/month.
Best Blogging Tools for Tracking and Analytics
Tracking and analytics help bloggers understand better their customer base and marketing efforts. With Analytics, you can also gather core information like visitors' location, SERPs, conversions, and bounce rate. Here are some free and paid tracking and analysis tools for blogging.
25. Agorapulse
Agorapulse is a social tracking and analytics tool. It offers you tools to manage, monitor, and analyze your social marketing campaigns so you can understand the impacts of your campaigns on your website. This is a great tool for social media influencers and marketers.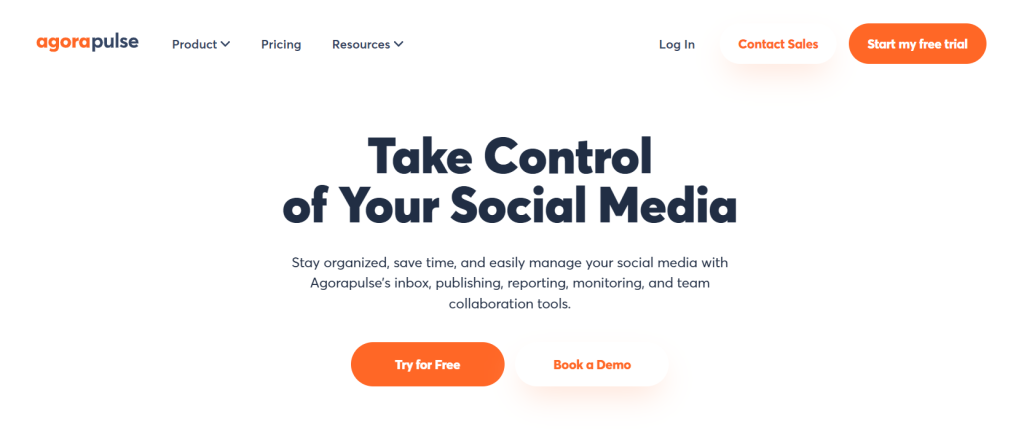 With Agorapulse, you can also schedule posts and publish in bulk on various social media to keep engaged with your audience.
Agorapulse Key Features
Let's take a quick look at the key features of Agorapulse
Advanced monitoring and analysis tools
Performance tracking feature
Schedule your post for future uploads
Agorapulse Pricing:
Agorapulse has no free plan, but you get a 15-day free trial of premium plans which starts at $79/month.
26. Google Analytics
Google Analytics is a free web analytics tool offered by Google. The tool tracks and monitors your website traffic and helps you analyze how engaged your website is. This tool can also track monthly visitors, collect data, and identify trends.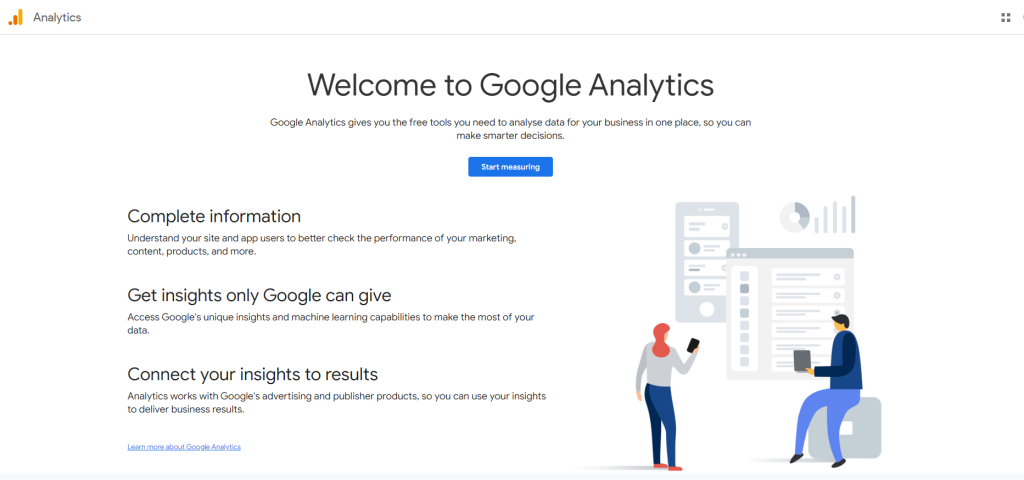 Google Analytics is best for the Google Marketing platform as it collects data from your websites and creates insightful reports so you can improve your marketing ROI.
Google Analytics Key Features
Let's take a quick look at the key features of Google Analytics
Advanced tracking and marketing analytics
Find your target audience
Track the website's activity
Google Analytics Pricing:
Google Analytics is 100% free to use.
27. Matomo
It is a powerful web analytics tool that helps you import historical Google Analytics data. Matomo offers many advanced features, including funnels, A/B testing, heatmaps, and many conversion-optimized features. The tool provides 100% user privacy protection and data ownership.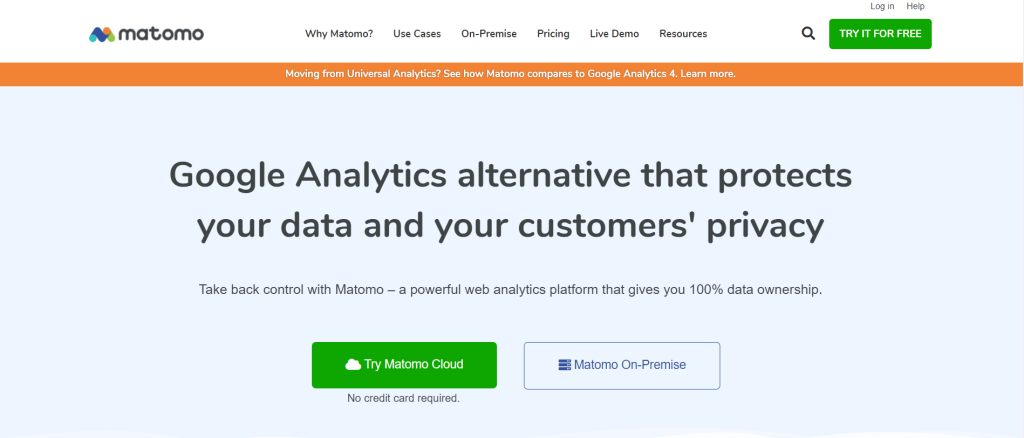 You can also host Matomo on private servers if you are more concerned about sensitive data. There are no data limitations so you can track an unlimited number of websites, segments, and users.
Matomo Key Features
Let's take a quick look at the key features of Matomo
100% accuracy and impactful reports
Track personal data with privacy
No data limitations
Matomo Pricing:
Matomo's On-Premise plan is free to use, while the cloud-based plan starts at $19/month.
28. Crazy Egg
Crazy Egg is an online optimization and heatmap tool that gives you a breakdown of different analytics aspects. It helps you identify usability problems and fix them so you can increase your conversions.

Crazy Egg also provides various data for a deeper understanding of how to interact with your audience. You can compare your and your competitors' website traffic using unique referral sources and campaign parameters.
Crazy Egg Key Features
Let's take a quick look at the key features of Crazy Egg
Find your target audience
Track Javascript errors
Watch the recording of visitors' actions
Crazy Egg Pricing:
Crazy Egg's pricing starts from $24/month, and each plan offers a 30-day free trial.
Best Blogging Tools for Social Media Management
If your blogging is related to social media platforms, you need a proper social media management tool so you manage all your social profiles in one place. Fortunately, there's no shortage of such tools on the internet. Let's look at a few best tools for social media management.
29. Buffer
Buffer is an affordable social media management software that offers value-driven tools to manage various social accounts. Many small businesses and individuals use this amazing software for performance and meaningful engagement on social platforms.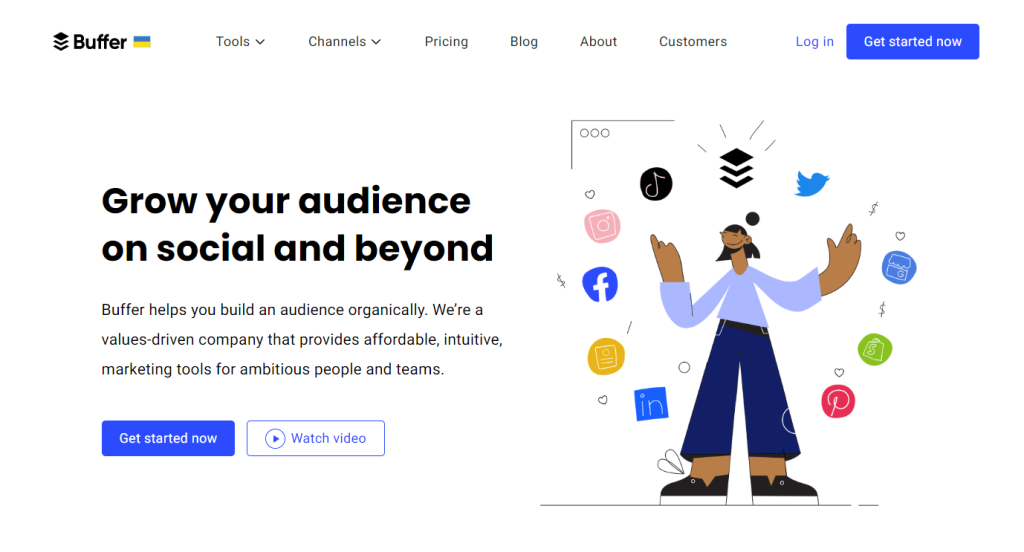 With Buffer, you can manage up to 10 social profiles, including Facebook, Instagram, Twitter, TikTok, etc. You can use advanced post-scheduling tools to publish your content anytime.
Buffer Key Features:
Let's take a quick look at the key features of Buffer
Link shortener tool
Browser extension for easy access
Collaboration features
Buffer Pricing:
It offers a free forever plan for a single-user license. The premium plan starts at $5/month/social profile.
30. SocialBee
SocialBee is an all-in-one social media management software that offers an advanced post editor allowing you to create and schedule posts. While publishing the post, it lets you decide which platforms to post your content.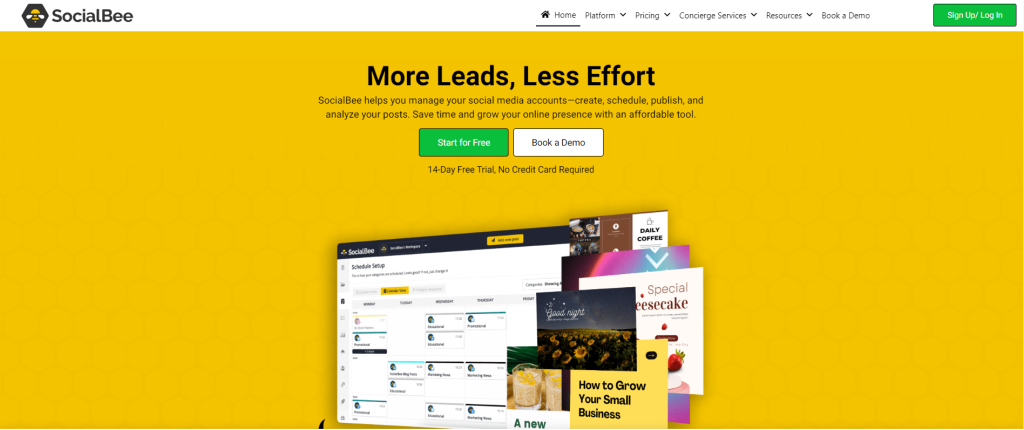 There's no shortage of post ideas on SocialBee. With a premium subscription, you can get access to Canva to create eye-catching designs for your post.
SocialBee Key Features
Let's take a quick look at the key features if SocialBee
Manage 25+ social media profiles
Canva integration
Dedicated workspace for every social profile
SocialBee Pricing:
SocialBee's pricing plan starts from $19/month, and each plan comes with a 14-day free trial.
31. Oktopost
Oktopost is an industry-leading social media management platform created for enterprise-level companies and B2B marketers. It offers all the SMM features you need to manage your social profiles.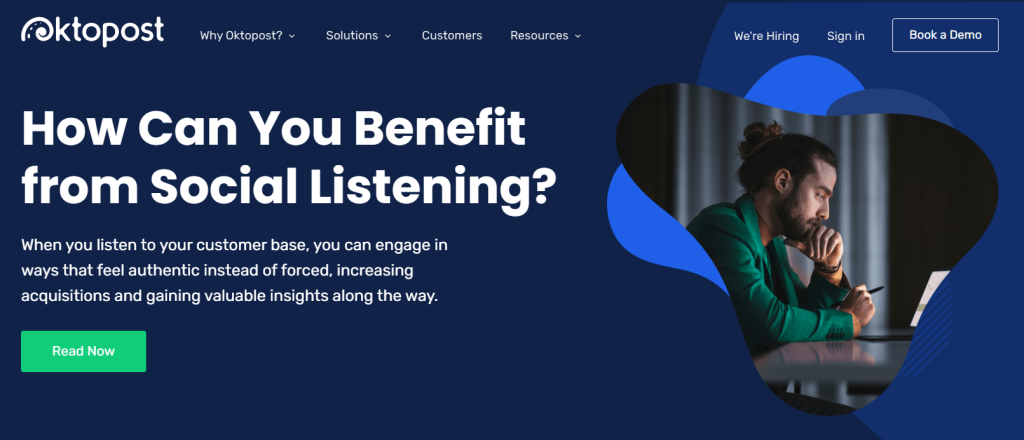 Apart from that, Oktopost helps you generate leads so you can increase your sales and scale your business. The people database feature of Oktopost helps you reach the relevant audience for your product promotions.
Oktopost Key Features
Let's take a quick look at the key features of Oktopost
Manage up to 30 social media profiles
A vast content library
Social employee advocacy
Oktopost Pricing:
It offers custom solutions for different types of businesses.
32. Sendible
Sendible is another all-in-one SMM platform available for any business type and size. It offers many advanced SMM tools at an affordable range. Sendible's customizable calendar helps plan and schedule posts for publishing.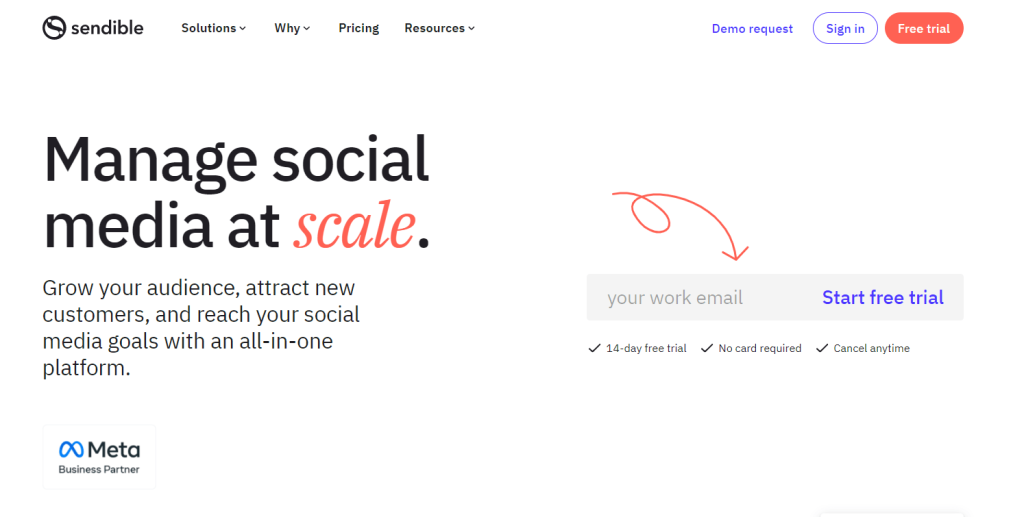 The tool integrates with 100+ social media platforms, making it a powerful option for bigger industries and agencies. It also offers Canva integration, so you can use the advanced graphics designer tool to edit your post and images.
Sendible Key Features
Let's take a quick look at Sendible Key Features.
Up to 15 user access
One-click publishing
Unified inbox feature
Sendible Pricing:
Sendible's pricing plan starts from $29/month, and each plan offers a 14-day free trial.
33. Portent Title Maker
Confused about having the perfect Title for your blog? Well not anymore. Portent Title Maker is the solution. You just need to enter the subject and you will get the most suitable title for your blog. Not only that it will give you a complete breakdown about it why it is for a good read.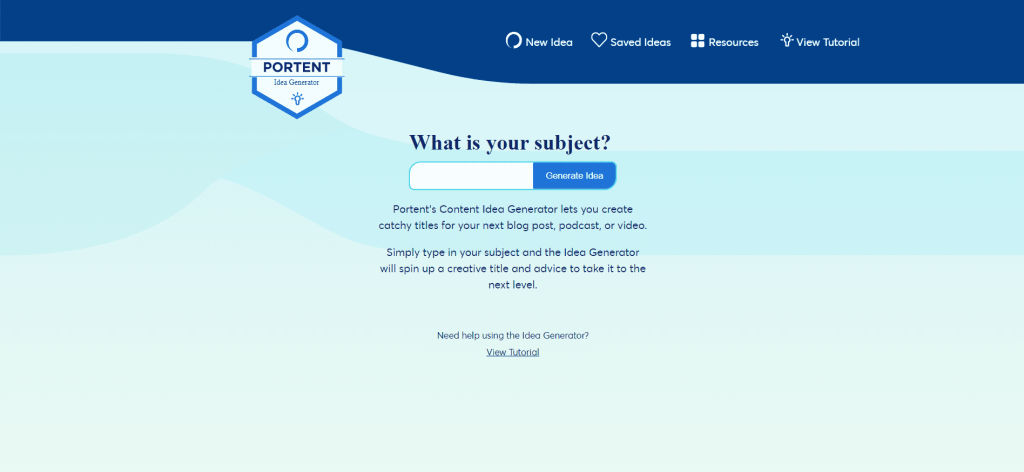 Portent Title Maker Key Features
Let's take a quick look at the Key Features of Portent
Can Create Interesting Title for your blogs, podcast or video
Portent Title Maker Pricing :
Its absolutely free.
How To Choose The Best Blogging Tools?
There's no rocket science in selecting the best set of tools for blogging. You just need to do a little research based on the related niche of your blog. If you do find the best tools for your blogging, you can ask yourself a few questions before investing your money.
What is the purpose of your blogging?
What is the size of your team or business?
Am I selling a product through my blog?
Do you need social media marketing?
What type of content are you going to post?
Once you find answers to all these questions, you are ready to purchase a tool for your blogging career. If it is related to your business and you use it smartly, you will definitely achieve your goals in no time.
Related Reads
Conclusion: Best Blogging Tools Try In (2023)
So this is our handpicked list of the best blogging tools for bloggers, marketers, and businesses. A blog needs image-rich content, page optimization, SEO, and performance in order to increase the website's traffic. You can indeed manage things manually on your own, but at some point, you'll definitely need assistance and automation to speed up your growth.
Selecting the best tool from each section is enough to cover all the specific areas of your blog. If you are a beginner, you can start with free tools like Google Docs, Google Sheets, Quora, Buffer, etc. Once you create a customer base, you can upgrade to advanced tools to scale your blogging career.
Frequently Asked Questions: Blogging Tools
What are the blogging tools?
Blogging tools help you to organize, write and optimize your content effectively. There are many types of blogging tools in the market that helps you in the smooth blogging process.
How can I choose keywords for my blog?
You can choose different tools to find out all keywords which you work on. Decide the content, and nail down the topic on which you want to write. Create and optimize your content.
How can bloggers find content?
Bloggers can find their content with the help of different blogging tools or by doing research. They favor writing on the most trending topics.