Want to Know on How to Spy on Competitors Instagram Ads In 2023? Then you are at the right place. Of all the significant avenues for marketing is social media. Why? Everybody uses social media to purchase, subscribe, initiate discussions, and study businesses.
It's more complicated than it makes a successful advertisement. You don't want to make another "ad." Make the decision that will lead to conversions instead.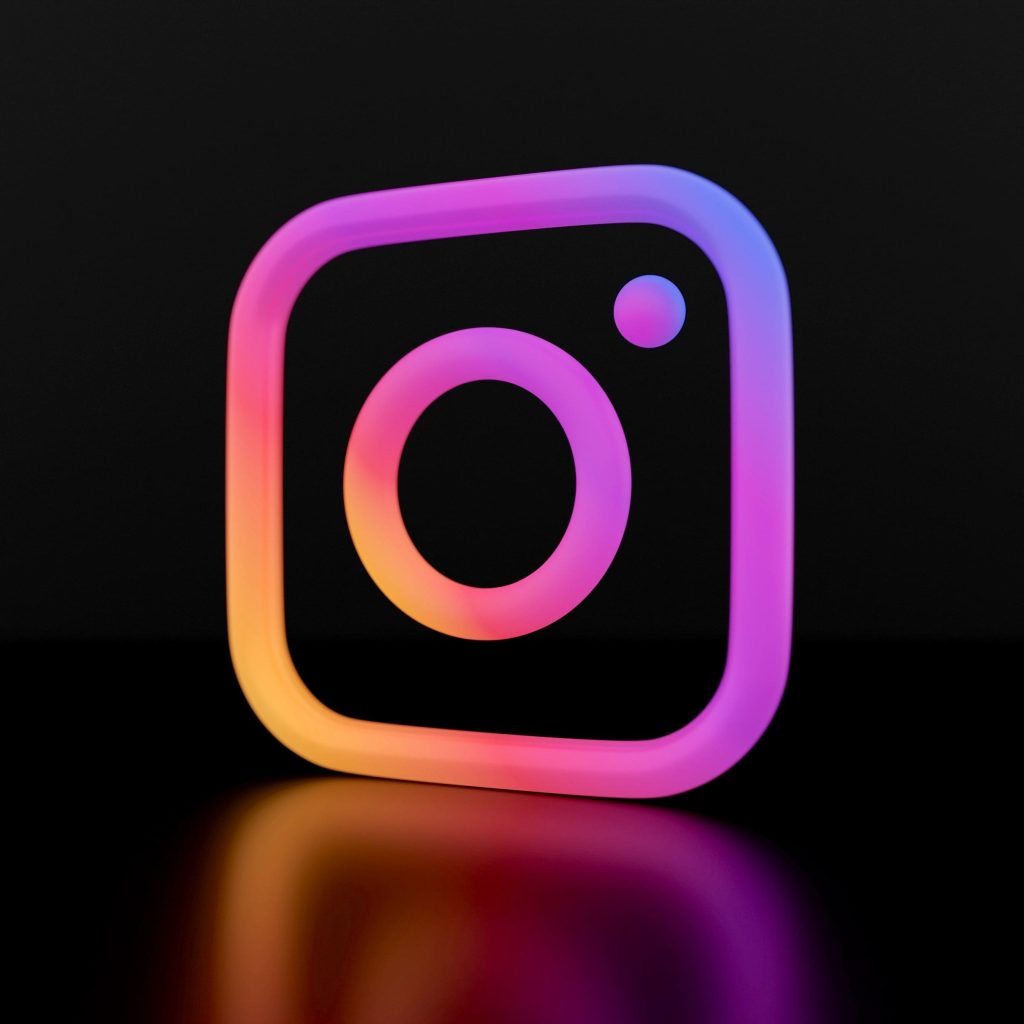 Where should you start, then? The first step is to research your rivals.
Regardless of how you feel about how your competitors market themselves, knowing how they position and target their goods and services may provide you with some insightful knowledge.
Even if you can only see a competitor's Instagram advertisements if you follow them and engage with their content, the information is still open-source and subject to your will.
Why would you snoop on your competitor's Instagram ads?
Everyone keeps tabs on their rivals. Spying makes the playing field more level and promotes the sector. It improves the level of content and goods.
You may find out who your competitors are targeting their advertisements towards, what products they are specifically promoting, and which content and CTAs they're using by analyzing their Instagram advertising. Even their estimated ad spending can be assumed. You may use this information to update your own advertising and generate original concepts.
Why Should You Keep An Eye On Your Competitors?
Here are 7 Reasons why you should Keep an Eye on Your Competitors
1. Reduce your experimentation
The world of advertising campaigns is extremely competitive and dynamic. The only way to conduct a good and highly effective campaign is through experimenting; there is no set approach for doing so.
You may learn which of your competitors' advertisements is doing the best by keeping a watch on theirs. Their experiments reveal a lot to you. The effective elements of such advertising may be discovered by simply decoding their finest and highest-performing advertisements.
2. Take the lead
Gaining knowledge of what your rivals are doing gives you an advantage and can save you time by preventing you from having to make costly mistakes.
3. Improve keyword ranking
Running advertising campaigns is still mostly done to assist your target market in finding your page when they're browsing for the products you're providing. To find such field-specific keywords so that the advertisements might appear for them in google searches, you can do rival ad research.
4. Become faster
You'll save time when designing your own advertising efforts by being aware of how other businesses position their items, reach consumers, and use advertising.
5. Understand your target audience better
You may learn about the success factors and reasons why your competitor's advertisement failed by analyzing theirs. Based on this study, you can predict the vital resources and abilities required to outperform your rivals.
6. Analyze the effectiveness of various advertisements.
The market leaders you're trying to outperform are far past the learning stage. Consider the advertising they've produced. Consider what is effective and figure out how to incorporate it into your marketing.
7. Spend less
It is expensive and time-consuming to hire analysts, researchers, and advertising companies to do market research. It is far quicker and less expensive to research what your rivals are up to on social media.
How to Spy on Competitors' Instagram ads?
To Spy on Your Competitors, try using the following Strategies: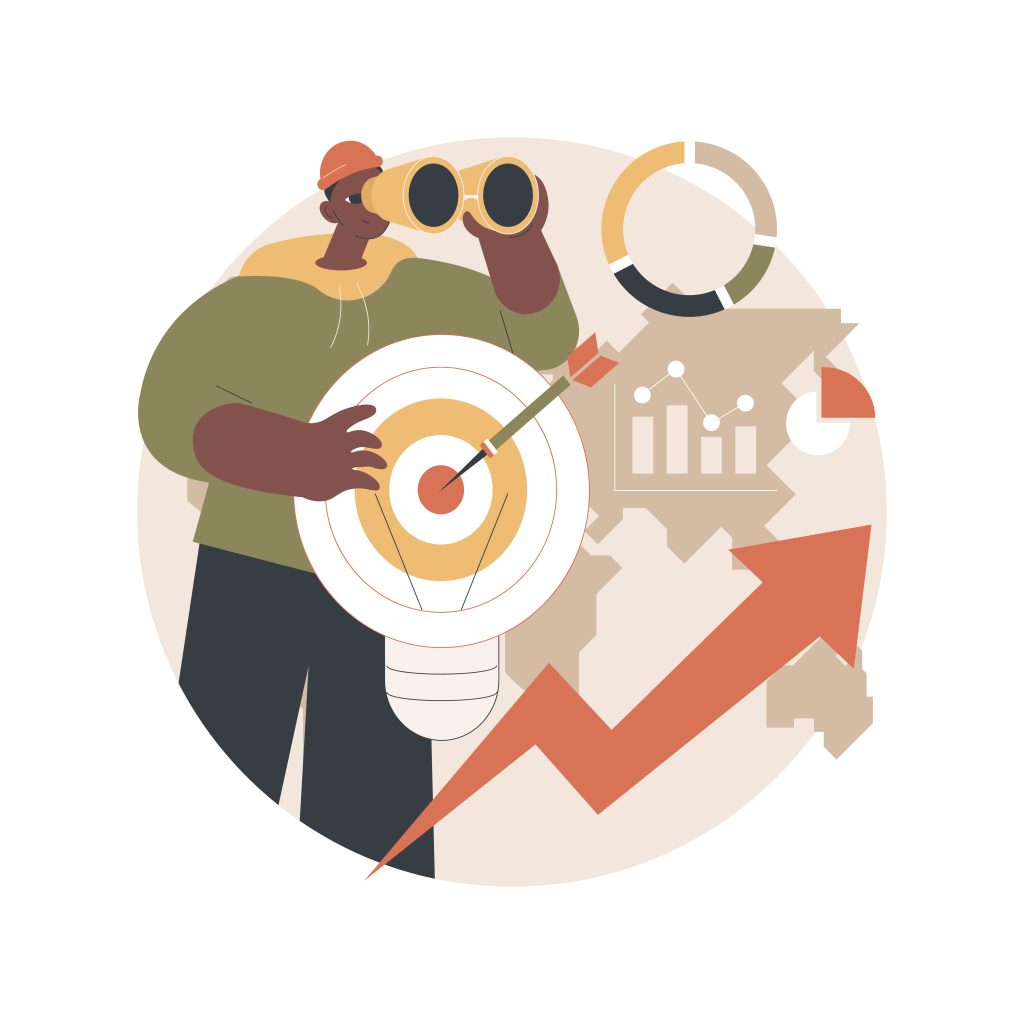 1. Use Meta Ads Library
You may browse and search through advertisements that are displayed on Instagram, Facebook, and Messenger using the free Meta Ads Library service.
Login to Meta Ad Library to find your competitors' Instagram advertising. Then, sort the advertising of your rivals based on the media channel they appear on, such as Instagram, Facebook, or Messenger. After that, decide on your preferred area and ad category. After that, input the competitor's name you want to investigate.
2. Organically capture competitors' ads
You'll give Instagram permission to display your competitor's advertising if you follow and interact with them on Instagram.
When you come across their advertisement in your newsfeed, choose the Why you're seeing this ad option. When your rivals construct their paid social media creatives, you may gain insight into their targeting criteria.
3. Look up your competitors on Instagram
In addition to using your tools, spend some time conducting independent research. Observe the hashtags that your competitors use on their postings. Search for the hashtags on Instagram to find out who are using them and interact with them.
Identify the hashtag being used the most and search for it on the platform to make your task easier. Learn how they interact with and are perceived by their audience.
4. Examine the ads on your competitors' Instagram profile
Here's how to go about it:
Visit the Instagram page of your competitor.
Select the More Options from the three dots available at the upper right side.
Select About This Account option from the dropdown menu shown. You can view all the advertisements that are currently running on the account by clicking the Active Ads button. You can filter them by selecting stories or feed ads.
Assess the Instagram content that your rivals are posting more of. Are these carousels, pictures, or movies? Different forms of each category might inspire you.
Top 5 Tools to Spy on Competitor's Instagram Ads
Here we have mentioned the Ads Spy tools that you can use to spy on your competitor's Instagram Ads.
1. Adspy:
Adspy is one of the most well-known names when talking about the top ad spy tools. The application is ideal for keeping tabs on rivals' Instagram and Facebook advertising strategies. It has more than 90 million advertisements from 15 million marketers in more than 200 nations.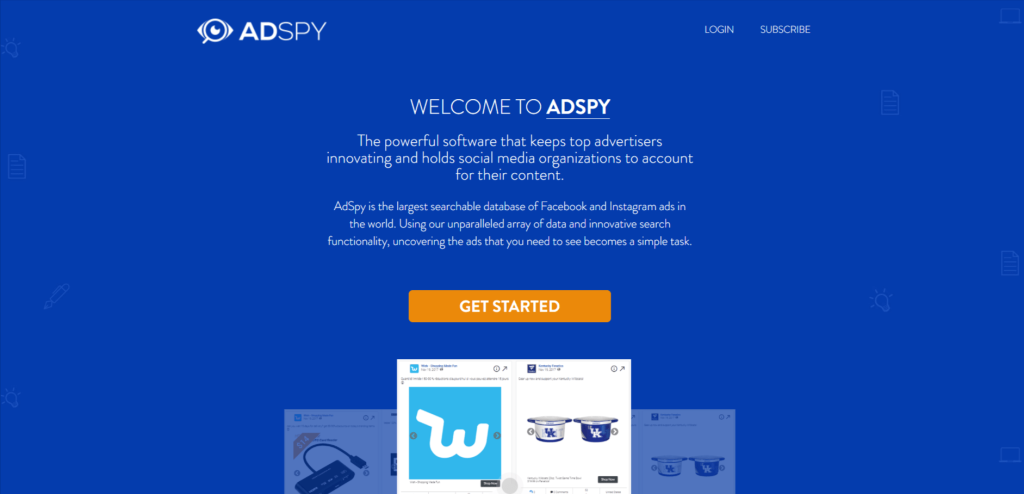 Finding the required adverts is made simpler by advanced search capabilities. You may use standard search elements like the company name or branded hashtag to conduct a search. Additionally, you may look for adverts by reading comments that include key terms.
2. BigSpy:
Not only does BigSpy provide access to Facebook and Instagram but also to five more social media platforms.
The information provided on other networks is significantly more limited, despite the fact that you may obtain comprehensive insights into the demography of Facebook advertising. BigSpy does provide some useful tools if you're trying to promote across several channels.

The positive aspects of BigSpy, however, more than makeup for its drawbacks. Even top marketing authorities like Adam, ATP Software, etc. have endorsed the product.
3. Social Ad Scout:
Another tool that functions with the two Facebook-owned social media networks is called Social Ad Scout. It is an effective solution that provides you with access to a plethora of international social adverts.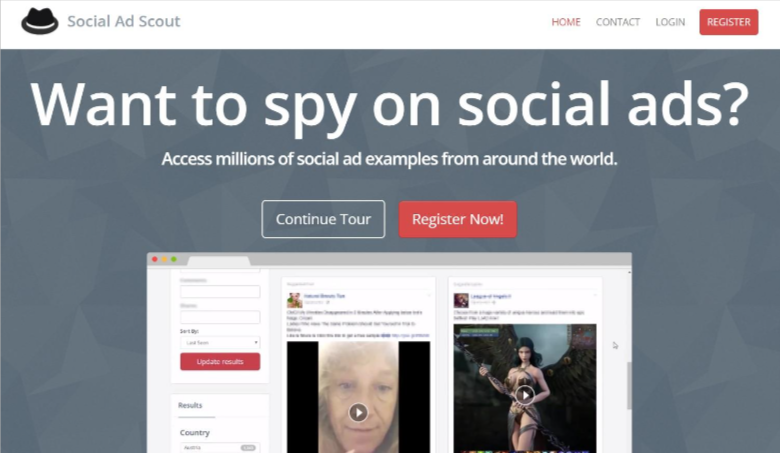 It includes a variety of distinctive features, such as the last-seen search option, an easy-to-use dashboard that sends Alexa score search features and offers real-time information.
4. PowerAdSpy:
A strong, functional tool is PowerAdSpy. In contrast to the majority of its competitors, it supports a wide variety of social media sites, including Instagram, Facebook, YouTube, Google, and Quora. However, in order to access all of these sites, you must purchase the pricey Palladium package.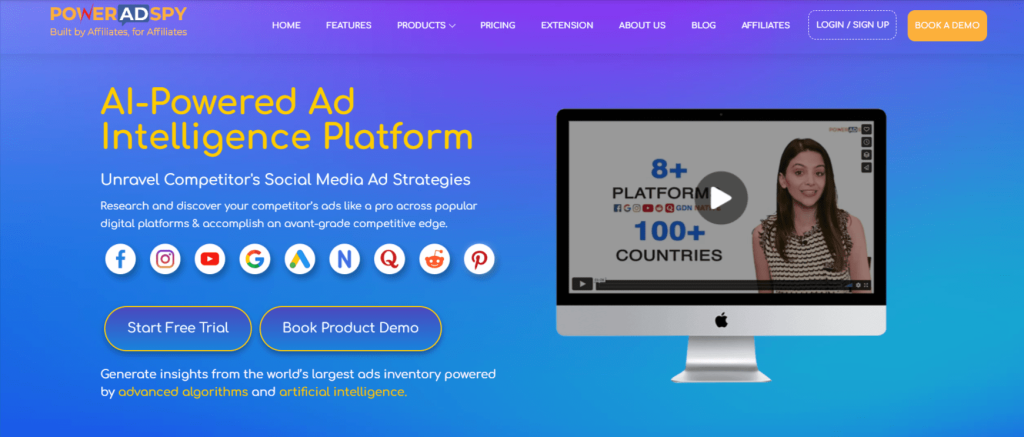 You can easily create an effective audience network and advertising that convert well. These are some of the features that this fantastic tool offers apart from others ones.
5. AdSpyder:
AdSpyder is a relatively new social media advertising espionage solution that enables you to dominate the Instagram market. You can also view past analytics for every specific ad using AdSpyder, receive a detailed analysis of what's effective, and even duplicate their ad wording for use in your own campaigns.

Tips and tricks to spy smartly on Instagram ads of competitors
Here are a few strategies for snooping on Instagram advertising of your rivals:
Media type
You may determine the ideal mix between video and picture advertisements by looking at the kind of ads your rivals are running. In their creatives, which graphic solutions they go for.
Advertising time duration
Sort the advertisements of your rivals based on length. Find advertisements that are still active by looking back 90 days.
Content
Are they using a professional or casual tone when they write? Are they posing a query or only providing information?
To draw in local language speakers, some firms may even broadcast advertisements in several distinct languages. By filtering adverts by country, you can see the same thing.
Impressions
Filter the advertisements your competition is running by impressions to determine which ones are performing well. Impressions indicate the number of times a certain advertisement was originally displayed on the screen.
Offers and discounts
Watch the discounts and offers adverts from your rivals. Does your rival provide promotional codes, free delivery, or other rewards? Do they provide discounts, and if so, why? Study their strategies to see where you can improve.
Related Read:
Wrapping Up on How to Spy on Competitors' Instagram Ads
Follow the marketing funnel while keeping an eye on the Instagram advertising of your rivals. You might learn what attracts your audience's attention the most effectively by drawing insightful conclusions from these evaluations.
Businesses commonly acknowledge and employ the procedures, methods, and techniques mentioned above. Finding what works best for your company can help you develop an effective social media advertising campaign. After that, automate as much as you can so that you can save both your valuable time and fund.