Choosing and refining your website's keyword strategy will directly affect its ranking and traffic on Baidu. You should consider long-tail, seed, and Stem keywords while developing a keyword strategy. So, how do you choose keywords that have a specific audience?
There are a few things to think about. They are keyword selection, screening, and how to optimize the keyword ranking further using sophisticated SEO tools.
Even though these suggestions are geared toward companies looking to use Baidu to assist them in joining the Chinese market, these keyword tracking aspects apply whenever you need to choose the finest keywords for your business.
So without further due, let's get into it. Shall we?
How To Do Baidu Keyword Research (The Ultimate Guide)
Learn how to approach the keyword research process for Baidu before we discuss the tools you can use to track the most amazing keywords.
These are the four main steps while doing keyword research For Baidu:
1.) Finding Root Keywords.
2.) Looking For Stem Keywords.
3.) Analyzing The Assorted Keywords.
4.) Finalyzing The Keywords.
Now let us take a closer look at each step in-depth below:
1. Looking For The Root Keyword
It is crucial to come up with certain root keywords (Primary keywords) right at the start of the keyword research process. This will depend on your knowledge of how to optimize your website. Take help of these Questions "What searches will my target clients use to find my content?" "What would I search if I was looking for a similar product?"
When you answer these questions, you will automatically get your root keywords.
You don't have to do this alone, take the help of your colleagues and knowns. You can also put out a google form and ask people to fill it out. This way, you will have different perspectives to work on.
Remember, Data is the new oil! The more you have, the better your chances of getting the right results. Once you complete this step, it's time to move to the next.
2. Looking For The Stem Keywords
So basically, stem Keywords (secondary keywords) are the keywords that support your primary keyword. How can you find them? There are many methods. Here are a few!
Autocompleted Search results:
Whenever you type something on a search engine, It will show you other similar results related to your search term. This is where you can get awesome ideas about your stem keywords. Like other search engines, Baidu will give you autocomplete suggestions when you start typing something in its search box. Source your ideas from there and add them to your keyword planning sheet!
Related Searches:
When you scroll down the Search Engine Result Page, you will see a section of related searches. Baidu, too has a similar section at the bottom of SERPs.
Keyword Tracking Tools:
You can use keyword tracking tools like SEMRUSH, Baidu Index, and others to research your stem keyword.
Webmaster Tools:
You can use Baidu Webmaster Tool to get a list of organic keywords that your site has received clicks or impressions.
3. Analyzing The keywords
Analyzing keywords is a broad aspect. Here are some metrics to consider while analyzing your keywords:
Search Volume:
It is the number of times a keyword has been entered into a search engine in a specific amount of time.
Expected CTR:
Click-through rate is the metric of how frequently you anticipate that users will choose to visit your website over competitors when it shows in the SERPs.
Expected Conversion Rate:
It means how frequently do you anticipate that people who click on your website from the SERP will perform the intended task. Tasks such as making a purchase, filling out the survey form, clicking on your desired affiliate link, etc.
Search Intent:
It means by what intent are the users searching for a term. For Example, people can search for three main intents.
Informational Intent – example, "Best Protein powder."
Navigational Intent – example, "Directions to XYZ Protein store."
Transactional Intent – example, "Places to buy protein powder."
Analyzing the competitors:
Examine the relative power of other domains that are presently dominating search results for the keywords you are targeting. The best way to do this is to compare the domain authority or page authority of every ranked website to that of your own website. You have a solid chance of outranking them if your website is more robust than many of the pages that are already ranking highly. SEMRUSH is an excellent tool to do it!
SERP Score:
Even if you have a high organic rating, it will be difficult to get much traffic if all the organic results are buried at the bottom of the page under paid results.
4. Finalzing The Keywords
It's time to finalize keywords once all the analysis around them is done. Here is how you do it:
Choose keywords with
Relevancy to your product.
High Search Volume.
Good Search Intent.
High Conversion Rate.
Lower Competiton from Established Domains.
Lower competition from paid advertising.
You can also go for tough keywords to rank if you have excellent domain authority or you are confident that your SEO strategy is better than all the ranking websites.
5. Long Tail Keywords and Their Importance on Baidu
Focusing on long-tail keywords is a crucial tactic in Baidu because they often have less rich featured snippets. Targeting these long tail keywords will get you the featured snippet (position 0) and a higher rank in the SERPs. So we would recommend hunting those long tail keywords for your business and getting the best out of them.
Top Tools For Tracking Keywords on Baidu In 2023
So we discussed everything you need to perform while tracking keywords on Baidu. Now, you may ask, where can I do all these tracking tasks? While looking for autocompleted and related search results requires no special tool, you need specialized SEO tools to dig deep into the SERP score, search volume, and other related metrics.
Luckily, there are some amazing SEO tools for Baidu. Here are our favorites:
1. Semrush

It is a globally well-known SEO tool focused on optimizing Ad campaigns, competitive research, and keyword tracking. Semrush supports various search engines, including Baidu. We believe it's the top choice for any business that wants to rank on Baidu and keep on performing well.
Here are some key features that Semrush offers
Baidu Keyword Planner
Keyword Search Volume
Level of competition
Mobile search volume
Geo-targeting
Search Engine Optimization
And more.
Semrush Pricing:
The most basic SEMrush plan costs $119.95/month, and the most premium plan costs about $449.95/month. There is also an option to create a custom plan if the existing plans don't satisfy your needs. You can save big on Semrush plans with our exclusive offers.
2. Ahrefs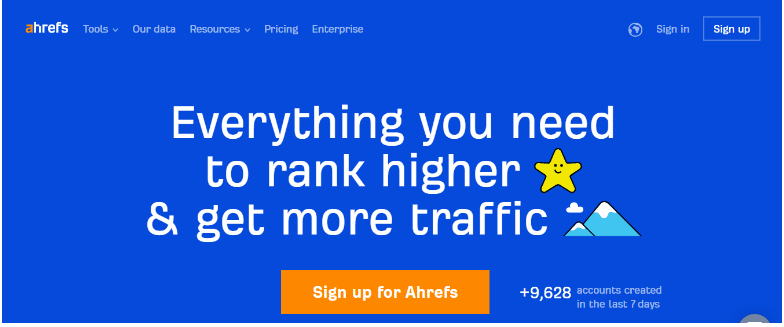 It is a complete SEO suite that helps you run site audits, build a solid backlink profile, and track keywords on various search engines, including Baidu and various other features. The majority of Ahrefs' features were created with marketers in mind.
Here are some of the features that Ahrefs offers that will help you rank higher on Baidu.
Here are some key features that Ahrefs offers
Keyword tracker for Baidu
Sitewide SEO audits
PPC features
Competitor analysis
Domain comparisons
Analyze SERP history
Track keyword click distribution
Keyword ranking alerts
Ahrefs Pricing:
Ahref's most basic plan costs $99, while the most premium one costs $999. We have exclusive offers on Ahrefs plans. Check them HERE.
3. Baidu Index

The Baidu Index is helpful for spotting trends, particularly for keywords with higher search volume.
It provides us with daily search volumes over a configurable time in addition to a ton of other information, such as searcher gender and geographic search distribution.
4. Baidu's Keyword Tool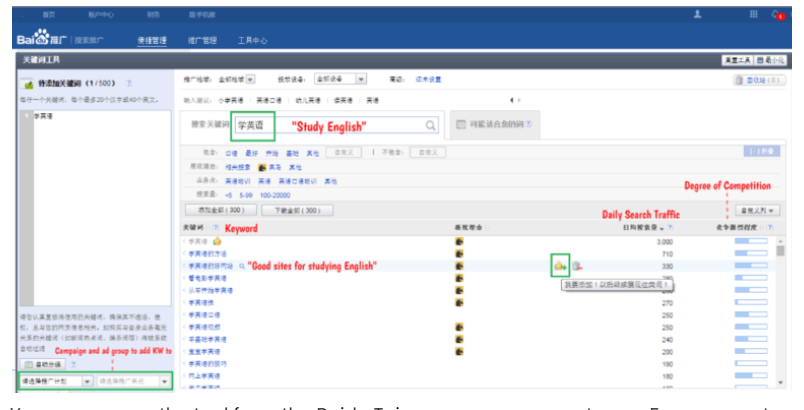 You can access the tool from the Baidu Tuiguang management area. Free account creation is feasible, but it needs to be approved by a Chinese phone number. Although the keyword tool from Baidu is less user-friendly than others, it also has certain benefits like access to in-house data.
Conclusion: How To Track Keywords on Baidu In 2023
It's crucial to keep in mind that no tool is perfect. Do your research process religiously, and no one can stop you from ranking on Page one of Baidu. Keep the things mentioned in the blog in mind while doing the keyword research, and you are good to go.
There will be a vast range of techniques and data sources. In order to get the greatest results when using Baidu, you will need to pay closer attention to long-tail keywords, examine a different set of metrics than Google, and utilize other tools.
Enjoyed reading the post? Share it with your contacts who can benefit from it.
Related Reads
Frequently Asked Questions – How To Track Keywords on Baidu
What are the top ranking factors that Baidu considers?
Baidu considers, a website's loading time, mobile friendliness, content relevancy, quality of content among many other factors to rank webpages.
How many search queries Baidu handles in a day?
Baidu handles around 3.3 billion queries in a single day. Google, on the other hand serves to about 3.5 billion queries every day.
Which is the best tool to track keywords on Baidu?
As of 2023, SEMrush is the best tool to carry out the keyword research process for Baidu.