Want to know 15+ Best Linktree Alternatives for your business? We all know by now that today's market offers tremendous opportunities and support for launching new businesses. And nowadays, most companies choose online platforms to spread awareness of their brands. There are so many factors to consider while promoting business online. And one part of that is creating links to place on your Profile. Linktree comes up with an excellent solution for this.
Linktree came to the market in 2016. Linktree's About page states that its customer base has grown to more than 23 million people worldwide. It used to be able to provide many-link solutions from one. But over time, it has grown to include features like analytics, links to third parties, and payment collecting.
However, Linktree is one of many intelligent discoverability and link placement options. Examine the following alternatives to Linktree to get results that better suit your needs.
Let's now step into the most relevant and essential world for you.
Top 15+ Alternatives to Linktree In 2023
Here is the list of top Linktree alternatives for you to check out.
1. JotForm Apps: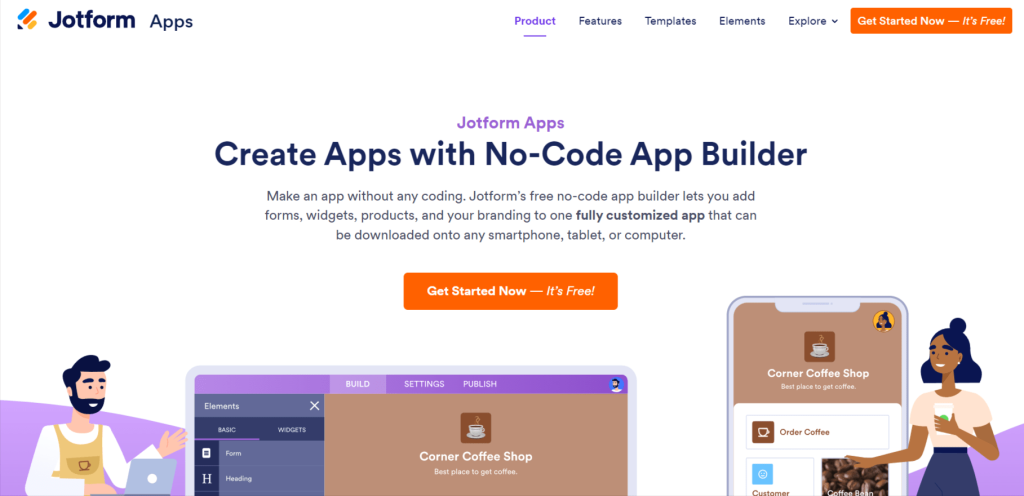 With the help of a powerful online tool Jotform, anyone can quickly create customized web forms. Its simplistic drag-and-drop user interface does not require any code and makes creating forms elementary. With Jotform, you can create PDF and online forms that users can fill out and submit, and you can also get their responses right in your emails.
JotForm Apps Features
Let's have a look at JotForm Apps Features
Customization of page: You can change the layout, various typefaces, different colors, and logo to suit your requirements.
WYSIWYG editor: A convenient visual editor that makes adding and changing elements simple.
JotForm Apps Pricing
The Pricing of JotForm Apps are as follow :
JotForm Apps Basic Plan:
Except for HIPAA compliance, most essential Jotform features are accessible in the free plan of starter. You will get a limited amount of submissions of forms, viewing of forms, storage capacity, etc. In the basic plan.
JotForm Apps Bronze Plan:
You will get 25 forms, storage space up to 1 GB, 1,000 per month submissions, and more in the plan of $34 each month.
JotForm Apps Silver Plan:
You will receive 50 forms, storage space up to 10 GB, 2,500 per month submissions, and more for $39 a month.
JotForm Apps Gold Plan: 
You receive 100 forms, storage space up to 100 GB, 10,000 submissions per month, and more for $99 per month.
JotForm Apps Enterprise Plan:
For information on multi-user plan prices, contact sales.
2. ContactInBio: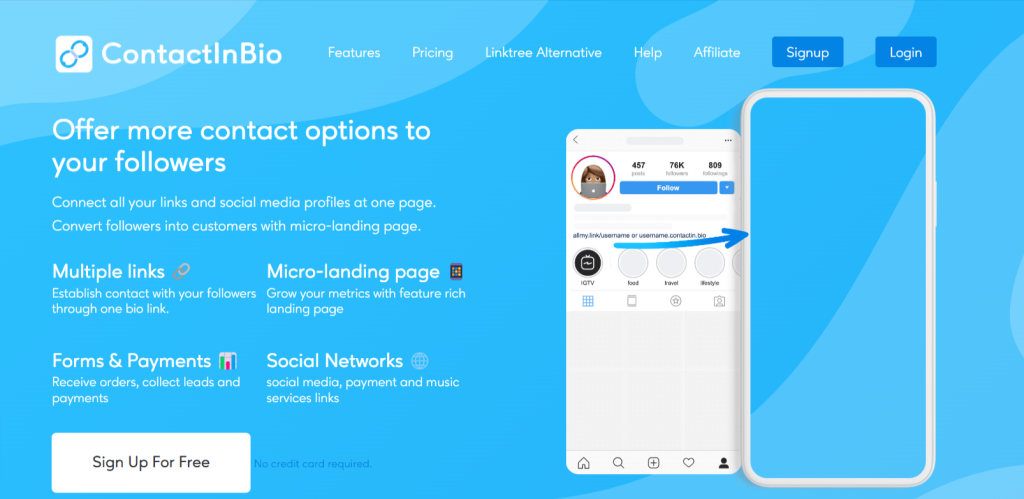 Using ContactInBio, you can make a single link with numerous specifics and elements, like a contact form, video, and pictures. It offers many other options to interact with your followers and conduct online sales.
It's a solid alternative to Linktree, which approximately 200,000 people rely on. It also offers a few valuable functions that Linktree needs to bring up.
ContactInBio has excellent features and some of the most affordable prices of similar tools. It offers a sizable Free plan, and its top-tier Agency plan can be purchased for less than $20 per month.
ContactInBio Features
Let's have a look at ContactInBio Features
Customization design: You can customize the link and background's looks per your interests.
Smart links: You can generate links that will automatically direct your users present in Instagram to messaging services like Facebook and WhatsApp.
Links for social media: Add more than 100 different link types.
ContactInBio Pricing
The Pricing of ContactInBio are as follow :
ContactInBio Starter Plan:
A editable URL, social network sharing buttons, seven no-cost themes, and lots of other features are all included in the free plan.
ContactInBio Business Plan:
Every feature of the $4.55/month Starter plan is included, in addition to signup in email, uploading of images, and other features.
ContactInBio Agency Plan: 
All features of the Business plan is included in the top-tier $18.20 monthly plan, plus five additional accounts can be created and managed.
3. Shorby: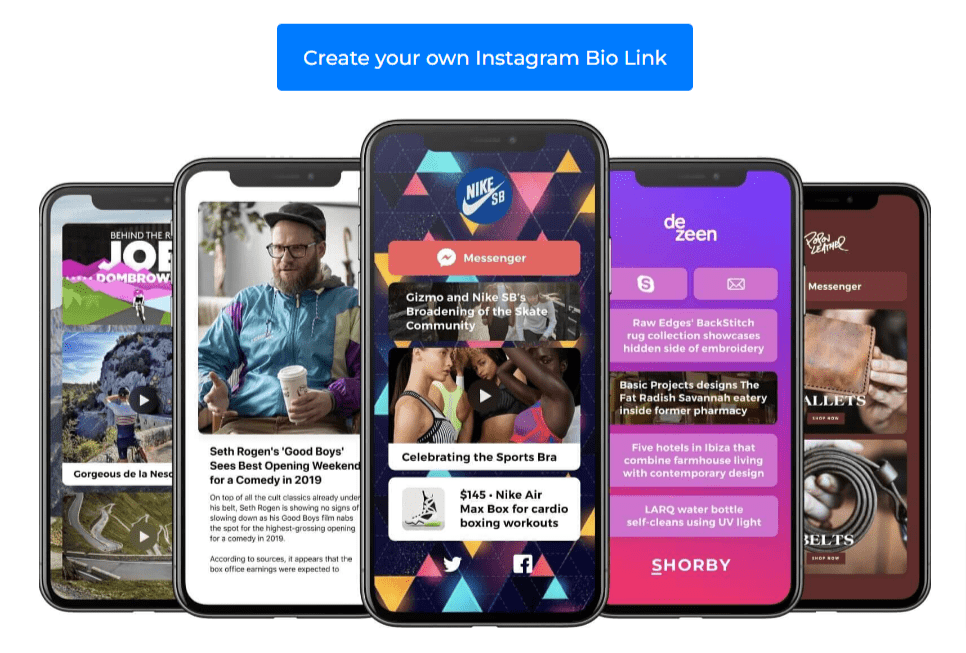 Shorby, an intelligent link provider, is an Instagram marketing tool that helps you overcome the "one link in bio" limitation and boost conversions. You can utilize Shorby to create a strong link profile that will enable you to use Instagram to promote your website and social media profiles. The new Shorby 2.0's Smart Pages feature allows you to integrate unique backgrounds, animated avatars, text blocks, GIFs, movies, and other components.
Shorby Features
Let's have a look at Shorby Features
Button for a direct message: Embed buttons allow site users to get in touch with you directly via email, WhatsApp, or other means.
Dynamic feeds: You can include feeds from websites like WordPress or YouTube.
Affiliate program: Get receive payment from Shorby members recently signed up after visiting your page.
Shorby Pricing
The Pricing of Shorby are as follow :
Shorby Basic (Rocket) Plan: 
The features like 10,000 tracking clicks, one tracking pixel for the ad platform, and ten rich links provided per page are all included in the $15 monthly subscription.
Shorby Pro Plan:
You can get 50 rich links on each page, 30,000 tracking clicks, platform tracking pixels up to seven ad, and more for $29 per month.
Shorby Agency Plan:
You receive 500 rich links per page, platform tracking pixels up to seven ad, and one million clicks for $99 per month.
4. bio.fm: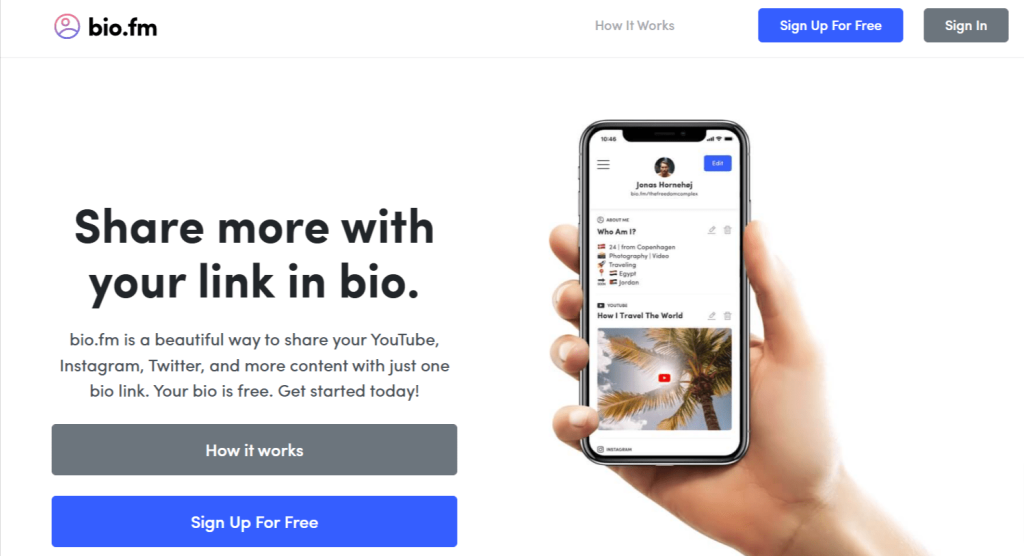 Bio.fm gives its users greater control than Linktree does. Additionally, since your most recent post will automatically show, you can put your bio on autopilot. It offers a variety of tools that will enable you to optimize your marketing efforts and direct visitors from Instagram to other channels, whether you're a business or an influencer.
In addition to having more features, it is also relatively easy to use. Select the content you wish to share, rearrange, and customize your blocks with a mouse click, then submit your link on the social media platform of your choice.
Bio.fmFeatures
Let's have a look at bio.fm Features
Block designing: Pick from numerous blocks like profiles on social media, About section, etc. You can drag to rearrange the order of the material.
Instant actions: Include buttons so that site visitors can immediately reach you or your social media groups.
Pricing: While there is no charge to sign up, the terms of service refer to cancellations in billing and refunds, suggesting that there may be a nominal fee for using the service.
5. Lnk.Bio: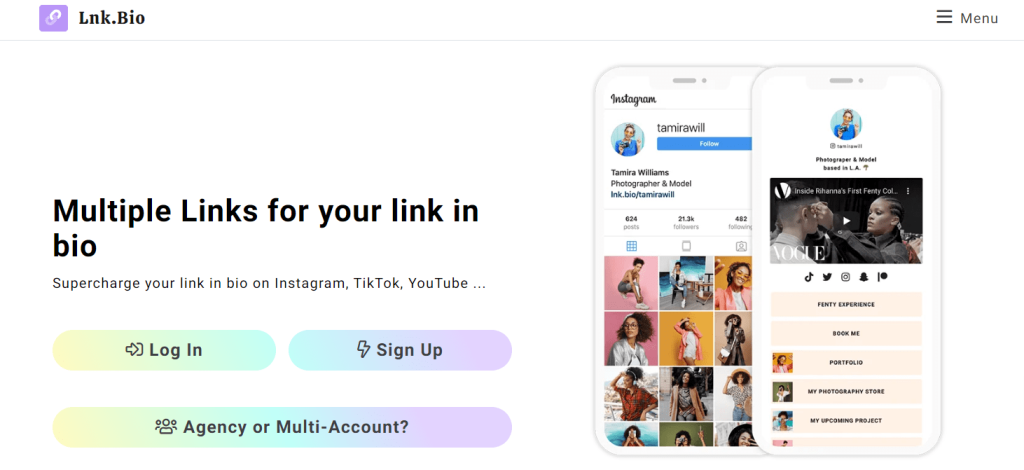 Not to be confused with Lnk, a tool on Later's Linkin.bio. Bio is more straightforward and suitable for businesses that want to maximize the visitors rather than make sales. Despite this, its user list is still rather significant and includes organizations like the Golden Globe Awards, the Guggenheim Museum, and Lonely Planet. In other words, to maximize its utility, you can add several URLs to your bio link on TikTok, YouTube, and Instagram.
You don't need to install anything or download programs as you would with Milkshake because it's web based. It is a wonderful option for social media marketing organizations because it provides a single control panel. One of its key advantages is the unique pricing strategy it utilizes. It has three paid choices in addition to its Free plan.
Lnk.Bio Specifications 
Let's have a look at Shorby Specifications
Uncountable links: You can add unlimited URLs as you like and update them whenever possible.
Service icons: Operate more than 90 contact, music, and social media icons.
Lnk.Bio Pricing
The Pricing of Lnk.Bio are as follow :
Lnk.Bio Free plan: 
A URL(random) is given in the free version.
Lnk.Bio Mini Plan: 
You can pay per month ($0.99 per month) or at once ($9.99) price; both options include a customized URL, tracking of link, and other benefits.
Lnk.Bio Unique Plan:
You receive most things from Mini, in addition to photos, customization of color, scheduler Instagram post, for a one-time cost of $24.99.
6. Campsite.bio: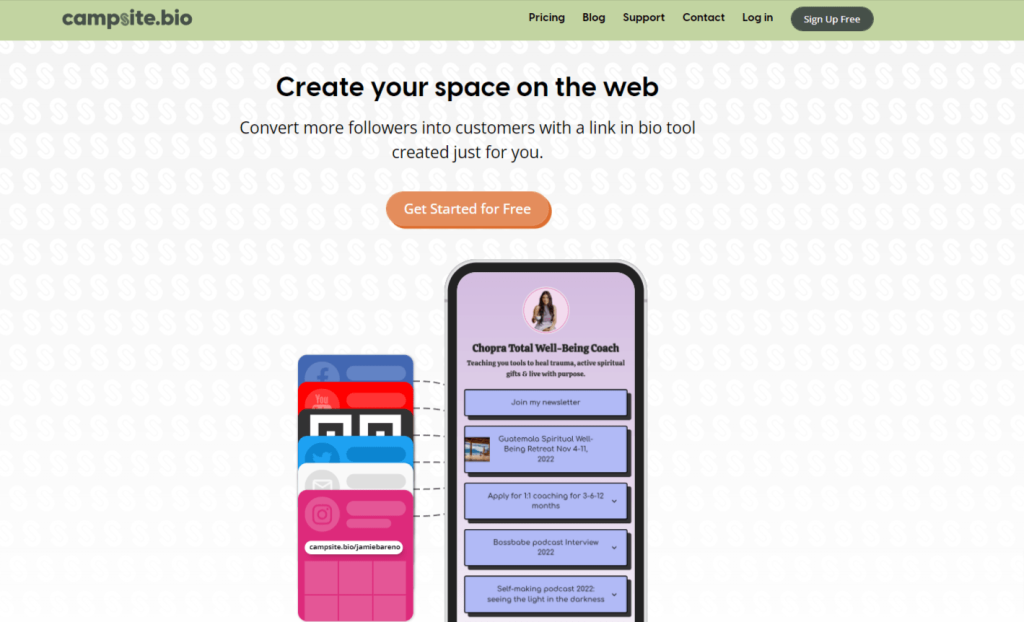 Campsite.bio, a Milwaukee-based company, is one of the best service providers for links in bios. It may be used on any social platform where you want to post your links, not just Instagram, unlike a service like Tap Bio. To make your bio link, you need to drag & drop the pieces. Furthermore, altering it, later on is simple if you need to. Its website claims you can set up your Profile in just two minutes.
Although the free plan has few customization options, it doesn't allow for advanced theme customization. You must select one of Campsite's paid services to highlight links, add a personalized background image, schedule links, or hide the company logo.
Campsite.bio Specifications 
Let's have a look at Campsite.bio Specifications
Custom branding: Adapt your page's design to reflect a brand of yours, that includes the various logos,image present in background, and colors linking.
Investigative: Maintain track of numerous tracked stats to see how each connection is doing.
Campsite.bio Pricing
The Pricing of Campsite.bio are as follow :
Free: The free plan includes limitless links as well as video embedded in it.
Pro: You receive two customizable profiles, different link kinds, and comprehensive analytics for $7 per month.
Pro+: Operates including all Pro features for $24 a month, three different profiles, lifetime analytics viewing, tools for reporting, and exporting of data abilities.
7. Linkin.bio by Later: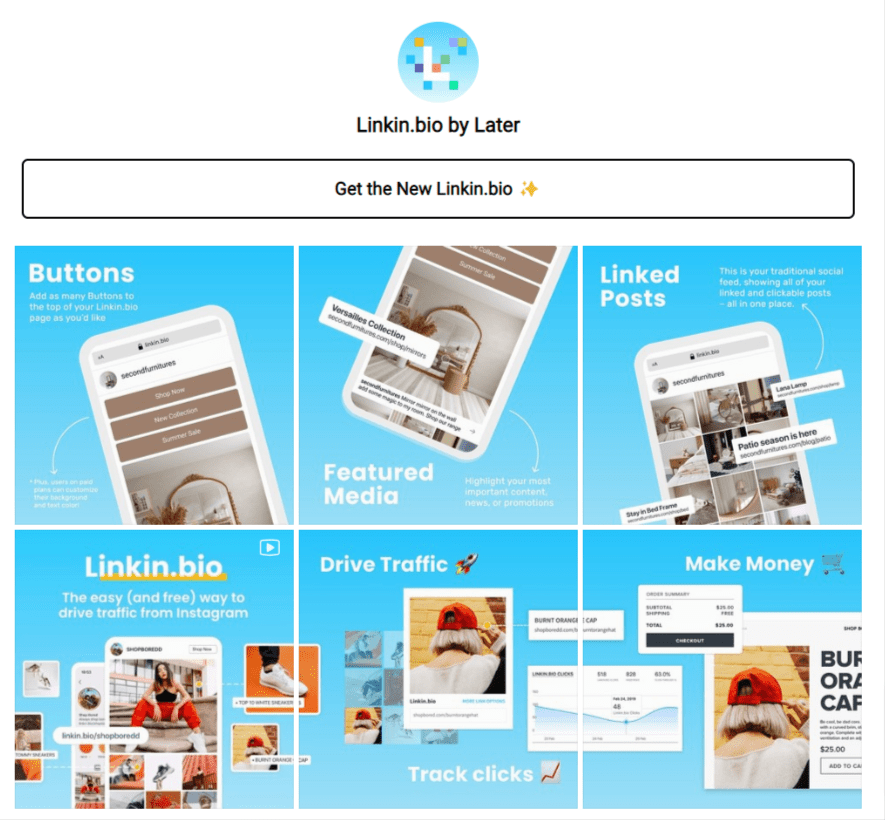 Linkin was later developed by one of the leading social media management platforms. You are aware that high functioning is something you can expect. With its help, you can create a unique link-in-bio website that will attract visitors from TikTok and Instagram. Each Instagram post allows you to include up to five links.
Overall, if you utilize Instagram to sell products, it's one of the most excellent options. You can use Linkin.bio Blocks, a newly released tool, to promote your most compelling content and promotions. For instance, you could use it to add buttons to the page's header on Linkin.bio. Then, you can gauge your Instagram ROI with the help of Later's analytics.
Linkin.bio by Later Features
Let's have a look at Linkin.bio Features
Gallery: Include a visual, editable feed.
Sales tracking: Connect Shopify to Instagram to discover which posts generated revenues.
Customization:Various themes, font, and color can be modified to represent your brand best.
Linkin.bio by Later Pricing
The Pricing of Linkin.bio by Later are as follow :
Linkin.bio Free: 
There is a limited time offer for free.
Linkin.bio Starter: 
Almost 30 posts may be made with the $15/month Starter plan.
Linkin.bio Growth: 
You can access three accounts, and your post limit is increased to 150 for $40 per month.
Linkin.bio Advanced: 
The most expensive package costs $80/month and adds using limiting to six users and total posts.
8. ShortStack: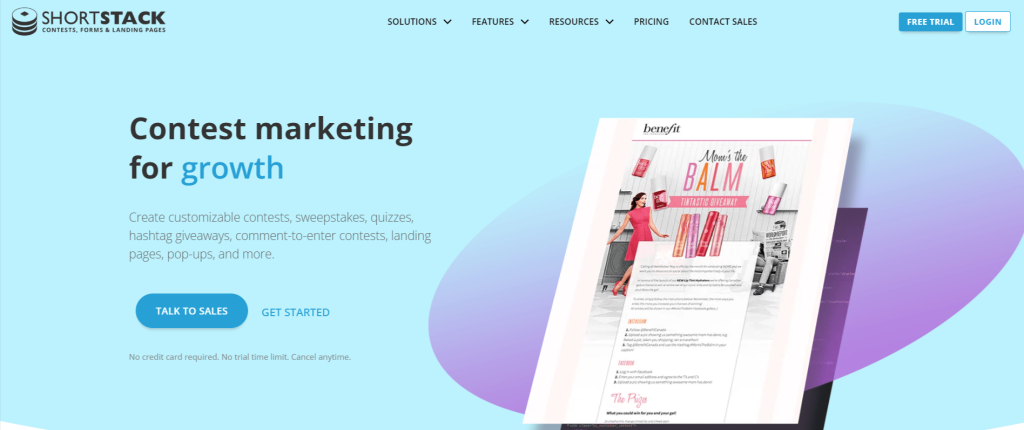 It is a top landing page builder software solution and a great tool if you frequently need to create customized marketing campaigns. It is trusted by thousands of Fortunes 500 brands, small businesses, and marketing agencies. You can use the tool to build landing pages and microsites. Apart from these, you can distribute coupon codes, gather user-generated content (UGC), and organize online competitions like hashtag giveaways. So, if you've ever considered using Instagram contests to boost engagement.
For example, one marketing firm utilized ShortStack to connect its Instagram followers to a campaign they made with ShortStack that was optimized for mobile devices. They could share a variety of things here with unique tracking links. Might built up this campaign so that the content was only revealed at the precise moment that they intended to sell the specific content on their Instagram account by using the software's time-based visibility setting. They increased their Instagram engagement by over 150% as a result. 
ShortStack Features
The ShortStack are as follow :
Contests: You can gather comments before notifying winners using features like hashtags and contests lik comment-to-enter.
Games: Create personality tests, scratch-offs, and virtually slot machines as inventive ways to begin generating leads.
Codes: Visitors can receive special promotion coupons from you.
Pricing
The Pricing of ShortStack are as follow :
Business:
With a monthly subscription of $99, you get entries ranging up to 10,000 and views up to 50,000.
Agency:
You receive entries up to 50,000 and views up 250,000 to for $249 monthly.
Brand:
You receive entries up to 500,000 and views up to 2.5 million for $499 monthly.
Enterprise:
The top-tier plan offers additional records, views, and modifications, but the cost must be negotiated with the sales management team.
9. Link in Profile:

Link in Profile refers to itself as "Instagram's missing link" on its website. It doesn't function with other social media platforms, but if you know you only want to concentrate on Instagram, it's a great answer.
Setting it up is incredibly simple and quick. To add your dedicated landing page to your Profile, you must provide a Link in Profile access to your Instagram account. You have two options for adding links: either paste the URL into the caption of your Instagram post or use the tool's dashboard.
Link In Profile Features 
The Link In Profile are as follow :
Enhancement In Workflow: Features enable you to place a post on your Profile(of Link in) page just by adding a URL to the caption of an Instagram post.
Integration: The system is integrated with websites like Shopify and Amazon.
Link In Profile Pricing
The Pricing of Link in Profile are as follow :
Link In Profile Personal Plan: 
This single plan offers a 30-day trial for free and costs you $9.99 monthly.
10. Taplink:

A platform called Taplink helps you turn your followers into clients. Users of the platform can build appealing landing pages that help turn leads into purchases on the Instagram platform. The capability allows the inclusion of many links in profile descriptions instead of the single clickable link that Instagram generally permits. This guarantees more visibility. Users can conveniently contact clients by using an integrated online messaging capability. Users of Tap link can construct links that will direct potential customers to the page where your goods or services are listed.
Taplink Features:
The Taplink Features are as follow :
Contact in just one-click: Provide smart connections that allow others to reach you via social networks, SMS, or online messaging services.
Payment: Develop forms and take payments through well-known payment processors.
Unlimited pages: Create unlimited pages as necessary to spread the word about content written by you.
Pricing
The Pricing of Taplink are as follow :
Taplink Basic Plan:
Basic plan includes statistics on page views and limitless links.
Taplink Pro Plan: 
You may modify the page design you made, schedule block appearance and disappearance, and use images and video for $2 each month.
Taplink Business Plan: 
You can connect your domain, get rid of the Tap link logo, and start taking payments for $4.50 per month.
11. Carrd: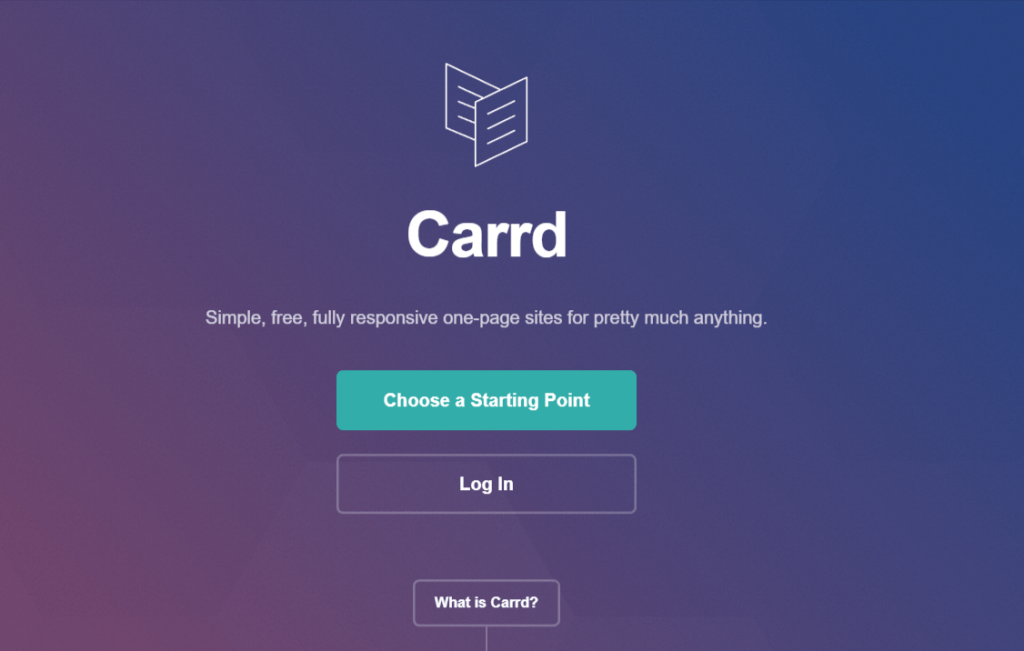 Carrd is a web service that enables you to create your one-page website for any purpose. A one-page site is an ideal way to express yourself if you need to create a personal profile, portfolio, or landing page. And Carrd is the correct solution.
The service is free, but you may upgrade to the Pro version for a subscription to access a broader range of features. Despite this, you can get started right away without this subscription.
Carrd Features:
The Carrd Features are as follow :
Templates: You don't need to start from scratch because numerous templates are available.
Widgets: Include widgets provided by third-party like PayPal and your customized code.
Carrd Pricing  
The Pricing of Carrd are as follow :
Carrd Free Plan: 
You can create three sites only from one account. You can also reap all the essential features with the Free plan.
Carrd Pro Lite Plan: 
You can create three sites from single account and gain access to professional templates, slideshows, and other features for $9 per year.
Carrd Pro Standard Plan:
Get access premium services like various widgets, Analytical Google, and custom domains for $19 per year. The number of your sites can be increased up to ten.
Carrd Pro Plus plan: 
You can add 25 sites, redirects, protection for password, and additional advanced settings to your standard account for $49 a year.
12. Instapage: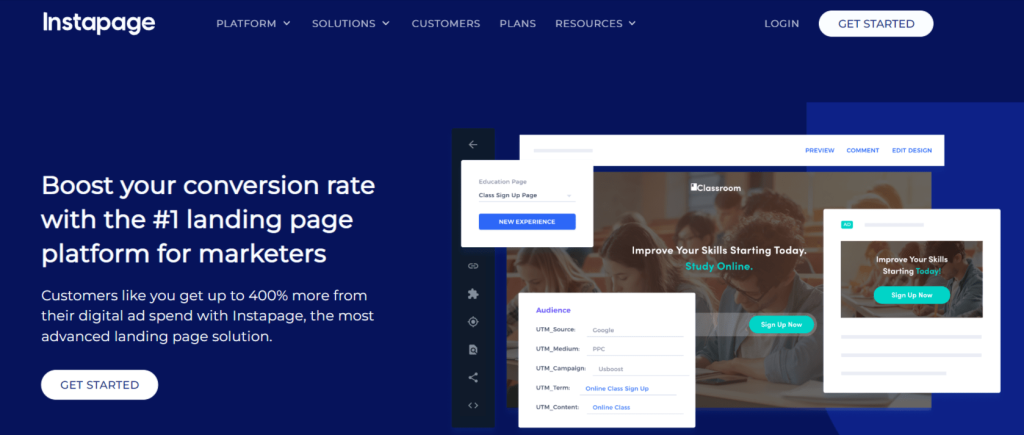 Instapage is the top platform for building landing pages. It allows digital marketers to maximize your Returns on Ad Spend and advertising conversions by offering relevant ad-to-page experiences at a previously unachievable scale (ROAS). Instapage provides a unified platform for experimentation, personalization, analytics, scalable page building, and ad mapping to help you design, optimize, and customize landing page experiences as quickly as your advertising. With more than two million landing pages and an average conversion rate of over 16%, Instapage helps leading businesses in more than 100 countries increase the efficiency of their marketing campaigns.
Instapage Specifications :
The Specifications of Instapage Specifications are as follow :
A or B testing: A page should go through multiple iterations to get the ideal combination of elements. This feature enables you to do so.
Collaboration: Collaborate with your groups or teams to design a finished landing page and make real-time changes.
Pricing
The Pricing of Instapage are as follow :
Building:
You can enjoy the benefit of A or B testing from server side, SSL encryption, and conversion analytics for $299 per month.
Converting:
More sophisticated features, like customized typeface, heatmaps, and audit logs, are included in this price-tailored plan.
13. Unbounce:
A super advantageous tool, Unbounce is the first conversion intelligence tool for small and midsize businesses that seamlessly boosts sales and conversions in online marketing campaigns by combining your knowledge and experience with machine learning. Unbounce is assisting marketers in becoming more cunning and quick, from creating campaign optimization at the flick of a switch to creating pre-optimized landing pages and enticing copy.
It is false to claim that Unbounce is "not just" a landing page creator.
Unbounce provides a range of tools to increase leads and sales and enables you to add unique elements to your website to convert more site visitors into paying customers.
Unbounce Features:
The Features of Unbounce Features are as follow :
Create Smart traffic: Create Smart traffic using this function that directs users to the landing pages that are most appropriate for them.
Templates: You can get more numbers of templates across various categories.
Integration of marketing tool: For automated lead generation, use well-known marketing tools. With the help of Zapier, you may use over a thousand devices.
Pricing
The Pricing of Unbounce are as follow :
Unbounce Launch Plan: 
One domain, 20,000 monthly visitors, and 500 conversions are all included with the cheapest package ($90).
Unbounce Optimize Plan:
The $135 monthly mid-tier package comes with conversation up to 1,000, visitors up to 30,000, and up to five domains. Additionally, the intelligent traffic feature is available to you.
Unbounce Accelerate Plan:
The top-tier package ($225/month) provides intelligent traffic in addition to 2,500 conversions, visitors ranging up to 50,000, and increment in 10 domains.
14. Snipfeed: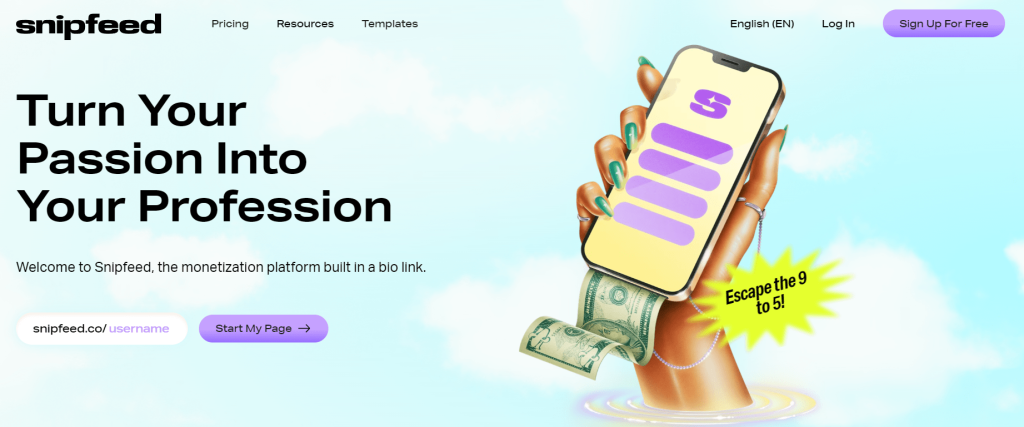 Shopify's Snipfeed application was created with content producers in mind. With just one click, they can monetize their audience with Snipfeed's on-demand content, direct interactions, tipping, and commerce. The back-end dashboard of Snipfeed interfaces with all the third-party tools you need as a creator, allowing you to grow and optimize your company.
Your followers will not need to leave your social media accounts to access or make a purchase just because of Snipfeed.The Snipfeed community comprises all types of creators of different sizes, from astrologers to foodies to artists. We're eager to , regardless of your niche or following.
Snipfeed Features
The Snipfeed Features are as follow :
Pages you can customize: You can modify the various layout, different coloring, and fonts or use a template already created.
Get paid easily: Earn money by hosting Q&As, getting advice from all your present followers, and utilizing various additional strategies.
Additional content: Have access and generate posts and set on to visible to certain people.
Pricing
The Pricing of Snipfeed are as follow :
This application is freely available, but nite that the company will take 15% of your income if you modify your material.
Additionally, there are fees for receiving payments through Stripe and PayPal, which total sums to $0.50 percent.
15. Smart.bio:

Regarding social media, Instagram is the platform that helps many individuals fulfill their needs to promote brands or businesses.
On Smart. bio, you may reorder the button links, customize the page's colors, and access key information in your dashboard to track your click-through rate.
Being a feature of the Tailwind app it is a standalone branding landing page from your Instagram account.
Smart.bio Features
The Smart.bio Features are as follow :
Personal Branding: Ensure brand consistency of your free customizable link page.
Tracking that is free: Watch clicking of your followers on specific part. This will help you to customize your content to attract more viewers and customers.
Meta-affiliated: You can be confident that link page of your's is supported and secure because Tailwind is an official partner of Facebook.
Smart.bio Pricing
The Pricing of Smart.bio are as follow :
Smart.bio Free Plan: 
It's freely to use your links if all you wish to do is use the basic analytics functionalities in Tailwinds Smart.bio products.
Smart.bio Pro Plan: 
You can have one Facebook, Instagram, and Pinterest Profile up to 100 posts for $19.99 per month. Two hundred post designs and extensive analytics tools will also be available. It only allows one user.
Smart.bio Advanced Plan:
Get access up to two social media accounts/platform, each allowing for the sharing of 1,000+ posts for $39.99 each month.
Smart.bio Max Plan: 
Three accounts per platform, as many posts as you like, and up to  five users are included for $79.99 per month. 
16. SeedProd
Last In our List of Best Linktree Alternatives is SeedProd. One of the best Landing page builder Plugin. You can create and customise your page with the help of SeedProd plugin. You can link all your social links with this plugin. The best part is you can customise the website URL and connect with your social media accounts which with a single click will be on your website. No third party toll will be included. SeedProd gives you more advance features and customisation than Linktree.
The Drag & Drop feature, images, fonts, color and much more. Unlike Linktree you can add contact form plugin. All in all SeedProd can be considered as one of the best Linktree Alternative.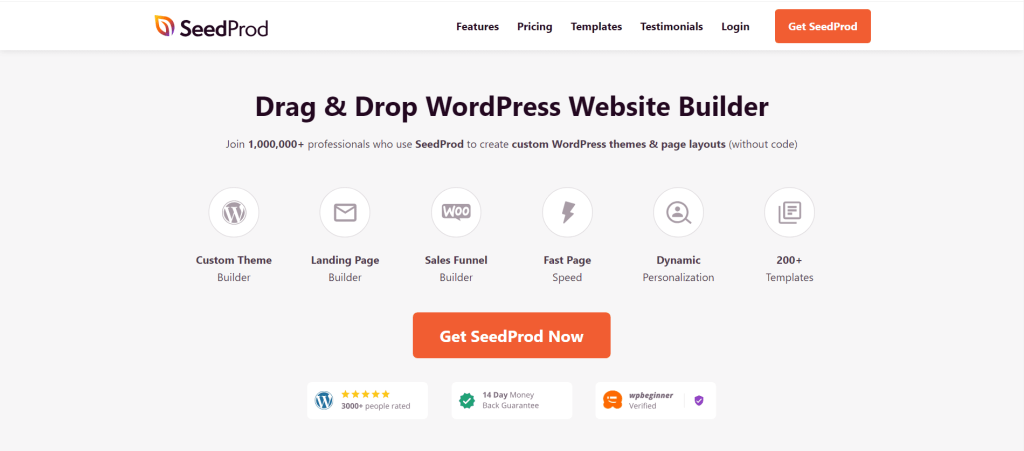 SeedProd Features:
The SeedProd Features are as follow :
Drag & Drop Option available.
Customisation available.
Social Accounts Linking feature available.
Can create a custom URL link.
SeedProd Pricing:
SeedProd comes with 2 plans, Free Plan and Pro Version. The paid version will cost you $39.50 /year.
Related Read:
Conclusion: Best Linktree Alternatives
Linktree is an excellent option for business owners, bloggers, and other types of producers that want to divert their Instagram traffic to other platforms. Other tools, on the other hand, can accomplish the same tasks and more.
Above mentioned list of Linktree alternatives offers a solid starting point for choosing a service that suits your needs. Analyze your requirements and compare them to the specifications and costs of the solutions.
Make sure you conduct your research and see what alternative tools are there that might offer you more customization possibilities and other incredible capabilities, just as you want to give your followers more information. Both your landing page and your link can be unlimited.