Looking for an unbiased Surfer SEO Review? Well, I have got you covered. Until the past year, I was in a similar situation. After thinking for days, I finally got the premium version to test the tool on some of my projects.
After using Surfer SEO in every possible way, I have concluded that it is a great tool to rank better and gain an edge over your competitors. You need to read the complete blog to understand how I reached this conclusion.
What Is Covered In My Surfer SEO Review?
Unless you have a real taste of the different aspects of Surfer SEO, you can't appreciate its powers and understand its weaknesses.
Let me help you with that through my experience with Surfer SEO
Here is what I will cover for you to have a deep insight into the product:
The purpose of using Surfer SEO
Quick overview of Surfer SEO
Surfer SEO quick verdict – Is it worth the money?
What features does Surfer SEO offer?
Surfer SEO user experience – Ease-of-use
How much do you have to spend for Surfer SEO – Plans and Prices?
Surfer SEO support – Is the quick resolution of issues possible?
Final Verdict – To go or not to go with Surfer SEO?
The purpose of using Surfer SEO
If there's one thing that Google loves for sure, it's perfectly written and intricately optimized content.
You can't feed Google just ANY content and hope it sticks on top in SERP.
However, perfect content must fulfill countless criteria before it becomes eye candy for Google. Unfortunately, tracking all of them manually is impossible.
Enters Surfer SEO
A data-driven and AI-powered content optimization tool that instantly analyzes your content on 500+ on-page signals and optimizes it to be the star of SERP.
Let me tell you everything in detail in the sections below.
Quick Verdict – Is Surfer SEO worth the money?
In a single word
Yes!
If you are an SEO professional, Surfer SEO should be in your arsenal for content optimization and better ranking in SERP.
Try the basic version ( $49/month) if the prices seem too much to you. It's comparatively inexpensive, allows an optimum level of on-page optimization, and includes nearly all the functionality you need to curate your content for search engines.
Key Features of Surfer SEO:
Anyone who performs Surfer SEO analysis will know there's no shortage of features and functions.
We will begin with the SERP Analyzer – foremost, to understand what drives competition when it comes to On-Page SEO.
Surfer SEO SERP Analyzer Tool:
Its working is simple – you enter a keyword, and the tool analyzes it based on top search results.
Normally the tool goes down to the top 20 search results; however, you can tweak it according to your need.
Incidentally, the tool offers around 30 data points, including True Density, number of words, partial keywords, elements loading, and more.
Frankly speaking, too much data; I find some just unnecessary.
But the best part is that the SERP tool doesn't offer you just average values; you can compare the results with your page and adjust accordingly.
SERP tool is one the greatest assets at your disposal, probably one reason I often recommend Surfer SEO.
Surfer SEO Content Editor:
Do you do SEO? Then you must know that content is the core of every SEO strategy.
But, writing SEO-optimized content takes too much effort. Surfer SEO's content editor eliminates all the leg work and gives you a better overview of making your content perfect.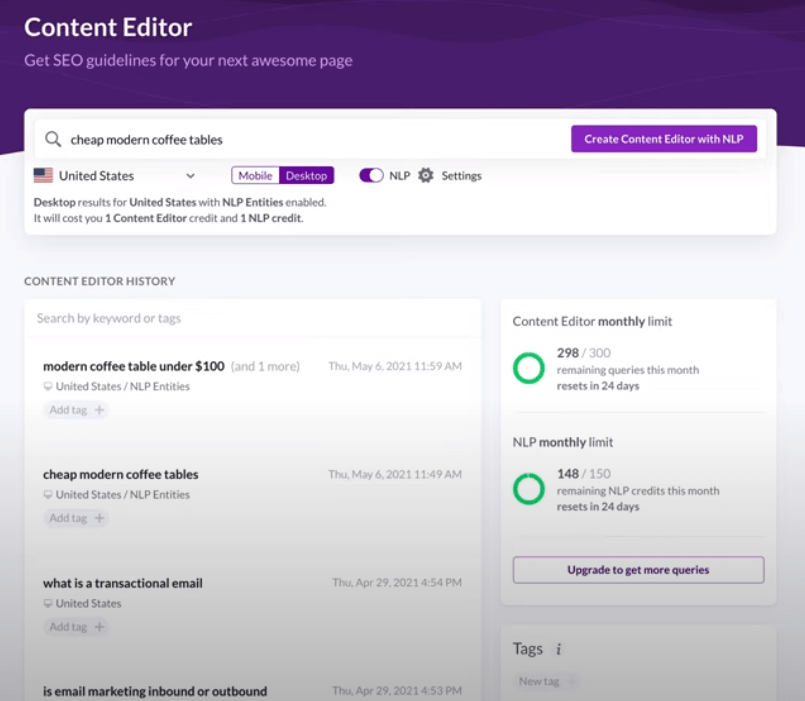 Based on your search terms, Content Editor reveals;
How well the text is optimized on a scale of 0 to 100.
What keywords are still missing?
Which keywords are used too frequently?
The number of Paragraphs, headings, and subheadings.
What might LSI keywords improve your text further?
Besides, you also have at your disposal BRIEF, an AI-based content outline maker, to draw a perfect outline of your content.
What's my verdict on Surfer's Content Editor?
Per my Surfer SEO experience, the Content Editor is an extremely helpful tool. But only when you know how to use all the suggestions optimally. Or else it's only a bunch of data points – overdo it, and your text will become dull. Besides, credits max out too quickly in the Basic plan – only 10 articles/month, which often ruins the user experience.
Keyword Research Tool:
Frankly speaking, the keyword research tool is basic – there are far better keyword research tools than what Surfer includes – think about AHREFS or SemRush.
Its working is also similar to other keyword research tools – you enter a seed phrase, and it spits out;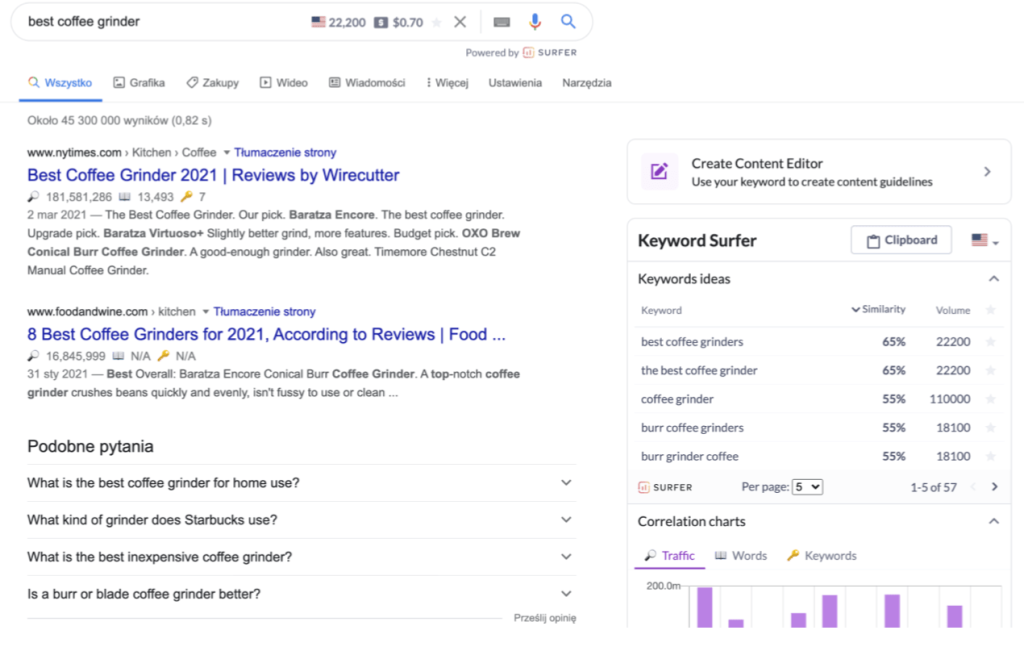 SERP similarity
Search Similarity
Similar Keywords
Having the same term
Questions related to seed phrase
I find SERP similarity quite handy from the above matrices, and it's the only reason I use Surfer's keyword research tool.
It offers insight into related keywords the pages are ranking depending upon the seed phrase. It helps you create more dynamic content, which includes several keyword variations and boosts visibility.
My take on the Surfer SEO Keyword Research tool
It might be useful to those on a budget who can't afford a separate keyword research tool. Combined with the Content Editor tool, it can help you optimize your text. Other than that, it's limited in functionality and doesn't offer you a complete overview of keywords – most importantly, the keyword difficulty score, an essential matrix while doing keyword research.
The Content Planner:
I find Content Planner extremely helpful.
Why?
It's because it provides a complete overview of how you can dethrone your competitors, ranking above in SERP.
How?
A lot goes into ranking a keyword in the top position – how the content is structured, keywords it includes topical relevancy, content cluster (supportive content), etc.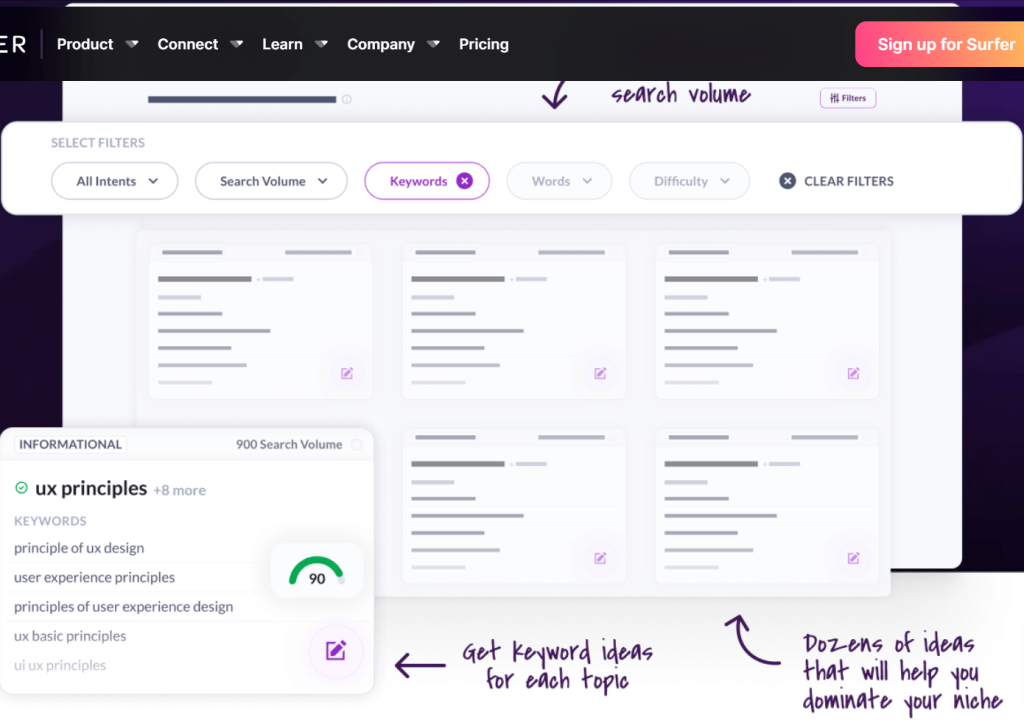 This is where Content Planner comes in handy.
You enter a keyword, and it provides a cluster of keywords for the given seed phrase.
On top of that, Content Planner also reveals search intent and informs you how to formulate your content to become congruent with the search engine and resonate with the audience.
Besides, the cluster also offers several content ideas, including the possible keywords you can use to support your main content or pillar page and achieve a higher SERP position.
Super Cool, isn't it?
My verdict on Surfer's SEO Content Planner Tool
Insightful, practical, and convenient. A must-use tool that offers true content optimization and a much better prospect of ranking higher in search results.
Surfer SEO Audit Tool:
The audit tool works similarly to SERP Analyzer and helps optimize your website's pages.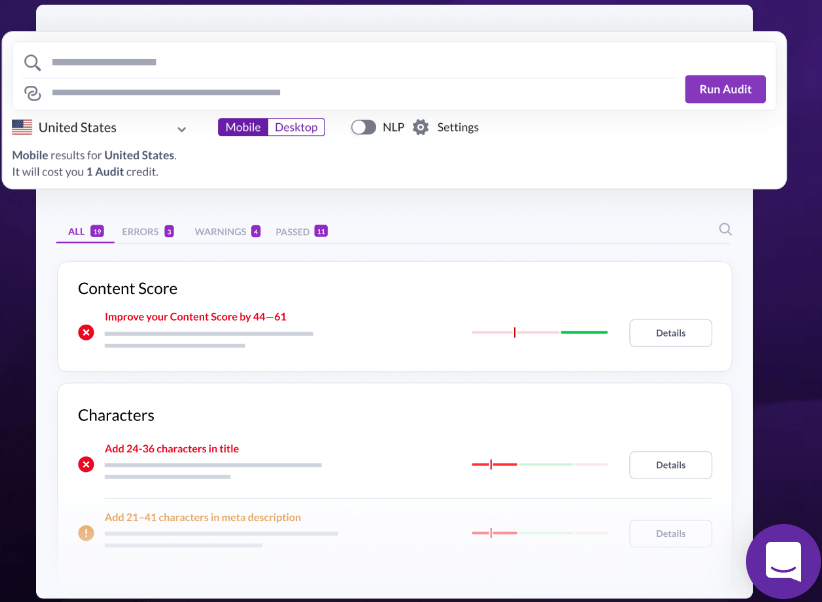 You need to enter the URL; the Audit Tool thoroughly analyzes it and then offers suggestions;
But I think you can achieve the same results with SERP Analyzer.
My only advice is to not take all the suggestions at face value. Think with a user's perspective and formulate your strategy accordingly.
My verdict on Surfer's Audit Tool
Useful but unnecessary. SERP Analyzer could do everything that the Audit tool can. It would have been better to enrich the SERP analyzer further. Still, the Audit tool can reveal possible lapses in your SEO strategy, be it keywords or other on-page factors. So, use it to validate, not formulate your on-page SEO strategy.
My Experience with Surfer SEO Chrome Extension
A while back, Surfer SEO launched one more handy tool – Surfer SEO Chrome Extension, also known as Keyword Surfer.
I must say I was pretty impressed.
It significantly improves ease of use and allows all functionality from the browser.

You don't need the website or the Surfer SEO app, and yet you can retrieve key on-page data right from the web page, like;
How much traffic which search result gets?
Search volume
How many words are on the page?
Click price
How often does the keyword occur in your content?
Similar keywords and their search volumes
The correlation between traffic, number of words, keywords included, and rankings
All in all, a handy extension, and that too for free
Surfer SEO Pros And Cons
Surfer SEO – the cloud-based on-page optimization tool is suitable for content strategists, Copywriters, SEO agencies, bloggers, and freelancers.
It eliminates guesswork and allows data-backed analysis of what's missing from your content. It employs 500+ on-page signals, including LSI, NLP, TF, IDF, meta tags, keywords, structural features like hx tags, images, etc.
Here are some pros and cons of Surfer SEO that will allow better insight into this content-optimization tool;
What are the Upsides of Surfer SEO?
Lets have a look at the Pros of Surfer SEO
Unparalleled Content Editor –
A content Editor is indeed a game changer. It greatly improves the quality of text and significantly simplifies text optimization.
Super Speedy –
I mean, if reports aren't served instantly, you might lose focus. Thankfully, Surfer SEO builds reports instantly and presents useful information within seconds.
Cool User Interface –
Not that tech savvy? Just onboarding Surfer SEO? You won't have any issues navigating the interface. It's indeed a big advantage of Surfer SEO.
Handy Chrome Extension –
Want to use Surfer SEO right through the browser? Worry not; the Chrome extension is there for you to retrieve key on-page matrices while surfing a website.
Seamless Google Docs Integration –
This greatly enhances the writing experience. You can write SEO-optimized content with Surfer SEO backing your text right through Google Docs.
Interactive SERP tool –
Spy on your competitors, optimize content according to the top-ranking pages, and much more with the SERP Analyzer tool.
What are the downsides of Surfer SEO?
Lets have a look at the Cons of Surfer SEO
Features are Limited Per the Plans –
I think, sometimes, it's a downside – you have requirements, but you ran out of queries.
NLP For a Month Only With Basic Plan –
NLP is offered with basic for the first month only, restricting and significantly downgrading capabilities.
Some Features Still Missing –
Surfer SEO lacks some features despite amazing functionality. You won't find referring URLs, subpage reports, and anchor profiles.
Review of Surfer SEO Price – Affordable Or Expensive?
Surfer SEO does not shove a single plan down everyone's throat. Rather, you have three packages to choose from. It addresses the price issue to some extent and allows you the freedom to avail of Surfer SEO services per your requirement.
Besides, Surfer SEO has recently added a free plan too. It's for those who wish to test the prowess of this content optimization tool. The functionality is, of course, limited, but it includes the latest GROW FLOW features.
Other than that, Surfer SEO is pricier than products with similar functionality. However, the Basic plan, I think, falls more towards the affordable side than being costly.

Let's explore Surfer SEO plans and pricing in more detail;
Surfer SEO Basic Plan
If you are a new blogger or an entry-level SEO, go with the Basic Plan.
Costs – $49/month
Access to GROW FLOW and allow tracking of 1 website.
Weekly SEO Insights
Access to Content Editor tool for up to 10 articles/month.
Page Audit up to 20 pages/month.
NLP enhanced guidelines for one month.
Surfer SEO Pro Plan
If you have a medium size agency or operate multiple websites, choose the Pro plan
Cost $99/month
GROW FLOW to teach up to 5 websites.
Weekly SEO Insights
Content Editor up to 30 articles/month.
Page Audit up to 60 pages/month
Surfer SEO Business Plan
A business Plan is the best if you are a full-fledged agency maintaining 10-plus websites.
Cost $199/month.
GROW FLOW to track up to 10 websites.
Content editor for up to 70 Articles/month
Page Audit for up to 140 Pages/month.
Full access to Surfer SEO APIs.
White labeling is available.
Support for backlinks building
Is Surfer SEO affordable?: Surfer SEO Review
Yes. The Basic plan is quite affordable and provides optimum features and functionality. However, the Pro and Business plans are a little costlier and might not suit individual SEO professionals.
Surfer SEO Support – Informative And Speedy
There's no shortage of helpful material to understand your way around Surfer SEO easily. In this regard, Surfer SEO support is to the point.
It maintains a knowledge base that addresses every aspect of Surfer SEO. Then, there's a Surfer SEO blog, a thriving online community, an SEO writing course, and a YouTube channel – Everything you need to become a Surfer SEO pro.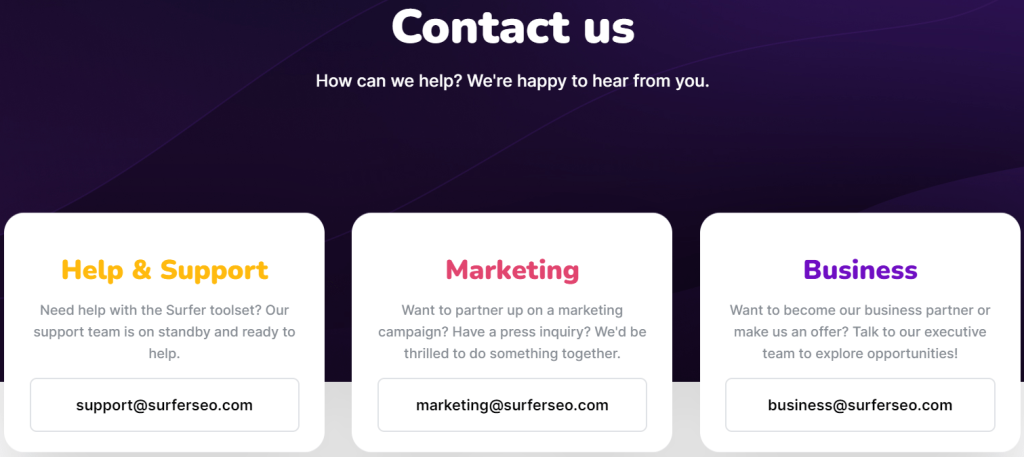 Now, for customer support, you have two options – Live Chat support and email.
I have tried both and on multiple times.
Live chat lets you connect with the support team within minutes. However, the team is not available all the time.
In some rare instances, you might receive a message that the team will be available at another time.
Email support is robust, and you will receive a reply within 15 to 20 minutes. I have always found the reply thorough and rightly addressing the issue raised.
Is Surfer SEO support good?: Surfer SEO Review
Yes, Surfer SEO has a quality support section – both helpful content and customer support.
Surfer SEO Ease of Use
User experience matters, and people behind Surfer SEO understand it – therefore, when you log in, the first thing you notice is a neatly organized interface.
The dashboard displays your recent activity if you have already been using Surfer SEO. It helps to continue your work from where you left off.
Then there's the whole array of tools Surfer SEO offers, perfectly placed and easily accessible. You can easily access the audit feature, content editor, SERP Analyzer, content planner, or Keyword Research tool right from the dashboard.
The best part is that there's no clutter despite having many tools and functionality. Surfer SEO UI does not overwhelm me, and that's what I appreciate the most.
You can begin with a single tool, let's say SERP Analyzer, and easily move through it per your requirements.
Related Read:
How good is the Surfer SEO user experience?
Top-notch. Never intimidating, despite including so many tools and functionality.
Final Verdict – Surfer SEO Review
I have used Surfer SEO countless times to optimize hundreds of pages – speaking with experience, I will say Go with Surfer SEO; it won't disappoint you.
The dashboard is precise and does not overwhelm you.
Support is optimum and addresses the issues promptly.
Prices are affordable, and the plans are perfectly curated to cater to varying audiences.
Definitely gives you the upper hand in terms of On-page SEO.
So yes, Surfer SEO is a complete content optimization package that will definitely help beat your rival. Surfer SEO has helped me push numerous websites up through organic search results, and I am positive you will obtain similar results.
I will further advise you to start slow and go with the $49/month plan to grasp the full potential of Surfer SEO. Like me, you can always upgrade the plan if you love Surfer SEO. With this my Surfer SEO Review ends here, if you have any doubt or query, please feel free to comment below.
Frequently Asked Questions: Surfer SEO Review
What is NLP stands for in SEO?
NLP term stands for Natural Language Processing. These are the relevant phrases and words that Surfer SEO suggests to use in your content and rank higher on Google.
What is the payment method Surfer accepts?
Surfer SEO accepts payment through debit and credit cards for monthly and annual subscriptions and bank transfers only for annual subscriptions. Surfer SEO doesn't support payment via PayPal.
Does Surfer SEO offer a free trial?
Surfer is not offering any type of free trial as of now, but it offers a free plan for its subscribers with some limited features.
Can I get a refund on Surfer SEO? 
Yes, you can get a full refund on Surfer SEO because it offers 7 days of 100% money-back guarantee for all its users.