In this blog post, I will show you how you can get the AccuRanker 14 days free trial. The best thing about this is that the claiming process does not require you to enter your credit card details.
AccuRanker is a SERP rank tracker and is one of my go-to options when I seek precise figures for my campaigns. What I like about AccuRanker is that, unlike many other SEO tools, it does not offer tons of features and performs average in most of them. It claims to be an accurate rank tracker and does not let you down.
It has a database of 24 billion keywords with API access and Google data studio integration. 32,000 businesses all across the globe are already using AccuRanker for their SEO campaigns.
If you wish to join them and get your first 14 days free, read along as I take you through my step-by-step guide to claiming the AccuRanker 14 days free trial in 2023.
AccuRanker Review
It is considered as one of the best tool out there in the market if not the best. AccuRanker is simple to use and easy to understand. Comes up with amazing features. If you are an SEO Profession then this tool is for you. With great new features, it keeps on getting better each day. From enhancing your keyword Strategy to competitor analysis, it has it all. Their customer support great and problem solving.
How to Get AccuRanker 14 Days Free Trial 2023 (Step By Step)
This guide will take you through the process of claiming the accuranker 14 days free trial with ease. Follow along!
Step 1 : Visit the Official AccuRanker Website
To make this task easier, Click HERE to automatically get redirected to the accuranker website.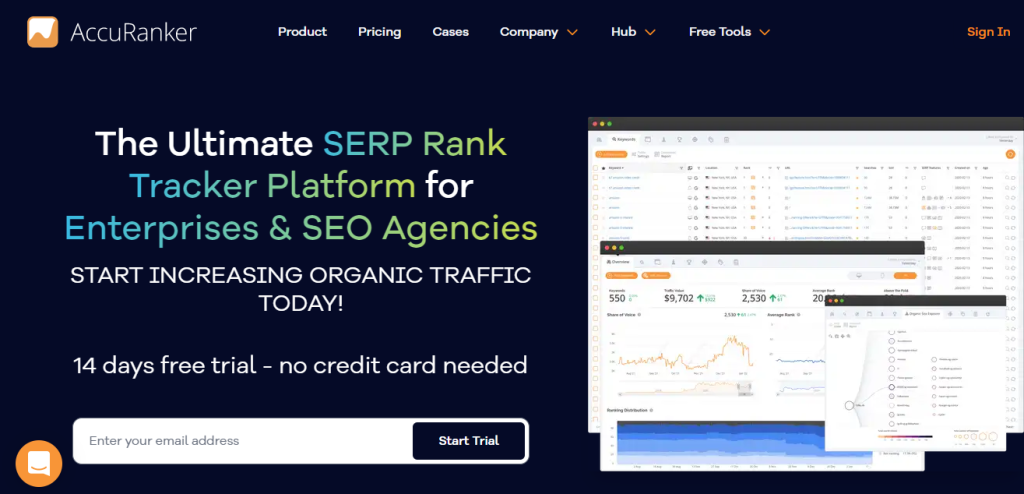 Step 2 : Enter Your Email
Right on the homepage, you will see the option of "14 days free trial – no credit card needed."
Enter your Email address in the box right below it and hit the "Start Trial" button.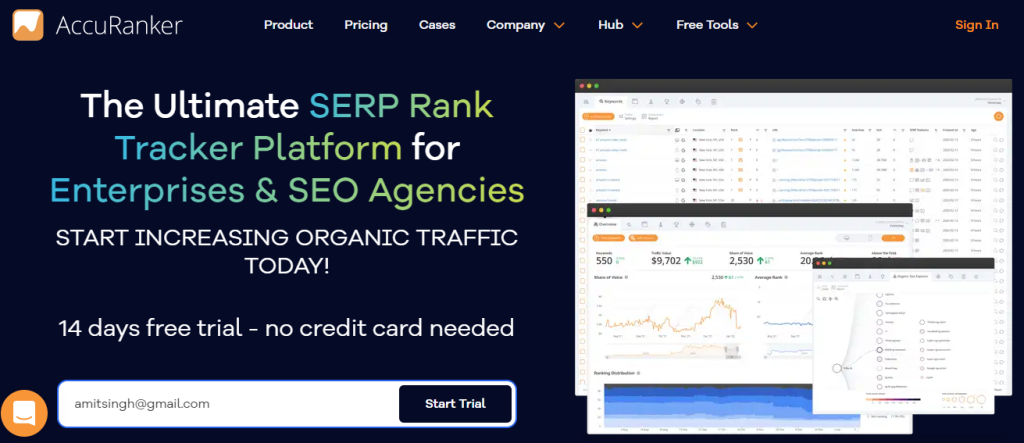 Step 3 : Verify Your Email
You should get a confirmation link in your inbox at this point. Open your mail and click on the "click to confirm your account" button to verify your email.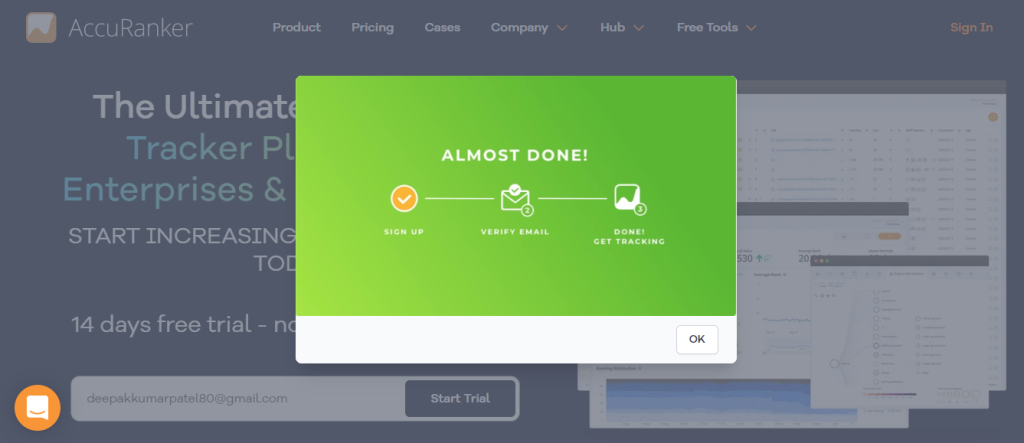 Step 4: Contact Customer Support for Free Trial
Once you confirm your email, Accuranker will give you two options:
Opt for a paid plan, or
Contact customer support for a free trial – support@accuranker.com
If you are looking for a free trial, go for the latter.
After you reach out to Accuranker's support team, they will assist you in getting a free trial.

How to Use Accuranker
After getting your hands on Accuranker, it is really easy to set it up. Here is how you set up Accuranker for your next project.
Once you are logged in, scroll to the bottom of the page and find the "Add domain" button.
You now have to enter domain details along with a few other details such as "default search locale," which will be your preferred location for business, and "Belongs to the group" Your company Name. Click on "Save" when done.
Go to the dashboard; here, you can add the keyword of your choice. But before that, you need to Add your Locale. Here's how to do it:
Select the preferred search engine and device
Select preferred google settings
Finally, click on "add locale"
Now type in your keywords and click on "Add Keywords."
Done! That's how you start your Accuranker journey.
AccuRanker Features: AccuRanker Free Trial 2023
1. On-Demand Updates:
Accuranker shows you real-time data for your SEO campaign. All you have to do is hit the refresh button, and you get figures in real time.
2. SERP History:
Increase your organic traffic by numerous search engine results pages. Get insights on which of the features drive traffic to your campaign and accordingly plan your future steps.
3. In-Depth Study:
You can filter out your results using various filters, providing you flexibility and a number of combinations to work with. You can share this data with your teams so that they can make an informed decision.
4. Google Analytics:
Accuanker integrates with Google analytics, allowing you to track your KWs seamlessly.
5. Detailed Reports:
With a few clicks, you can generate a campaign report. You can send this intuitive graphical report to your team members and clients on the go.
6. Competitor Watch:
AccuRanker lets you check your SEO performance with your competition by stacking up your keywords against your competitor's websites and giving you a detailed report of how they are performing.
Find FAQs
API Access
Periodical White Label Reporting
Local SEO
Mobile ranking
Integration with Google Data Studio
Integration with Google Search Console
Good Customer Support
AccuRanker Pricing : AccuRanker Free Trial
As it is a keyword research tool, its pricing is solely dependent on the number of keywords you wish to track.
This is the Yearly Plan for AccuRanker :
| | | |
| --- | --- | --- |
| Sr.No. | Keywords | Pricing |
| 1. | 1000 Keywords | USD 116/mo |
| 2. | 1500 Keywords | USD 170/mo |
| 3. | 2000 Keywords | USD 224/mo |
| 4. | 3000 Keywords | USD 332/mo |
| 5. | 5000 Keywords | USD 548/mo |
| 6. | 10,000 Keywords | USD 764/mo |
| 7. | 15,000 Keywords | USD 980/mo |
| 8. | 20,000 Keywords | USD 1,196/mo |
| 9. | 25,000 Keywords | USD 1,412/mo |
| 10. | 30,000 Keywords | USD 1,628/mo |
| 11. | 35,000 Keywords | USD 1,844/mo |
| 12. | 40,000 Keywords | USD 2,168/mo |
| 13. | 50,000 Keywords | USD 2,492/mo |
| 14. | 100,000 Keywords | Contact The Sales Team |
| 15. | 250,000 Keywords | Contact The Sales Team |
| 16. | 500,000 Keywords | Contact The Sales Team |
| 17. | 10,00,00 Keywords | Contact The Sales Team |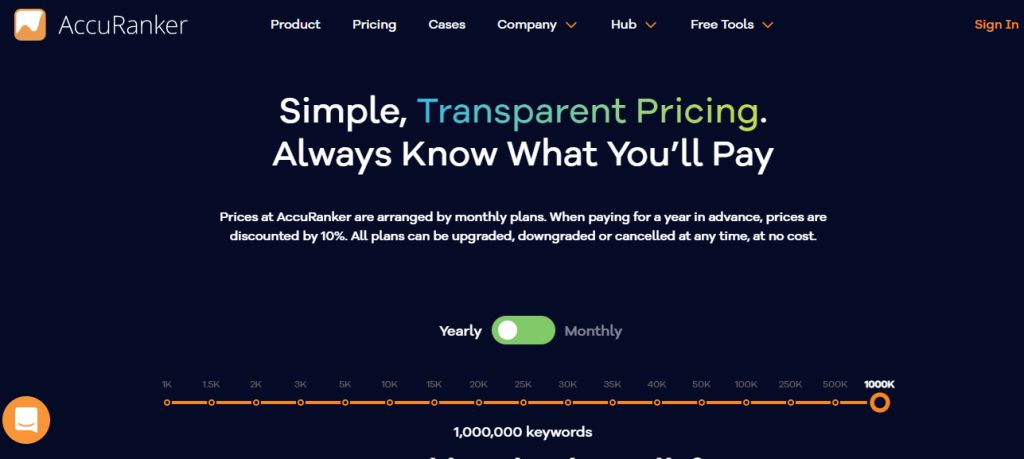 The most basic plan has a limit of 1000 keywords and costs $129/month and $116/month when subscribed annually.
The plan with the most keyword tracking capacity has a limit of 1,000,000 keywords. For the pricing of this plan, you will have to reach out to Accuranker's customer support.
Plans up to 50,000 keyword limit have a 14-day free trial offer.
AccuRanker vs Ahrefs
Lets take a quick comparison between AccuRanker vs Ahrefs
| | | | | | | |
| --- | --- | --- | --- | --- | --- | --- |
| Tool Name | Ease Of Use | Customer Service | Functionality | Pros | Cons | Pricing |
| AccuRanker | 4.7 | 4.8 | 4.5 | Best for Ranking apps | Limitation of Keyword Tracking | Offers different plans which start from $116/mo |
| Ahrefs | 4.5 | 4.6 | 4.5 | Best for Keyword Research & Backlinks. | Costly Tool for Startups to begin with | Ahrefs has 4 different plans from the range of $99/mo to $999/mo |
Related Read:
Conclusion: Accuranker Free Trial (2023)
This was my take on the Accuranker 14 days free trial in 2023. I hope you found this content useful. Help me create more such content by sharing it with your friends. You can common below if you have any doubts, I will be happy to answer them.
FAQs: Accuranker Free Trial
Does Accuranker offer any free trial?
Yes, you can get 14 days of free trial on Accuranker, so you have 14 days to try this tool and get familiar with its features.
How accurate is Accuranker data?
Accuranker offers 99.9% accurate data locally and globally.
Does it offer any refund policy?
Accuranker offers 14 days of refund policy; for any reason, if you are unsatisfied with its service, you can claim your full refund within 14 days of purchasing it.
Do I charge more if I add more users?
No, you won't be charged if you add more users because all its plans offer unlimited users.
Can I upgrade my plan from a monthly to a yearly subscription?
Absolutely, you can upgrade your subscription from monthly to yearly or vice versa. You can easily manage this under the account tab.
What happens if I cancel my subscription or free trial?
If you cancel your free trial or paid subscription, you are inaccessible to account settings, keywords data, and domains, but all your data is still safe and will be in your account.