Looking for the Best Ahrefs Alternatives to manage your SEO strategies? Look no further, I have got a few suggestions.
Ahrefs is an all-in-one SEO software suite that offers the best tools for keyword research, link building, rank tracking, competitor analysis, site audits, and more. Top bloggers and SEO experts use this fantastic software to get higher Google rankings.
There's no doubt Ahrefs is the best tool on the internet, but their increasing prices forced many users to look for an alternative. If you are a beginner and Ahrefs is out of your budget, you can find a lot of good alternatives at a decent price range.
In this post, I have listed the top 11 Ahrefs alternatives comparing the key features and prices so you can choose the best for your website.
Let's get started.
Top 10 Ahrefs Alternatives Try In (2023)
Here is my handpicked list of the best Ahrefs alternatives.
| | |
| --- | --- |
| Sr. No. | Ahrefs Alternatives |
| 1. | Semrush |
| 2. | Ubersuggest |
| 3. | Mangools |
| 4. | SERPStat |
| 5. | GrowthBar |
| 6. | SEO PowerSuite |
| 7. | Moz Pro |
| 8. | SE Ranking |
| 9. | Majestic |
| 10. | AccuRanker |
11 Best Ahrefs Alternatives 2023
Let's get started with the 11 Best Ahrefs alternatives for 2023. From Semrush to Majestic we got you all.
1. Semrush
Semrush is one of the biggest competitors of Ahrefs. Talking about SEO features, Semrush and Ahrefs are quite similar. However, Semrush has a few unique features in its bags which makes it a powerful Ahrefs alternative.
Having no PPC or ad campaign features is one of the most significant drawbacks of Ahrefs. On the other hand, Semrush offers a paid software suite that is exceptionally effective for Google ad campaigns. With Semrush, you can also analyze your competitors' focus keywords, headings, and listing management.
Semrush has an AI tool, ImpactHero, which provides an overview of users' funnel structure so you can discover the impact of your content. Backlink Analytics targets URLs and filters out broken backlinks that have been crawled before.
Semrush Key Features
The Key Features of Semrush are as follow:
Offers access to the biggest keyword database with over 20 billion keywords
On-point SEO metrics and Keyword research tool
Competitor analysis for better content creation
Backlink Checker helps you kickstart your outreach
Social media tracker and analytics tools
Comes with a free trial for Pro and Guru Plans
PPC tracking and research tools are included
Semrush Drawbacks
The Drawbacks of Semrush are as follow:
Compared to Ahrefs, Semrush is not an easy tool to navigate
Poor tool layout
Semrush Pricing:
It offers a free plan with limited access to the features. The premium plan starts at $119.95/month.
2. Ubersuggest
Ubersuggest is one of the trending Ahrefs alternatives after Semrush. It is a popular SEO suite acquired by successful digital marketer Neil Patel. The only thing that makes it stand out from Ahrefs and Semrush is its Keyword Research tool. When it comes to content and long-tail keyword suggestions, no one comes closer to Ubersuggest.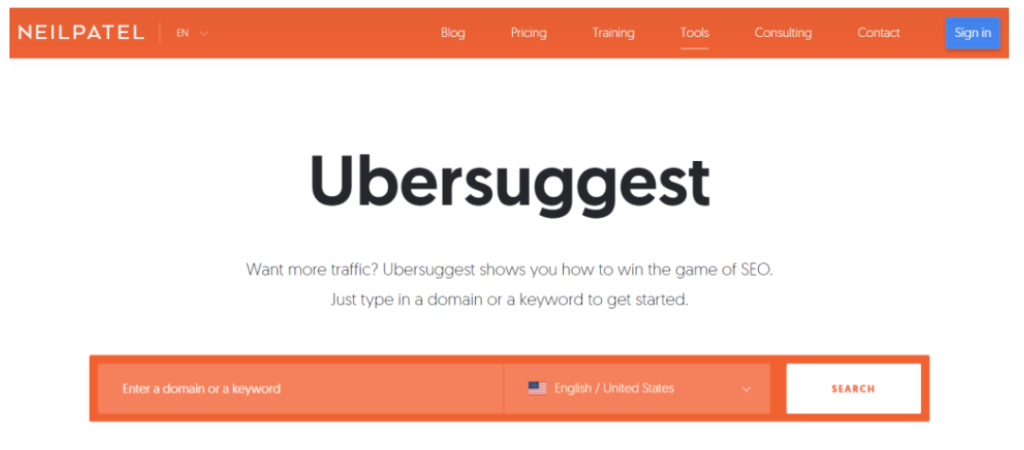 Ubersuggest is great for beginners. You can adapt its straightforward interface and functionality within minutes. It provides a comprehensive overview of critical factors like keywords, CPC, search volumes, monthly traffic, and SEO difficulty. You will also get access to analytics tools, including competitor analysis that lets you easily spy on your opponents' content structure.
In terms of domain and backlink data, Ubersuggest is quite helpful, but it lacks a few crucial tools like complex data segmentation and advanced SERP analysis. Overall, Ubersuggest is still a long way from achieving the feats of Ahrefs.
Ubersuggest Key Features:
The Key Features of Ubersuggest are as follow:
Unmatched keyword suggestion capabilities
Offers better content ideas for marketing strategies
Offers an excellent user interface
Gives the ability to tap into historical data
Three-year link history
Free access to SEO training and courses
7-week auction plan to generate more traffic
Ubersuggest Drawbacks:
The Drawbacks of Ubersuggest are as follow:
Few crucial features are missing
Not ideal for large SEO teams
Ubersuggest Pricing:
The pricing of Ubersuggest starts from $12/month.
3. Mangools
If you are not a tech-savvy person, Mangools can be your best go-to option. It is a powerful Ahrefs alternative that is easy to navigate and beginner-friendly. The tool offers a keyword research tool, rank tracker, advanced SEO metrics, backlink analysis, complete SERP, and other insightful data.
KWFinder is Mangools's keyword research tool. This intuitive tool comes with a lot of features. Compared to other tools, KWFinder shows accurate keyword difficulty with the exact search volumes for a particular keyword. Mangools also offers some unique features, such as ranking updates via email, which makes it easy to keep track of your performing pages in the SERPs.

Compared to Ahrefs, Mangools only perform better for small sites. If you need tons of research and data for bigger websites, Ahrefs is better than Mangools. However, if you are interested in affiliate marketing, Mangools is better.
Mangools Key Features
The Key Features of Mangools are as follow:
Beginner-friendly user interface
KWFinder for accurate search volumes and SEO difficulty for a keyword
LinkMiner tool for backlink analysis
SiteProfiter for advanced SEO metrics
Live chat widget for instant solutions to your queries
Affordable pricing plans
10-day free trial
Mangools Drawbacks
The Drawbacks of Ubersuggest are as follow:
Not suitable for bulk research
Lags features like site audit, link intersect, and content gap
Mangools Pricing:
The Pricing of Mangools starts from $29.90/month.
4. SERPStat
It is a complete SEO suite for individual digital marketing specialists and large SEO teams. SERPStat features 30 tools for SEO professionals, marketing & PPC experts, and large digital agencies. With SERPStat, you can conduct a complete site analysis, collect semantics, analyze competitors, perform clustering, check backlinks, daily rank tracking, etc.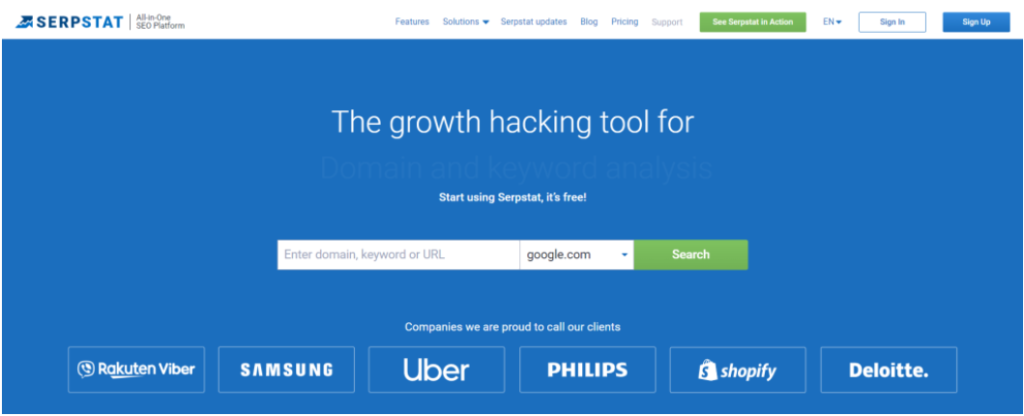 SERPStat offers a great competitor research tool, Domain Analysis. You will just need a URL to extract all the details such as site ranking, focus keywords, monthly traffic, etc. The Missing Keyword is a unique feature of the tool that lets you find ranking keywords that are missed on a particular page.
If you compare it with Ahrefs, SERPStat has some features like text analytics, keyword clustering, branded reports, API access, and daily position tracking (with each plan) that Ahrefs don't offer. Additionally, it is much more affordable than Ahrefs. However, it has a very crowded interface where Ahrefs takes a win.
SERPStat Key Features:
The Key Features of SERPStat are as follow:
Easy-to-use interface
Bulk keyword research in multiple domains at the same time
Bulk comparison of ranking
Contextual ad analysis
SERP Crawling to scan all SERPs in Yandex and Google
Export reports to PDF
Access to Site Audit API
SERPStat Drawbacks
The Drawbacks of SERPStat are as follow:
Doesn't offer a massive database of keyword suggestions like Ahrefs
SERPStat Pricing:
It offers four pricing plans which start from $69/month.
5. GrowthBar
GrowthBar is an excellent SEO tool suite specializing in keyword research, backlink analysis, and AI copywriting. It is like a lite version of Ahrefs that has pulled out all the fluff and provides only relevant and vital SEO data in a simple dashboard. With GrowthBar, you can also uncover critical data points that will help you get more traffic to your website.
GrowthBar comes with an incredible Chrome extension that turns your simple web browser into a robust SEO tool. Once you activate its Chrome extension, you will see instant keyword variations and ranking difficulty scores for any search you make in your web browser. You will also uncover crucial domain metrics like organic traffic, domain authority, and top backlinks with a search query.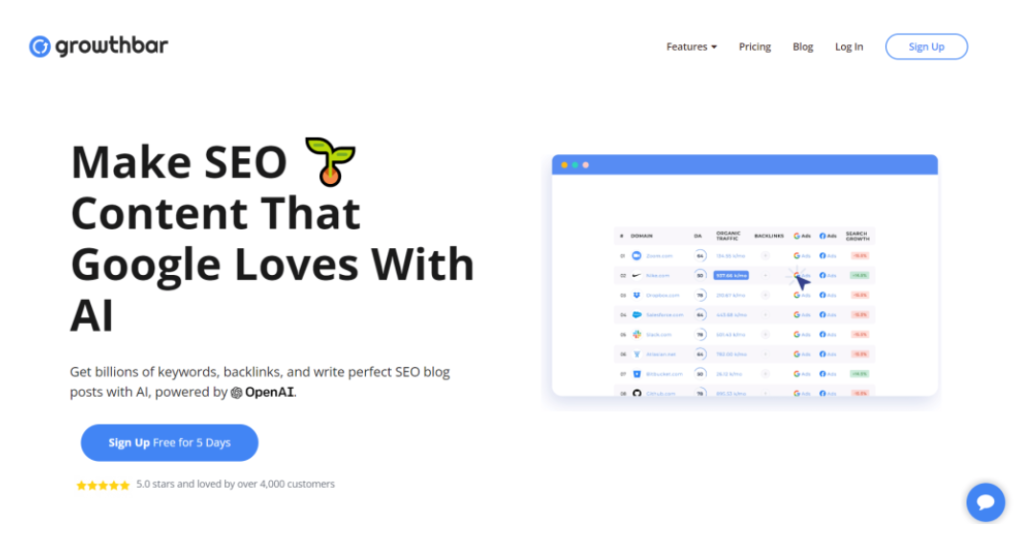 In terms of accuracy, GrowthBar is nothing less than Ahrefs. It has the same Google ads, organic keywords, and backlink capabilities. It also has equally powerful rank tracking and keyword research like Semrush and Ahrefs. However, it doesn't have powerful competitive metrics and historical data features.
GrowthBar Key Features:
The Key Features of GrowthBar are as follow:
Reliable tool for bloggers and content creators
Offers a powerful AI content creation tool
Track tons of keywords across ten websites at the same time
Evaluate eight competitors' metrics with one search
Facebook and Google ads for marketing
Fully responsive Chrome extension
AI-powered chatbot for instant support
GrowthBar Drawbacks
The Drawbacks of GrowthBar are as follow:
No advanced rank tracking tool
Offers only a few support documentation
GrowthBar Pricing:
The Pricing of GrowthBar starts from $29/month.
6. SEO PowerSuite
SEO PowerSuite is an extensive SEO desktop suite that offers advanced research tools, rank tracking, white labeling, and website audits. Unlike Ahrefs, it offers a downloadable software package instead of a web-hosted version. You can purchase a yearly license without paying any cloud-based storage charges.
As a desktop suite, SEO PowerSuite stores most of the research data in the desktop system. Its rank tracking tool simply integrates with external proxies and enables you to track multiple keywords simultaneously. Unlike other SEO tools, the features of SEO PowerSuite can be used for an unlimited number of times with one yearly license.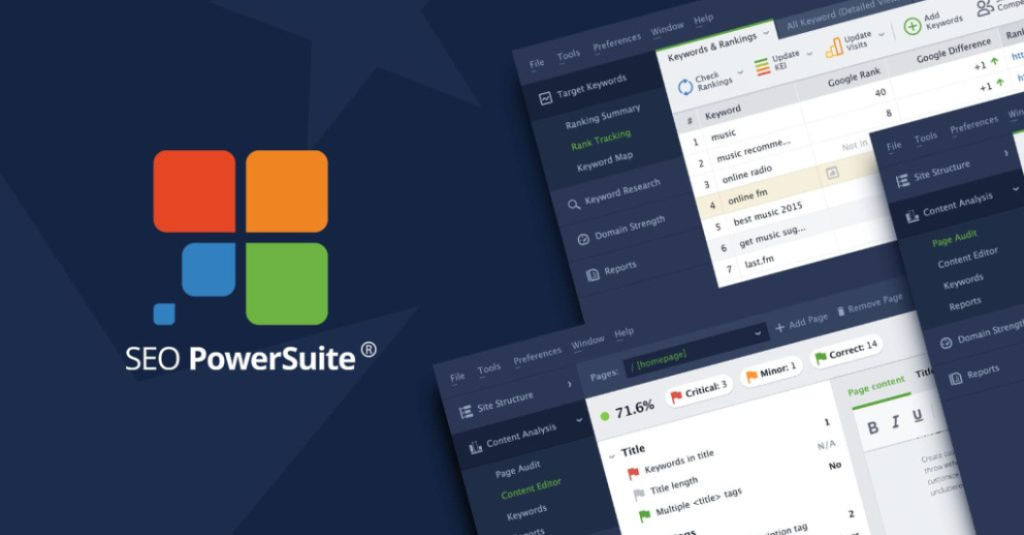 SEO PowerSuite is a better option for bigger agencies since it has no limits for using SEO features. Compared to Ahrefs, you won't get much backlink data access, making it a feasible alternative to Ahrefs. However, you can monitor universal and organic rankings in 300+ search engines.
SEO PowerSuite Key Features:
The Key Features of SEO PowerSuite are as follow:
Unlimited keyword research
Unlimited crawl pages for SEO audit
Show historical data of backlinks and rankings
Content and HTML optimization
Do link building, outreach, and management with an in-built email client
Six language support
In-depth competitor analysis
SEO PowerSuite Drawbacks:
The Drawbacks of SEO PowerSuite are as follow:
Complex dashboard and user interface
Quite expensive
SEO PowerSuite Pricing:
It offers a free plan with limited features, while a one-year license with advanced features costs you $299/year.
7. Moz Pro
Moz Pro is one of the biggest names in the SEO industry. It also offers industry-leading SEO metrics, including keyword research, competitor analysis, SERP analysis, and link research. Moz Pro is quite famous among small businesses since it offers better management tools for organic search and traffic under one interface. Many large agencies still invest in the Moz package because of its standout features like Link Explorer and Keyword Explorer.

Moz Pro offers a Chrome extension, MozBar. It lets you see the metrics of any site while browsing. It is free to use. However, the free version only shows domain authority and page authority. But with MozBar premium, you can unlock more link analysis features and on-page elements.
Moz is great for quick research, while Ahrefs takes some time for critical analysis. But the data of Moz is not as accurate as Ahrefs'. The pricing structure is almost the same, so it won't be a great choice if you go for the paid plans since the features are not as powerful as Ahrefs.
Moz Pro Key Features:
The Key Features of Moz are as follow:
MozBar Chrome extension
Keyword Explorer for quick keyword research
Get access to 40 trillion links with Link Explorer
Offers its own site crawler for routine crawls and spot checks
30-minute onboarding session
A free forever plan
30-day money-back guarantee
Moz Pro Drawbacks:
The Drawbacks of Moz are as follow:
Fewer updates
Limited technical SEO tools
Moz Pro Pricing:
The pricing of Moz Pro starts from $99/month.
8. SE Ranking
If rank tracking and monitoring are vital to you, there is no better option than SE Ranking. It is an all-in-one SEO software that offers a range of advanced SEO tools, including keyword research, rank tracking, keyword suggestion, and backlink analysis. It also outshines Ahrefs in PPC features, just like Semrush. The robust tools for keyword research and competitor analysis help you bid on the right keywords for your PPC campaigns.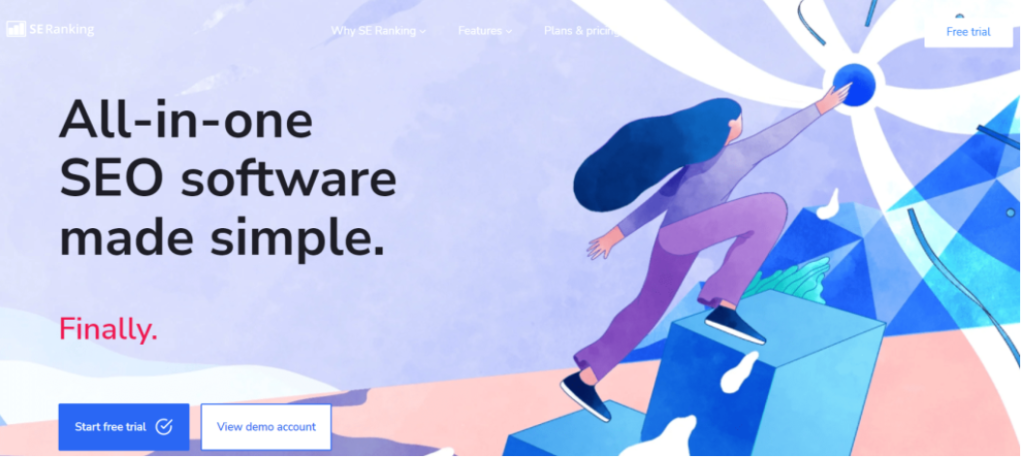 As a specialist in rank tracking, SE Ranking tracks and monitors the real-time ranking position of keywords across major search engines with 100% accuracy. You can push your site's ranking into the top search results with the Website Audit tool. With this tool, you can also find on-page and off-page issues and immediately get suggestions to fix them.
Compared to Ahrefs, it sometimes miscalculates the metrics for low-volume keywords. And the data quality of other aspects is pretty much the same as other Ahrefs alternatives. However, it is affordable and offers value for money. So it can be a feasible option for low-budget businesses.
SE Ranking Key Features
The Key Features of SE Ranking are as follow:
100% accurate keyword and rank tracking
Competitive research for organic and PPC search campaigns
In-depth site audit
Backlink monitoring
White label services
The social media analytics feature
Page optimization for a specific keyword
SE Ranking Drawbacks
The Drawbacks of SE Ranking are as follow:
Miscalculates during low-volume keyword research
The keyword database is pretty much average
SE Ranking Pricing:
The pricing plan of SE Ranking starts from $39/month.
9. Majestic
Majestic is a unique SEO software that specifically offers one tool, Backlink Checker. As you know, backlink plays a critical role in a site's organic growth, and Majestic brings you the link intelligence data you need to dominate the search result. Majestic's Trust Flow is higher than the Citation Flow, which indicates the best quality of links.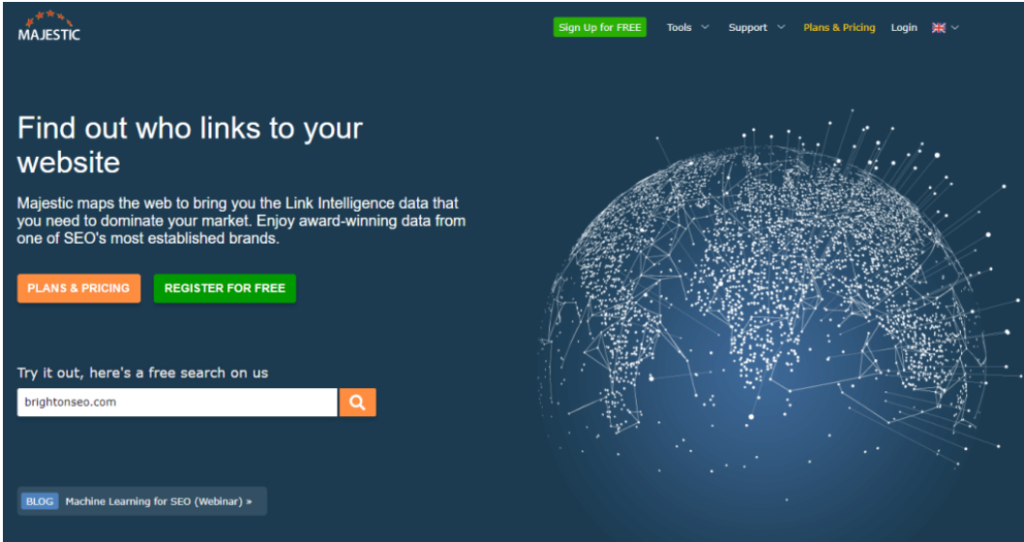 Majestic offers you a web-based link investigation tool that instantly shows the results of any website, including your competitors'. You can also separate top backlinks from tons of backlinks using advanced filters. You can also discover profitable link opportunities by investigating competitors' websites.
Majestic also offers other SEO tools, but they can't match the efficiency of Ahrefs. But when it comes to backlink databases and link building, Majestic is far better than Ahrefs. Still, Majestic needs to work on the user interface and navigation.
Majestic Key Features
The Key Features of Majestic are as follow:
Offers powerful backlink tools
Link Content feature to discover backlinks
Web-based link investigation
Track your favorite websites with Majestic Campaigns
Explore the best websites with Site Explorer
Compare top-level metrics
Discover new backlink opportunities
Majestic Drawbacks:
The Drawbacks of Majestic are as follow:
A bit hard to navigate
Keyword research's data is not very accurate
Majestic Pricing:
The pricing plan of Majestic starts from $49.99/month.
10. Sitechecker:
Sitechecker is the best SEO toolkit. The biggest strength is ongoing site monitoring, technical audit, and rank tracking. Its SEO features are not as like Ahrefs offers. Sitechecker is the best choice if your primary goals are related to rank tracking and site auditing but not keyword research or competitor analysis.

Its rank-tracking tool provides daily updates at a low cost. It has a clean UI with the best summaries with details if you want to dig more. The best feature which is offered by the Sitechecker rank tracker is SERP history. You can easily open up keywords and get to know how the SERP is changing for your site and your competitor's site.
Sitechecker Key Features:
The Key Features of Sitechecker are as follow:
Site Monitoring
Website Crawler
SEO Chrome Extension
Backlink Tracker
Rank Tracker
Sitechecker Drawbacks:
The Drawbacks of Sitechecker are as follow:
Need to improve customer support
Expensive for the beginners
Sitechecker Pricing:
The Sitechecker offers four different types of pricing plans. The basic plan starts at $23 per month.
11. AccuRanker
Last in our list for Best Ahrefs Alternatives is AccuRanker. It is a rank tracking platform. The SERP Checker and Position tracker are easy to use. It can be considered as one of the best alternate for AccuRanker. Ahrefs is considered to be expensive because it gets it data from the third party which is AccuRanker.
By going with AccuRanker you can save up some bucks. AccuRanker can be used to keep a track on your competitors, AccuRanker does rank tracking daily unlike Ahrefs which does once a week. You can also check your rankings on demand.
AccuRanker Key Features
The Key Features of AccuRanker are as follow:
Highly Accurate and Reliable Tool
Affordable compared to Ahrefs
Can get On Demand Rank Tracking
AccuRanker Drawback:
The Drawback of AccuRanker are as follow:
Just includes rank tracking
AccuRanker Pricing:
The AccuRanker offers 17 different types of Pricing Plans. The basic plan starts at $116 per month and can go up to 2,492. Rest the remaining 4 plans are not disclosed so for that you will need to connect with the sales team.
Related Read:
Conclusion: Best Ahrefs Alternatives (2023)
So these are my top picks for the best Ahrefs alternatives. Each one offers a different set of tools which makes it unique in some ways. But, all of them certainly do not offer the same price structure and data quality as Ahrefs. If you want a budget-friendly SEO tool suite, Ubersuggest is one of the best options. If budget is not your concern, I would recommend you try Semrush as it offers almost the same features as Ahrefs.
I hope this post helps you find a better Ahrefs alternative for your startup or business. If you have any queries, do not forget to drop a comment in the comments section.