Looking for Best Best SEO Plugins For WordPress? You are at the right place, Let's Begin. SEO is a battlefield these days – a fight for higher search ranking. And you need all the help you can muster to achieve victory and maintain your supremacy in SERP.
How can you do that?
A robust SEO plugin is a good starting point. It greatly simplifies the cumbersome process of search engine optimization. Moreover, it helps you reorganize your content and your website's core vitals so that the search engine is compelled to allow higher search ranking.
But the abundance of SEO plugins poses a challenge – which one to pick? Which one is the best SEO plugin?
If you are grappling with the same question, worry not – I will solve this dilemma once and for all.
Best SEO Plugins – My Pick
In my opinion, Rank Math SEO is the best SEO plugin for WordPress. I have been using it for quite some time now and have never faced issues that are too troublesome.
Besides, the functionality part is almost endless and, frankly, sometimes overwhelming. But it also ensures that your site is optimized down to the last SEO signal – nothing left to give your competitor a way to take over you in search ranking.
Besides, the schema option is too elaborate, and I love it. It allows you to structure your content as per the content type and significantly boosts the chances of ranking it on top in SERP. Moreover, the instant indexing feature, which is still exclusive to Rank Math, is unparalleled. It allows quick indexing of your new posts in Google and significantly enhances the possibility of quick SERP ranking.
Best SEO Plugins For WordPress – Quick Verdict
Let's have a quick look at the Best SEO Plugins
| | | |
| --- | --- | --- |
| Sr. No. | Plugins | Quick Verdict |
| 1. | Rank Math | Best in the category, with top-notch features, amazing support, and precise working. |
| 2. | Yoast SEO | Comparable to Rank Math but falls short in the case of Schema and instant indexing features. In any case, a practical choice. |
| 3. | SEO Framework | Simplicity is its USP. Perfectly suitable for beginners. However, advanced features are lacking; therefore, I won't recommend SEO Framework to SEO experts. |
| 4. | All in One SEO Pack | Do not wish to use Rank Math or Yoast? Go with All in One SEO. Practical, intuitive, and feature-rich. Equally suitable to both beginner and professional SEOs. |
| 5. | SEOPress | Lightweight but feature-packed to the point that it can rival both Rank Math and Yoast. The content analysis feature is unmatched, while the SEO Metabox is also a great addition. |
| 6. | SEMrush SEO Writing Wizard | Brings the power of the Semrush SEO tool to boost on-page SEO. However, besides content optimization, functionality is limited and won't support specialized on-page Seo needs. |
List Of The Top 8 SEO Plugins (2023)
Understand that there's no one-size-fits-all solution when it comes to SEO plugins. Therefore, I have curated a list of the most suited SEO plugins along with their features, limitations, and price to simplify things. You can pick up the one that aligns perfectly with your requirements.
But, I can guarantee that all the SEO plugins included here have passed stringent selection criteria before making it to the best SEO plugins list.
Let's check out some top-rated SEO plugins, then!
1. Rank Math SEO
If there's one SEO plugin I rely on mostly – it's Rank Math SEO. Primarily due to its all-encompassing functionality, which puts in your hand unprecedented SEO capabilities. Like its smart automation features, which allow you the power of an entire SEO team. Also, the Google Schema Markup feature is differentiating too, which offers the advanced option to structure your content based on its type – article, news, recipe, opinion, etc.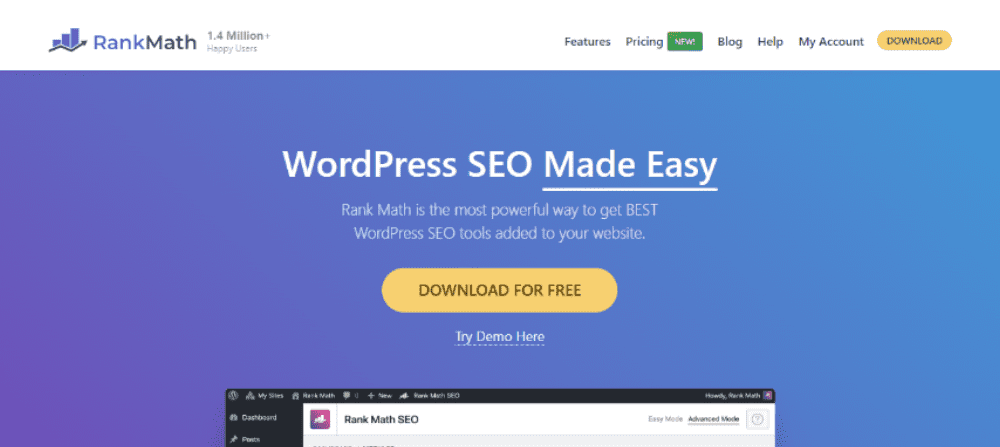 Besides, it's a fast and easy-to-manage plugin that offers real-time insights into your content within the WordPress dashboard. Additionally, it also allows seamless integration with the Google search console and neatly presents all the data on the WordPress interface.
Moreover, support for rich snippets, internal link-building recommendations, XML sitemaps, and 404 monitor are other handy tools that I found quite useful.
Why Choose the Rank Math SEO plugin?
Let's look into Rank Math SEO Plugin and why should you choose it.
Easy to use option for Nofollow and Sponsored links.
Separate Structured data blocks FAQ and HOW TO really improve content quality.
Loca metadata settings to improve local SEO.
Easily No Follows all the external links with a click of a button.
Allow automatic addition of image TITLE and ALT attributes.
404 detector – extremely helpful in finding broken links.
Breadcrumbs, Link suggestions, and support for Woocommerce, AFC, AMP, bbPress, and BuddyPress.
Limitations of Rank Math SEO
Let's look into the Rank Math SEO Plugin Limitations.
The context checklist has limited options.
Too many features, some time is overkill.
It takes a while to get used to.
Rank Math Price
Let's look into Rank Math SEO Plugin Pricing.
Rank Math has both free and paid plans. If you are new to Rank Math, use the free version – there won't be any issues.
For a more robust use, paid plans are better.
| | | |
| --- | --- | --- |
| Sr. No. | Plan | Pricing |
| 1. | Agency Plan | $499/Year |
| 2. | Business Plan | $199/Year |
| 3. | Pro Plan | $59/Year |
Besides, there's a 30-day money-back guarantee in case you are unsatisfied with the results.
2. Yoast SEO
Another huge popular SEO plugin is Yoast SEO. It's a veteran in the industry and boasts millions of subscribers. Yoast SEO comes in both paid as well as the free version. However, the free version is quite elaborate and allows almost all the functionalities to optimize your website and improve its SEO.
To give you an overview, you can manage the SERP preview, curate meta-description, and even create an XML sitemap with Yoast SEO. Moreover, Yoast also allows you to detect duplicate content and avoid Google penalties.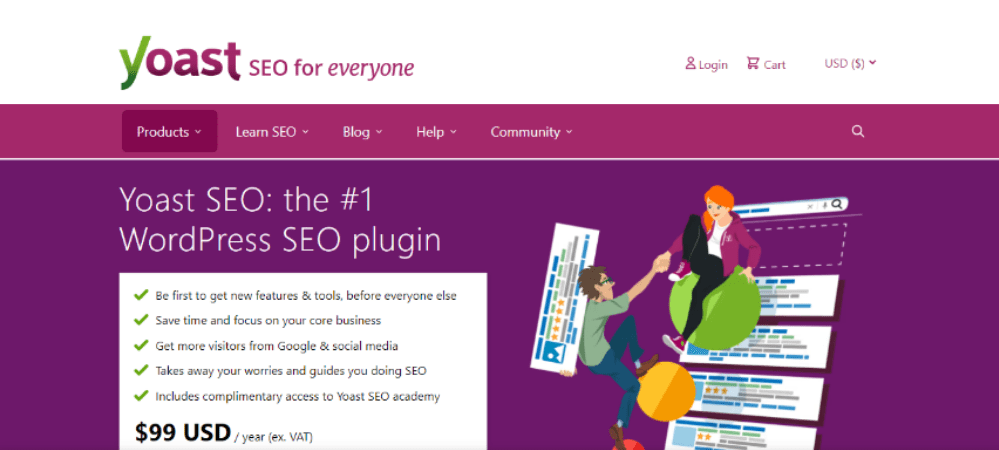 Similar to Rank Math, it lets you focus on the On-Page aspect while handling the more technical stuff itself. I found the checklist feature the most differentiating, which allows you a detailed insight into what aspect of your website SEO you have to tweak to achieve better ranking.
Feature-wise it's rich and includes almost everything you need to optimize your site. You have a Content analyzer, Text readability control, Indexing control, Tracking Control, Automatic sitemap, Customized snippets, Hide the date in search engines, Batch Title and description editors, and many more SEO features.
Why Choose Yoast SEO?
Let's look into Yoast SEO and why should you choose it.
Canonical URL configuration that helps you avoid content cannibalizations.
Essential Content Organization to help you mark your best content.
FAQ Structured Data Block to help you appear top in Google display results.
Help structure basic data like Logo, web page, and type of author.
Internal Link counter that allows you to determine the number of links in each content – quite handy.
Hide the date in search engines – you won't find it in Rank Math.
Limitations of Yoast SEO plugin
Let's look into the Limitations of Yoast SEO Plugin.
Yoast sometimes misses the intent of the content and therefore offers misleading suggestions.
Flexibility is also an issue – experiment too much, and Yoast goes haywire.
Schema options are also limited and lack some functionality.
Yoast SEO Price
Yoast SEO has both free and premium plans. The free plan covers almost all functionalities.
| | | |
| --- | --- | --- |
| Sr. No. | Plan | Pricing |
| 1. | Free Plan | $0 |
| 2. | Yoast SEO Premium Plan | $99/Year |
3. SEO Framework Plugin
Another SEO plugin that tilts more towards simplicity and ease of use is SEO Framework – but that doesn't limit its functionality. Instead, it's one of the most suitable SEO plugins for beginners and small businesses.
You are greeted with a simple interface that fits the screen and doesn't look obtrusive, unlike other plugins bloated with features.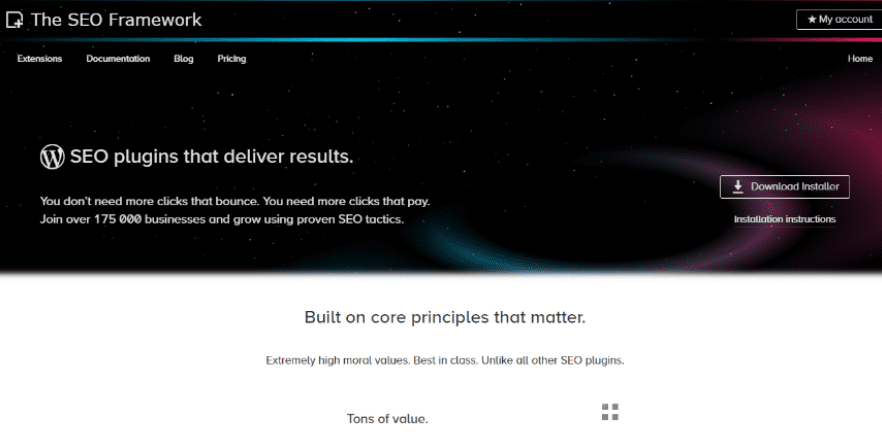 The plugin presents a colored scale indicating the action you must undertake to optimize your post and achieve top ranking. Besides, it also allows for optimizing Meta titles and descriptions.
The plugin allows the setup of basic Schema, sitemap, and settings for search robots. On top of that, the plugin is free, and I haven't found any upsells to extract money while you are using it.
Why Choose the SEO Framework Plugin?
Let's look into SEO Framework Plugin and why should you choose it.
It includes different settings options to tweak different SEO aspects.
Automatic Meta description is a particularly handy feature.
SEO indicator feature allows quick finding of errors. Besides, they are color-coded, which instantly makes you aware of the severity of the errors.
It also allows the automatic configuration of titles and descriptions in addition to multiple settings for further optimization.
Limitations of SEO Framework Plugin
Let's look into the Limitations of SEO Framework Plugin.
Functions not as elaborate as other SEO plugins.
SEO Framework Plugin Price
Available in free as well as a paid subscription
Paid Plan Costs:
| | | |
| --- | --- | --- |
| Sr. No. | Plan | Pricing |
| 1. | Pro Plan | $7/monthly (when paid Annually) |
| 2. | Business Plan | $17/monthly (when paid Annually) |
| 3. | Agency Plan | $27/monthly (when paid Annually) |
4. All In One SEO Pack
More than two million sites use the All in One SEO plugin to optimize their content. If popularity speaks anything about quality, then All in One SEO should be considered one of the best SEO plugins for WordPress.
It speedily scans your whole site and provides valuable insight into where you are lacking, what you need to change, and how to correct them. Besides, AIO SEO comes with settings already optimized and ready; therefore, even if you are a beginner, you can be up and running in a jiffy.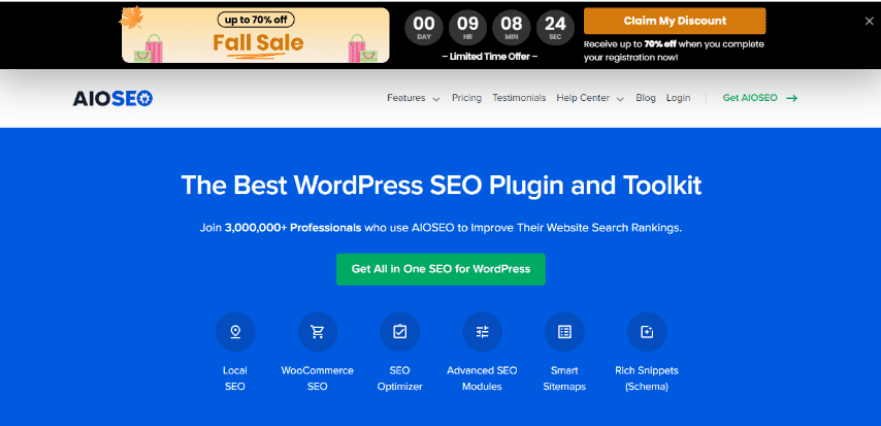 One more contributing factor to its immense popularity is its sleek and intuitive dashboard. In functionality, it can rival Yoast, while in some aspects, it can even surpass it. Incidentally, its XML sitemap feature is more elaborate and allows you to tweak various parameters or deactivate the option altogether.
Why Choose All in One SEO?
Let's look into All in One SEO and why should you choose it.
The title settings option is too good and allows you the configuration of the title format.
Allow easy integration of your website with different search engines, including Google Search Console, Pinterest, Bing, Baidu, and Yandex Webmaster Tools.
Allow easy setup of Schema.org markup.
Seamless index and Nofollow settings.
Performance tweaks are helpful too, and allow you to enhance WordPress memory limits and maximum execution time.
Advance XML sitemap feature with multiple configuration options to point out priority pages, crawl frequencies, and even set RSS sitemap.
Bad Bot blocker – a handy tool to block bad bots, spam bots, and analytics bots.
Limitations of All in One SEO
Let's look into the Limitations of One SEO.
The free version does not include SEO options for categories and tags.
Schema options are limited while importing data from the search console is also not possible.
No facility to remove the parent category. Also, content analysis and SEO scoring features are missing too.
Price of All in One SEO
Let's look into All in One SEO Plugin Pricing.
| | | |
| --- | --- | --- |
| Sr. No. | Plan | Pricing |
| 1. | Basic Plan | $49.60/ Year |
| 2. | Plus Plan | $99.60 / Year |
| 3. | Pro Plan | $199.60/ Year |
| 4. | Elite Plan | $299.60/ Year |
5. SEOPress
If simplicity is what you are looking for, SEOPress can be the perfect choice for you. It's a lightweight SEO plugin that packs tons of features and can rival the heavyweights like Rank Math or Yoast.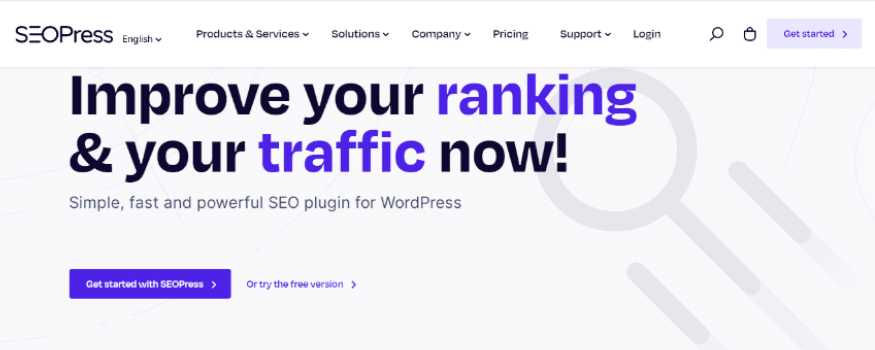 Although simple to use, it packs some pretty useful features – what I like the most is the ability to add SEOPress directly to the WordPress directory. Besides, the suggestions to rank the website in search engines faster are quite worthwhile and paint a clear picture of what needs to be done to amp the website's SEO.
Why Choose SEOPress?
Let's look into SEOPress and why should you choose it.
Being simple, beginner-friendly, and free from unnecessary features is its biggest selling point.
Limitless content analysis allows you to check it at every step of search engine optimization.
SEO Metabox is also a standout feature that allows easy accessibility of information.
Search appearance customization works great and helps you optimize content per search engine requirements.
You can tweak several meta tags and canonical URL settings – the options include an index, nofollow, noimageindex, noodp, no archive, and snippet.
Limitations of SEOPress
Let's look into the Limitations of SEOPress.
Some bugs render content analysis unusable sometimes.
Support is not robust enough.
It lags behind in some functionality as compared to Yoast or Rank Math.
SEOPress Price
Let's look into SEOP Pricing.
| | | |
| --- | --- | --- |
| Sr. No. | Plans | Pricing |
| 1. | SEOPress PRO Plan | $49/ Year |
| 2. | SEOPress Insights Plan | $99/Year / Site. |
| 3. | SEOPress Bundle | $128/ Year |
6. Semrush SEO Writing Wizard
The SEMrush SEO Writing Wizard isn't as widely used as the other SEO plugins we have discussed here, but it is still worth mentioning. Primary because SEMRush is a big name in the SEO industry and brings countless features to boost your SEO efforts significantly.
However, you can only use SEMrush SEO Writing Wizard if you have a Semrush account. You can create one for free – although the functionality will be limited, or you can update to the premium plan.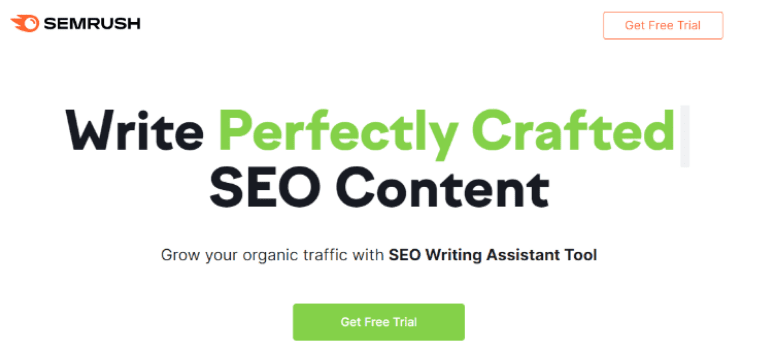 Once installed and activated, the plugin allows you to analyze your content and optimize it per the requirements of on-page SEO. Moreover, the analysis also reveals the weak points in your content and offers you suggestions to improve your content.
The writing assistant is also helpful and allows you to add target keywords. Based on keywords, the plugins offer suggestions to optimize your content better.
Why choose Semrush SEO Writing Wizard?
Let's look into SEMrush SEO Writing Wizard and why should you choose it.
Lightweight and easy setup.
The interface is pretty neat and reminds me of Google docs, therefore won't pose any difficulty using it.
The overall score feature is pretty useful, too, and helps you understand the quality of your content and the improvements needed.
Limitations of SEMrush SEO Writing Wizard
Let's look into the Limitations of SEMrush SEO Writing Wizard.
Quite limited in functionality.
Lacks features to optimize technical on-page SEO matrices.
The only emphasis is on content.
Semrush SEO Writing Wizard Price –
Let's look into SEO Writing Wizard Pricing.
You need a Semrush account to use Semrush SEO Writing Wizard.
7. MonsterInsights
There is no SEO without tracking performance and analytics, so in that case, MonsterInsights will help you with that. Using its WordPress plugin provides Google analytics right in front of your WordPress dashboard and offers you functional insight on how to upgrade.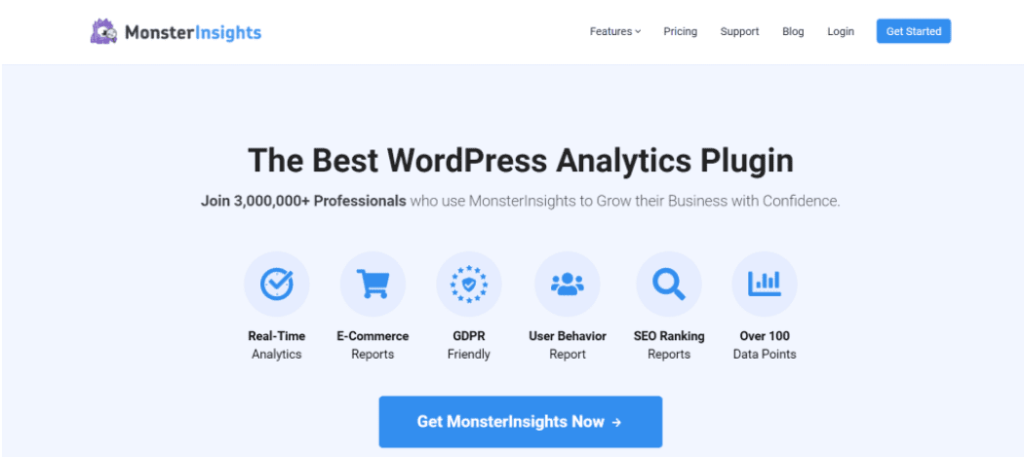 MonsterInsights easily set up Google Analytics and website tracking across 4 devices and campaigns within a few clicks. You can get real-time stats inside WordPress to know who is online, what they are doing, and many more.
Why Choose MonsterInsights Plugin?
Let's look into MonsterInsights and why should you choose it.
User-friendly and minimal setup
Easily track the performance of your keyword
Easy-to-read report on your WordPress dashboard
Locate top-performing affiliate link
Show the most popular post
Seamless Integration
Limitation of MonsterInsights
Let's look into the Limitations of MonsterInsights.
Works only for WordPress
Need improvement in customer support
MonsterInsights Price
MonsterInsights offers three different pricing plans with robust features.
| | | |
| --- | --- | --- |
| Sr. No. | Plan | Pricing |
| 1. | Plus Plan | $99.50 per year |
| 2. | Pro Plan | $199.50 per year |
| 3. | Agency Plan | $399.50 per year |
You can also get 14 days of the money-back guarantee.
8. HubSpot
To implement an SEO Strategy you need to have the right data which will help you understand where you can work on. Hubspot has a very simple UI which helps the user to understand better without much complications. With the right information and data you can spend the money where it's required which will help you get better results.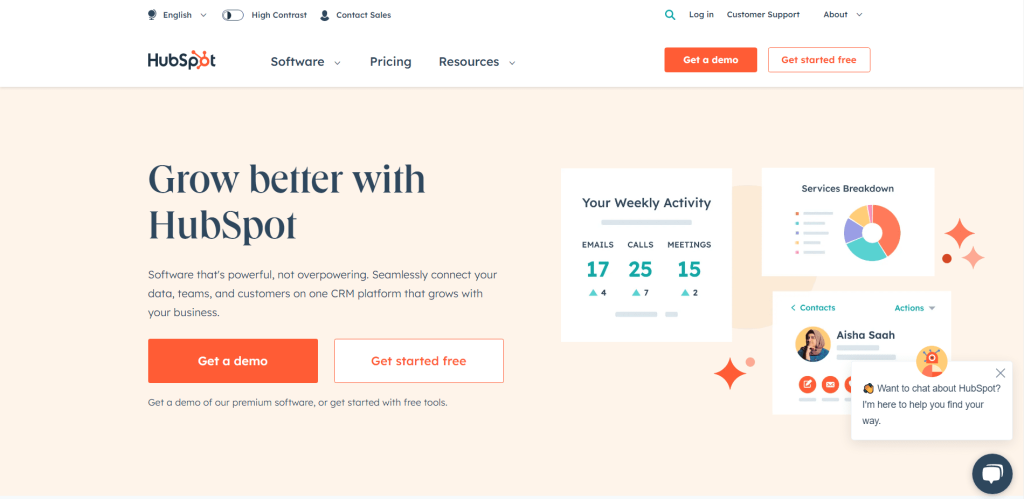 Why Choose HubSpot Plugin?
We have listed below the reasons below:
You will have additional SEO Tool which includes, Email Marketing, Live Chats, Forms and much more.
Right Data & Information
Will Monitor your website or the single page.
Limitations of HubSpot Plugin?
We have listed below the Limitations below:
Premium Version is pretty Expensive considering its competitors aren't that Expensive.
HubSpot Pricing
HubSpot is a free plugin to use but if you are looking for more features, its Premium version is expensive. It starts at $800 /mo.
| | | |
| --- | --- | --- |
| Sr.No. | Plans | Pricing |
| 1. | Professional Plan | $800 |
| 2. | Enterprise Plan | $3600 |
Related Reads:
Our Recommendation For Choosing The Best SEO Plugin For WordPress?
First thing first – analyze your requirements. Are you just venturing into SEO, or are you moving up a ladder in your SEO journey?
Besides, always go with plugins with a considerable user base. They are frequently updated and offer more functionality over time. Likewise, one SEO plugin is enough. Never install unnecessary plugins to compensate for some limitations – you will only end up complicating things.
If you are an SEO newbie, don't go with plugins that change the structure of the URL. If you have multiple indexed pages, any change in the URL structure might degrade your ranking.
Conclusion: Best SEO Plugins For WordPress?
Using multiple seo plugins is a big NO, so which one to pick up? I will say pick up based on your current positions.
If you are just getting your feet wet, you can begin with SEOPress, but I recommend you stick with Rank Math. Yes, it's overwhelming sometimes, but it brings everything you need to push through search ranking.
Besides, Rank Math comes out on top for the pure functionality part – think about instant indexing, Schema, and built-in Google Rich Snippets features. Other than that, Yoast is also good – it has similar capabilities, although a little too complex than Rank Math.
That will all be for the best SEO plugins for WordPress in 2023. I genuinely hope that the post will help you pick the best that will fit your needs in every aspect.