Accurate and reliable rank tracking tools are crucial for successful SEO operations. They can help generate organic traffic on your websites, which obviously leads to better conversions.
You might be familiar with Semrush and Ahrefs as some of the leading SEO toolkits used by professionals globally, but what are your other options? Why are tools like Google Search Console, which are free for use, not viable for large-scale SEO? Are there more accurate rank tracking tools provided by other SEO softwares? Which is the best toolkit for your business in terms of competitive pricing and reliability?
We've set out to explore some of the leading SEO software and have enlisted here a few that we think are the best all-in-one SEO tools. They come with accurate rank tracking and freemium as well as annual subscription-based tools for big and small ventures alike.
Quick takeaway
This is a general review of some of the most widely used SEO softwares. We've explored the top toolkits with a basic walkthrough of their best features here.
For an overall reliable and enterprise-level performance, you can go with Semrush. It's the most widely used and accurate SEO tool.
If you are focusing more on competitor analysis, then Wincher might be the most efficient.
For those who prioritize WordPress and Rank Math plugins then MonsterInsights might be the way to go.
As for beginners, the Google Search Console is a solid, free-to-use tool that shows accurate positionings and can be used with the other google SEO tools.
Top 11 Rank Tracking Tools: 
Here we have explained all the rank tracking tools in detail.
1. Semrush
Semrush is one of the leading and award-winning online marketing platforms that is lauded by over 10 million marketing professionals globally. Its services are specialized in increasing the visibility and conversion rates for businesses across various industries.
Semrush provides some of the best-in-class SERP Tracking Tools for accurately monitoring your performance.
With the position tracking tool, you can easily track keywords, your competitors, and your domains.
Semrush makes it very easy to discover domains with the most organic visibility, paid traffic, most paid keywords, estimated paid traffic budget, etc.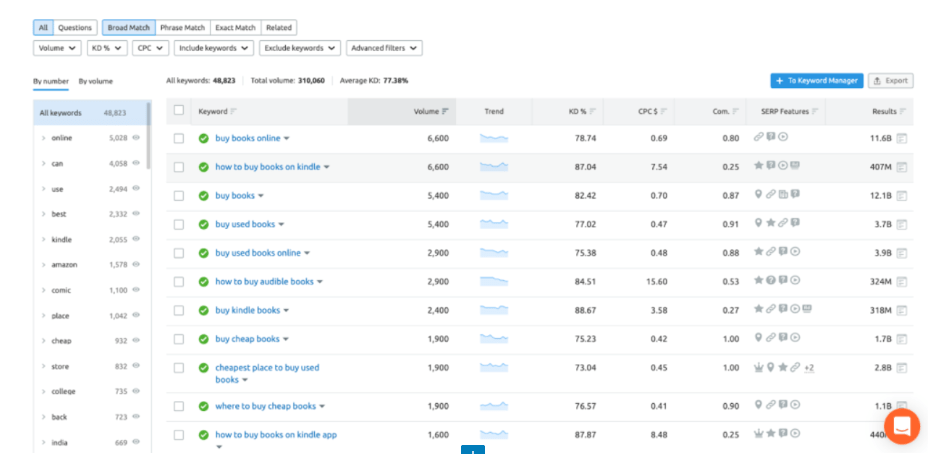 Pros:
Extremely user-friendly
Competitive Analysis and Organic Keyword Research
Backlink Analysis
Daily Google SERP SEO Alerts
Cons:
Pricing and Ratings:
Pricing:
Guru
Pro
Business

$229.95/month
$119.95/month
$449.95/month
Ratings: trustradius.com
Keyword Analysis
SERP Rank Tracking
Competitive Analysis

9.2 (148 reviews)
8.8 (144 reviews)
8.6 (144 reviews)
2. Ahrefs
Ahrefs is a Singapore-based software company that develops online SEO tools and provides many other services for marketing professionals.
It is well known for its all-in-one SEO toolset that helps to grow search traffic and optimize websites.
Rank Tracker, one of its core tools, can help monitor your rankings over time and chart your performance against competitors. With interactive graphs, you get to visualize your SEO progress based on visibility, average position and traffic, and position distribution. The in-built filters will help easily find keywords that gained or lost SERP and also sort your keyword list.
Get regular updates and email reports, gain valuable insights with advanced metrics, and see how you stack up against 10 competitors simultaneously by signing up to Ahrefs.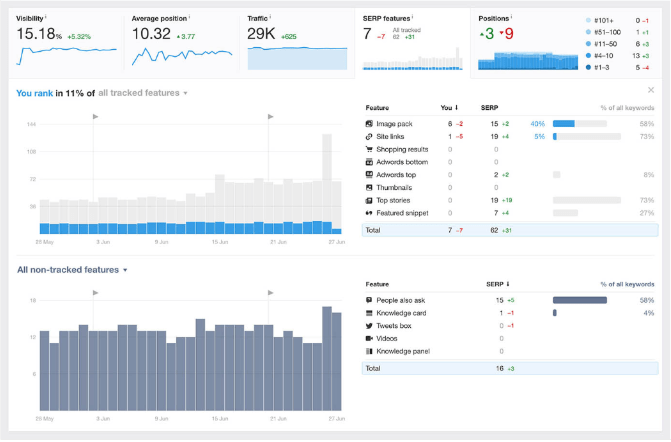 Pros:
Great filtering options
Keyword research
Backlinks Analysis
Links prospecting
Cons:
Can be expensive
Weaker content optimization
Pricing and Ratings:
Pricing:
Lite
Standard
Advanced
Enterprise

$99/month
$199/month
$399/month
$999/month
Ratings: trustradius.com
Keyword Analysis
SERP Ranking Tracking
Competitive Analysis

8.4 (62 reviews)
8.1 (61 reviews)
8.7 (63 reviews)
3. SE Ranking
SE Ranking is an all-in-one SEO software that brings all the SEO analysis and marketing tools you need in one place. It claims to provide 100% accurate keyword rank tracking across major search engines.
With their website rank checker, you get to identify the top keywords and pages that bring the most traffic. Like other SEO tools, you can spot ranking drops early on and prevent traffic loss with timely updates. It can also help identify your pages competing for the same keyword and track your competitor's keywords to see how your website ranks against them.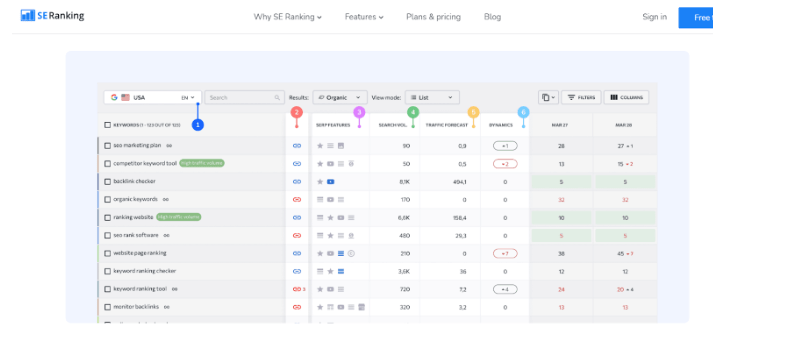 Pros:
Keyword research
Backlinks analysis
Competition research
Detailed reports
Cons:
Needs better-optimized UI
The reporting system can be developed
Pricing and Ratings:
Pricing:
Essential
Pro
Business

$18.60/month
$42.50/month
$90/month
Ratings: trustradius.com
SERP Rank Tracking
Site audit/diagnostics
Competitive analysis

9.1 (11 reviews)
9.1 (11 reviews)
9.0 (10 reviews)
4. Wincher
Wincher is another leading SaaS company specializing in SEO tools with over 100k users in 150 countries. Its rank tracker tool is one of the easiest to use and comes with automated e-mail reports and daily ranking updates. It is one of the only places where you can get up to 6 months of ranking history for any added keywords.
You can create your own keyword groups and organize your websites into projects that can be assigned to specific team members and clients.
You get to track multiple devices and keep an eye on 20 competitors per webpage with their 'enterprise' subscription plan.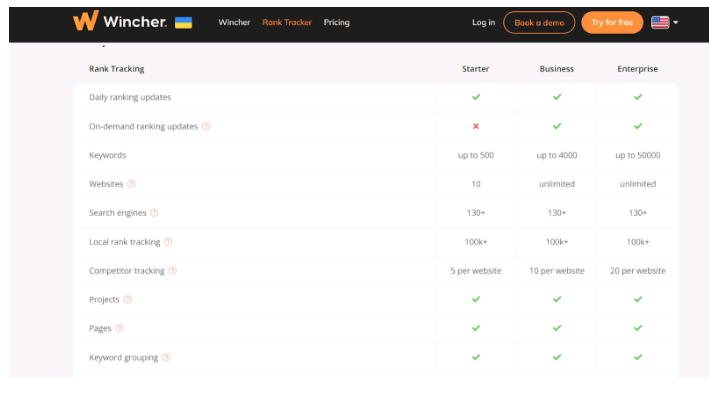 Pros:
Extremely user-friendly
The highest number of competitor tracking -20
Keyword exploration
Backlink analysis
Cons:
Reporting can be developed
Can be expensive for maximum keyword search
Pricing and Ratings:
Pricing:
Starter
Business
Enterprise

29 EUR/month
59-199 EUR/month
249-449 EUR/month
Ratings: g2.com
Ease of use
Quality of support
Ease of Setup

9.6 (SEO Average: 8.8)
9.5 (SEO Average: 8.7)
9.8 (SEO Average: 8.9)
5. MonsterInsights
MonsterInsights is one of the best WordPress analytics plugins you can use with over 3M+ professional users. You can get real-time stats inside your WordPress, see your website analytics reports, get detailed stats for each post and page, and have seamless tracking integration with your favorite plugins.
Apart from raw traffic data, you get useful information about your visitors inside your WordPress dashboard, including their country, device used, their interests, age and gender, and more.
With MonsterInsights, you can make the best use of the powerful Google Analytics tools for tracking user engagement.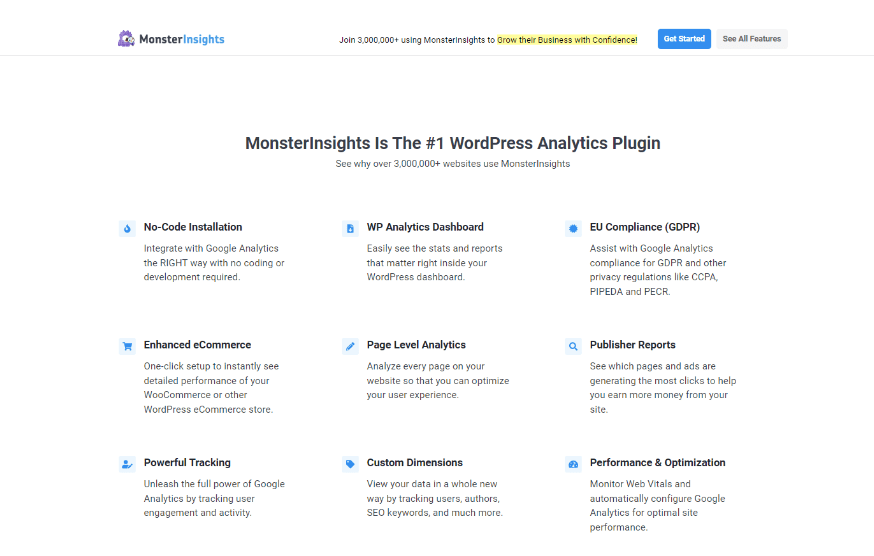 Pros:
Easy to integrate Google Analytics with WordPress
Key insights into users
Helps develop quality marketing strategies
Rank Math plugin
Cons:
Pricing and Ratings:
Pricing:
Plus
Pro
Agency

$99.50/year
$199.50/year
$399.50/year
Ratings: g2.com
Ease of use
Quality of Support
Ease of Setup

9.2 (SEO Average 8.8)
8.3 (SEO Average 8.7)
9.4 (SEO Average 8.9)
6. Ranktracker
Its another reliable all-in-one platform for effective SEO. With Ranktracker, you can research keywords, analyze the competition, check for backlinks, and track your search engine ranking. It provides language-based tracking for both mobile and desktop with organic positionings for all of your keywords. It provides visual overviews of your ranking progress through Ranktracker graphs that show your visibility, average position, web traffic, SERP positions, etc.
You can also compare your progress against your competitors and also make use of helpful metrics for every keyword.
With Ranktracker, it becomes easy to optimize your content for SERP features and boost your traffic.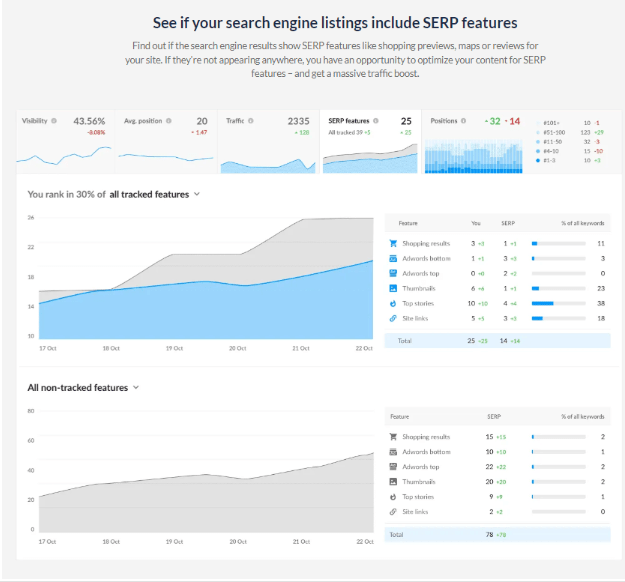 Pros:
Extensive keyword research
Ease of use
Accurate ranking positionings
Competitor analysis
Cons:
Rank tracking options may be limited
Backlinks analysis can be developed
Pricing and Ratings:
Pricing:
Starter
Double Data
Quad Data
Hex Data

$18/month
$59/month
$109/month
$209/month
Ratings: getapp.com
Value for money
Ease of use
Features
Customer support

5/5 (148 reviews)
5/5 (148 reviews)
4.5/5 (148 reviews)
4.5/5 (148 reviews)
7. Rank Ranger
RankRanger offers all useful SEO tools with custom rank tracking features. You can track and evaluate your site's SERP performance as well as your competitor's to know your positionings. The advanced rank reporting feature of RankRanger can help isolate new ranking opportunities with ease, see which of your rankings are on an upward or downward trend, and avoid keyboard cannibalization.
Make use of the custom rank analysis that helps compare your rankings to other periods and determine the impact of your organic SEO efforts on your paid search performance. You can discover the right keywords to drive traffic with the in-built keyword explorer and keyword finder tools.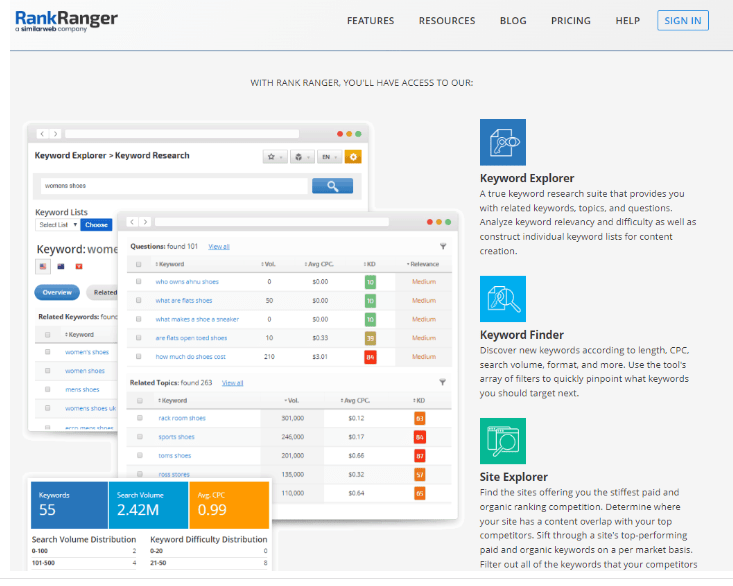 Pros:
Easy to use white label dashboards
Customizable reports
Keyword research
Cons:
Reporting tools can be developed
Backlink analysis needs improvement
Pricing and Ratings:
Pricing:
Lite
Standard
Pro

$79/month
$149/month
$699/month
Ratings: trustradius.com
5.3 out of 10 (overall score)
8. Nightwatch.io
With Nightwatch, you get to take advantage of one of the most accurate rank tracking in the industry, prompt customer service, and a solid API for a free trial offer. For extended use, you should get a quote from their official website.
Their industry-leading rank tracking tools bring the search volume info for both global and local keyword searches.
You can create segments to uncover decaying content and easily monitor your performance across various keywords, groups of pages, and more.
It features automated reporting on critical information, a site auditor to identify broken pages, missing tags, links, etc., and helps discover rank-boosting keywords.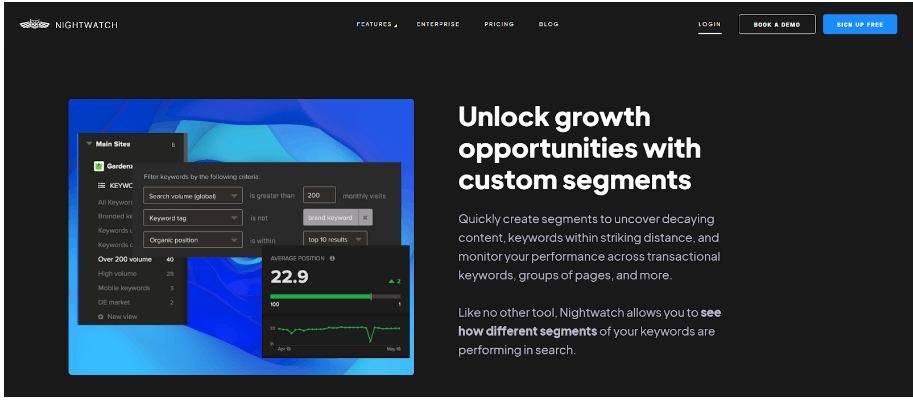 Pros:
Easy to use
Quality customer support
Customizable keyword segments
Accurate keyword rankings
Cons:
Limited competitor tracking at lower plans
Lacks some traffic filtering options
Pricing and Ratings:
Pricing:
Free trial available, for a real pricing quote, contact Nightwatch.io
Ratings: g2.com
Ease of use
Quality of support
Ease of setup

9.4 (SEO Average: 8.8)
9.9 (SEO Average 8.7)
9.4 (SEO Average 8.9)
9. SERPWatcher by Mangools
"Mangools has a good mix of simple and advanced data for both newbies and experienced users to work with," is what the owner of 'One More Cup of Coffee – Nathaniel Brenes, had to say.
Created by Mangools, SERPWatcher provides a versatile toolkit for SEO that is useful across various scales of marketing activities. It comes with the Keyword finder, SERP checker, SERP Watcher, LinkMiner, and SiteProfiler.
You can see the rankings of your websites in the SERP previews and get all the important updates on rank changes through email alerts.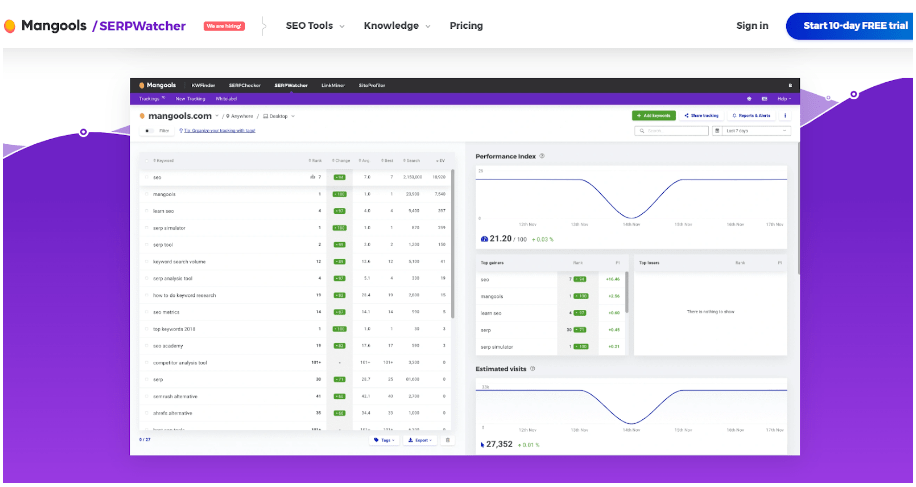 Pros:
Daily checks and analytics reports
Responsive community
Easy to use UX/UI
Cons:
Rankings may not be accurate
Lacks stability and versatility across devices (may lag)
Pricing and Ratings:
Pricing:
Starter
Premium
Growth

$29/year
$199/year
$59/year
Ratings: g2.com
3.5/5 (overall review from 9 users)
10. Google Search Console
This free-to-use tool from google can help anyone learn more about their website's google performance, including the main keywords attracting clicks and traffic and their average positionings. A few limitations of using the Search Console include inaccuracies due to the anonymization of data for low-volume search terms and the inability to analyze your data segments easily.
However, it is still a viable option for zero-budget marketing insights, although you can only search one keyword at a time.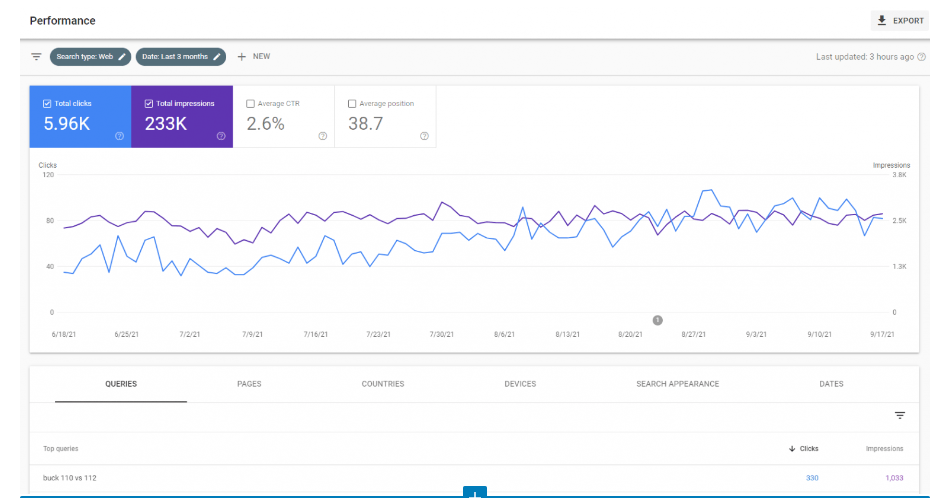 Pros:
Easy-to-read graphs and reports
Supports multiple sites/domains
Free to use
Easy setup
Cons:
Limited keyword research options
Not ideal for extensive use
Pricing and Ratings:
Pricing:
Free to use
Ratings: trustradius.com
Keyword Analysis
Mobile SEO
Multi-domain support

7.9 (43 reviews)
8.2 (44 reviews)
9.2 (44 reviews)
11. Serpstat
Serpstat is one of the best SEO software with built-in rank tracking along with backlink analysis, competitor analysis, keyword research, site auditing, and many more. Its rank-tracking tool offers many useful features to monitor the targeted keywords and competitors on the search engine. You can also view the position history over time and track global and local SEO rankings for mobile and desktop search results at the region, state, and country levels.

Its SERP tracking features come with competitor market share fluctuation, keyword opportunity, and unique visual data that shows traffic distribution across the competitor's websites. You can also organize keywords sorts, tags, and filter tracked keywords, scheduled daily, weekly and monthly reports.
Pros:
Analyze keyword trends
Track universal search result
Determine the value of a keyword
Offer long tail keywords
Cons:
Pricing:
Lite $48/month
Standard $104/month
Advanced $209/month
Enterprise $349/month
Why should you use rank tracking tools?
Getting your web pages ranked ahead of others is an obvious way of channeling organic traffic into your websites. There are a lot of ways to improve your rankings in the SERPs, amongst which one of the most prominent is your keyword strategy at play.
Rank tracking tools will help you analyze the effectiveness of your keyword strategy and compare its performance against that of your competitors. These tools come with in-built features that monitor your traffic to identify issues with your webpages that are underperforming. By timely identifying these issues and improving your content, and altering your target keywords, you can use these tools to grow your business.
Conclusion: Best Rank Tracking Tools
Ideally, you want to go with a rank tracking tool that matches the scale and scope of your marketing activities. All the tools we've compiled above are very user-friendly and come with a host of analytics tools to visualize the data effectively.
Thoroughly going through the various plans and subscriptions offered by each is recommended for choosing the best option that meets your requirements.
If you are a beginner and relatively new to using SEO tools, we suggest you start with freemium software like the Google Search Console and maybe try out the free trials offered by Nightwatch.io and Semrush.
Rank Tracking Tools FAQs: Tracking Tools
Are rank tracking tools safe?
Yes, of course. All of the Rank tracking tools we've enlisted here operate autonomously and have no direct connection to your websites. They do not store or share any sensitive user information and do not attract any google penalties. 
What changes my keyword rankings?
A: One of the main reasons is the google algorithm updates, which can directly affect the ranking positions. Amongst many other reasons, an authoritative domain publishing a new piece of content that is better optimized for certain keywords can also cause changes in the SERPs. 
How can I improve my keyword ranking positions?
By optimizing your website around different ranking factors. We recommend you start with a site audit to resolve any technical SEO issues that could be hindering your performance. Developing your webpage content, building backlinks, and targeting hot keywords, are some other ways of improving your rankings. 
Are Google Search Console rankings accurate?
Although it may not be 100%, Google Search Console rankings can be accurate enough. Still its generally recommended to cross check with other tools or evaluate an average ranking from data using multiple tools. 
What are some of the best free SEO tools?
Google Trends, Google Search Console, Rank Math Plugin (WordPress), Yoast SEO Plugin, Marketing Miner.