Are you looking for better Surfer SEO alternatives? Don't look further because you are in the right place.
Surfer SEO is an ultimate on-page optimization and SEO tool that helps you curate and optimize content for better search engine rankings. With Surfer SEO, you will get access to advanced tools such as a content editor, SERP analyzer, content planner, keyword research, etc. However, there are also better options available on the internet.
In this post, I have brought you a curated list of Surfer SEO alternatives. I have compared all the tools with a summary, main features, and pricing plan.
Let's get started.
Top 9 Surfer SEO Alternatives (2023)
Here are my top picks for Surfer SEO alternatives.
| | |
| --- | --- |
| Sr. No. | Tool |
| 1 | Frase |
| 2 | Clearscope |
| 3 | Page Optimizer Pro |
| 4 | MarketMuse |
| 5 | Topic |
| 6 | GrowthBar |
| 7 | RankScience |
| 8 | Dashword |
| 9. | Semrush |
1. Frase
Frase is popular SEO optimization and content creation tool. It is one of the top choices of content marketers, making it a powerful alternative for Surfer SEO. Frase aids you with proper SEO tools helping you optimize your content for maximum visibility in search engines. It has a content brief feature that allows you to create a quick summary for a new blog or existing post.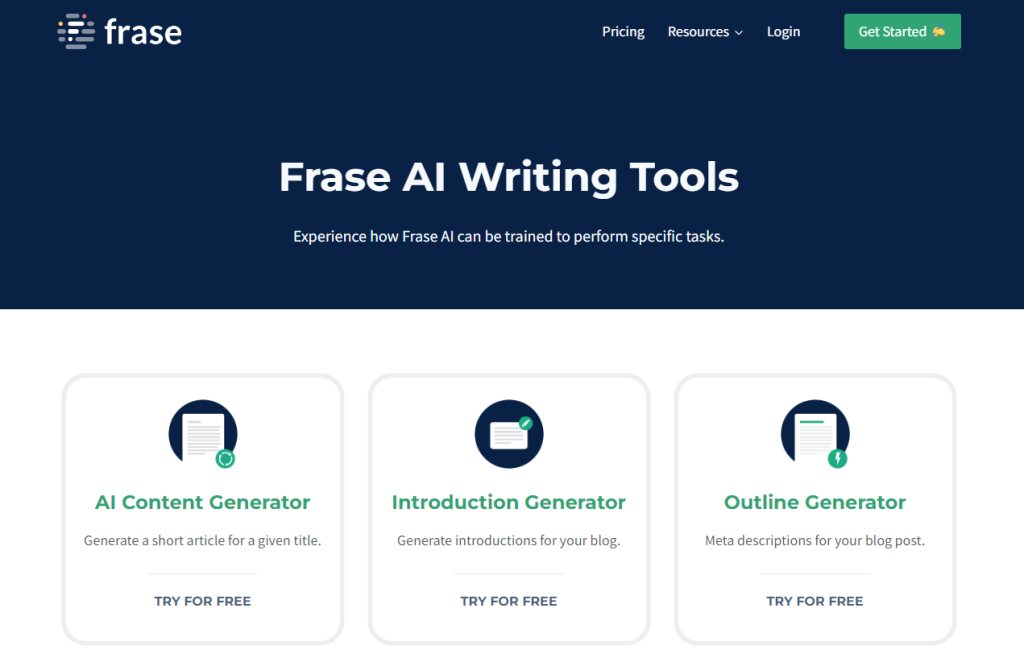 If you ever feel writer's block, Frase's AI Writer feature helps you create SEO-optimized content. Similarly, the content optimizer tool lets you find out your competitors' content type, headings, and SEO included in the content. You can also evaluate the SEO score of a specific topic with the Topic Score feature. You can even see the score in real-time with the Frase editor.
Key Features:
Offers content brief feature
Powerful AI Writer for SEO-optimized content
Topic Score feature for better content creation
Keywords identification for an optimized content
Provides the best FAQ suggestions
Use the Content Analytics feature to unveil better content opportunities
Generates header automatically
Pricing:
Frase's pricing plan starts from $19.99/month. However, you can take a 7-day trial at $1.
2. Clearscope
Clearscope is an innovative SEO and content optimization tool that is known for reverse engineering the result pages for a particular keyword. This method provides suggestions for your content so you can rank higher in search engines. The tool has been catering to thousands of digital marketers since 2016. You can create long-form content with Clearscope, which is loved by both its users and Google.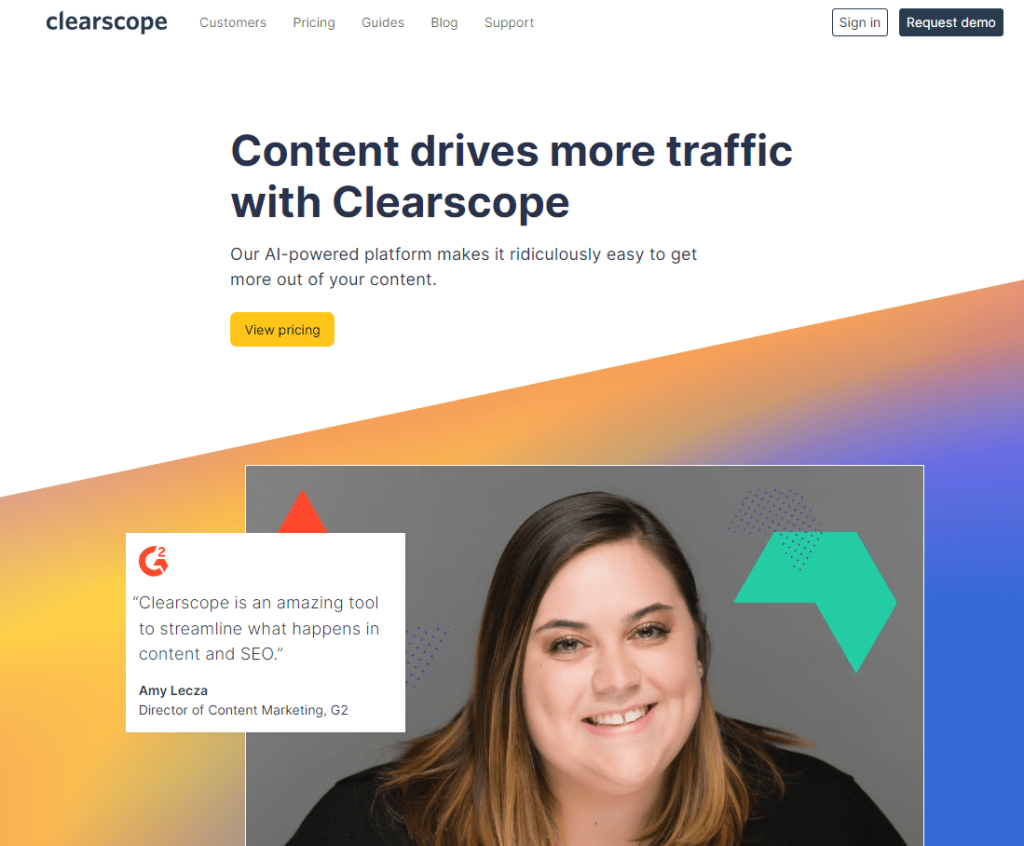 Clearscope's optimization feature allows you to optimize your content and do keyword research at the same time. It also allows you to see the content score while writing the content. The content editing feature is similar to Surfer SEO. You can just enter the main keyword, and it will show you LSI terms, word count, and headings based on top-ranking competitors. It helps you create the best content for your readers.
Key Features:
Edit your content on WordPress editor with an inbuilt plug-in
Optimized content with the highest quality
Simple and intuitive user interface
Google Docs integration
Create high-quality content with the writing assistant
Multi-language support
Free training while onboarding
Pricing:
The Pricing plan of Clearscope starts from $170/month.
3. Page Optimizer Pro
The Page Optimizer Pro is one of the best content creation and SEO optimization tools, and Kyle Roof created it. Kyle is an SEO expert who has been into SEO for years. You can create perfectly optimized content and pages with this tool. Beginners and professional content marketers can flexibly use this tool to create highly optimized content.
The Page Optimizer Pro is mainly used by SEO experts, content marketers, affiliate marketers, copywriters, and freelancers. Its US-patent ranking factor feature lets you find out what you need to add to your content to make it rank higher in the search results. It also tells you where exactly you need to place header tags, keywords, LSI terms, variations, and schema.
Key Features:
Simple and intuitive user interface
US-patent ranking factor and scoring system
The Page Optimizer Pro uses a scientific on-page SEO method
Spy on your competitors for better content creation
Offers a Chrome extension
Content brief feature
Express setup feature helps you find competitors' highly optimized content
Pricing:
The Page Optimizer Pro tool offers a 7-day free trial for the basic plan, which starts at $22/month.
4. MarketMuse
MarketMuse is an AI-powered content planning and optimization tool that helps you create highly ranked content. Similar to Frase, you can create post outlines & executive summaries, optimize content, and analyze content gaps with MarketMuse. On the dashboard of the tool, you can find features like research, compete, optimize, connect, and questions.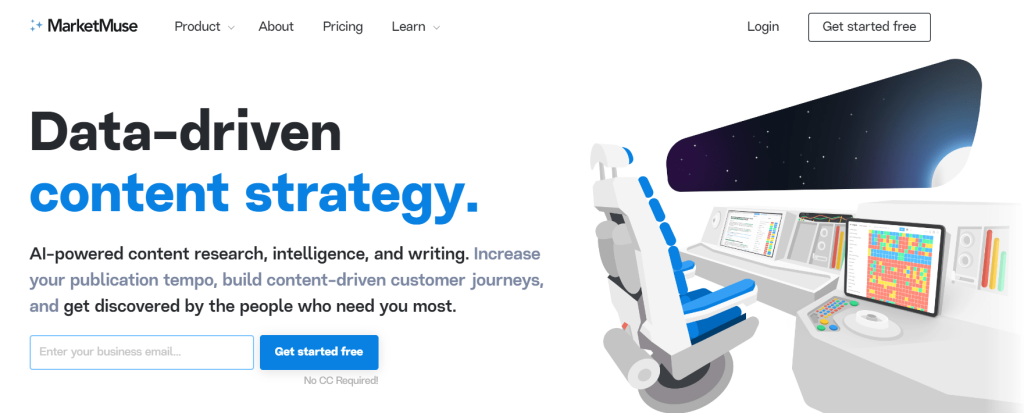 MarketMuse's content brief feature helps you update old posts so you stay in competition as the search intent changes over time. The Research option lets you find the LSI terms you need to include in your content. And you can use the Compete option to compare your content with your competitors using your post URL. The tool is best suited to bigger enterprises and agencies.
Key Features:
Add the missing LSI terms with the Research option
Compare your content with your competitors with the Compete feature
Use the Optimize feature to create high-quality posts
Find related FAQs with just one keyword
Offer content brief feature
Add external and internal links with the Connect feature
Pricing:
MarketMuse offers a free forever plan. If you want to go for the premium plan, you need to pay $7200/year.
5. Topic
Like MarketMuse, Topic is also focused on serving agencies. It mainly focuses on solving content-related issues. Content brief is Topic's core feature that helps you speed up the writing and editing process. Doing proper research is necessary before curating an article. Research allows you to know the intent of the users. However, manual research takes time, while Topic's research feature takes a few minutes to do the heavy work.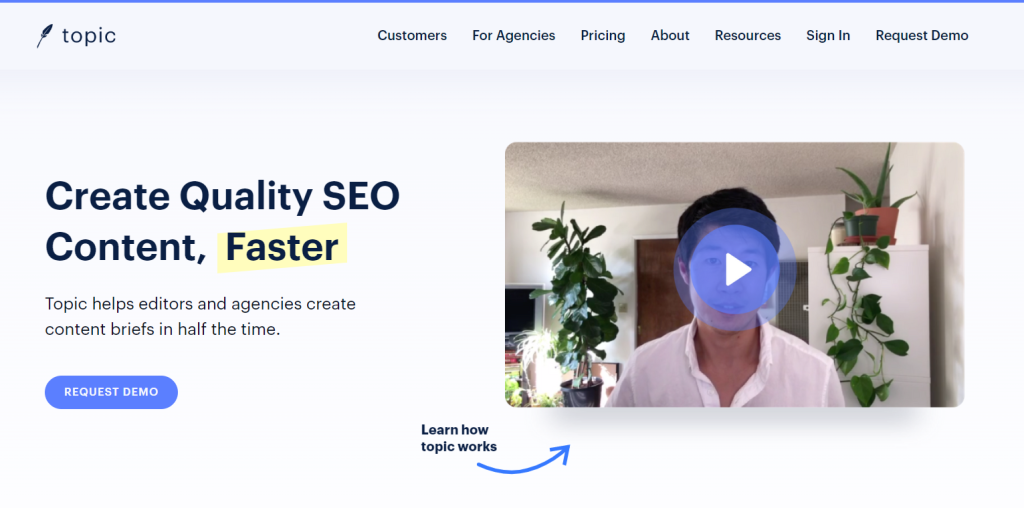 With Topic, you can also find keywords you need to include in your content. You can also use your primary keyword to get the content brief within minutes. The content editor helps you write optimized content. You can also search relevant FAQs with the focus keyword.
Key Features:
Create outlines for your content within a few seconds
Write the best and SEO-optimized article
Content brief feature
Optimizer tool helps you optimize your post
Use the Content Analysis feature to compare your content with your competitors
WordPress and Google Docs integration
Pricing:
Topic's pricing plan starts from $99/month.
6. GrowthBar
GrowthBar is a popular SEO tool that offers keyword research, AI copywriter, and backlink analysis. It is one of the new competitors to Surfer SEO. The top digital marketers also suggest it as a strong alternative. The keyword research tool lets you find high commercial intended long-tail keywords.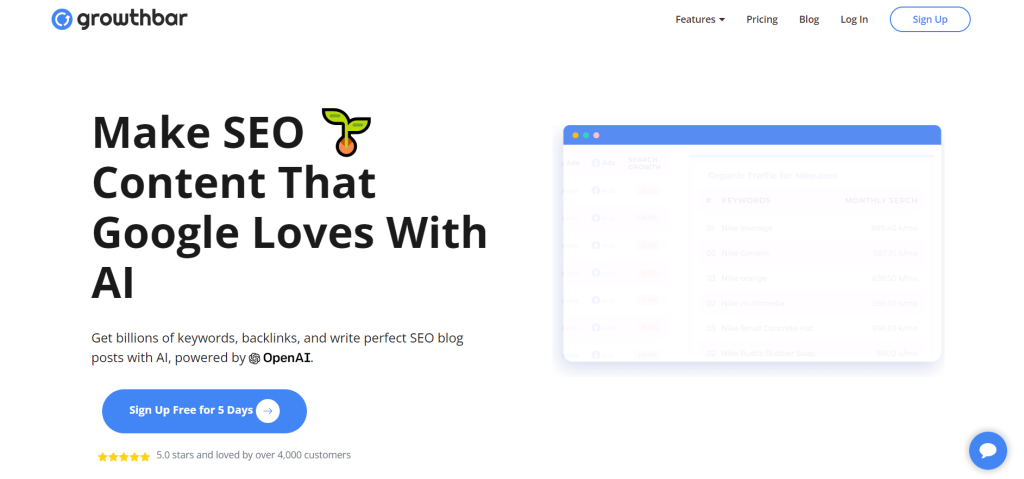 GrowthBar's Chrome extension gives you an edge over competitors as it analyzes each website you visit. You will also get access to the necessary features while surfing so you can create the best strategy for content creation.
Key Features:
Ranking Difficulty Score feature (helps you understand the difficulty of ranking for a particular keyword)
Offers best keyword suggestions for content creation
Monitor keyword rankings with the Keyword Tracking tool
Use the Backlink Checker feature to discover link-building opportunities
AI content generator
Unlimited AI blog ideas
Full access to the writing marketplace
Pricing:
GrowthBar's pricing plan starts from $29/month.
7. RankScience
RankScience is an AI-enhanced SEO tool for experienced content marketers. It is a powerful and advanced tool that can sometimes be confusing for beginners. It offers the best A/B testing tool for SEO structures and snippets.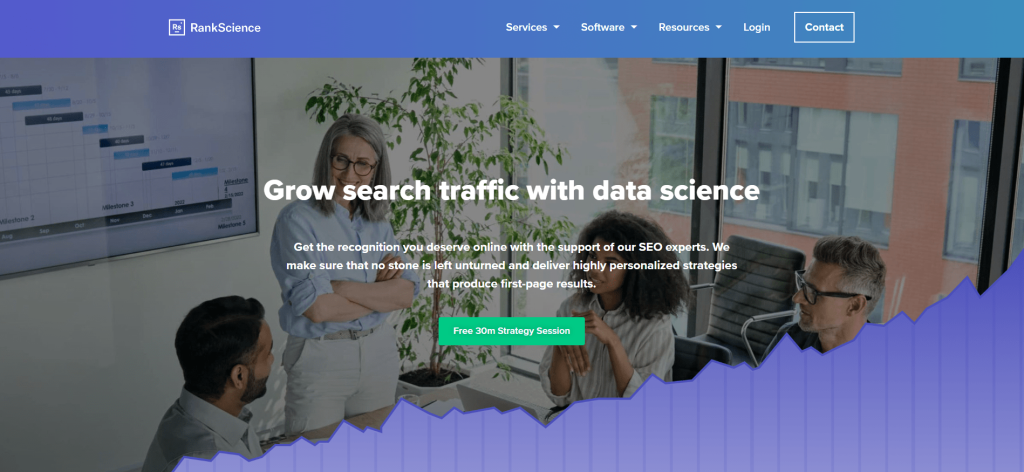 RankScience is mainly designed for large websites that face difficulty dealing with repetitions of similar pages. RankScience easily splits those websites into logical groups so you can test which ranking factor affects the most. It also offers a few automation tools that help you solve SEO-related problems at a scalable rate.
Key Features:
Create engaging content with the Content Strategy tool
Optimize every possible detail of your website
Make data-driven strategies
Boost your SEO ranking with inbuilt PPC tools
Drive more traffic to your website with Cannabis SEO
Startup SEO gives momentum to your startup
Free 30-minute strategy session
Pricing:
The pricing plan of RankScience starts from $295/month.
8. Dashword
Dashword is another alternative to Surfer SEO, which help you to create content briefly at scale as well as the performance of your page to optimize your content and proactively update. It is a market-leading SEO content optimization tool which helps the content team to get more organic traffic and save time in researching.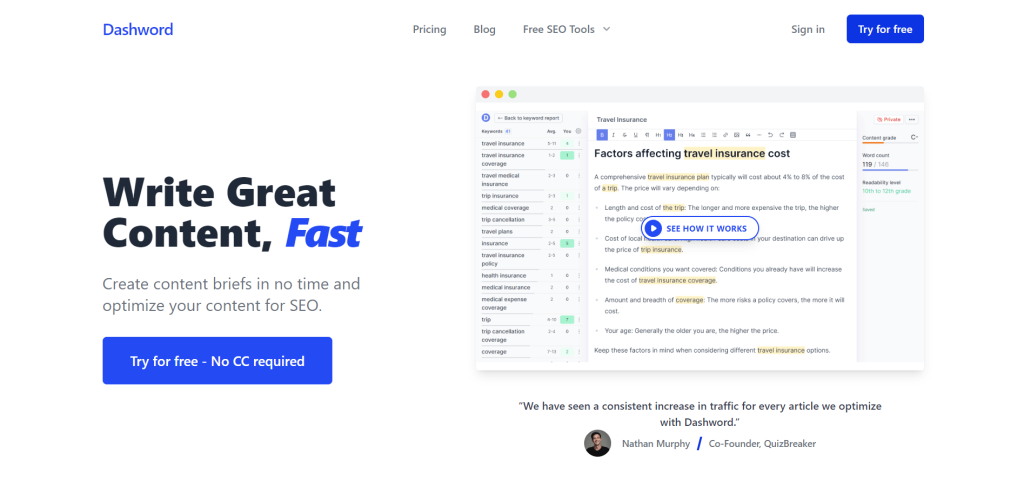 Its real-time revolution helps the admin to run a comprehensive test of how hard some keywords are to rank on search engines. It helps writers to discover totally what the audiences want to read.
Key Features:
Get real-time feedback
Keyword rank tracker
Identify underperforming pages
Automated page report
Share with one click
Consistent level of quality
Automated keyword report
Pricing:
The pricing of Dashword starts at $39 per month.
9. Semrush
If there's one tool we recommend that is going to be Semrush. Semrush is one of the best tool in the market if not the best. It has some important features like Keyword Research, Competitive analysis, domain analysis, rank tracking and much more. Semrush is a full sledge digital marketing platform, with Social media analysis, PPC Tools and Performance marketing . The content optimization feature is a very similar feature to that of Surfer SEO but is pretty basic compared to Surfer SEO.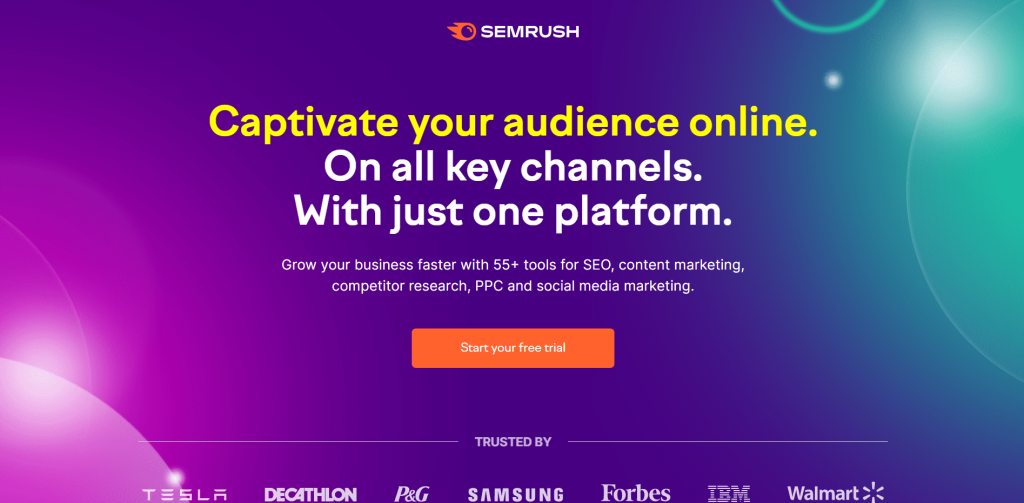 Key Features :
Keyword Research
Competitive Analysis
Domain Analysis
Rank Tracking
Content Optimization
Pricing :
The Pricing for Semrush starts at $119.95 and ranges up to $449.95 which consists of 3 plans, Pro, Guru and Business.
Conclusion: Best Surfer SEO Alternatives (2023)
So these are my top alternatives for Surfer SEO. Now it is time to decide which one is better for your website. If you ask me, Frase and MarketMuse are the two ultimate options available. Frase offers you the go-to tools for content optimization and content brief. It also offers budget-friendly premium plans.
If budget is not an issue for you, MarketMuse can be your ultimate content marketing and management option. If you own a big enterprise, you can stay ahead of the competition with the help of this tool. You can also try its free plan to test out all the features. However, all the alternatives are best from my perspective. It is up to you which one to go with.
I hope this post helps you find the best SEO tool for your business. If you have any questions, leave your comments in the comment section below.
Related Reads:
Frequently Asked Questions on Surfer SEO Alternatives
Which is the best Surfer SEO alternative in the market?
According to our extensive research, we found out that Frase is the best alternative to Surfer SEO in 2023.
Is there a Surfer SEO free trial?
No, there is no surfer SEO free trial as of now. However, they do offer a 7-day money-back guarantee. You can sign up for any Surfer SEO plan and try it for 7 days. If you find it a good fit for your purpose, continue using it.