Looking for an unbiased Ubersuggest Review? You are at the right place. Neil Patel (Ubersuggest owner) is a renowned expert in the SEO domain. But does Ubersuggest hold similar authority? Is it a worthwhile SEO tool? Here is my in-depth Ubersuggest review (personal experience) answering these questions and more.
Since its takeover by Neil Patel, Ubersuggest has evolved from a simple keyword research tool to a complete SEO tools package. I had my first encounter with Ubersuggest in 2019. Since then, I have employed it in some capacity on a regular basis.
What has been my experience with Ubersuggest and whether it can be any good for you is what I am going to share here.
Therefore, Let's jump straight to my Ubersuggest review.
Here is what I will cover in my Ubersuggest review;
A Quick Overview of Ubersuggest and Verdict
What Features Does Uber Suggest Include?
Ubersuggest User Friendliness?
Ubersuggest Accuracy?
Strengths and Limitations of Ubersuggest
Does Ubersuggest have a free plan?
Is Ubersuggest worth the money? My Verdict
Conclusion
Ubersuggest Overview [Quick Verdict 2023]
Let's get started with Ubersuggest Review 2023.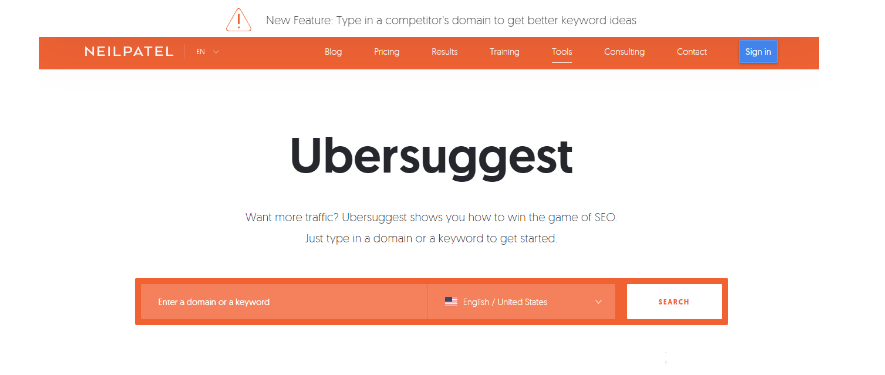 1. Scope
Not as thorough as other SEO tools, like AHREFS or Semrush, but still helpful for bloggers, entry-level SEO professionals, and small agencies.
2. Features
Covers almost all the basic SEO tools to draft a workable SEO strategy.
3. User-friendliness
Intuitive and on-point. The dashboard is easy to navigate and offers everything in a clean, straightforward manner.
4. Accuracy
Ubersuggest struggles in terms of accuracy. It gives you an idea about your search, but you must cross-check with other tools to validate the accuracy.
5. Price
Ubersuggest prices are generally affordable. If you are an individual, you can onboard Ubersuggest for as low as $12/month.
What Features Does Uber Suggest Include?
You won't find Ubersuggest at the top of the best SEO tools list, but it undoubtedly brings together useful and easy-to-use features.
Here are all the features of Ubersuggest:
2. Site Audit
3. Keyword Analysis
4. Traffic Analysis (Overview & Top Pages)
5. Backlinks Analysis (Overview & Opportunities)
It's evident that Ubersuggest includes all the essential features needed to devise a successful SEO strategy. So, if you consider the features and scope alone, Ubersuggest doesn't disappoint.
For me, the functionality part is to the point and gets the job done.
My Experience With Ubersuggest Features : Ubersuggest Review
I have been using Ubersuggest for three years now and have employed every feature it offers to up my SEO game.
Here's my experience;
1. Add a Project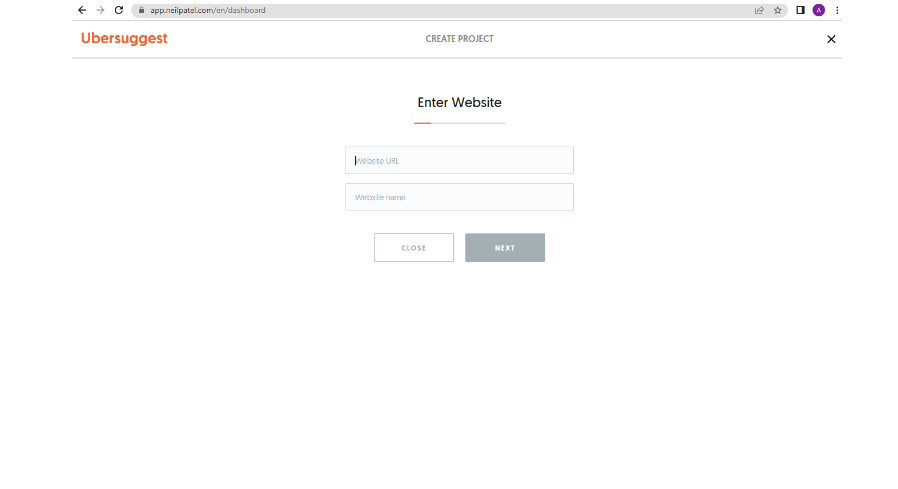 Like every other SEO tool, you begin with adding a project in Ubersuggest. Once added, Ubersuggest tracks its progress and allows you key insights about SEO and the things that need attention.
I find the area sufficient; it provides enough insight to get going with your SEO tactics. You can add keywords, competitors and your page's positioning to track and see the latest development.
All-in-all, good support for tracking your website's progress, SEO-wise and what you need to do to improve your ranking further.
2. Ubersuggest Site Audit
The site Audit feature is another useful addition and provides key vitals about your website. It could uncover potentially fatal SEO errors and help you remedy them before they can ruin your ranking.
I have used one of my sites to offer you a better overview.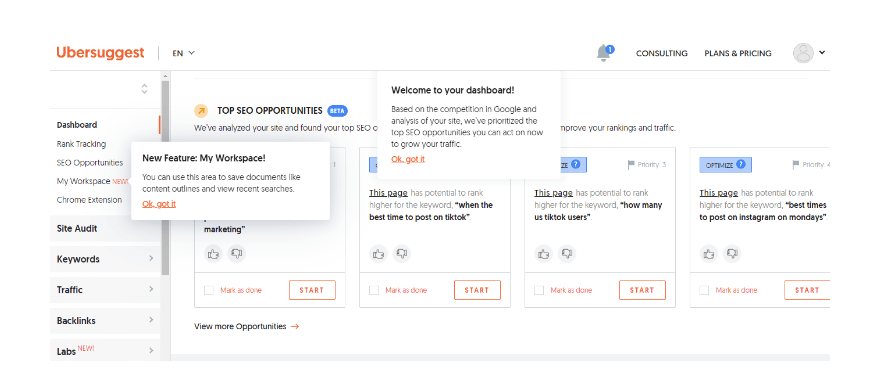 When you audit a website, you receive the following matrices;
Health Check – How many errors does your website have?
Top SEO Issues – Key indicators, like missing meta tags, insufficient words, a title that is not optimized, etc.
Speed Check – Retrieves data about your website's loading time.
My take – Not as elaborate as AHREFS or Semrush, but it provides help with vital aspects of website SEO you can work on to achieve better ranking.
3. Ubersuggest Backlink Checker
It's one tool from Ubersuggest that is not as accurate as it should be.
I have been working on one content project lately, 'Surfer SEO review,' and put the top-ranking website for the keyword in the backlink checker.
I compared the results obtained through Ubersuggest with Semrush. Unfortunately, there was a huge difference in data. The results of Ubersuggest were not entirely accurate and were missing key backlinks.
Above Ubersuggest and below Semrush data.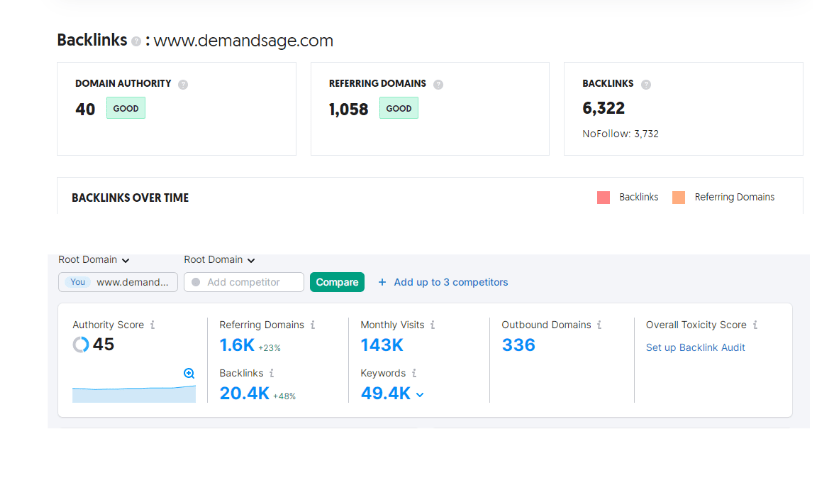 You can see, Ubersuggest is missing a good 500+ referring domains. So I can't trust the Ubersuggest data. However, you can still have a rough idea of how much work you must do to de-rank your competitors, especially on bigger sites where some links no longer remain relevant.
My take – Not reliable; could very well mislead you in an entirely different direction and render all your SEO efforts useless – Cross-checking becomes necessary.
4. Keyword Research And Analysis
Next comes the most used tool and possibly the core of Ubersuggest – Keyword analysis.
For you readers, I ran a test intending to find some good keyword ideas and ascertain their difficulty.
Keyword Overview includes the following data;
Search volume per month
Search difficulty (not accurate)
Cost per click for Adwords
keyword ideas
content ideas
I put a random keyword, 'wedding planner,' in Ubersuggest and initiated the search.
Then I cross-referenced the results by putting the same term in Semrush and comparing the data.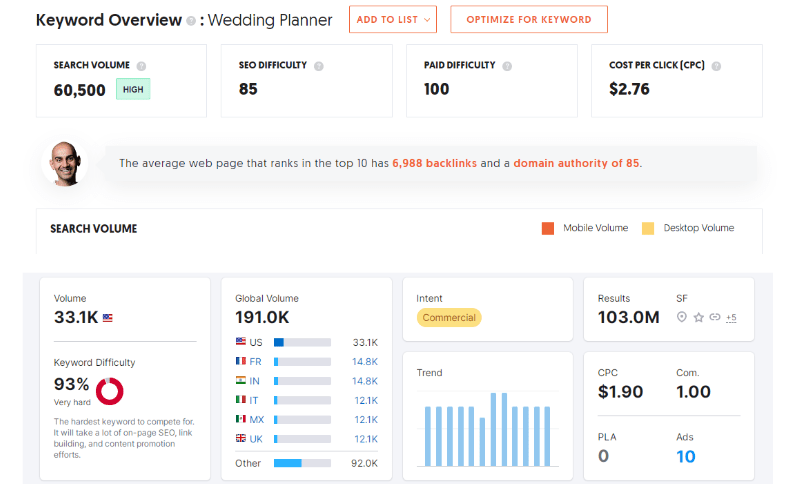 As you can see, there are still some discrepancies in the data. While some differences are quite possible between two tools, the discrepancies are much more apparent here. Keyword difficulty is comparable; however, US search volume is almost double in Ubersuggest (60k) than in Semrush (33k).
Here again, the difference in data is apparent and suggests that complete reliance on Ubersuggest for keyword research might not be beneficial.
However, the Keyword Ideas feature provides a wealth of information. Besides, it can also reveal possible low-hanging fruits you can use to devise your content strategy and achieve a higher ranking.
5. Uber Suggests Competitor Analysis
Competitors Analysis is not a single feature but rather a combination of four different tools;
Traffic Overview
Pages By Traffic
Keywords By websites
Similar Websites
1. Ubersuggest Traffic Overview
Simple to use and quite informative. You just put your competitor's domain and retrieve all the information related to where he is pulling all that traffic from. I find this data quite helpful.
2. Ubersuggest Pages By Traffic
Another useful tool that lists key pages of your competitors, not just the list of keywords. Besides, you can easily export the data in a CSV file.
I recommend you use this tool to analyze your competitors' most important pages. But use it methodically and economically, or you will run out of queries.
3. Keywords by Traffic
Keywords by Traffic tool lets you go deep into competitor analysis and find the hidden, super easy keywords that might bring loads of traffic.
I think this is truly worthwhile and a good starting point to understand your competitor's keyword strategy and possibly gain a better position in search results.
4. Similar Websites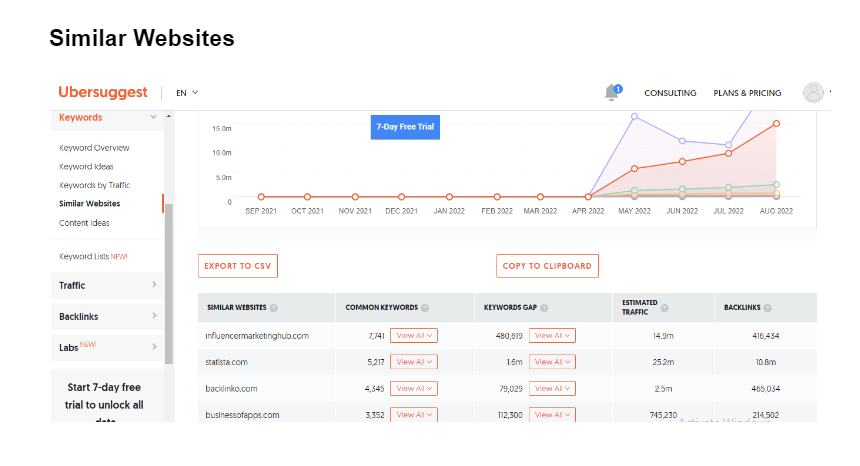 Similar websites tool list all the websites ranking for similar keywords as your website. Normally, Semrush provides a more detailed overview in this regard; however, Ubersuggest also brings a fresh take and, therefore, can be used successfully to find competitors.
Besides, I find the Keyword Gap Tool particularly handy. It gives insights into what keywords your competitors are ranking you haven't addressed yet.
6. Ubersuggest Chrome Extension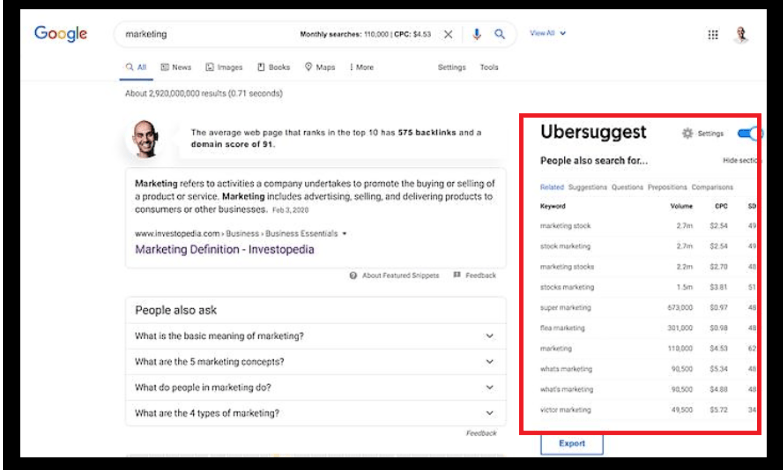 Ubersuggest Chrome extension allows you to quickly analyze the ranking domains for particular keywords right in Google search results.
This tool is a real help and allows quick analysis while going through SERP.
Chrome Extension is decided into two parts.
In-line statistics
Sideways Analysis
1. In-line statistics
The results are displayed right below the search result. You have different metrics like referring domains, DA, traffic, and social media shares.
2. Sideways Analysis
Ubersuggest Chrome extension also presents keyword ideas on the right side of the screen. The analysis allows more related keywords to your search query, along with volume and CPC.
My take – Pretty useful and simple to use. I use it regularly. These values alone provide a rough estimate of how good a keyword is and what efforts will be needed to rank it on top of SERP.
Ubersuggest User Friendliness
The user-friendliness of Ubersuggest is unparalleled. It's one of the few tools which does not overwhelm with haphazardly cramped features.
Once you log in to your Ubersuggest dashboard, you will find all the tools neatly stacked on the left side. You can quickly reach the tool you wish to use, there's enough help to assist you, and the operations are intuitive and seamless.
In short, you are up and ready with your SEO goals within seconds.
Therefore I will give full marks to Ubersuggest for user-friendliness.
Ubersuggest Accuracy
Unfortunately, I have to take away some points, although I wish there were another way. But data accuracy is the backbone of effective SEO strategy, and Ubersuggest falters slightly in this respect.
Although no tool is 100% accurate, it appears that Ubersuggest needs more improvement. Keyword analysis does not always return correct values. If you don't cross-check with other tools, you might waste valuable time and energy ranking a keyword but to no avail.
Likewise, backlink data is sometimes completely off-track, often missing key backlinks. Therefore, take accuracy with a pinch of salt and cross-check whenever the results seem doubtful.
Strengths and Limitations of Ubersuggest (Precise Pros & Cons)
The tool offers you a real overview of all the basics you must apply to boost your SEO efforts. And being affordable is, a huge plus too.
But, of course, with simplicity comes limitations. Especially when you wish to examine a specific keyword, ascertain difficulty or analyze backlinks – the amount of data that Ubersuggest provides is sometimes limited.
Besides, Ubersuggest's data sometimes is way off the chart. It may evaluate a keyword and show different results, while other tools (say Semrush) paint a completely different picture about that same keyword.
But Ubersuggest is rather cheap, extremely simple to use and can do the necessary; I would say an entry-level SEO professional or small agency can live with these limitations.
Ubersuggest Plans & Prices | Ubersuggest Review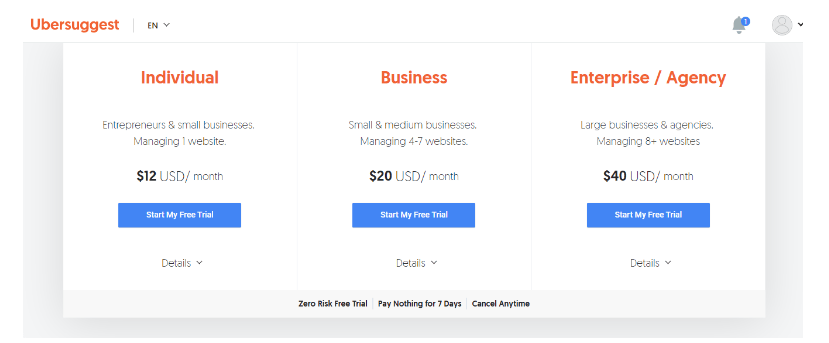 If simplicity is the primary attribute of Ubersuggest, it also reflects in its pricing structure. Compared to other SEO tools that need you to shell out hundreds of dollars each month, Ubersuggest is pretty economical. Interestingly, Ubersuggest curates its pricing based on the extent of SEO operations.
Here's the cost structure of Ubersuggest;
| | | | |
| --- | --- | --- | --- |
| Sr. No. | Plan | Price | Suitable For |
| 1. | Individual Plan | Costs $12/month | Managing 1 website |
| 2. | Business Plan | Costs $20/month | Managing 4-7 websites |
| 3. | Enterprise/Agency Plan | Costs $40/month | Managing 8+ websites |
1. Ubersuggest Individual Plan
Ubersuggest Individual Plan Pointers are as follow:
Cost 12/month
SEO training and support available.
150 reports per day for a single project.
Chrome extension search limit upto 125/day.
Keywords research with historical data, plus 20000 keyword suggestions and content ideas.
2. Ubersuggest Business Plan
Ubersuggest Business Plan Pointers are as follow:
Costs $20/month
SEO training and support available.
300 reports per day for upto 7 projects.
Chrome extension search limit upto 300/day.
Keywords research with historical data, plus 50,000 keyword suggestions and content ideas.
3. Ubersuggest Enterprise/Agency Plan
Ubersuggest Enterprise/Agency Plan Pointers are as follow:
Costs $40/month
SEO training and support available.
300 reports per day for upto 7 projects.
Chrome extension search limit upto 900/day.
Keywords research with historical data, plus 100,000 keyword suggestions and content ideas.
Backlink data as far back as 3 years.
Does Ubersuggest have a Free Plan?
Yes, Ubersuggest provides with three free searches per day.
Note: All three plans come with a 7-day free trial. It allows you to test all the features of the concerned plan without a full-time commitment.
Is Ubersuggest Worth The Money? My Verdict
As I have said earlier, my association with Ubersuggest goes back two years. Per my experience, it deserves a try, especially for neophytes in the SEO arena.
In A Nutshell – There are super detailed and extremely complex tools for search engine optimization, covering hundreds of data points – overwhelming sometimes. Then there is Ubersuggest – limited in functionality but simple and fast. If you are just venturing into the SEO domain or running a website or two, Ubersuggest provides all the tools to formulate a working SEO strategy.
Related Links
Conclusion: Ubersuggest Review (2023)
Ubersuggest is undoubtedly a great SEO tool. And since its takeover by Neil Patel, it has evolved into an intuitive package covering all SEO fundamentals.
Unfortunately, the tool is not sufficient enough to provide advanced SEO insights. That's primarily due to its focus on simplicity. Data quality is also not as robust as some more evolved tools like Semrush.
But still, Ubersuggest incorporates some pretty useful tools. The keyword ideas feature is quite valuable, and so is the competitive analysis feature, which brings new insights.
My conclusion for Ubersuggest Review;
Helpful tool if you are a beginner. Also, a useful tool in backup for main tools like Semrush if you have much-specialized needs while doing SEO.
FAQs: Ubersuggest Review
Can I cancel my account when I want?
Absolutely, you can cancel your account any time when you want, or you can upgrade or downgrade your account.
What type of payment method does it accept?
Ubbersuggest accepts payments via PayPal and all types of credit and debit cards like Mastercard, American Express, Discover, Union Pay, and Visa.
Is Ubersuggest data accurate?
Ubersuggest uses multiple data providers that come up with estimations. Their data provider is similar to the other SEO tool used.