If you're scouting for digital marketing tools and platforms in the market, there's a good chance that you must have heard about two popular names: Semrush and Ubersuggest.
Both of them are popular because they offer a comprehensive set of tools that can be used to cater to most of your digital marketing needs. And both are highly reliable and accurate too in their data and estimations.
However, you would obviously have to choose one among them, as it's neither wise nor practical to have your marketing strategy and efforts guided by two platforms that offer a competing set of features. And that's where it gets a little difficult, as the internet is full of praise for both these platforms.
That's where we come into the picture. In this article, we shall try to objectively compare both Ubersuggest and Semrush to arrive at a fair conclusion that helps you choose the platform of your choice. We shall evaluate the strengths and weaknesses, pros and cons of both these platforms. By the end of this comparison, you'll have a clear answer about which platform to choose for your needs. Let's get started with Ubersuggest vs Semrush.
What is Ubersuggest? – Ubersuggest vs Semrush
Uberrsuggest was initially a tool to extract Google search suggestions into an excel sheet. You might have noticed that whenever you type a term in the Google search bar, a few suggestions appear below that. Those suggestions are based on the most popular terms that people search about the seed term that you entered in the search bar, therefore they can be good choices for the purpose of SEO. Ubersuggest was a tool to extract those terms into Excel sheets – nothing more than that.

However, in 2016 popular digital marketer and entrepreneur Neil Patel acquired it, and that proved to be a turning point for Ubersuggest. Neil and his team loaded the tool with dozens of new features in the following years and put it in the same league as Moz, Semrush, and Ahrefs. Otherwise, there wouldn't have been any need of comparing this platform with Semrush today!
If you want to know more details about Ubersuggest, then check out our In-depth Ubersuggest Review here.
What is Semrush? – Ubersuggest vs Semrush
Semrush has always been a sophisticated SEO and digital marketing suite. Ever since its launch in 2012, it has been used to power the marketing efforts of all types of businesses. From Small and Mid-sized Enterprises to Fortune 500 companies, all use it. Over the course of its 10 years long existence, it has built an impressive database of more than 40 trillion links and keywords. That database is now used by thousands of its customers to guide their marketing efforts.

There are few tools that come even remotely close to Semrush when it comes to its feature set and data accuracy. Whether Ubersuggest is or is not among them will become clear by the end of this comparison.
Ubersuggest vs Semrush: Pros and Cons
Now that we understand how both these platforms came into existence and how they differ from each other, it makes sense to take a quick look at the pros and cons of both before diving deep into the differentiation between them. Let's do that:
Ubersuggest Pros and Cons:
Let's look at some Pros & Cons of Ubersuggest :
| | |
| --- | --- |
| Pros | Cons |
| Simple to use | Shorter trial duration of 7 days |
| Highly affordable | Fewer features than Semrush |
| Very good at generating keywords of different types | No social media management functionality |
| Backlink history of competitors | |
Semrush Pros and Cons:
Let's look at some Pros & Cons of Semrush :
| | |
| --- | --- |
| Pros | Cons |
| Sophisticated and feature-rich | Not very budget-friendly |
| All-in-one digital marketing suite for 360° marketing management | A bit complex to use for new users |
| Exceptional technical SEO capabilities | |
| Robust content generation and content marketing features | |
Features: Ubersuggest vs Semrush
Both, Ubersuggest & Semrush are use SEO Experts, Digital marketers, and website owners who wants to rank their website higher in Google Ranking. Both the tool consist of wide range of Features. Let's take a look and check the features for both Semrush and Ubersuggest and see which one is better.
Features of Ubersuggest & Semrush are given below:
| | | |
| --- | --- | --- |
| Sr. No. | Features | Winner |
| 1. | Organic Keyword Research | Tie |
| 2. | Link Building | Semrush |
| 3. | Technical SEO | Semrush |
| 4. | Traffic Analytics | Semrush |
| 5. | Other Features | Semrush |
| 6. | Pricing | Ubersuggest |
1. Organic Keyword Research
| | | |
| --- | --- | --- |
| Feature | `Ubersuggest | Semrush |
| Keyword types | Yes | No |
| Keyword comparison | No | Yes |
| Keyword sorting and lists | No | Yes |
| Keyword Gap | No | Yes |
Both Semrush, as well as Ubersuggest have their own strengths and weaknesses when it comes to keyword research. While Semrush provides you with more functionality to organize your keywords into lists or groups, Ubersuggest allows you to export them into an Excel sheet simply.

Semrush Organic Keyword Research
Semrush also allows you to compare the keywords, or discover keywords based on Gaps between your and your competitor's marketing strategy (i.e. keywords that are being targetted by your competitors but not by you), which is not included in Ubersuggest.
Ubersuggest Organic Keyword Research
However, Ubersuggest excels in one particular thing: generating keyword ideas based on various types. It sorts its keyword suggestions into various categories based on how are they related to the term searched by you (i.e. related keywords, long-tail keywords posed as questions, comparison keywords, etc.). Based on these suggestions you can generate hundreds of keyword ideas and content ideas very quickly. This unique feature is not included in Semrush.
Winner: None
2. Link Building
Let's have a quick look at Ubersuggest vs Semrush Link Building Features in detail.
| | | |
| --- | --- | --- |
| Feature | `Ubersuggest | Semrush |
| Rank Tracking | Yes | Yes |
| Backlink Opportunities Report | Yes | Yes |
| Backlink profile auditing | Yes | Yes |
| Backlink history | Yes | No |
| Bulk Backlink Analysis | No | Yes |
| Backlink Gap Discovery | No | Yes |
| Automated Link Building | No | Yes |
Link building in Semrush:
As we said in the beginning, Semrush is a sophisticated all-in-one SEO and digital marketing suite. Due to that reason, its Link building and Backlink analysis features are more powerful and sophisticated than Ubersuggest. Some of them include bulk analysis of your competitors' backlink profiles, finding websites linking to your competitors but not linking to you (i.e. Backlink Gaps), and a tool to automate your link-building campaigns. All these things are not there in Ubersuggest.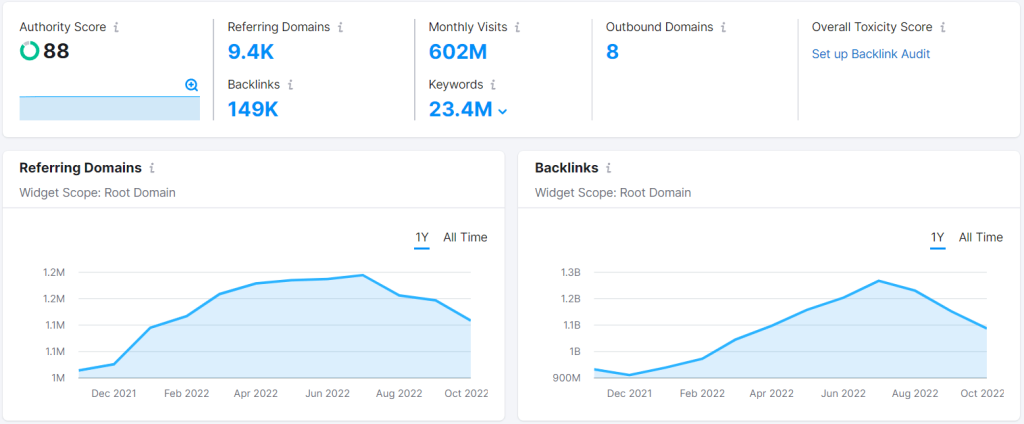 However, that doesn't mean Ubersuggest can be taken for granted. It has got many other features that are required for building high-quality backlinks. Those features include rank tracking for your or your competitor's pages, backlink opportunities report to let you know about the websites that link to your competitors, backlink profile auditing, and even a unique feature that allows you to check the backlink history of your competitors.
Ubersuggest Link-building: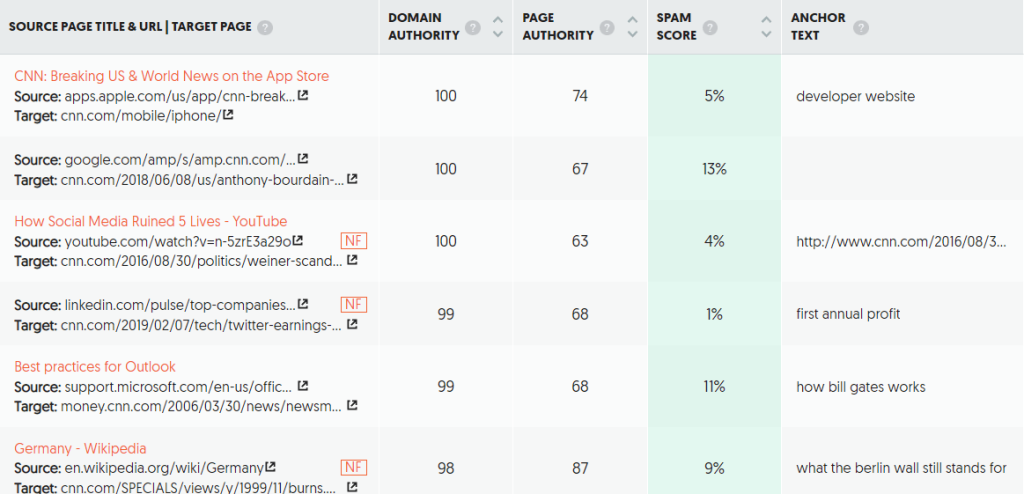 This last feature is quite important because it can be used to track not just the websites that contributed to the ranking of your competitors but also the pace at which they acquired those backlinks. And the thing is… this feature is unique to Ubersuggest and you don't get it with Semrush.
But if we take an overall look at the number of features that are provided for link building in both these tools, then of course the winner is Semrush.
Winner: Semrush
3. Technical SEO
Now, let's Compare Technical SEO of both Ubersuggest & Semrush
| | | |
| --- | --- | --- |
| Feature | `Ubersuggest | Semrush |
| Site Audit | Yes | Yes |
| Log File Analyzer | No | Yes |
| Markup Report Generator | No | Yes |
| UX ideas and suggestions | No | Yes |
| Semantic ideas and suggestions | No | Yes |
| SEO content template | No | Yes |
| SEO writing assistant | No | Yes |
Technical SEO Semrush Site Audit:
Technical SEO is also known as on-page SEO, and Semrush has a clear edge over Ubersuggest when it comes to that. While Ubersuggest provides only a site audit feature to scan your whole site for on-page optimization issues and provides suggestions based on that, Semrush goes far ahead of that.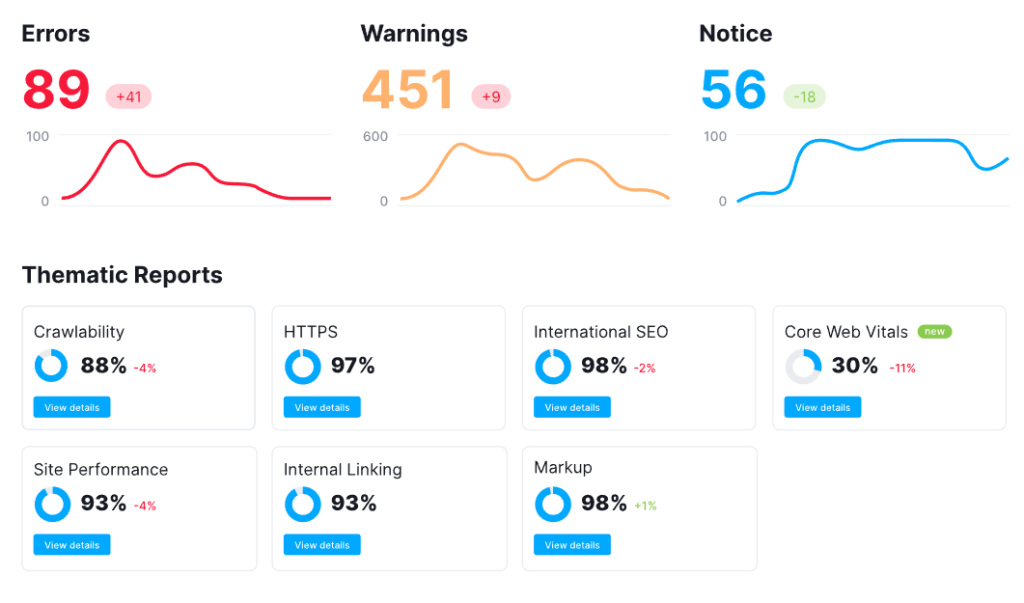 Not only it allows you to scan your website for on-page optimization issues but also it includes a Log File Analyzer that can be used to understand how search engine crawlers actually crawl your website, whether they face any issues/errors, or even how many bots visit your website.

Technical SEO Ubersuggest Site Audit:
It also provides you suggestions about how to improve the user experience of certain pages on your website, SEO-based suggestions about how to improve keyword placement in your content, and includes a markup report generator to let you know whether the schema markup is correctly configured on your page or not. None of these things is there in Ubersuggest.
Due to these reasons, Semrush wins hands down over Ubersuggest in terms of on-page SEO.
Winner: Semrush
4. Traffic Analytics
| | | |
| --- | --- | --- |
| Feature | `Ubersuggest | Semrush |
| Traffic overtime/trends | Yes | Yes |
| Top Keywords | Yes | Yes |
| Top pages | Yes | Yes |
| Traffic sources/channels | No | Yes |
| Traffic geolocation data | No | Yes |
| Bulk traffic analysis | No | Yes |
Traffic data can play a critical role in guiding your SEO and digital marketing strategy, so it's important to have this data not only for your own website but also for your competitors. Thankfully, both Ubersuggest and Semrush provide many tools to collect this data.
Semrush Traffic Analytics:
Both Ubersuggest and Semrush allow you to track the traffic trends of your competitors, the top keywords that drive traffic to them, and the top pages that attract the most traffic to their websites.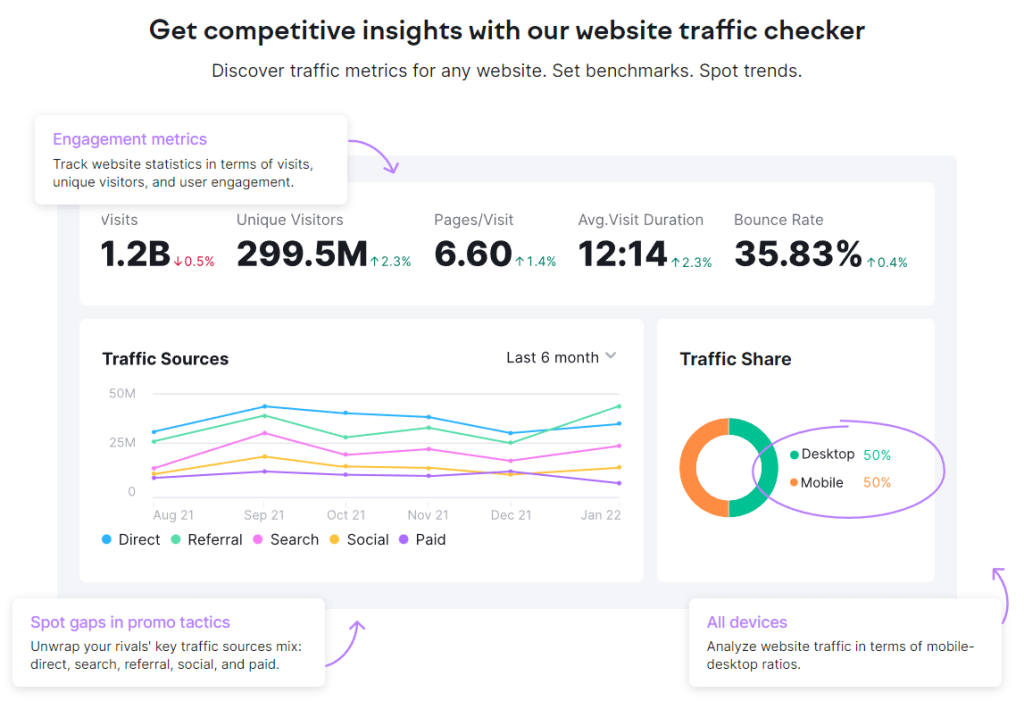 However, Semrush takes this a step further by providing you with data about the channels (i.e. search, social, email, direct, etc.) that drive the most traffic to any particular website or webpage.
Ubersuggest traffic Analytics:
Semrush also allows you to analyze the geographical locations from where your competitors are getting their traffic. And here's the power punch – it allows you to analyze the traffic data of up to 200 competitors at once through its Bulk Traffic analysis feature!

Overall, Semrush offers you more traffic analytics functionality than Ubersuggest.
Winner: Semrush
5. Other Features
| | | |
| --- | --- | --- |
| Feature | `Ubersuggest | Semrush |
| Competition analysis | Yes | Yes |
| Content ideas | Yes | Yes |
| PPC Keyword Research | Yes | Yes |
| Automatic keyword generator | Yes | No |
| Competitor PR monitoring | No | Yes |
| SERP Volatility Sensor | No | Yes |
| Marketing Calendar | No | Yes |
| Post Performance Tracking | No | Yes |
| Topic Research | No | Yes |
| Readability Checker | No | Yes |
| Social Media Marketing Tools | No | Yes |
Finally, let's talk about some extra features that are offered by both these platforms to guide your SEO and digital marketing efforts in an even better way.
Semrush competitor analysis:

Both platforms provide you with a host of features to analyze your competitors' marketing campaigns. Both of them also provide you with content ideas based on specific keywords that can generate enough traffic for you.
Ubersuggest Competitor Analysis:
Both of them also include a PPC keyword research functionality that allows you to see the search trends for any particular keywords, the traffic volume of those keywords, and their ranking difficulty. While Ubersuggest provides these features as part of its Keyword Visualization tool, Semrush includes them in the normal Keyword Research section itself.
But that's all for the similarities. From here onwards it becomes the playground of Semrush because it includes so many unique features that you can't find in Ubersuggest. Here is all that's put on offer:
It allows you to monitor the PR activity (i.e. press coverage, social media shares, etc.) of your competitors in real-time.
It has got a SERP volatility sensor to warn you of any possible dip in your rankings because of a Google algorithm update.
There's also a marketing calendar that can be used to manage your content scheduling and marketing campaigns in one place.
Its post-performance tracking feature can be used to track the performance of your articles and blog other content on the basis of backlinks, traffic, and social media engagement they are generating.
Topic Research tool to discover headlines that work, content gap, and most asked questions about the topic on which you want to create the content.
There's also a Readability Checker to analyze how easy or difficult to read your content is. It also provides suggestions to improve the readability of your content.
Finally, it has also got Social Media Marketing Tools to help you manage and grow your social media fan-following. Not only you can post your social media content from it but also you can analyze the performance of your posts and compare it to your competitors.
Winner: Semrush
6. Pricing
| | | |
| --- | --- | --- |
| Plan | `Ubersuggest | Semrush |
| Base/Individual plan | $29 per month | $119.95 per month |
| Business plan | $49 per month | $229.95 per month |
| Enterprise/Agency plan | $99 per month | $449.95 per month |
Semrush pricing plans:
In the end, let's talk about pricing. Since Ubersuggest contains fewer features than Semrush and is simpler to use, its pricing is also a fraction of what you would have to pay for Semrush.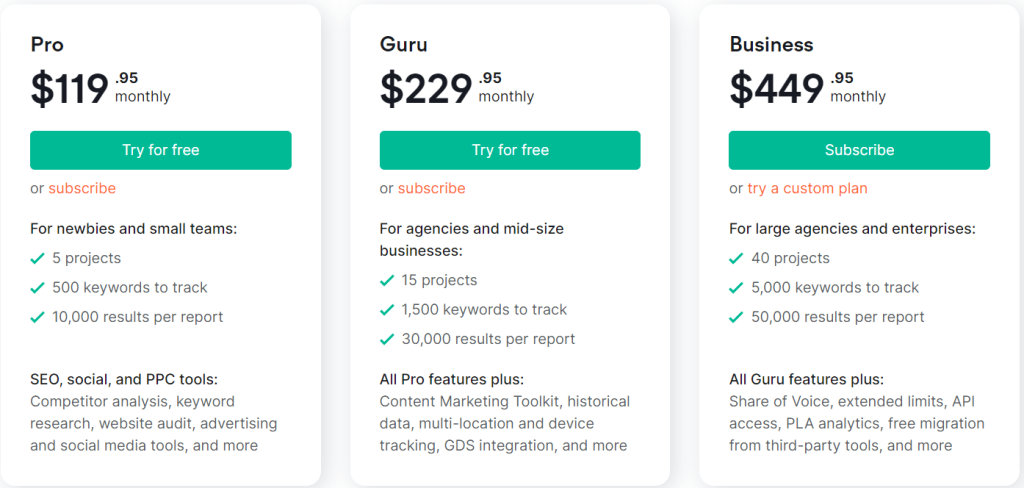 While Semrush pricing starts from almost $119.95 per month, the Ubersuggest base plan costs just $29 per month. The same goes for other plans too – every plan of Ubersuggest costs a tenth of its Semrush counterpart.
Ubersuggest pricing plans: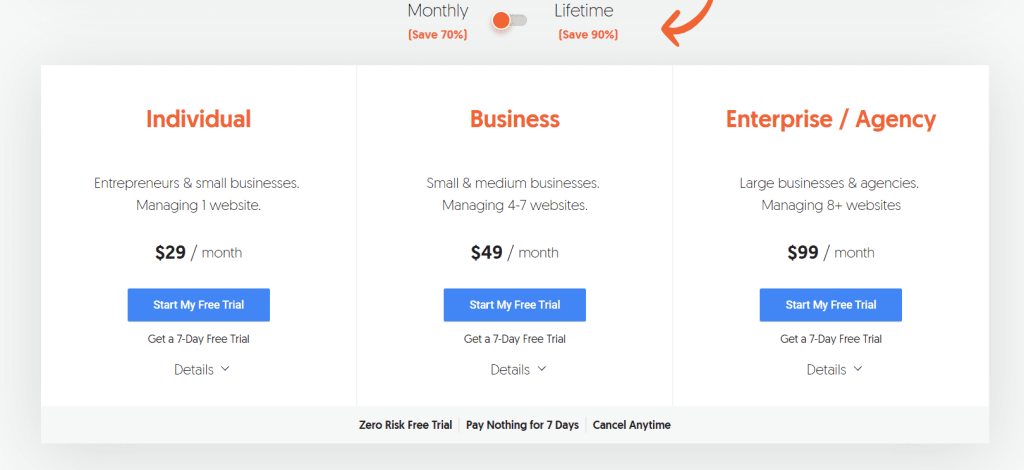 But the high price of Semrush can be justified completely given the number of extra features it provides you in comparison to Semrush. But if you're simply looking for a budget marketing solution then Ubersuggest is obviously the way to go.
Winner: Ubersuggest
Related Read:
Conclusion: Ubersuggest vs Semrush (2023)
Throughout the comparison, you might have noticed that it's Semrush emerged as the winner over Ubersuggest in almost all departments. However, that upper hand becomes visible in its pricing too, which is 10x of what you would have to pay for Ubersuggest.
And that's what brings us to our conclusion – if you want simplicity and affordability, Ubersuggest is the choice you need to make. And it's not a bad choice as it includes some unique features that are not included even in Semrush.
However, if budget is not a point of concern for you and you want a single dashboard to control all your marketing efforts, then Semrush is clearly the tool you need. It can not only allow you to create your complete digital marketing strategy but also help in steering and implementing it like no other tool can.
Frequently Asked Questions: Ubersuggest vs Semrush
Between Ubersuggest and Semrush, which one is best?
Both Ubersuggest and Semrush offer the best SEO tool, which offers a huge range of tools like site audit, keyword research, backlink analysis, and many more. When we talk about features, Semrush is far better than Ubersuggest.
Do they both offer a free trial?
Semrush offers 30 days of a free trial, whereas Ubersuggest offers 7 days of a free trial for all its subscribers.
What payment methods do they both accept?
Ubersuggest accepts all types of debit cards, credit cards, and Paypal. Semrush accepts payment via wire transfer, money order, and credit cards.
Is there any refund policy on Ubersuggest and Semrus?
Yes, Ubersuggest offers 30 days of money-back guarantee whereas Semrush offers 7 days of refund policy.
Can I get any discount on Ubersuggest and Semrush?
Of course, you can get a 17% discount on Semrush annual plans but Ubersuggest offers 70% Off on the monthly plan and 90% off on its lifetime plan.