Are you looking for White Label SEO Tools? Then your search ends here. The need for SEO services and tools increased as digital marketing increased tremendously. To stay afloat, anybody with any online presence must put SEO methods into practice. White-labeled SEO services are becoming more and more well-liked in the marketing sector. Its many services are analytics, SEO reports, and keyword ranking indicators.
Without creating additional tools, reporting options, or functionality from scratch, white-label SEO solutions let you increase the number of SEO products you can give clients. White labeling has existed for some time.
Conversely, white-label solutions give firms scalability and efficiency in providing expert results.
Best White Label SEO Tools: In A Nutshell (2023)
Here's a quick overview of the top 11 SEO tools with white-label options and their key features.
| | | | |
| --- | --- | --- | --- |
| Sr. No. | | SEO Tools | Features |
| 1. | | SEMRush | Custom themes, visuals, and branding |
| 2. | | SE Ranking | Keyword suggestion, backlink monitoring, performance-based invoicing |
| 3. | | WebCEO | Keyword research, internal links, backlink checker |
| 4. | | DashThis | Page cloning, multiple client accounts, integration with digital marketing tools |
| 5. | | AccuRanker | Competitor tracking, home page segmentation, rank monitoring API |
| 6. | | PosiRank | Campaign architect, reputation management, press releases |
| 7. | | Reportz | Unlimited widgets, predefined templates, report automation |
| 8. | | Sitechecker | Site monitoring, backlink tracking, site auditing |
| 9. | | WooRank | White-label reporting, competitive analysis, keyword generation |
| 10. | | Cyfe | Embedded analytics, custom data resources, custom logo, email address, and domains |
| 11. | | Nightwatch | SEO Tracking and Unlimited White Label Reports. |
Top 11 White Label SEO Tools In 2023
Here we have explained all the White Label SEO tools in detail.
1. Semrush
One of the preferred data sources for online campaign management is Semrush. However, many users are unaware that SEMRush provides complete white-label capability at the business level.

Using the Agency Growth Kit add-on, you can create unique reports using SEMRush's white label features. The enormous volume of data made accessible by SEMRush into valuable insights using various unique technologies.
This tool allows you to
Create unique themes
Alter the email text
Include unique visual styles
Take SEMRush branding off
Add distinctive branding
Plan emails with personalized reports
The cherry on top is that SEMRush's corporate subscriptions also provide API access, giving you nearly limitless choices for creating a dashboard with a top-notch data source. We also have an exclusive free trial of Semrush just for TechTipsWithTea readers.
Pricing:
SEMRush offers three plans for users, which include
Pro- 119 USD per month
Guru- 229 USD per month
Business- 449 USD per month
2. SE Ranking:
SE Ranking is a cloud-based, white-label self-hosting solution. Additionally, users can promote a unique performance-based invoicing platform as their own when offering services to clients.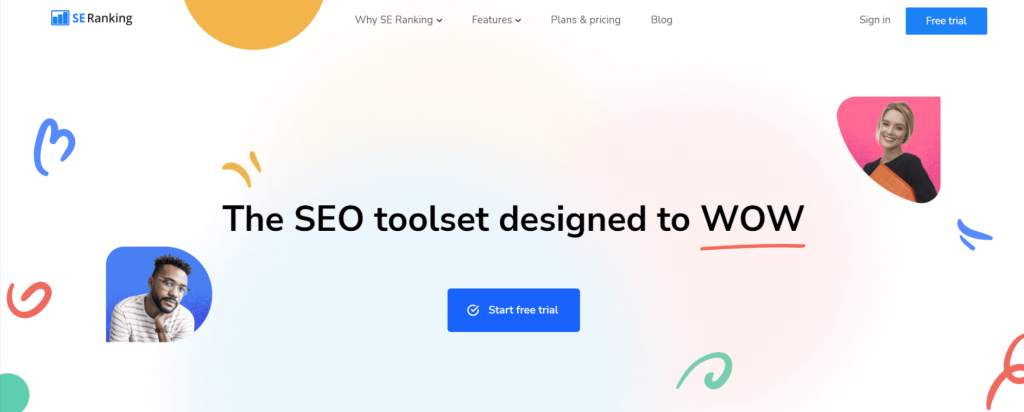 The SEO platform from SE Ranking offers everything. Their broad range of features consists of the following:
Marketing strategies that include preliminary research and off- and on-page optimization.
Tools for generating keyword ideas and a keyword rank tracker
Analytics and administration of social media
Billing depending on the performance
Pick your color scheme, and submit your header or footer and logo
Use your domain and subdomain with no links to search engine rankings
Backlink tracking and monitoring
Pricing:
The white label capabilities of SE Ranking are a part of their more expensive Pro subscription and Business subscription.
There is a free 14-day trial period. Depending on your demands, their Pro plan comes at 72 USD per month, and their Business plan costs 150 USD per month.
3. WebCEO:
WebCEO is a cutting-edge Internet marketing platform that gives you access to 23 potent tools for competition monitoring, management of social media, domain analysis, rank tracking, SEO audits, backlink tracking, and internal link analysis.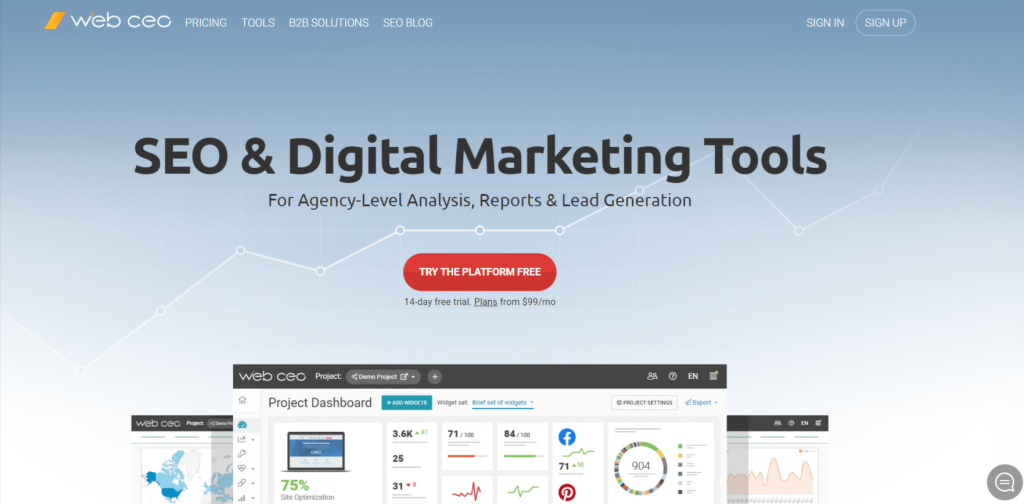 It's one of the first white label SEO service providers, and digital companies adore it. For freelancers and businesses searching for a tool that has everything but outsourced off-page SEO, WebCEO's white label SEO solution offers a fantastic substitute.
White label attributes from WebCEO are accessible under the Agency Unlimited package. Designing and setting up a custom domain allows users to the white label the SEO tools.
The primary SEO functions of WebCEO include:
Technical inspection
Keyword analysis
Internal citations
A link-checking tool
Analysis of SEO
Analytics for social media
Pricing:
A free trial and 30-minute demonstrations of WebCEO are also offered. The Agency Unlimited plans from WebCEO cost 99 USD for each month, and the white label domain option costs an additional 20 USD/ month.
There are also a few minor extra costs. You must pay 2 USD for each active project, backlink, and ranking scanning costs.
4. DashThis:
With the help of DashThis, SEO agencies may provide pertinent data to the clients using a high-quality white label dashboard builder. The robust marketing reporting platform DashThis gathers the essential marketing KPIs in one location.
With the help of this application, you can combine a vast number of data sources for analysis and research, and you may customize almost everything.
The most striking aspects of them are listed below:
Connections to over 34 of the most widely used digital marketing products
An infinite number of users, data sources, and client accounts
Consolidate information from several sources in one report
Options for cloning pages and templates
Pricing:
DashThis is accessible for a 15-day trial. The three subscription tiers that DashThis offers include white label dashboards, custom domains, and custom emails.
White label dashboards, personalized domains, and personalized emails are all features of three subscription plans offered by DashThis.
The Professional plan has a monthly fee of 129 USD.
The monthly cost of the Business plan is 249 USD.
The Standard plan has a monthly cost of 399 USD.
5. AccuRanker:
AccuRanker focuses only on tracking and analyzing SERPs. More than 2,000 companies are globally using it to enhance their organic search results. Customers that want affordable, sophisticated reporting integration services and rank-tracking data can use this white label SEO solution.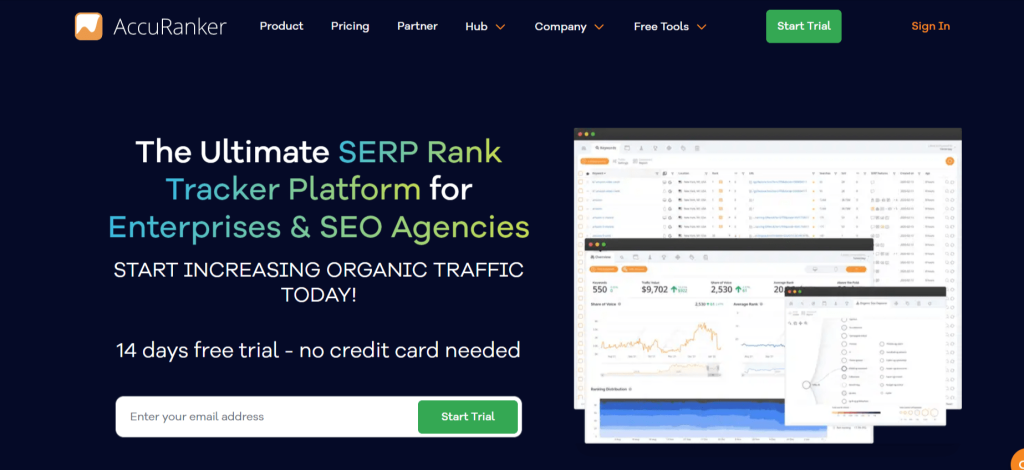 Here are their key characteristics, which give customers a clear picture of how they compare to their rivals.
Local, mobile, and desktop results
Competitor monitoring
Tracking SERP feature usage
Previous search volume
Segmenting your landing page
API for rank tracking
Google Analytics and Google Search Console integration
Pricing:
For 1000 keywords, AccuRanker's price starts at 99 USD each month and varies based on the number of keywords.
6. PosiRank:
PosiRank outshines most of the white-label SEO platforms available in the market. Its selection of off-page and on-page SEO outsourcing alternatives enables businesses to receive results from SEO at any scale.

PosiRank offers an astounding amount of live metrics and auditing capabilities in addition to active site-building elements like citation improvements, bought links, and content campaigns, all of which are not inexpensive.
Users can schedule one-time or recurring "boosts" for their campaigns. Even if they are not cheap, most SEO outsourcing choices are priced in line with the market.
The key features of PosiRank's white label SEO platform are as follows:
Establishing links
Promotion using SEO
A campaign architect
Promotion in a niche market
Orders of the content
Managing one's reputation
Onsite SEO
Consultation with SEO experts
Cleaning up backlinks
News articles
Pricing:
PosiRank has a beginning monthly fee of 200 USD to 300 USD and a maximum monthly payment of 1000 USD. The most affordable prices may be found with wholesale access.
7. Reportz:
Reportz also offers white label reporting for digital marketing KPI dashboards. It assists freelancers and digital marketing organizations in automating client reporting procedures.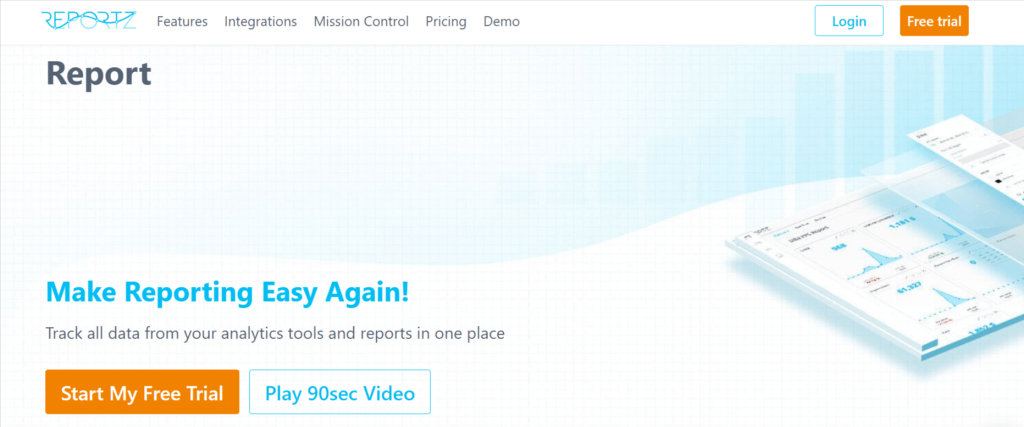 Reportz creates comprehensive reports of digital marketing that include all the details you want. Dashboards from Reportz may also be white-labeled, so they appear to be a part of your business instead of a different tool.
Its features include:
A custom widget generator that can combine, filter, and show any data
View rankings, PPC, SEO, and other analytics collectively
Unrestricted widgets
Built-in templates
Automated reporting
Integrations with widely-used sources of marketing data
The ideal customers for the Reportz tool are those who want a customized price according to the exact quantity of the dashboards they want.
Pricing:
The cost of Reportz is determined by the number of dashboards you need and how often you pay.
A free 15-day trial is available. The available paid plans are:
59.50 USD per month for 5 dashboards
192 USD per month for 20 dashboards
600 USD per month for 70 dashboards
8. Sitechecker:
Sitechecker is an SEO tool for monitoring, evaluating, and enhancing website visibility. It assesses performance based on the backlinks, ranks, and content of users' websites.

Sitechecker keeps track of website rankings, security, SEO, and performance in one spot. This solution is designed for people searching for certain low-cost combinations of site monitoring, site audits, and rank tracking.
The key features of the Sitechecker SEO tool are:
Site auditing
Tracking the rank
Monitoring the site
Backlink analysis
Pricing:
A seven-day free trial of Sitechecker is offered. Its monthly costs range from 29 USD to 99 USD besides that. The plans begin from Basic at $29/month charges, Startup plan at $49/month, and Growing at $99/month.
9. WooRank:
The tool WooRank offers a variety of datasets. With actionable data pertinent to the usability of the site, this tool provides on-site SEO best practices. WooRank is also the most cost-effective tool we've reviewed in this segment, with Pro level access to highly customizable pdf reports.

WooRank focuses on the links between SEO-related data and business outcomes, although other tools included in this area could offer more raw data. Considering this, WooRank is the most crucial choice for providing helpful information to non-marketing specialists within a client firm.
The primary features of WooRank are:
White-labelled reports
Analysis of competitors
Monitoring websites
Gathering qualified leads
Technical reviews of websites
Assess the state of SEO
Tracking of keywords
Generating keyword research
Pricing:
Woorank offers a variety of plans for you to pick from. The monthly cost of the plan ranges from 179 to 249 USD per month.
10. Cyfe:
The variety of data connectors, special features such as data mashup and adaptable exporting capabilities, and completely white label customization make Cyfe's white label SEO dashboard solution stand out. Everything on their dashboard is entirely white labeled and incredibly customizable.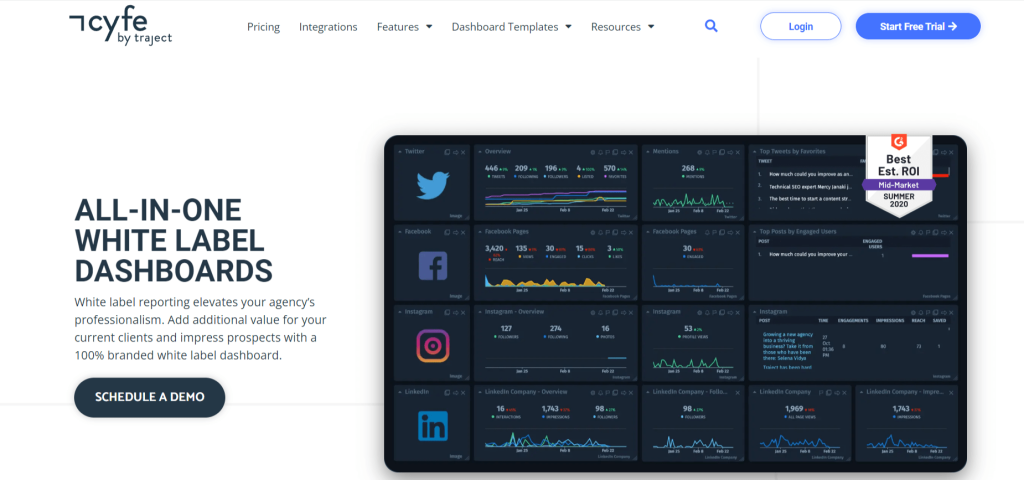 There are several ways to report using Cyfe. One of our favorite features is configuring SMS or email alerts that various data-driven events may spark.
Here are some things that users of the Cyfe utility can accomplish:
A unique domain name, email address, and logo
Produce customized reports
Use a separate dashboard to track KPIs
Incorporated analytics
Specialized data sources
Change the already-built arrangement
Automate alerts for widgets and reports
Pricing:
Cyfe offers a 29 USD introductory monthly fee and a 20 USD monthly fee per client.
11. Nightwatch
Last in our list of Best White Label SEO Tools is Nightwatch. It is probably one of the best SEO Tracking and optimizing engine which offers accurate in depth report analysis. You will also get insights about the keywords and the website positioning. What makes Nightwatch stands apart from the rest is its uniqueness. The position of the keywords, the segmentation of the backlinks, detailed visualization and graphs. Nightwatch is a very time consuming SEO Tool.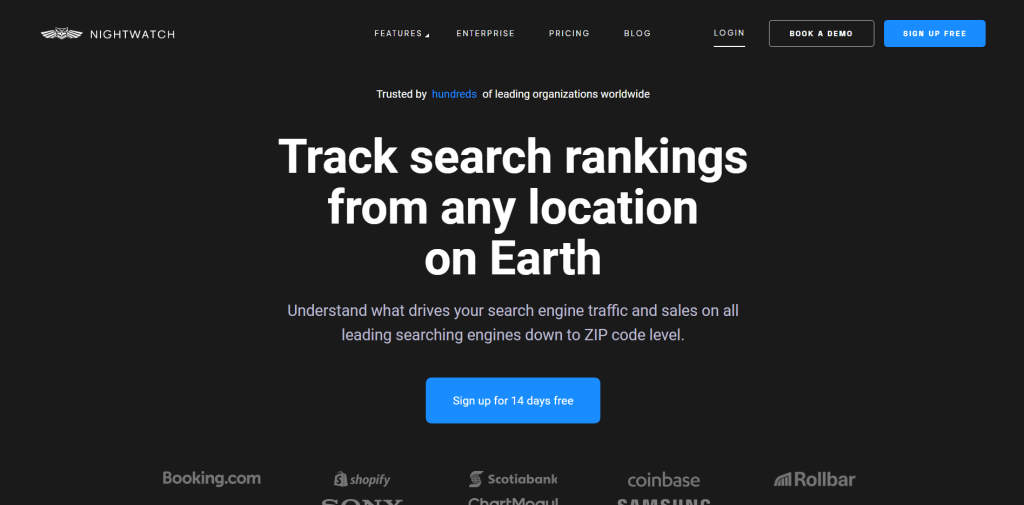 You can filter your keywords just the way you want it. Nightwatch helps you customize the data as you want it. It also sends you notifications if there is any trend comes up. Using Nightwatch is simple, you just have to drag and drop elements as you require. Nightwatch is made for professional SEO professionals so using this tool is not complicated for people familiar with SEO.
Here are the features of Nightwatch :
You can track Keyword, Website and & Competitor Tracking.
Website Auditing is another useful feature.
Drag & Drop
Customization available
Impactful Filters
Pricing :
Nightwatch Pricing starts with $39 monthly (250 keywords) and goes up to $699 for (10,000) keywords. If you have any requirement above 10k, you will need to contact the sales team of Nightwatch.
Related Read:
Summary: Best White Label SEO Tools (2023)
White label SEO solutions are becoming increasingly well-liked in marketing since they enable customers to upsell, expand their prospect pool, and dramatically reduce expenditures. Determining performance and functionality standards relies on your budget, the kind of product you're considering, and the features offered by rival solutions.
Customers may concentrate on more vital matters thanks to these products. The integration of the appropriate white label SEO tool ensures the effective scaling up of users' businesses and the provision of expert results for clients.
The integration of the appropriate white label SEO tool provides the effective scaling up of users' businesses and the provision of expert results for clients.