Looking for Most Richest YouTubers in the world right now? You have come to the right place. With the emergence of websites like YouTube, TikTok, and Instagram, the content creation field has experienced tremendous growth. Despite giving millions of producers a platform, these platforms have created a new way for people to make money. Brands are continuously searching for well-known producers who can promote their products in light of the growth of influencer marketing. Some of the most prosperous producers in the world have emerged, particularly on YouTube. In this blog, we'll explore the richest YouTuber's life and delve into the world of YouTube. Who are the top YouTubers with the most incredible revenue, and how did they get there? What content do they produce, and how do they differ from other content producers? These are some of the queries this blog will be addressing.
YouTube has spawned a new generation of superstars who have become household names. These creators' fan bases rival those of established celebrities. What distinguishes them is that they have achieved success on their terms. They are not constrained by the usual gatekeepers of the entertainment business and have succeeded in carving out their niche. YouTube has witnessed a significant surge of artists who have been able to use the site to their advantage in recent years.
There's plenty of content on the platform, from gamers to beauty bloggers, pranksters to vloggers. Yet only a few creators stick out from the crowd. They have achieved incredible success and have established themselves as role models for aspiring YouTubers who wish to succeed on the platform. Follow along to learn more about the world's top 10 YouTubers (as of 2023).
Most Richest YouTubers: In A Nutshell (2023)
Let's quickly Review the Top Ten YouTubers in the World.
| | | | | |
| --- | --- | --- | --- | --- |
| Sr. No. | YouTuber | Net Worth | YouTube Channel | No. of Subscribers |
| 1. | Jeffree Star | 200 million USD | jeffreestar | 15.9 million |
| 2. | Anastasia Radzinskaya | 105 million USD | Like Nastya | 104 million |
| 3. | Jimmy Donaldson | 130 million USD | MrBeast | 156 million |
| 4. | Ryan Kaji | 100 million USD | Ryan's World | 34.2 million |
| 5. | Vlad and Niki | 88 million USD | Vladislav and Nikita Vashketov | 92.9 million |
| 6. | Logan Paul | 45 million USD | Logan Paul | 23.6 million |
| 7. | Felix Kjellberg | 40 million USD | PewDiePie | 111 million |
| 8. | Richard Tyler Blevins | 40 million USD | Ninja | 24 million |
| 9. | Mark Edward Fischbach | 35 million USD | Markiplier | 34 million |
| 10. | Daniel Middleton | 35 million USD | DanTDM | 26 million |
Richest YouTubers 2023
Let's go through the Top 11 Richest YouTubers.
1. Jeffree Star:
"Who is the richest YouTuber in the world?" Does this question comes in your head? If yes, then the answer to your question is Jeffree Star. The moniker Jeffree Star is well-known in the YouTube and beauty communities. His popular YouTube channel, Jeffree Star Cosmetics, helped him build a name for himself in the beauty sector as a cosmetics artist, business owner, and social media influencer. With more than 16 million followers, Jeffree's channel has established itself as a top choice for beauty enthusiasts around. When Jeffree Star launched his music career and issued his debut album, "Beauty Killer," in 2009, his path to popularity began more than ten years ago. 

The ability of Jeffree to be unapologetically authentic distinguishes his channel from others in the beauty industry. He is renowned for his adventurous dress sense, expressive makeup, and open demeanor. Many of Jeffree's admirers admire his courage in being himself and speaking his thoughts and are drawn to him because of his honesty and genuineness.
YouTube Channel: jeffreestar
Net worth: 200 million USD
Subscribers: 15.9 million
2. Anastasia Radzinskaya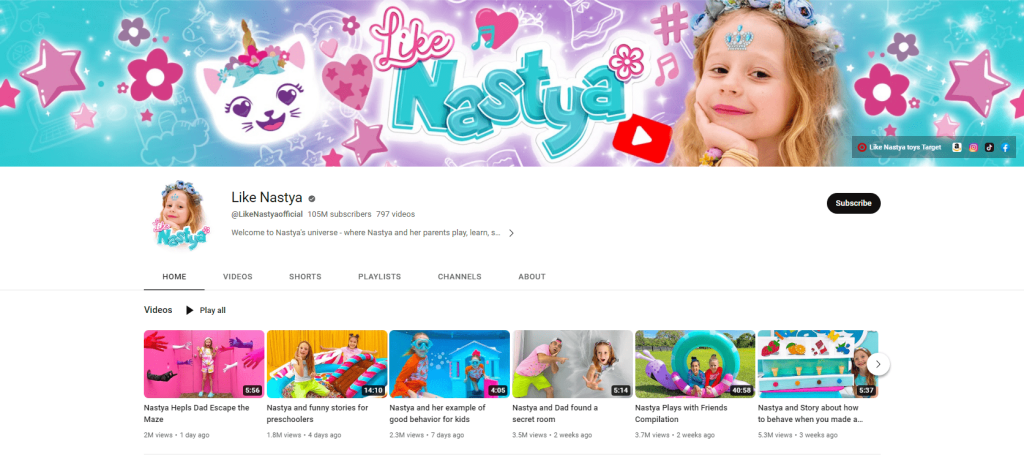 Next in our list of Most Richest YouTubers is Anastasia Radzinskaya. Like Nastya, is the channel name, The videos are made for kids, toddlers or young children. She is not even 10 yet and is second in the list of Most Richest Youtubers. She was born in Russia in 2014. Her parents handle her account and with some great content, it didn't take long for her to go viral. She's one of few who has 100m or more subscribers on YouTube(104m to be more precise).
Her estimated net worth is considered to be $106 million, out of which $18 million is what she earns through YouTube.
YouTube Channel: Like Nastya
Net Worth: 106 Million USD
Subscribers: 105 million
3. Jimmy Donaldson:

Jimmy Donaldson, the MrBeast of YouTube, is a well-known philanthropist and YouTuber from the United States. His original and amusing material, which included challenges and stunts to charitable deeds and commentary on the news, helped him become famous.
His eagerness to push limits and try things that no one else has done before distinguishes MrBeast's channel from others. Giving away millions of dollars, spending a day in a scary mansion, and even spending a day underwater have earned him notoriety.
He has earned recognition for his charitable deeds, including giving out thousands of dollars to charity and assisting needy people.
MrBeast has created a profitable clothing brand, a gaming channel, and a YouTube channel. His impact and reach have increased further through his appearances on podcasts and television shows.
His channel reflects his inventiveness, compassion, and enthusiasm for changing the world. He has a sizable following because of his distinctive personality, extraordinary exploits, and charity activities.
YouTube Channel: MrBeast
Net Worth: Approx. 100 million USD
Subscribers: 156 million
4. Ryan Kaji:
Success on YouTube has come to be associated with the name Ryan Kaji. This kid YouTuber became well-known by posting videos of him reviewing and unwrapping products on his YouTube channel, Ryan's World. Since then, he has increased the variety of his programming to include science experiments, instructional films, and skits.

Ryan stands apart from other YouTubers because he can relate to his viewers. His videos are intended to be both amusing and instructional, making them valuable and entertaining. Ryan's parents have also been instrumental in his success, managing his channel and negotiating sponsorship arrangements with companies.
Ryan has monetized his video and made a profit thanks to these agreements. He maintains his modesty and relatability in the face of his enormous accomplishment. He constantly engages with his audience and uses their ideas for his videos.
YouTube Channel: Ryan's World
Net Worth: Approx. 100 million USD
Subscribers: Approx. 156 million
5. Vladislav and Nikita Vashketov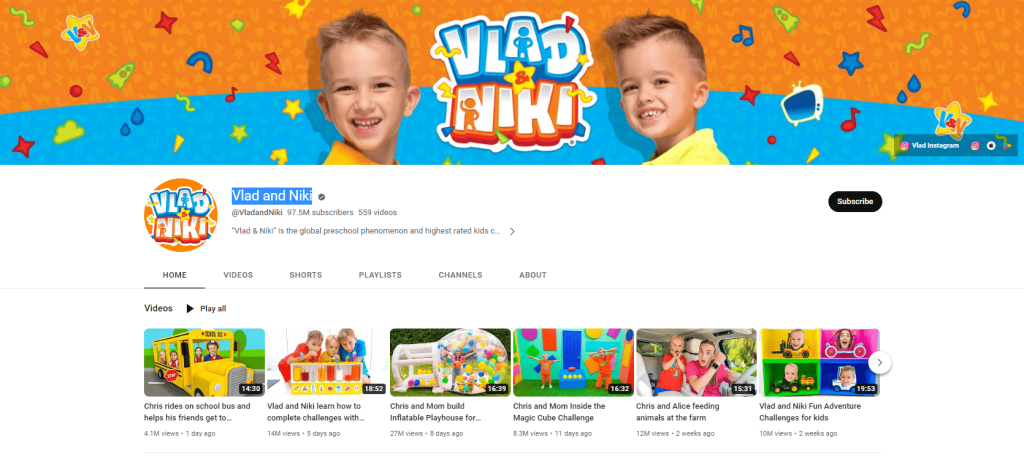 Another Children's channel makes it in the Most Richest YouTubers. Vlad and Niki, Age 9 and 7 respectively. Similar to Nastya, Both were born in Russia. Their Parents created their YouTube channel in 2018 and soon it got viral. Adventures, playing with toys, fun challenges is what their content consist of on their YouTube Channel.
Their net worth is considered to be around 88 million.
YouTube Channel: Vlad and Niki
Net Worth: Approx. 88 million USD
Subscribers : Approx. 97.5 million
6. Logan Paul:
Logan Paul is a controversial American YouTuber, actor, and boxer who rose to fame on social media with his unique and entertaining content. Logan's YouTube channel is among the most popular on the site, with over 24 million members.

The content on Logan's channel is diverse and includes vlogs, practical jokes, and challenges. He is renowned for his audacious and risk-taking antics, such as skydiving, bungee jumping, and even fighting with a giant alligator.
Logan has maintained a devoted fan base despite his contentious background and continues to provide interesting and enjoyable material for his followers. Logan has also been involved in charitable activities. His platform has been utilized to raise awareness and funding for various issues, including suicide prevention and mental health awareness.
YouTube Channel: Logan Paul
Net worth: Approx 45 million USD
Subscribers: Approx. 23.6 million
7. Felix Kjellberg:
Swedish content producer and YouTuber Felix Kjellberg is a force to be reckoned with. PewDiePie, his YouTube username, is one of the most well-known creators on the internet, with over 110 million subscribers to his channel. PewDiePie has established himself as a household celebrity and an icon in the online content creation industry, with billions of views and an estimated net worth of 40 USD million. We will examine PewDiePie's ascent to stardom, his enormous number of subscribers, and his astronomical net worth in more detail in this article.

PewDiePie began his journey on the website in 2010, and since then, he has grown to be one of the most-known personalities on YouTube.
He started concentrating on gaming videos and rapidly earned fans for his hilarious and upbeat demeanor.
He is now one of YouTube's most prominent creators and a global inspiration for aspiring video producers because of his financial success. Ad money, sponsorships, apparel sales, and other endeavors contributed to PewDiePie's wealth.
It will be fantastic to see what new heights he can achieve and how he will continue to influence the internet entertainment industry as he produces new and innovative content.
YouTube Channel: PewDiePie
Net Worth: Approx. 40 million USD
Subscribers: Approx. 40 million USD
8. Richard Tyler Blevins:
Richard Tyler Blevins, a professional gamer and social media star, has acquired a sizable fan base. One of the most important factors of his internet presence is his YouTube channel, commonly known as "Ninja." One of the most oversized pulls to Richard's channel is his distinctive personality. He possesses a contagious spirit, a compelling appeal, and a talent for connecting with people. Ninja's excitement and sense of humor make his films entertaining, whether he's playing Fortnite or another game. He has devoted many hours to improving his abilities and creating his strategy as a professional gamer.

He adds comedy, storytelling, music, and teamwork with other producers to provide an experience that is more engaging and exciting than merely playing games and uploading films.
9. Mark Edward Fischbach:
Mark Edward Fischbach, or Markiplier, has won the hearts of millions of admirers worldwide. Plays, comedic sketches, and vlogs are just a few of the many types of videos on his Markiplier YouTube account. Markiplier has amassed over 34 million members and billions of views, making him one of the most well-known creators on the site.

The 35 million USD projected net worth of Markiplier is proof of the tremendous prospects that YouTube offers. Markiplier's financial success is evidence that anybody can have a successful career as an online content creator with hard work, enthusiasm, and originality. Other people have been motivated to follow their love for content production and to strive for greatness in their field through Markiplier's success.
YouTube Channel: Markiplier
Net worth: Approx 35 million USD
Subscribers: Approx 34.9 million
10. Daniel Middleton:
Daniel Middleton has over 26.9 million subscribers, making him one of the platform's most famous producers. His YouTube channel, DanTDM, includes everything from Minecraft gaming to amusing challenge videos, and his stuff is sure to make you grin.

DanTDM's success on YouTube has turned into an estimated net worth of 35 million USD, making him one of the platform's wealthiest artists. He's made a fortune by using sponsorships, item sales, and ad money while doing what he enjoys. He spends time interacting with his followers, giving them a sense of belonging to the DanTDM group. This degree of sincerity and participation has given him a sizable following and solidified his status as one of YouTube's most adored artists.
YouTube Channel: DanTDM
Net worth: Approx 35 million USD
Subscribers: Approx. 26.9 million
11. Jake Paul:
His name is well-known in the YouTube community. Jake Paul, a prominent YouTuber and a professional boxer, is Logan Paul's brother.

He and his brother posted doodles on Vine's video-sharing website to begin their professional careers. His YouTube channel, Jake Paul, has a wide range of videos, such as hip-hop music or prank videos. Jake Paul is distinguished for his capacity to push boundaries and produce material that sparks discussion and dissent. He has established himself as a global voice for young people and is not afraid to speak his mind. There is no denying his effect on the YouTube community and the entertainment industry, even though he may not be to everyone's taste. According to Forbes, Paul was the second-highest-paid YouTuber in 2018.
YouTube Channel: Jake Paul
Net worth: Approx 30 million USD
Subscribers: Approx. 20.3 million
Related Read:
Wrapping Up: Most Richest YouTubers
The success stories on YouTube are astounding, with video producers like PewDiePie, Markiplier, Daniel Middleton, and Jake Paul becoming household names and making enormous riches. It is impressive how effective YouTube is as a platform for developing content and how easily artists can engage audiences worldwide. The experiences of these prominent YouTubers serve as a reminder of the platform's limitless potential.
Anybody may establish a lucrative profession in content development with commitment, diligence, and a drive to innovate. We can only speculate about the intriguing new opportunities for the platform and its producers as YouTube continues to develop and new creators appear. Who do you think is gonna make it in the list next? Comment below and let us know.